TNFα signalling primes chromatin for NF-κB binding and induces rapid and widespread nucleosome repositioning
Received: 22 July 2014
Accepted: 7 November 2014
Published: 3 December 2014
Abstract
Background
The rearrangement of nucleosomes along the DNA fiber profoundly affects gene expression, but little is known about how signalling reshapes the chromatin landscape, in three-dimensional space and over time, to allow establishment of new transcriptional programs.
Results
Using micrococcal nuclease treatment and high-throughput sequencing, we map genome-wide changes in nucleosome positioning in primary human endothelial cells stimulated with tumour necrosis factor alpha (TNFα) - a proinflammatory cytokine that signals through nuclear factor kappa-B (NF-κB). Within 10 min, nucleosomes reposition at regions both proximal and distal to NF-κB binding sites, before the transcription factor quantitatively binds thereon. Similarly, in long TNFα-responsive genes, repositioning precedes transcription by pioneering elongating polymerases and appears to nucleate from intragenic enhancer clusters resembling super-enhancers. By 30 min, widespread repositioning throughout megabase pair-long chromosomal segments, with consequential effects on three-dimensional structure (detected using chromosome conformation capture), is seen.
Conclusions
Whilst nucleosome repositioning is viewed as a local phenomenon, our results point to effects occurring over multiple scales. Here, we present data in support of a TNFα-induced priming mechanism, mostly independent of NF-κB binding and/or elongating RNA polymerases, leading to a plastic network of interactions that affects DNA accessibility over large domains.
Keywords
Transcription Start SiteNucleosome PositionNucleosome OccupancyMicrococcal NucleaseChromosome Conformation Capture
Background
The arrangement of nucleosomes along the chromatin fibre profoundly affects genome function [1],[2]. For example, silenced genomic segments and constitutive heterochromatin contain nucleosomes positioned in high-density arrays [1],[3],[4], whereas active and regulatory regions appear more disorganized and 'open' [1],[5],[6]. Although some data exist on the reorganization of the nucleosomal landscape following extra-cellular signalling [7],[8] and differentiation [9],[10], the temporally resolved dynamics of chromatin architecture remain poorly characterized.
Nucleosome positioning can be mapped genome-wide at single-nucleosome resolution using micrococcal nuclease digestion followed by sequencing (MNase-seq) [11],[12]. We applied this technique to primary human umbilical vein endothelial cells (HUVECs) stimulated with tumour necrosis factor alpha (TNFα). This potent cytokine drives the inflammatory response by signalling through the transcription factor nuclear factor kappa-B (NF-κB) [13],[14]; on phosphorylation, NF-κB translocates into nuclei, where it regulates hundreds of genes [15],[16]. Therefore, we correlated nucleosomal repositioning with genome-wide NF-κB binding (assessed by chromatin immunoprecipitation coupled to high-throughput sequencing; ChIP-seq) and gene expression (assessed by sequencing of total RNA; RNA-seq).
We focused on spatial and temporal changes in chromatin architecture during the critical window when 'immediately-early' proinflammatory genes become active: 0, 10 and 30 min post-stimulation. In agreement with the idea that nucleosomes reposition in coincidence with (and/or as a result of) transcription factor binding at cognate sites [
1
]–[
6
], we did not expect to observe widespread repositioning before NF-κB binding was quantitatively detected (that is, 15 min post-stimulation [
17
],[
18
]). However, we observed widespread nucleosome repositioning already by 10 min, coinciding with marginal, if any, stable binding of the factor (Figure
1
A). Similarly, we expected elongation by pioneering RNA polymerases along TNFα-responsive genes to initiate a 'wave' of repositioning; however, examination of long (>100 kilobase pairs (kbp)) genes that are synchronously activated by TNFα showed that nucleosomes were already repositioned all the way from 5′ to 3′ ends, despite polymerases having transcribed <50% of their length after 30 min [
19
],[
20
]. We attribute this to changes in positioning that nucleate from few selected NF-κB binding clusters embedded in the bodies of such responsive genes. We show that these effects are accompanied by changes in the three-dimensional conformation of the chromatin fibre - detected using chromosome conformation capture coupled to deep sequencing (3C-seq [
21
]).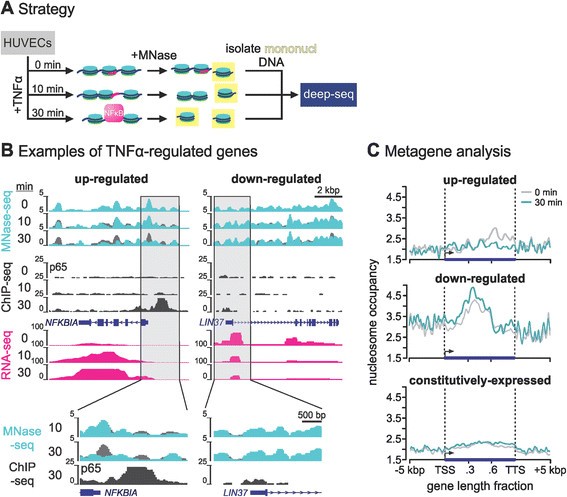 Discussion
We addressed the question: how does TNFα stimulation reshape the chromatin landscape as it establishes the immediate-early proinflammatory transcriptional programme? The cytokine signals through NF-κB [13], and one might envisage that the factor first binds in the vicinity of regulatory elements to induce repositioning of nucleosomes locally. This would then facilitate transcriptional initiation by RNA polymerase, and would in turn open up the bodies of TNFα-responsive genes as polymerases elongate through them [32],[33]. However, changes observed here cannot be reconciled with this scenario.
First, we saw hotspots of nucleosome depletion 10 min post-stimulation (Additional file 8Α), before detectable NF-κB binding to cognate sites (Additional file 6Α). Although there were approximately 1,300 NF-κB binding peaks in nucleosome-depleted windows after 30 min, most bound NF-κB was not embedded in kilobase pair-long depleted regions (Figure 3A). This also fits with the distribution of typical NF-κB motifs (5′-GGRRNNYYCC-3′): out of >550,000 sites found genome-wide, only 60,000 and 250,000 were embedded in windows depleted of nucleosomes after 10 and 30 min, respectively (with 28,000 being shared and very few being occupied; Figure 3A). It follows that NF-κB binding is highly selective; the first transcription factor complexes to enter nuclei (between 10 and 15 min) must preferentially bind to a small subset of primed domains depleted of nucleosomes, harbouring the highest affinity sites - probably within the critical enhancers that regulate the ensuing cascade and/or on particular Alu repeats [24]. This is reminiscent of a subset of NF-κB dimers in macrophages selectively binding to already-accessible chromatin segments where partner regulators constitutively bind [34] - which raises the question of what the endothelial-specific NF-κB partners might be.
Second, results cannot be reconciled with the idea that transcription through nucleosomes by pioneering elongating RNAPs is solely responsible for changes in chromatin structure. Nucleosomes in long TNFα-responsive genes are repositioned throughout, well before elongating polymerases have transversed their full length (Figure 2). Then, what molecular mechanism might drive repositioning at sites many kilobase pairs away from a bound NF-κB or a pioneering polymerase? We can suggest some possibilities that might act singly, or in concert. For example, an effector other than NF-κB might be responsible for priming; then, NF-κB (and/or another effector) could induce chromatin remodelling enzymes to act throughout the surrounding locale - perhaps a chromatin loop or cluster of loops in a topological domain attached to a transcriptional hot spot [35]. Alternatively, transcription could generate supercoiling that remodels one such loop (or cluster of loops) within a topological domain [36]. Lastly, polymerases other than pioneers on responsive genes could drive repositioning - perhaps ones generating enhancer RNAs (like in Additional file 6B) [37]. This is supported by the presence of NF-κB clusters bound within gene bodies at sites marked by histone marks and transcripts characteristic of enhancers; these overlap 'super-enhancers' previously mapped in HUVECs [38] that also show decreased nucleosome density post-stimulation (see examples in Figure 3C and Additional file 6B).
Third, nucleosome repositioning has traditionally been viewed as a local phenomenon, but we detect occupancy changes throughout megabase pair-long segments (see chromosomes 4 and 14 in Additional file 8). (Note that, using semi-quantitative Western blotting with antibodies targeting histones H3 and H4, we verified TNFα stimulation does not affect global histone levels; data not shown.) Using 3C-seq, we confirmed the intuition that changes in nucleosome positioning around two megabase pair-long chromosomal loci go hand-in-hand with the development of contacts in three-dimensional nuclear space. Interestingly, a subset of recorded 3C contacts - which predominantly form between regulatory cis-modules [39],[40] marked by NF-κB and characteristic histone modifications (Additional file 9) - persist throughout the transition from the unstimulated to the TNFα-stimulated state (Figure 4). This is consistent with pre-looped chromatin facilitating responses to extra-cellular cues [41], and can now be explained also at the level of nucleosomal organization.
Conclusions
Collectively, our data point to TNFα triggering chromatin priming so that most nucleosomes are repositioned independently of NF-κB binding and/or polymerases elongating through responsive genes. This effect is a prelude to the ensuing proinflammatory programme, and it occurs both locally (at the gene level) as well as at considerable distances from, what have hitherto been considered, the major nucleating sites to affect large chromosomal segments. Finally, although 'topological domains' may constitute invariant building blocks within chromatin [41]–[43], an underlying and plastic network of interactions within a domain must affect DNA accessibility to polymerases, ultimately allowing the rapid transitions that occur as different sets of genes become active and inactive and the inflammatory cascade unfolds [15],[16]. Of course, the molecular machines responsible for priming, their interplay with NF-κB, and the potential role of other factors (like histone H1 eviction or activity of topoisomerases) need be addressed in light of these findings.
Methods
Cell culture
HUVECs from pooled donors (Lonza, Cologne, Germany) were grown to 80% to 90% confluence in endothelial basal medium 2-MV with supplements (EBM; Lonza) and 5% foetal bovine serum (FBS); starved for 16 to 18 h in EBM +0.5% FBS; treated with TNFα (10 ng/ml; Peprotech, Hamburg, Germany); and harvested 0, 10 or 30 min post-stimulation.
Isolation of mononucleosomes, sequencing and mapping
Approximately 5 × 106 HUVECs stimulated with TNFα for 0, 10 or 30 min were digested (3 min at 37°C) with 750 units of micrococcal nuclease (MNase; Sigma-Aldrich, Seelze, Germany). Mononucleosomal DNA was isolated following separation on 1.3% agarose gels using glass beads (Qiagen, Hilden, Germany), and average fragment lengths determined using a 2100 Bioanalyzer (Agilent). Libraries were generated using the NEBNext DNA Library Prep Master Mix Kit (New England Biolabs, Ipswich, USA) and paired-end (2 × 50-bp) sequenced on a HiSeq2000 platform (Illumina, Essex, UK) to comparable depths (that is, 181, 185 and 187 million reads for 0, 10 and 30 min samples, respectively). Obtained reads were processed using the toolkits FastQC [44] and FASTX [45], mapped to hg19 using Bowtie [46].
MNase-seq analysis
Different peak-calling algorithms were applied depending on the downstream application. For Additional file 4 the Peak Predictor/GeneTrack package [30] was used. For motif analyses, as well as Gene and Genome Ontology profiling (Additional file 1 and Table 1), the HOMER software package [47] and findPeaks 3.1 [23] were applied (adjusting fragment size to that determined using the Bioanalyzer with the following settings: −style factor –size 147 –minDist 1 –F 0 –L 0 –C 0). When comparing two or more datasets, the getDifferentialPeaks or mergePeaks scripts were used. For visualization, tag directories of mapped reads were generated and .bedGraph files produced using the makeUCSCfile (for raw reads) or pos2bed.pl (for peaks and other BED-formatted files) scripts; tracks were then visualized with the UCSC Genome browser [48]. Both known and de novo motif analyses were performed with findMotifsGenome.pl using standard settings and the repeat-masked hg19 genome build. All peak annotations, including histograms, were generated with annotatePeaks.pl, and graphs plotted in R [49] with a smoothing spline of 0.2.
Differences in nucleosome positioning between any two time-points (0- compared to 10- or 30-min datasets) were elucidated statistically using a novel Neyman-Pearson 'normalized log-likelihood-ratio' analysis. Chromosomes 1-X were divided in
n
non-overlapping windows
w
1,
w
2,
…
w
n
of a constant size |
w
i
|. In a pre-processing step, MNase-seq data files containing read positions at
t
1
and
t
2
were used to compile datasets
R
 = (
r
1
,
r
2
, …
r
n
) and
S
 = (
s
1
,
s
2
, …
s
n
);
r
i
and
s
i
are the read counts in each
w
i
observed under treatments
t
1
and
t
2
, respectively. Then hypotheses
H
1
and
H
2
were tested by computing a log-likelihood-ratio
Q
according to:
This set of log-likelihood-ratio values has a mean of and a normalized distribution ||
Q
|| = 
Q
-
Q
mean
. It follows that ||
q
i
|| values are centred on zero. The null hypothesis is then that all observed
q
i
-values from regions that were transcriptionally inert (assessed using RNA-seq data) were due to random fluctuations and not caused by treatments
t
1
and
t
2
. The normalized cumulative distribution
N
cum
was used to determine a p-value p(||
q
i
||) for ||
q
i
|| ≥0 according to:
Thus, the smaller p(||q i ||) is, the lower the probability that the ratio ||q i || is merely due to a stochastic fluctuation of read counts.
Chromosome conformation capture
Nuclei were harvested after 0 or 30 min of TNFα stimulation, cross-linked in 1% paraformaldehyde (PFA; Electron Microscopy Science, Munich, Germany), and processed as described [21] using ApoI as the primary restriction endonuclease. Following sequencing on a HiSeq2000 platform (Illumina; approximately 2 × 107 reads), data were analysed using the r3Cseq pipeline [50]. The domainogram in Figure 4 was generated using the top 167 cis-contacts on chromosome 14 (on which the viewpoint lies) using publicly available software [51]. In brief, 3C-seq reads are made binary and relative enrichments calculated using sliding windows compared to a randomized background made up of 3,000 fragment ends. Data permutation is then used to determine a threshold of <0.01 false discovery rate (FDR); windows exceeding this threshold are scored as interacting.
Chromatin immunoprecipitation and ChIP-seq analysis
Approximately 107 HUVECs were cross-linked (using 1% PFA for 10 min, preceded by 25 min in 10 mM ethyl-glycol-bis-succinimidylsuccinate at room temperature, as described previously [18]) 0, 10 or 30 min after TNFα stimulation; chromatin was fragmented by sonication (Bioruptor; Diagenode, Liège, Belgium); then immunoprecipitation was carried out using a rat monoclonal against phospho-Ser2 in the C-terminal domain of the largest subunit of RNA polymerase II (3E10 [52]; a gift from Dirk Eick, Helmholtz Institute, Munich, Germany) or a rabbit polyclonal against the full-length p65 subunit of NF-κB (39369, Active motif) on aliquots of approximately 25 μg chromatin. Immunoprecipitated complexes were washed and eluted using the ChIP-It-Express kit (Active motif, Rixensart, Belgium).
For qPCR analysis, a Rotor-Gene 3000 cycler (Qiagen) and Platinum SYBR Green qPCR SuperMix-UDG (Invitrogen, Darmstadt, Germany) were used. Following incubation at 50°C for 2 min to activate the qPCR mix, and 95°C for 5 min to denature templates, reactions were carried out for 40 cycles at 95°C for 15 s, and 60°C for 50 s. PCR primers were designed via Primer3Plus [53] using qPCR settings with an optimal length of 20 to 22 nucleotides, a Tm of 62°C, targeting 100 to 200 bp. The presence of single amplimers was confirmed by melting-curve analysis, and data were analysed to obtain enrichments relative to input. P values (two-tailed) from unpaired Student's t-tests [54] were considered significant when <0.05.
For deep sequencing, previous (0- and 30-min [18]) and newly generated (10-min) p65 ChIP-seq data were aligned to hg18 and signal peaks detected using MACS [55]. This allowed 68, 214 and 8,583 high-confidence p65-binding events to be detected for 0, 10 and 30 min respectively (FDR ≤0.01, peak height ≥20 reads/million). Peaks were correlated to publicly available ENCODE Hidden Markov chromatin models and HUVEC ChIP-seq data (H3K27ac: GSM733691; H3K4me1: GSM733690 [31],[56]) and annotated against RefSeq genomic features (TSS, exon, intron, intergenic region).
Total RNA sequencing and analysis
Total RNA was isolated from 0.5 × 106 HUVECs stimulated with TNFα for 0, 10 or 30 min using TRIzol (Invitrogen), treated with RQ1 DNase (1 unit/μg RNA, 37°C, 45 min; Promega, Leiden, Netherlands), depleted of rRNA (RiboMinus; Epicentre, Madison, USA), chemically fragmented to approximately 350 nucleotides, and cDNA generated using random hexamers as primers (according to the True-seq protocol; Illumina). Adapters were then ligated to cDNA molecules, and libraries sequenced (Illumina HiSeq2000 platform; 100-bp paired-end reads; around 120 × 106 read-pairs per sample). Raw reads were then mapped to hg18 using TopHat [57] and reads aligning to RefSeq gene models were counted using the HTseq package [58]. Statistical analysis of differentially expressed genes was performed with the DESeq Bioconductor package [59] (asking for >100 reads per gene, and for a >0.6, <−0.6, or ±0.01 log2 fold-change for up-regulated, down-regulated or constitutively expressed genes, respectively; Additional file 3).
Immunofluorescence
HUVECs grown on coverslips etched with hydrofluoric acid were fixed with 4% PFA (Electron Microscopy Science) in phosphate-buffered saline (PBS; 20 min, 20°C), washed once in PBS (5 min, 20°C), permeabilized using 0.5% Triton X-100 in PBS (5 min, 20°C) and blocked with 1% bovine serum albumin (BSA) in PBS (Sigma-Aldrich; 45 min, 20°C). Phosphorylated (at Ser536) p65 was detected using a rabbit monoclonal antibody (1:500 dilution, 0.5% BSA in PBS; #04-1000, Millipore, Nottingham, UK) and Alexa488-conjugated donkey anti-rabbit AffinityPure F(ab')2 Fragment (1.5 μg/ml; Jackson ImmunoResearch, Maine, USA). After DAPI counter-staining, images were collected on a Leica DMI6000 B widefield microscope and analysed using ImageJ [60]; nuclei were encircled, the mean intensity calculated per area, and nuclear fluorescence (arbitrary units) calculated by subtracting the background (measured as the minimum intensity in the image).
Data availability
MNase-seq raw data are available at the GEO database under accession number [GEO: GSE53343], while 3C-seq, p65 ChIP-seq and total (ribo-depleted) RNA-seq data generated here can be accessed at the SRA archive under accession number [SRA: SRP044729].
Abbreviations
3C-seq:

chromosome conformation capture coupled to deep sequencing
bp:

base pair
BSA:

bovine serum albumin
ChIP-seq:

chromatin immunoprecipitation coupled to high-throughput sequencing
EBM:

endothelial basal medium
FBS:

foetal bovine serum
FDR:

false discovery rate
kbp:

kilobase pair
MNase-seq:

micrococcal nuclease digestion followed by sequencing
NF-κB:

nuclear factor kappa-B
PFA:

paraformaldehyde
PBS:

phosphate-buffered saline
RNAP:

RNA polymerase
RNA-seq:

sequencing of total RNA
TNFα:

tumour necrosis factor alpha
TSS:

transcription start site
TTS:

transcription termination site
Declarations
Acknowledgements
We thank Karsten Rippe and Alvaro Rada-Iglesias for discussions; Vladimir Benes (EMBL, Heidelberg, Germany), Wilfred van Ijcken (Erasmus MC, Rotterdam, Netherlands) and Chris Greenman (TGAC, Norwich, UK) for sequencing the MNase-, ChIP-, 3C- and RNA-seq libraries, respectively; and Dirk Eick for the 3E10 antibody. This work was supported by the Epigensys consortium funded by the ERASysBio+/FP7 initiative via the BBSRC (PRC), the BMBF (SD, GL, GW) and the NWO (PK, FG, TAK); by a M.E.C. Booster grant from the Netherlands Genomics Institute (PK); by an SBF960 collaborative grant (GL); by CMMC intramural funding (TG, AP); and by Köln Fortune (AZ).
Authors' Affiliations
(1)
Department of Biochemistry III, University of Regensburg, Regensburg, Germany
(2)
Cell Biology and Genetics, Erasmus Medical Center, Rotterdam, The Netherlands
(3)
Institute of Biophysics and Physical Biochemistry, University of Regensburg, Regensburg, Germany
(4)
Centre for Molecular Medicine, University of Cologne, Cologne, Germany
(5)
Institute for Applied Computer Science, University of Applied Sciences Stralsund, Stralsund, Germany
(6)
Biophysical Genomics, Erasmus Medical Center, The Netherlands
(7)
BioQuant & German Cancer Research Center, Heidelberg, Germany
(8)
Sir William Dunn School of Pathology, University of Oxford, Oxford, United Kingdom
(9)
Cold Spring Harbor Laboratory, Cold Spring Harbor, USA
Copyright
© Diermeier et al.; licensee BioMed Central Ltd. 2014
This article is published under license to BioMed Central Ltd. This is an Open Access article distributed under the terms of the Creative Commons Attribution License (http://creativecommons.org/licenses/by/4.0), which permits unrestricted use, distribution, and reproduction in any medium, provided the original work is properly credited. The Creative Commons Public Domain Dedication waiver (http://creativecommons.org/publicdomain/zero/1.0/) applies to the data made available in this article, unless otherwise stated.