DiffVar: a new method for detecting differential variability with application to methylation in cancer and aging
Received: 21 February 2014
Accepted: 10 September 2014
Published: 23 September 2014
Abstract
Methylation of DNA is known to be essential to development and dramatically altered in cancers. The Illumina HumanMethylation450 BeadChip has been used extensively as a cost-effective way to profile nearly half a million CpG sites across the human genome. Here we present DiffVar, a novel method to test for differential variability between sample groups. DiffVar employs an empirical Bayes model framework that can take into account any experimental design and is robust to outliers. We applied DiffVar to several datasets from The Cancer Genome Atlas, as well as an aging dataset. DiffVar is available in the missMethyl Bioconductor R package.
Keywords
False Discovery RateCancer DatasetBartlett TestTumour PurityLung Cancer Dataset
Background
DNA methylation is crucial for normal embryonic development with roughly 3-6% of all cytosines methylated in normal human DNA [1]. However, methylation changes are known to accumulate with age [2], with up to 30% of CpG sites changing methylation status within the first 1.5 years of life [3]. In addition, aberrant methylation patterning is associated with many diseases. In particular, in cancer cells, disruption of normal methylation events are very common with the number of genes undergoing CpG island promoter hypermethylation increasing during tumour development, combined with an extensive loss of DNA methylation in other genomic regions [1],[4]. This phenomenon is not consistent across all cancers however; distinct DNA methylation patterns have been observed between sub-types of the same cancer [5]-[7]. Akalin et al. [5] show that one sub-type of Acute Myeloid Leukemia shows widespread hypermethylation in promoter regions and CpG islands neighbouring the transcription start site of genes, while a second sub-type displayed extensive loss of methylation at an almost mutually exclusive set of CpGs in introns and intergenic CpG islands and shores. Abnormal methylation events can potentially silence tumour suppressor or growth regulatory genes, activating novel pathways that contribute to tumour progression [8]. However, epigenetic changes are potentially reversible, as it is possible to reactivate genes that have been silenced by methylation [1], making them an attractive therapeutic target. Hence the study of DNA methylation in cancer remains an important topic of interest with much still to be discovered.
Cancer is a heterogeneous disease. Within each type of cancer there is the potential for tumour growth to be driven by perturbations in many different molecular pathways, and these perturbations will vary from individual to individual. Epigenetic instability or the loss of epigenetic control of important genomic domains can lead to increased methylation variability in cancer, which may contribute to tumour heterogeneity [9]. In a large study profiling 1505 CpG sites of 1628 human samples, of which 1054 were tumours, Fernandez et al. [10] observed little variation in the DNA methylation patterns of normal tissue, while the established tumours showed greater CpG methylation heterogeneity. Hansen et al. [9] propose that increased epigenetic heterogeneity in cancer could underlie the ability of cancer cells to adapt rapidly to changing environments. Hence studying the heterogeneity of cancers could lead to better understanding of tumourigenesis.
As mentioned, it has been shown that DNA methylation patterns are associated with an individuals' age [2]. Interestingly, both tumour development and aging are processes which result in the global loss of genome wide DNA methylation combined with gains in CpG island promoter methylation [11],[12]. Hence it has been speculated that the accumulation of epigenetic alterations during aging might contribute to tumourigenesis [12].
Several technologies are available for profiling DNA methylation, both array and sequencing based. While the cost of next generation sequencing has dramatically decreased, it is still too expensive for many large studies to profile widespread methylation. The introduction of the Illumina 450 K human methylation array is a more affordable alternative for measuring genome-wide DNA methylation at 482,421 CpG sites. Consequently, thousands of tumour and normal tissues have been profiled using these arrays, with numerous cancer datasets now publicly available through The Cancer Genome Atlas (TCGA) [13],[14]. Similarly, these arrays are being used to profile methylation differences between disease cases and normal controls in so called eigenome-wide association studies (EWAS) [15].
To date, the main focus when analysing DNA methylation data has been detecting CpG sites that are differentially methylated between groups. Methods to detect differences in means for high-dimensional biological data are well-established and include approaches such as those taken in the Bioconductor [
16
] software packages
limma
[
17
]
, minfi
[
18
]
, edgeR
[
19
] and
DESeq
[
20
]. A CpG site that is statistically significantly differentially methylated between groups (for example, cancer versus normal) will have different group means; however, the measurements within each group will tend to be quite consistent (Figure
1
A). Recently, several papers have observed consistent methylation between normal samples and highly variable methylation between cancer samples, arguing that identifying features that differ in terms of variability may be just as relevant or important as differential methylation for understanding disease phenotypes [
21
]-[
25
]. In other words, there is interest in identifying differentially variable CpG sites, where the samples in one group have consistent methylation values and the samples in the other group have highly variable methylation values (Figure
1
B).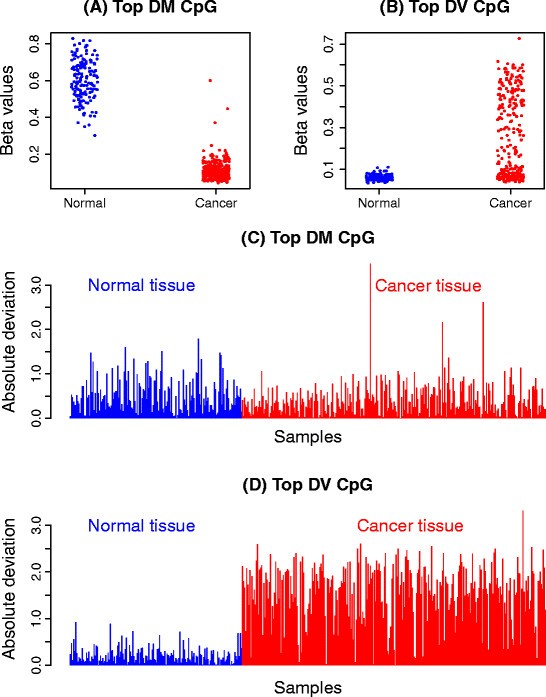 Methods for detecting differential variability in high dimensional `omics data have not been well addressed in the literature to date. Jaffe et al. [24] have a sophisticated method to detect differential variability over regions, specifically developed for the CHARM array [26]. Bar et al. [27],[28] propose a three component mixture model on the ratio of the sample variances from treatment and control groups. The method aims to separate features that are not differentially variable, have inflated variance in the treatment group, or inflated variance in the control group. In addition, they perform empirical Bayes shrinkage on the inflation factors to stabilise the estimates. Other attempts for determining CpG site-wise differential variability include the F-test [9],[29] and the Bartlett test [25]. Unfortunately, the F-test and Bartlett test are known to be highly sensitive to outliers [30]. While Hansen et al. [9] do not address the issue of outliers in the data when using an F-test for equality of variances; Ho et al [29] perform an outlier removal step prior to testing for differential variability. By contrast, Teschendorff and Widschwendter [25] implement the Bartlett test and claim that features that are differentially variable due to outliers are of interest. Their application is specific to the early stages of carcinogenesis, where they hypothesised that outliers may play an important role. It has been observed, however, that outliers are often a result of technical and biological artefacts rather than being biologically relevant to disease. For example, a technical artefact could arise due to processes surrounding the technology and biological artefacts could include stromal contamination of a tumour sample. Microarrays can suffer from spatial artefacts [31] and outliers arising from sample specific GC content biases have been reported in RNA sequencing data [32]. Mislabelled samples can also lead to outlying observations [33]. Hence, a method that successfully identifies differentially variable sites with a broader distribution of methylation values, such as that in Figure 1B, is desirable. Furthermore, the F-test and Bartlett test assume that the data is normally distributed, which is not the case for methylation data [34].
Here we present a new method for detecting differential variability for individual CpG sites in methylation data. Our approach is inspired by Levene's z-test [35]. It is a simple and computationally efficient test that is robust against non-normality and outliers. A major advantage of our method is that it is suitable for any experimental design; it is not limited to a two-group scenario. The method, called DiffVar, is available as a function in the missMethyl Bioconductor R package, and depends on the limma framework. We applied DiffVar to several publicly available cancer datasets from TCGA, as well as a publicly available aging dataset [2]. When we applied DiffVar to the cancer data sets from TCGA we observed that a large proportion of the top differentially variable CpG sites are found in CpG islands. Interestingly, the top differentially variable CpG islands tend to differ from cancer to cancer. We further found that the 10,000 top ranked differentially variable CpG sites have very little overlap with the 10,000 top ranked differentially methylated CpG sites, consistent with the findings in Teschendorff and Widschwendter [25]. Applying DiffVar to an aging dataset revealed that the centenarians have highly variable methylation compared to newborns and approximately 17% of the differentially variable CpGs were also differentially methylated.
Discussion
In this paper we present DiffVar, a new method to detect differential variability between groups of samples. DiffVar is freely available as an R function in the missMethyl Bioconductor package. Our test is based on Levene's z-test for variances and incorporates an empirical Bayes modelling framework to appropriately deal with high dimensional data issues. We find the test holds its size, is robust to outliers and outperforms the F and Bartlett test in terms of controlling the false discovery rate. For smaller sample sizes, the F and Bartlett test are more powerful; however this comes at a price of higher false discovery rates. DiffVar with absolute deviations represents the best compromise between controlling the FDR and power to detect differential variability.
In order to reliably estimate the variance of a group, more observations are needed than for estimating a mean. We found that for group sizes as low as 10 in the kidney cancer dataset there was adequate power to detect differential variability, with the power increasing dramatically up to group sizes of 50 arrays. However, detection of differential variability is also dependent on how large the variability in one group is relative to the other. In addition to a false discovery rate cut-off, one can specify a threshold on the variability ratio, which is the ratio of the variance in one group compared to the variance in the second group. For example, when analysing the cancer and aging datasets, in addition to the FDR cut-off of 5%, we required a variability ratio of at least five between the two groups for a CpG to be called significantly differentially variable.
We applied our differential variability testing method to several cancer data sets from TCGA as well as a publicly available aging dataset. For the cancer datasets, we found that a large proportion of sites showed differential variability and, as expected, were more variable in cancer compared with normal tissue. For the aging dataset, we found that a large proportion of CpG sites were more variable in centenarians than newborns. Interestingly, for the top ranked CpGs in both the cancer and aging datasets, the overlap between differentially variable and differentially methylated CpGs was less than expected by chance.
In all cancer datasets we showed that CpG islands were enriched for differential variability. This is important because methylation of CpG islands in cancer cells is known to contribute to gene silencing [43]. CpG sites that are differentially variable may reflect a loss of epigenetic control that could be contributing to tumourigenesis. Another hypothesis is that differentially variable CpG sites capture the heterogeneity between patients whose tumours arose due to the disruption or activation of different biological pathways. For some cancer patients, the methylation status of a differentially variable CpG site is similar to the methylation status in a normal cohort, while for other patients the same CpG site shows aberrant methylation. This type of analysis has the potential to be used as a starting point to identify clusters of patients whose tumours arose via similar molecular mechanisms. For the cancer datasets analysed in this paper, we found that only a small proportion of differentially variable CpGs could be explained by tumour purity.
In this paper we have focused on DNA methylation data that has been generated using Illumina's Infinium HumanMethylation450 BeadChip. DiffVar can also be applied to DNA methylation sequencing data or any set of β or M values from CpG sites or regions. The DiffVar function will transform a matrix of β values into M values by applying a logit transformation. In general, the DiffVar method for testing differential variability can be applied to any `omics data which uses the limma pipeline for analysis, such as microarray expression data or RNA-seq data. For RNA-Seq data, DiffVar will perform a voom transformation [44] before testing for differential variability. The DiffVar modelling framework has the added benefit of giving the user access to other tools in the limma package, for example, testing relative to a threshold (TREAT [45]), as well as gene set testing functions ROAST [46] and CAMERA [47].
Conclusions
DiffVar is a novel method to test for differential variability in high-throughput genomics data such as methylation arrays or gene expression data. We have shown that DiffVar controls the false discovery rate while being robust to outliers. DiffVar is available as an R function in the missMethyl Bioconductor package.
Authors' contributions
AO conceived the idea. BP performed the analysis and wrote the code. AO and BP wrote the paper. Both authors read, edited and approved the final manuscript.
Abbreviations
DM:

Differential methylation
DV:

Differential variability
FDR:

False discovery rate
ROC:

Receiver operating characteristic
TCGA:

The Cancer Genome Atlas
Declarations
Acknowledgements
We thank Jovana Maksimovic who downloaded and provided R code for pre-processing the kidney cancer and aging dataset, assisted in downloading the prostate and lung cancer datasets, provided valuable advice on the analysis of methylation data, as well as providing feedback on the paper. We thank Gordon Smyth for his insightful discussion on Levene's test. We thank Patrick Molloy for performing initial analysis related to this work. We thank Ian Majewski for providing helpful insights on the manuscript. We thank Oliver Sieber and Chris Love for helpful discussion surrounding cancer epigenetics and the biological relevance of differential variability in methylation data. We acknowledge the TCGA Research Network as well as the specimen donors and the research groups involved for making the data publicly available. The research was done with the support of NHMRC grant APP1051402. AO is a career development fellow of the NHMRC APP1051481.
Authors' Affiliations
(1)
Murdoch Childrens Research Institute, Royal Children's Hospital, ParkvilleMelbourne, Australia
Copyright
© Phipson and Oshlack; licensee BioMed Central 2014
This article is published under license to BioMed Central Ltd. This is an Open Access article distributed under the terms of the Creative Commons Attribution License (http://www.creativecommons.org/licenses/by/4.0), which permits unrestricted use, distribution, and reproduction in any medium, provided the original work is properly credited. The Creative Commons Public Domain Dedication waiver (http://www.creativecommons.org/publicdomain/zero/1.0/) applies to the data made available in this article, unless otherwise stated.