Diverse modes of genomic alteration in hepatocellular carcinoma
Received: 6 November 2013
Accepted: 11 August 2014
Published: 26 August 2014
Abstract
Background
Hepatocellular carcinoma (HCC) is a heterogeneous disease with high mortality rate. Recent genomic studies have identified TP53, AXIN1, and CTNNB1 as the most frequently mutated genes. Lower frequency mutations have been reported in ARID1A, ARID2 and JAK1. In addition, hepatitis B virus (HBV) integrations into the human genome have been associated with HCC.
Results
Here, we deep-sequence 42 HCC patients with a combination of whole genome, exome and transcriptome sequencing to identify the mutational landscape of HCC using a reasonably large discovery cohort. We find frequent mutations in TP53, CTNNB1 and AXIN1, and rare but likely functional mutations in BAP1 and IDH1. Besides frequent hepatitis B virus integrations at TERT, we identify translocations at the boundaries of TERT. A novel deletion is identified in CTNNB1 in a region that is heavily mutated in multiple cancers. We also find multiple high-allelic frequency mutations in the extracellular matrix protein LAMA2. Lower expression levels of LAMA2 correlate with a proliferative signature, and predict poor survival and higher chance of cancer recurrence in HCC patients, suggesting an important role of the extracellular matrix and cell adhesion in tumor progression of a subgroup of HCC patients.
Conclusions
The heterogeneous disease of HCC features diverse modes of genomic alteration. In addition to common point mutations, structural variations and methylation changes, there are several virus-associated changes, including gene disruption or activation, formation of chimeric viral-human transcripts, and DNA copy number changes. Such a multitude of genomic events likely contributes to the heterogeneous nature of HCC.
Keywords
Laryngeal Squamous Cell CarcinomaChimeric TranscriptTERT GeneTERT ExpressionBAP1 Mutation
Background
Hepatocellular carcinoma (HCC) is the third leading cause of cancer-related death, with a poor 5-year survival rate of less than 10% [1]. While more than 600,000 new cases are diagnosed annually, there is no effective targeted therapy. HCC is highly heterogeneous and associated with various etiological factors, including hepatitis B virus (HBV) or hepatitis C virus (HCV) infection, alcohol consumption and exposure to aflatoxin and possibly vinyl chloride [2]. Several emerging themes were revealed by recent genomic studies [3]-[6], including recurrent mutations in TP53, Wnt-signaling components CTNNB1 and AXIN1, and chromatin regulators like ARID1A and ARID2, as well as HBV integration near TERT, CCNE1 and MLL4. The frequently altered genes discovered by these studies have differed, however, possibly due to small discovery panels (up to 25 patients) and the inherent heterogeneity of HCC due to several associated etiological factors. For example, activating mutations in CTNNB1 are mutually exclusive with HBV infection [6] and hence would not be prominent in a cohort enriched for HBV-infected patients. Therefore, it might not be surprising that different studies have identified different genes that are mutated in the population at low frequency, like ARID2, ARID1A and JAK1. Another difficulty in constructing the complete mutational landscape in HCC is the focused nature of most previous studies, since it is not common for a single study to comprehensively examine multiple types of genomic changes that include point mutations, deletions, structural variations, and virus-mediated mutations. We have previously shown that HBV DNA frequently integrates into the human genome, causing diverse changes such as DNA copy number variation, chimeric viral-human transcript fusions, and transcriptional activation [3]. Given the disruptive nature of HBV integration, it is pertinent to study all modes of genomic changes in the same context.
In this study, we analyzed a panel of 42 HCC patients with a combination of whole-genome, exome and transcriptome sequencing. We identified multiple high-allelic frequency mutations in LAMA2. LAMA2 encodes the α subunit of laminin, the major component of basal laminae. Besides being a structural component of the extracellular matrix, basal laminae can influence cell proliferation and differentiation. Defective anchoring to laminins is widespread in cancer [7]. The high incidence of mutations in an extracellular matrix component like LAMA2 adds a new dimension of underlying genetic components to this rather complex disease. We also found two patients with mutations in IDH1 at the R132 hotspot found in other cancers [8],[9], and one patient with truncated IDH2. The tumor suppressor BAP1 was mutated in two patients. We previously showed that HBV randomly integrates into the human genome and results in several genomic and genetic alterations [3]. Here we report HBV integrations in eight HBV-infected patients, including integration in the vicinity of three previously reported genes, TERT, CCNE1 and MLL4. Aside from individual genes mutated in HCC, we also examine the diverse modes of genomic alteration in this heterogeneous disease, delineating both conventional mutations and virus-associated changes that contribute to liver oncogenesis.
Discussion
Multiple efforts using deep sequencing of HCC are now revealing important players in this heterogeneous disease. Previous genomic studies have implicated the role of tumor suppressor TP53, Wnt-signaling components CTNNB1 and AXIN1, telomerase TERT, cell cycle regulator CCNE1, and chromatin regulators like MLL4, ARID1A and ARID2, although different studies have identified different subsets of these players. Here we report low frequency mutations in tumor suppressor BAP1 and metabolic genes IDH1 and IDH2 in HCC. Although mutations in these genes have been reported in other cancer types such as glioblastoma and mesothelioma [8],[14], BAP1, IDH1 and IDH2 have not been previously linked to HCC. Since mutant IDH1 has been pursued as an anticancer target in glioma [27], it is conceivable that HCC patients carrying the R132 mutation can also benefit from such IDH1 inhibitors. Similarly, HCC patients with PIK3CA E545K mutation can benefit from inhibitors effective against the kinase activity of this mutant [28]. It is conceivable that other PIK3CA mutations may also be present in HCC.
Interestingly, we observed frequent mutations in the extracellular matrix gene LAMA2 in liver cancer patients. Specific upregulation of LAMA2 expression in cirrhotic hepatocytes (Figure 5B) suggests that basal laminae may be required for controlled regeneration following liver injury. Low expression of LAMA2 is tied to poor survival outcome, high recurrence of HCC, and upregulation of cell cycle genes. We compared the LAMA2 expression profile, using the transcriptome data from 12 tumors, with those of poor-prognosis stemness markers like EPCAM, PROM1 (CD133), THY1 (CD90), NCAM and KRT9 (CK19), but did not find any conclusive evidence of correlation with these markers, although there was a weak correlation with CD90 (Pearson correlation coefficient = 0.65). It is conceivable that functional LAMA2 in the extracellular matrix may keep the proliferation of regenerating hepatocytes in check, and defective or lack of LAMA2 facilitates tumor progression. This is also supported by the fact that the loss of cell surface anchoring to basal laminae has been found to promote tumor growth and cell proliferation [7]. Moreover, soluble laminin in culture can suppress cell proliferation in mammary epithelial cells [29]. DNA methylation at the LAMA2 promoter region found by us and others [30] suggests that epigenetic mechanisms may target LAMA2 in multiple cancers. These findings suggest the importance of the extracellular matrix during HCC development and perhaps other types of cancers as well. This has potential implications on stratification of HCC patients and on decisions about therapeutic options for such categories of patients.
While the expression of LAMA2 seems to be related to DNA methylation, the TERT gene appears to be influenced by other modes of genomic alteration. In two of our HCC samples, the HBV viral DNA is integrated into the promoter of TERT, leading to the activation of TERT expression. In two other HCC patients, viral-independent translocation was observed, juxtaposing the TERT promoter on other active genomic regions. All four such patients exhibit much elevated TERT gene expression compared with adjacent liver tissues based on our RNA-Seq data (Figure 4). More recently, point mutations have been found in the promoter region of TERT in multiple types of cancer, leading to higher TERT mRNA expression [31],[32]. Clearly, TERT activation is common in human cancers and is likely oncogenic, but the mechanism of gene activation may differ between cancer types. While we did not find any point mutations in the TERT promoter in HCC, other HBV-dependent and HBV-independent genomic events seem to be involved in alternative mechanisms of TERT activation.
Overall, there is a constellation of genomic alterations in HCC (Figure
7
). Among conventional mutations, point mutations are clearly the most studied type of changes in HCC due to mature technologies for detecting such mutations. Large coding region deletions, such as the
CTNNB1
deletion we report here (Figure
2
C), are usually understudied but their functional importance should not be ignored. Perhaps the most notable genomic alterations in the HBV-positive patients are various changes caused by viral DNA integration into the human genome. Based on our work and that of others [
3
]-[
5
], patterns of HBV-based mutagenesis are starting to emerge. In some patients, integrated HBV viral promoter would activate nearby genes such as
TERT
and
ANGPT1
. In others, HBV integration sites occur in the middle of human genes such as
MLL4
, causing gene disruption and/or viral-human chimera transcripts. HBV integration also leads to local genomic instability, further causing DNA copy number changes [
3
]. Such diverse modes of genomic alteration add genetic complexity to HCC (Figure
7
), likely leading to its highly heterogeneous nature. Deeper understanding of these complex patterns of mutations could also provide better understanding of the etiology of HCC and possibly lead to development of novel anti-HCC therapeutics. For example, the HBx-MLL4 chimera fusions potentially produce cancer-specific proteins that can be specifically targeted therapeutically, and the
TERT
gene activation modes may suggest different diagnostic markers for a subset of HCC patients. With more comprehensive genomic characterization of liver cancer patients, more detailed and reproducible cancer subtypes will emerge that can eventually guide clinical diagnostics and treatment management.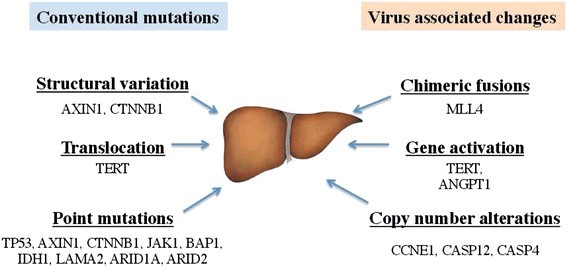 Conclusion
We found diverse modes of genomic alteration in HCC that affect important players in this disease. Point mutations and structural variations affected both AXIN1 and CTNNB1. We found HBV integrations in the TERT promoter, and virus-independent TERT translocations, likely leading to activation of TERT expression. HBV integrations occurred in MLL4, CCNE1 and TERT, leading to increased expression of CCNE1 and TERT, or HBx-MLL4 fusion. TP53, AXIN1 and CTNNB1 were the most frequently mutated genes in our cohort. LAMA2 showed high allelic frequency mutations, and we also found point mutations in BAP1, IDH1, IDH2 and PIK3CA.
Authors' contributions
SJ and ZJ conducted the primary analyses. SJ, ZJ and ZZ designed the study and wrote the manuscript. EWS conducted mutation detection on the exome samples. FG performed viral-human chimeric read detection from whole genome sequencing data. JL performed the RNA-Seq data analysis. OM developed methods for filtering mutations. PD conducted the DNA methylation analysis. JD and SBK performed experimental validation on the HBV infection status. SJ and ZM managed sample handling and acquisition. KFW performed data analysis on the cohort from the University of Hong Kong. ZG and YL conducted LAMA2 mutation analysis on the ACRG study. TDW implemented the computational method for detection of fusions from RNA-Seq data. DMF conducted histopathological examination of tissue sections. JML supervised the study on the cohort from the University of Hong Kong. SS led the RNA and exome sequencing efforts. ZZ coordinated the study. All authors read and approved the final manuscript.
Abbreviations
bp:

base pair
HBV:

hepatitis B virus
HCC:

hepatocellular carcinoma
PCR:

polymerase chain reaction
UTR:

untranslated region
Declarations
Acknowledgments
We would like to acknowledge Robert Gentleman, Gerard Manning, Fred de Sauvage and Christiaan Klijn for support and fruitful discussions, and May Whittake, Sara Verbeke, Jeremy Stinson and Joseph Guillory for mutation validations. We also thank Brian Hilbush and Richard Littin for support for the Real Time Genomics® software for mapping of Complete Genomics® raw reads.
Authors' Affiliations
(1)
Department of Bioinformatics and Computational Biology, Genentech Inc, South San Francisco, USA
(2)
Department of Molecular Biology, Genentech Inc, South San Francisco, USA
(3)
Department of Infectious diseases, Genentech Inc, South San Francisco, USA
(4)
Department of Pathology, Genentech Inc, South San Francisco, USA
(5)
Department of Surgery, University of Hong Kong, Pokfulam, Hong Kong
(6)
BGI-Shenzhen, Shenzhen, China
(7)
Department of Pharmacology, National University of Singapore, Singapore, Singapore
(8)
Institute of Molecular and Cell Biology, A*STAR, Singapore, Singapore
Copyright
© Jhunjhunwala et al.; licensee BioMed Central Ltd. 2014
This article is published under license to BioMed Central Ltd. This is an Open Access article distributed under the terms of the Creative Commons Attribution License (http://creativecommons.org/licenses/by/4.0), which permits unrestricted use, distribution, and reproduction in any medium, provided the original work is properly credited. The Creative Commons Public Domain Dedication waiver (http://creativecommons.org/publicdomain/zero/1.0/) applies to the data made available in this article, unless otherwise stated.