Corset: enabling differential gene expression analysis for de novoassembled transcriptomes
Received: 21 February 2014
Accepted: 26 July 2014
Published: 26 July 2014
Abstract
Next generation sequencing has made it possible to perform differential gene expression studies in non-model organisms. For these studies, the need for a reference genome is circumvented by performing de novo assembly on the RNA-seq data. However, transcriptome assembly produces a multitude of contigs, which must be clustered into genes prior to differential gene expression detection. Here we present Corset, a method that hierarchically clusters contigs using shared reads and expression, then summarizes read counts to clusters, ready for statistical testing. Using a range of metrics, we demonstrate that Corset out-performs alternative methods. Corset is available from https://code.google.com/p/corset-project/.
Keywords
Differential Expression Analysis
Transcriptome Assembly
Conditional Group
Trinity Assembly
Multiple Contigs
Background
Next-generation sequencing of RNA, RNA-seq, is a powerful technology for studying various aspects of the transcriptome; it has a broad range of applications, including gene discovery, detection of alternative splicing events, differential expression analysis, fusion detection and identification of variants such as SNPs and post-transcriptional editing [1],[2]. One of the advantages of RNA-seq over older technology, such as microarrays, is that it enables the transcriptome-wide analysis of non-model organisms because a reference genome and annotation are not required for generating and analyzing the data. When no reference genome is available, the transcriptome is de novo assembled directly from RNA-seq reads [3]. Several programs exist for de novo transcriptome assembly: Oases [4] and Trans-abyss [5], which extend the Velvet [6] and Abyss [7] genomic assemblers, respectively, as well as purpose built transcriptome assemblers such as Trinity [8]. These programs are capable of assembling millions of short reads into transcript sequences - called contigs.
One common and biologically important application of RNA-seq is identifying genes that are differentially expressed between two or more conditions [9]. However, performing a differential expression analysis on a de novo assembled transcriptome is challenging because multiple contigs per gene are reported. Multiple contigs, with shared sequence, arise because transcriptome assemblers differentiate between isoforms of the same gene, and report each separately. Furthermore, they often report contigs that are not truly representative of different isoforms but arise from artifacts such as sequencing errors, repeats, variation in coverage or genetic variation within a diploid individual or pooled population. As a result, transcriptome assemblers often report fragmented versions of a transcript, or repeated contigs that differ only by a SNP or indel. Surprisingly, simulations have shown that even the assembly of data without any sequencing errors, SNPs or alternative splicing can generate multiple contigs per gene [10]. Hence, the number of contigs produced by a de novo assembly is typically large; for example, assemblies with 80 million reads can produce hundreds of thousands of contigs [11].
The inevitably long list of contigs generated by de novo transcriptome assembly causes several issues for differential expression analysis: i) reads cannot be aligned unambiguously to duplicated sequences and determining the origin of ambiguously aligned reads is error prone; ii) the statistical power of the test for differential expression is reduced as reads must be allocated amongst a greater number of contigs, thus reducing the average counts per contig; iii), the adjustment for multiple testing is more severe; and iv), once differentially expressed contigs have been identified, interpretation is difficult, as many genes will be present in the list multiple times. Performing a differential expression analysis on genes, rather than contigs, would overcome these difficulties. However, the procedure for estimating gene-level expression from a set of de novo assembled contigs is not straightforward and has not been thoroughly examined in the literature.
Several steps are involved in identifying differentially expressed genes from a
de novo
assembled transcriptome (Figure
1
): RNA-seq reads are first assembled, reads are next mapped back to contigs, contigs are then clustered into genes, after which the expression level for each gene cluster is summarized, and statistical testing is performed to detect differential expression.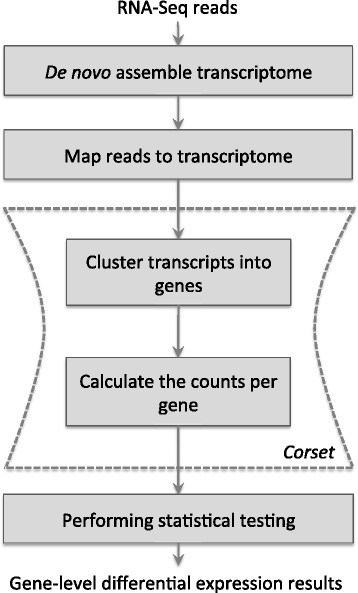 Several studies have compared individual steps in this analysis pipeline. For example, the relative merits of different de novo assemblers and steps prior to assembly, such as quality control, have been examined [12]–[15]. Similarly, the choice of method for performing count-based statistical testing for differential expression has been evaluated [16],[17]. However, few studies have compared or even suggested a path for obtaining gene-level counts from transcriptome assemblies [18],[19] and only a single automated pipeline has thus far been implemented to address this need [20]; it is provided by Trinity to run RSEM [21] followed by edgeR [22] or DESeq [23]. This pipeline is inflexible, however, to the choice of assembler.
In this paper we present Corset, a method and software for obtaining gene-level counts from any de novo transcriptome assembly. Corset takes a set of reads that have been multi-mapped (multiple alignments per read are reported) to the de novo assembled transcriptome and hierarchically clusters the contigs based on the proportion of shared reads and expression patterns. Expression patterns allow for discrimination between genes that share sequence, such as paralogues, if the expression levels between groups are different. Using the mapped reads, Corset then outputs gene-level counts. The gene-level counts can then easily be tested for differential expression using count-based frameworks such as edgeR and DESeq. We demonstrate that Corset consistently performs well compared to alternative clustering methods on a range of metrics. Moreover, as it is an assembler-independent method, it allows contigs and transcripts from various sources to be combined. It is also simpler to use, with the clustering and counting steps encompassed in a single run of the software.
Conclusions
Recently, there has been a focus on the potential for using RNA-seq to analyze the transcriptomes of non-model organisms, with a number of studies exploring various steps in the analysis pipeline, such as the effect of cleaning reads [13], digital normalization [35], different assemblers [12] and post-assembly improvements [36]. However, in many applications of RNA-seq the outcome of interest is not the transcriptome itself, but the detection of differentially expressed genes between samples. To this end, there are few tools or even guidelines on how to progress from the assembled transcriptome to a list of differentially expressed genes. This study presents a novel algorithm, Corset, for clustering de novo assembled contigs and generating gene-level counts. This study is also the first to compare various pipelines for DGE analysis of de novo assembled transciptomes, demonstrating that it is advantageous to perform a gene-level rather than transcript-level analysis, even on species such as yeast, with minimal alternative splicing.
However, performing a gene-level analysis requires the de novo contigs to be clustered into genes. Prior to the algorithm presented here, clustering options were limited to either the assembler's own groupings or a sequence-based clustering tool. Furthermore, it was not clear how well these methods performed in the context of a de novo assembled transcriptome; specifically, their ability to deal with issues such as the fragmentation of genes, erroneous chimeras and repeats, all of which may lead to the miss-clustering of contigs.
Our method, Corset, makes use of both the sequence similarity and expression data available to cluster contigs. The use of expression data means Corset has the power to separate paralogues and contigs with erroneous chimeras into different clusters. A possible consequence of separating contigs based on relative expression is that differentially spliced isoforms of a gene may be split into separate clusters. For gene-level differential expression analysis, we see no disadvantage in this; either or both isoform clusters should be detected as differentially expressed. However, this option can be turned off should the user want to ensure isoforms are clustered together. Overall, we found the clustering provided by Corset performed better than alternative approaches in several metrics we examined. Similarly, the expression data provided as counts by Corset gave results equal to, and sometimes marginally more accurate than, all alternative estimates.
Thus, Corset provides new methods in a single software tool that effectively replaces the often ambiguous, cumbersome, multi-step process required to go from a de novo assembled transcriptome to gene-level counts. Corset is easy to run as no indexing or sorting of the bam files is required and it can process single-end, paired-end or mixed reads. Finally, Corset provides a convenient way to merge the results from different de novo assemblies, reference annotations or genome-guided assemblies. We believe these features will be of great benefit to RNA-seq analysis in non-model organisms.
Abbreviations
bp:

base pair
DGE:

differential gene expression
FDR:

false discovery rate
My:

million years ago
ROC:

receiver operating characteristic
siRNA:

small interfering RNA
SNP:

single-nucleotide polymorphism
UTR:

untranslated region
Declarations
Acknowledgements
We would like to thank the Victorian Life Sciences Computation Initiative (VLSCI) and Life Science Computation Centre (LSCC) for access to high performance computing facilities. We would also like to thank Jovana Maksimovic, Belinda Phipson, Mark Robinson and Katrina Bell for giving feedback on this manuscript, and Simon Sadedin for testing the software. AO is supported by an NHMRC Career Development Fellowship APP1051481.
Authors' Affiliations
(1)
Murdoch Childrens Research Institute, Royal Children's Hospital, Parkville, Australia
(2)
Department of Genetics, University of Melbourne, Melbourne, Australia
Copyright
© Davidson and Oshlack; licensee BioMed Central Ltd 2014
This article is published under license to BioMed Central Ltd. This is an Open Access article distributed under the terms of the Creative Commons Attribution License (http://creativecommons.org/licenses/by/4.0), which permits unrestricted use, distribution, and reproduction in any medium, provided the original work is properly credited. The Creative Commons Public Domain Dedication waiver (http://creativecommons.org/publicdomain/zero/1.0/) applies to the data made available in this article, unless otherwise stated.