Expanded identification and characterization of mammalian circular RNAs
Received: 9 April 2014
Accepted: 29 July 2014
Published: 29 July 2014
Abstract
Background
The recent reports of two circular RNAs (circRNAs) with strong potential to act as microRNA (miRNA) sponges suggest that circRNAs might play important roles in regulating gene expression. However, the global properties of circRNAs are not well understood.
Results
We developed a computational pipeline to identify circRNAs and quantify their relative abundance from RNA-seq data. Applying this pipeline to a large set of non-poly(A)-selected RNA-seq data from the ENCODE project, we annotated 7,112 human circRNAs that were estimated to comprise at least 10% of the transcripts accumulating from their loci. Most circRNAs are expressed in only a few cell types and at low abundance, but they are no more cell-type-specific than are mRNAs with similar overall expression levels. Although most circRNAs overlap protein-coding sequences, ribosome profiling provides no evidence for their translation. We also annotated 635 mouse circRNAs, and although 20% of them are orthologous to human circRNAs, the sequence conservation of these circRNA orthologs is no higher than that of their neighboring linear exons. The previously proposed miR-7 sponge, CDR1as, is one of only two circRNAs with more miRNA sites than expected by chance, with the next best miRNA-sponge candidate deriving from a gene encoding a primate-specific zinc-finger protein, ZNF91.
Conclusions
Our results provide a new framework for future investigation of this intriguing topological isoform while raising doubts regarding a biological function of most circRNAs.
Keywords
miRNA FamilymiRNA SpongeOrthologous ExonNeighboring ExonmiRNA Site
Background
Many classes of non-protein-coding RNAs (ncRNAs) exist in cells [1],[2], and members of each class play important roles in either regulating gene expression or other biological processes [3]–[6]. For example, microRNAs (miRNAs) pair to sites within messenger RNAs (mRNAs) to target the mRNAs for translational repression and/or mRNA destabilization [7]. In an intriguing elaboration of this regulatory pathway, the activity of the mammalian miR-7 miRNA can be inhibited by CDR1as/ciRS-7, which is in turn targeted by another miRNA, miR-671, which shows near-perfect complementarity and triggers endonucleolytic cleavage of CDR1as [8]–[10]. CDR1as is a circular RNA (circRNA) deriving from an antisense transcript of the CDR1 protein-coding gene [10]. With >60 conserved sites for miR-7, CDR1as is thought to act as a sponge to titrate miR-7 from its other targets [8],[9]. A second circRNA proposed to act as a sponge is the testis-specific transcript of the male sex-determining gene Sry, which contains 16 sites for miR-138 [9]. Because circRNAs lack poly(A) tails and 5′ termini, they would escape the deadenylation, decapping and degradation normally caused by miRNA association [11], an obvious advantage for an RNA acting as a miRNA sponge [8],[9].
Thousands of additional circRNAs with unknown functions have been identified in various species [
8
],[
12
]–[
15
]. These circRNAs are generated primarily through a type of alternative RNA splicing called 'back-splicing', in which a splice donor splices to an upstream acceptor rather than a downstream acceptor (Figure
1
A) [
8
],[
12
],[
14
],[
16
],[
17
]. Based on several criteria, including their intriguing expression patterns, their apparently elevated sequence conservation and the compelling hypothesis that CDR1as acts as a miR-7 sponge, these circRNAs have been proposed to comprise a large class of post-transcriptional regulators. However, the number of additional circRNAs acting as natural miRNA sponges is currently unclear. Indeed, the extent to which these circular isoforms might act in any biological capacity is not known.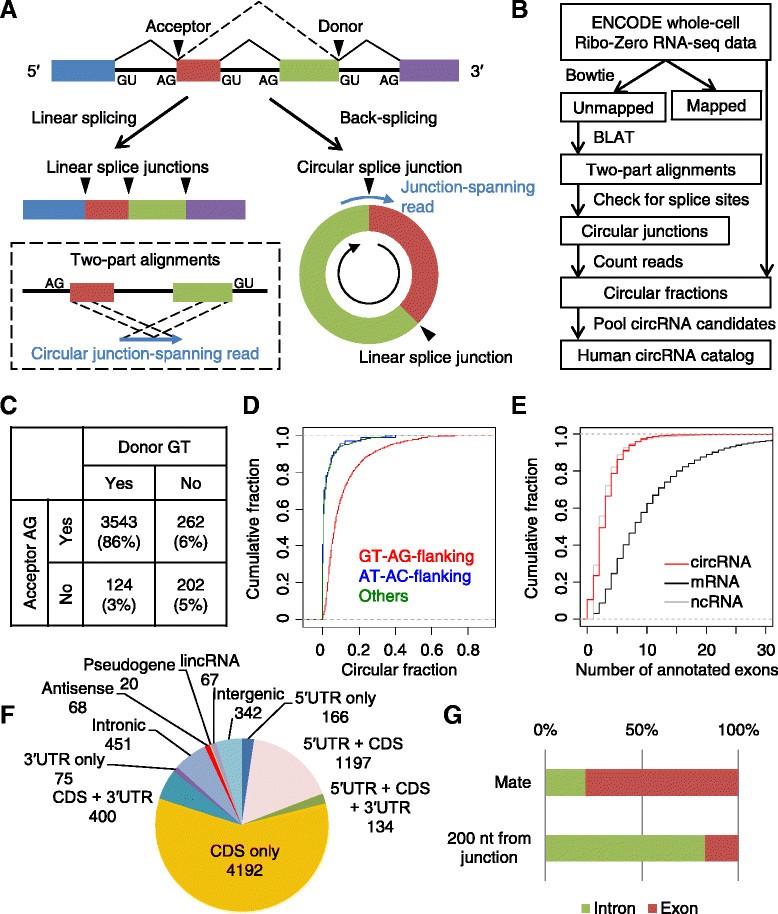 To begin to consider potential roles of circRNAs in post-transcriptional regulation, we developed a computational pipeline that identifies circRNAs from long-read RNA-seq data without relying on gene annotations. The pipeline resembled that reported previously [8], except it quantifies and considers the abundance of each circular isoform with respect to its alternative linear isoforms. Applying this pipeline to the non-poly(A)-selected RNA-seq data from the ENCODE project, we catalogued >7,000 human circRNAs and characterized their global properties, acquiring new insights regarding their biogenesis, the cell-type specificity of their expression, the extent to which they are conserved, the extent to which they are translated and their potential to act as miRNA sponges.
Discussion
Because molecular studies of eukaryotic RNA typically begin with poly(A)-selection, circRNAs have often escaped detection and consideration. Our study adds to previous circRNA annotation efforts [8],[12],[14],[15] to yield an expanded catalog of circRNAs robustly detected from a large variety of human cell types. Our circRNA identification method resembles that previously used [8],[14], except we focused our analyses on the circRNA loci with circular fractions ≥10%. Other recent studies take a more targeted approach and search for back-spliced junctions from annotated splice sites [12],[15] and therefore miss the unannotated genes and exons, especially those that have particularly high circular fractions and are rarely found in the poly(A)+ RNA-seq data, such as CDR1as. Moreover, unlike previous studies that identify circRNAs from poly(A)-depleted RNA-seq data [14],[15], we applied our pipeline to non-poly(A)-selected RNA-seq data, which were neither depleted nor enriched in circRNAs or their linear isoforms. An advantage of using these datasets is that we could directly estimate circular fractions without experimental calibration [15].
With this catalog of 7,112 human circRNAs in hand, the key question is whether they comprise an underappreciated class of molecules with cellular functions, or whether they are largely inert side-products of imperfect pre-mRNA splicing. The circRNA with the most compelling evidence for a biological function is the miR-7 sponge, CDR1as. Although a biological context has not yet been identified in which CDR1as loss-of-function influences miR-7 activity, this circRNA has >60 conserved sites to miR-7 and a developmental phenotype following its ectopic delivery [8],[9]. The other circRNA proposed to act as a miRNA sponge, mouse Sry[9], has only one miR-138 site in its human homolog, which indicates that the proposed sponge function is not conserved in mammals.
What about functional potential of the other 7,000-plus circRNAs? By characterizing the molecular abundance and translation of circRNAs and providing an updated perspective on their sequence conservation and potential to act as miRNA sponges, our analyses can speak to this question. Although we found thousands of circRNAs in each cell type, only approximately 2% (20 to 60, depending on the cell type) had circular fractions exceeding 50%, which indicates that most were minor alternative isoforms of their respective primary transcripts. Moreover, fewer than 10% had FPKMs ≥10 in any of the 39 samples examined. Considering that in homogeneous cell types one molecule per cell usually corresponds to an FPKM of 1 to 4 [29], most circRNAs only accumulated to a few molecules per cell. This generally low circular fraction and weak accumulation was observed despite the expectation that each circRNA, by virtue of its exonuclease insusceptibility, might persist in the cell much longer than its linear alternative isoforms. Such low accumulation would not be expected of molecules that titrate miRNAs or other abundant regulators away from their regulatory targets. Indeed, we find few circRNAs with the properties expected of miRNA sponges. When circRNAs are experimentally enriched by either poly(A)-depletion [15] or RNase R digestion [14], tens of thousands of more circRNAs are found, even when limiting the search to only those that use annotated splice sites. Many of these low-abundance circRNAs have zero junction-spanning reads when we searched in the non-poly(A)-selected RNA-seq data, in which circRNAs were neither enriched nor depleted (Additional file 5). Perhaps it is not too far-fetched to speculate that all multi-exon genes generate one or more circular isoforms at low frequencies, whereas circularization of CDR1as is specific and efficient in all cell types in which it is expressed.
To have a physiological effect at such low levels, circRNAs would need to either participate in a catalytic process or interact very specifically with other molecules that have important functions when present at very low cellular levels. For example, mRNAs have physiological effects when present at only a few molecules per cell because they participate in the catalytic process of translation, which can produce many protein molecules from each mRNA molecule. However, we found that circRNAs are rarely translated. Some linear lincRNAs are proposed to interact with and modulate the output of a single genomic locus, which would explain their physiological effect despite their relatively low cellular abundance [5]. Likewise, a rare circRNA could conceivably recognize and regulate a rare mRNA. However, a specific, high-affinity interaction with an mRNA or other rare cellular component would presumably rely on the circRNA sequence, which would need to be conserved to retain its function over evolutionary time, yet we found no evidence for circRNA sequence conservation beyond that observed for neighboring linear exons.
We suspect that CDRas is not the only circRNA with an evolutionarily conserved biological function. This being said, our observations that most circRNAs 1) are inefficiently produced relative to their linear alternative isoforms, 2) accumulate to only low levels in the cell, and 3) are no more conserved than their neighboring linear exons, when considered together, suggest that most circRNAs may be inconsequential side-products of imperfect pre-mRNA splicing. For linear alternative-spliced isoforms, preferential production of orthologous isoforms in the same tissues of different species is considered evidence of function [30],[31]. For circular isoforms, this type of analysis would require non-poly(A)-selected datasets from the same tissues of different species, which unfortunately are not yet available. For now, the only observation consistent with the idea that many circRNAs could be functional is our finding that the loci that produce circRNAs in mouse also tend to do so in humans. However, retention of circRNA production since the last common ancestor of mouse and human could have other causes apart from selection for circRNA function. For example, slowed splicing at the circRNA acceptor would presumably favor circRNA production because it would allow for transcription of the downstream donor, and if this slowed splicing is conserved for reasons other than circRNA function, then the production of circRNAs might nonetheless be conserved. Therefore, considering the conserved production of circRNAs as evidence against the idea that the vast majority of circRNAs are inert splicing side-products would require a more thorough understanding of the determinants of circRNA biogenesis.
Conclusions
Mammalian cells produce a large number of circRNAs, which have captured the interest of many biologists, particularly after the description of CDR1as and its many conserved sites to miR-7. Our work identifies thousands of additional circRNAs and focuses on those that have circular fractions ≥10%. Unlike CDR1as, most of the previously and newly identified mammalian circRNAs represent alternatively spliced, low-abundance isoforms of protein-coding genes. Expression of circRNAs is generally not more cell-type-specific than mRNAs with similar overall expression levels. Although orthologous circRNAs were found between mouse and human, their sequence conservation is no higher than that of their neighboring linear exons, and no other identified circRNA is expected to function as a miRNA sponge nearly as effectively as CDR1as. Although some circRNAs with biological functions might exist, our results suggest that a large majority of circRNAs are inconsequential side-products of pre-mRNA splicing.
Materials and methods
circRNA identification and quantification
Human and mouse Ribo-Zero RNA-seq data were downloaded from either the ENCODE project or Gene Expression Omnibus (GEO). For each sample, Fastq reads were first mapped to hg19 or mm9 genome by Bowtie, allowing 2 mismatches. After removing PCR-duplicated reads by FASTX toolkit, all the unmapped reads were then aligned by BLAT (no mismatch or gap allowed). Dual alignments of two complimentary segments within a single read mapping to two regions on the same chromosome in the reverse order and no more than 100 kb away from each other were selected as circular-junction candidates. Next, GT and AG dinucleotides were searched for within 10 nucleotides genomic windows flanking the donor and acceptor end of each junction, respectively. Candidates with GT-AG-flanking junctions were carried forward, and the GT-AG dinucleotides were used to identify the precise splice sites. For human circRNAs, each junction required support from at least two independent reads within the sample.
To quantify the relative ratio of circular and linear isoforms, we focused on the two segments (20 nucleotides upstream from the donor and 20 nucleotides downstream from the acceptor) flanking the circular junction. Because many linear isoforms may exist for a given splice site, we took an inclusive approach and simply counted the reads that contained either of these two sequences and have enough sequence space for the other sequence (ndonor and nacceptor), and the reads that spanned the circular junction and contained both sequences (njunction). The circular fraction is calculated as njunction / (ndonor + nacceptor – njunction + 1). To be accepted into the final circRNA catalog, a circRNA candidate must have a circular fraction ≥ 10% in at least two samples.
Conservation analyses
One-to-one gene ortholog tables for gene-level analysis were downloaded from Ensembl [32]. For exon-level analysis, human circRNA junction coordinates were converted to mouse (mm9) genome coordinates using the UCSC liftOver tool, then intersected with mouse circRNA junctions using BEDTools. To calculate the correlation of average circular fractions of circRNA orthologs, circular fractions of each circRNA in all cell types wherein it was expressed (≥1 read for each of the donor and acceptor ends) were averaged. Spearman's rank correlation test was performed.
Analysis of translation
Twenty-nucleotide sequences were taken from circular junctions and each of the two linear junctions overlapping the circular junctions (10 nucleotides from each side of each junction). Numbers of reads containing each of these sequences, as well as the circular fractions for each circRNA, were compared using RNA-seq and RPF data from human U2OS cells.
miRNA and protein binding sites
PAR-CLIP data were downloaded from the GEO. After read alignment by Bowtie, binding clusters were identified using PARalyzer with default settings [24]. Cluster densities of all circular exons were calculated and compared to those of their linear neighboring exons. To avoid biases, only coding exons were considered. To quantify miRNA targets sites, exonic segments within each circRNA were concatenated using the transcript models built from all ENCODE cytosolic RNA-seq data, and numbers of canonical miRNA sites (7mer-A1, 7mer-m8, and 8mer sites) [7] for the 87 miRNA families conserved across vertebrates and 66 miRNA families conserved across mammals were quantified for each circRNA. To estimate the distribution of sites expected by chance, the procedure was repeated using 1,000 cohorts consisting of 87 or 66 control k-mers. To select a control k-mer, each 8mer site was randomly permuted to preserve its mononucleotide composition. Permutated sequences were chosen if they preserved the CG dinucleotide number and possessed an A at the 3′-most nucleotide. Collectively, these constraints served to select control k-mers with similar expected genome-wide abundance.
Data availability
RNA-seq and RPF data of human U2OS cells have been deposited in GEO under accession number GSE51584.
Abbreviations
circRNA:

circular RNA
FPKM:

fragments per kilobase of transcript per million fragments sequenced
GEO:

Gene Expression Omnibus
lincRNA:

long intervening non-coding RNA
miRNA:

microRNA
ncRNA:

non-protein-coding RNA
RPF:

ribosome protected fragment
UTR:

untranslated region
ZNF:

zinc finger
Declarations
Acknowledgements
We thank C. Burge, S. Eichhorn, I. Ulitsky and O. Rissland for helpful discussions and suggestions. This work was supported by NIH grant GM067031 (D.P.B.), and a National Science Foundation Graduate Research Fellowship (V.A.). J.U.G. is a Damon Runyon Fellow supported by the Damon Runyon Cancer Research Foundation (DRG-2152-13). H.G. was supported by the Agency for Science, Technology and Research, Singapore. D.P.B. is an investigator of the Howard Hughes Medical Institute.
Authors' Affiliations
(1)
Whitehead Institute for Biomedical Research, Cambridge, USA
(2)
Howard Hughes Medical Institute, Chevy Chase, USA
(3)
Department of Biology, Massachusetts Institute of Technology, Cambridge, USA
(4)
Computational and Systems Biology Program, Massachusetts Institute of Technology, Cambridge, USA
(5)
Institute of Molecular and Cell Biology, Singapore, Singapore
(6)
Department of Biological Sciences, National University of Singapore, Singapore, Singapore
(7)
Lee Kong Chian School of Medicine, Nanyang Technological University-Imperial College, Singapore, Singapore
Copyright
© Guo et al.; licensee BioMed Central Ltd 2014
This article is published under license to BioMed Central Ltd. This is an Open Access article distributed under the terms of the Creative Commons Attribution License (http://creativecommons.org/licenses/by/4.0), which permits unrestricted use, distribution, and reproduction in any medium, provided the original work is properly credited. The Creative Commons Public Domain Dedication waiver (http://creativecommons.org/publicdomain/zero/1.0/) applies to the data made available in this article, unless otherwise stated.