Assembly of a phased diploid Candida albicansgenome facilitates allele-specific measurements and provides a simple model for repeat and indel structure
Received: 4 June 2013
Accepted: 11 September 2013
Published: 11 September 2013
Abstract
Background
Candida albicans is a ubiquitous opportunistic fungal pathogen that afflicts immunocompromised human hosts. With rare and transient exceptions the yeast is diploid, yet despite its clinical relevance the respective sequences of its two homologous chromosomes have not been completely resolved.
Results
We construct a phased diploid genome assembly by deep sequencing a standard laboratory wild-type strain and a panel of strains homozygous for particular chromosomes. The assembly has 700-fold coverage on average, allowing extensive revision and expansion of the number of known SNPs and indels. This phased genome significantly enhances the sensitivity and specificity of allele-specific expression measurements by enabling pooling and cross-validation of signal across multiple polymorphic sites. Additionally, the diploid assembly reveals pervasive and unexpected patterns in allelic differences between homologous chromosomes. Firstly, we see striking clustering of indels, concentrated primarily in the repeat sequences in promoters. Secondly, both indels and their repeat-sequence substrate are enriched near replication origins. Finally, we reveal an intimate link between repeat sequences and indels, which argues that repeat length is under selective pressure for most eukaryotes. This connection is described by a concise one-parameter model that explains repeat-sequence abundance in C. albicans as a function of the indel rate, and provides a general framework to interpret repeat abundance in species ranging from bacteria to humans.
Conclusions
The phased genome assembly and insights into repeat plasticity will be valuable for better understanding allele-specific phenomena and genome evolution.
Keywords
Haplotype
Phasing
Indel
Microsatellite
Homopolymer
Repeat
Background
The advent of short-read DNA sequencing has resulted in super-exponential growth in the quantity of available sequencing data. Along with a dramatic increase in the number of assembled reference genomes for different species, much recent effort has been focused on defining the sequence variants - such as SNPs and insertions/deletions ('indels') - between individuals of the same species. The focus of many such studies is the resolution of haplotypes [1], which specify which variant bases are inherited together on contiguous DNA. Despite this interest in determining the phasing of polymorphisms, short read lengths complicate the resolution of haplotypes: adjacent polymorphisms must be sequenced in the same molecule to be included in the same haplotype. Several elegant approaches can overcome this difficulty, including the coupling of pedigree analysis with sequencing data [2, 3] and, more recently, various methods of spatially partitioning whole homologous chromosomes - via microdissection [4], microfluidic device [5], or dilution [6–10] - such that they can be separately barcoded, amplified, and sequenced before assembly into barcode-defined haplotypes.
Most of the effort in haplotype discovery has focused on humans; thus, there are few phased genomes available in other multiploid model organisms. Knowing the phasing information in model organisms, however - for example, those that are single-celled, have compact genomes, double rapidly, and are easily manipulated genetically - is useful for a variety of reasons, including ease of measurement of allele-specific phenomena in different genetic backgrounds and observation of homolog-specific evolution on laboratory timescales. Candida albicans is a model fungal pathogen that almost exclusively exists in a diploid state and does not achieve genome diversity via a typical meiotic cycle with frequent recombination. Instead, it employs one of two strategies, both involving mating and whole chromosome loss, where the order of these events is inverted. First, in the so-called 'parasexual cycle' [11], two diploids of opposite mating type can mate to yield a tetraploid, and then return to the diploid state via chromosome loss, a process that can occasionally result in homozygosis of single chromosomes [12, 13]. Alternatively, a recent report revealed that chromosome loss can occur first to generate a mating-competent haploid, which can subsequently mate to restore the diploid state [14]. Importantly, both mating options occur rarely in C. albicans, and both leave the homologs largely intact. Thus, the phasing of polymorphisms in C. albicans has fewer entropic, degenerating forces than in most other organisms, making the assembly of its phased genome particularly desirable.
Extensive sequencing of
C. albicans
and many closely related
Candida
species has yielded important insight into the pathogenicity of
C. albicans
[
15
], as well as a host of valuable whole-genome assemblies. The first official release of the
C. albicans
genome, Assembly 19, was partially diploid and identified thousands of polymorphisms using low-coverage Sanger sequencing, but had long haploid spans and did not assemble the genome into full chromosomes [
16
]. The next major release, Assembly 21 [
17
], assembled contigs into whole chromosomes but was a reftig-based assembly, that is, the alleles present within a given chromosome were equally likely to have originated from one of the two haplotypes (Figure
1
A). The first attempt at phasing the genome involved using microarrays to probe 38,000 SNPs identified in the low-coverage assemblies [
18
]. Here we advance the genome-phasing effort by using next-generation sequencing. Our nearly 100-fold improvement in coverage relative to prior assemblies nearly doubles the number of high-confidence SNPs and indels that could be assigned to their respective homologs. This increase in phasing resolution within our diploid genome assembly permits more sensitive analysis of allele-specific phenomena and provides insight into genome architecture and evolution.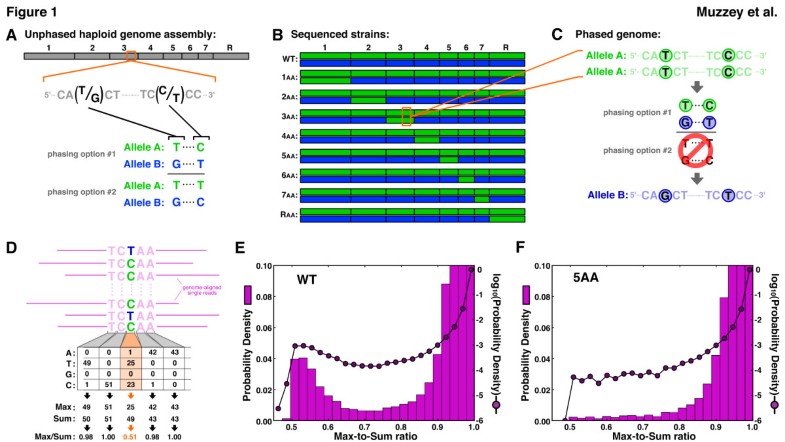 Discussion
Here we report the assembly of a completely phased diploid genome sequence for the standard C. albicans laboratory reference strain. We extensively revised the number of SNPs from prior assemblies [16, 17], in total phasing 65,787 SNPs resulting in a nearly two-fold improvement in haplotype resolution over array-based efforts [18]. This increase in phasing resolution facilitates the detection of allele-specific phenomena by allowing comparison of allele-specific reads across multiple SNPs and subsequent pooling of the signal. Finally, we additionally identified and phased 6,103 short indels, finding that their distribution throughout the genome is significantly non-uniform.
A fully phased diploid genome for a unicellular model organism like C. albicans has the potential to greatly advance our ability to identify sequence determinants underlying various cellular phenomena involving nucleic acids (for example, nucleosome positioning, expression levels, secondary structure, and so on). Such determinants can be elucidated because measuring differences between thousands of allelic pairs provides a broad scope of sequence variants while simultaneously facilitating the attribution of expression differences to particular sequence features. In other words, since each allelic pair has only a few polymorphisms, phenomenological deviations between alleles can be more easily attributed to specific sequence features than is possible when comparing totally different genes. Due to the technical difficulties associated with mapping haplotypes, allele-specific measurements have predominantly relied on inbred strains or unnatural hybrid diploid organisms, where viable haploids could be sequenced prior to hybrid construction such that the respective haplotypes were known [22, 31–33]. Since C. albicans is a natural organism that is almost exclusively diploid and frequently heterozygous, its alleles may have evolved complex and physiologically relevant interactions that would not have developed in a multi-species hybrid or highly inbred population.
We found that indels are spatially clustered throughout the genome, with nearly 93% of indels in multikilobase spans that collectively comprise only 45% of the genome. In that both indel-dense and indel-sparse regions contain a similar level of coding sequence, it seems unlikely that the disparity in indels arises from gross differences in sequence context (for example, coding sequences versus telomeres). We speculate that these spans could result from regions undergoing loss-of-heterozygosity (LOH) events, which are frequently observed in C. albicans; however, such events typically involve whole chromosomes (or, at the very least, large chromosomal regions), and it thus remains unclear whether there is an alternative LOH mechanism that occurs on a shorter length scale that can effectively erase indels through homozygosis.
The subtle increase in indel and repeat-sequence density that we observe near replication origins poses an interesting conundrum. In particular, it is not actually clear whether indels are favored near replication origins over an evolutionary timescale. At first, it seems that there are simply more indels near origins because there are also more repeats, arguing that indels have no higher propensity to occur near origins than elsewhere. However, since indels may be the driving force behind the creation of repeats in the first place - a possibility reinforced by our one-parameter model - indels may indeed be more likely near origins. For instance, one could imagine that a DNA polymerase prone to introducing indels is not as processive as ordinary polymerases, thus leading to an indel bias (and potentially a repeat bias) near origins. Ultimately, it is nontrivial to resolve this problem since the LOH events that occur in C. albicans erase indels but preserve repeats.
Due to their role in positioning nucleosomes and relevance to human disease, long repeats in eukaryotic genomes have been the topic of many experimental and quantitative modeling studies [26, 29, 34–36]. Here we find that a very simple model based on the indel rate for single repeat units can predict the abundance of repeats across the C. albicans genome. Though we cannot exclude the possibility that this correspondence is purely coincidental, it seems unlikely that one of the few mechanisms that locally alters the length of DNA (that is, indels) is not involved in the generation of DNA sequences whose length is the chief determinant of their function (that is, repeats). A causative relationship is further supported by the correlation between sharp increases in the indel rate and marked increases in repeat abundance for both homopolymers and dyad repeats.
Interestingly, repeat abundance in nearly all eukaryotes we investigated (including C. albicans and Saccharomyces cerevisiae) suggests that the net effect of indels is to lengthen repeats (that is, the indel-rate multiplier α is positive) (Figure 6F). The simplest explanation of this observation is that insertions occur more frequently than deletions. However, at least in S. cerevisiae, where the balance between insertions and deletions has been explored directly [28, 29, 37], deletions far outnumber insertions over laboratory timescales. It is likely that the difference in timescales explains this paradox: the observed evolutionary bias is a convolution of both mechanistic forces in the short term and selective biases in the long term; thus, while deletions may occur more frequently than insertions, selection could favor insertions, leading to their preferential fixation over time. It is also possible that the selective force stems largely from nucleosome positioning, since the prokaryotes we explored lack both nucleosomes and, critically, an overabundance of long repeats (Figure 6F). In fact, the Escherichia coli and Synechococcus elongatus genomes have far fewer long repeats than expected by chance (that is, they have negative α values; Figure 6F), consistent with a mechanistic bias toward deletions that is not countered by an opposing selective bias toward insertions. Further insight into the molecular determinants of the sign and magnitude of α may be gained by analyzing Candida guilliermondii, which is the only organism we found with α near zero. Since the Candida species other than C. albicans in Figure 6F were all sequenced by the same institute [15], we do not expect that the observation of α ~ 0 for C. guilliermondii is an artifact of the sequencing platform. The next two nearest neighbors in the Candida phylogeny - Debaryomyces hansenii and Candida lusitaniae - may be additionally informative, as they have progressively higher α values, with α in D. hansenii slightly below the range of α values in other eukaryotes and α in C. lusitaniae within the range.
Conclusions
We have shown that the fully phased C. albicans genome reveals phenomena that are both expected, such as allele-specific expression, and unexpected, such as indel clustering. We anticipate that the higher degree of genomic resolution provided here will empower not only future researchers of this important model organism, but also those who study allele-specific traits and expression characteristics more generally.
Abbreviations
HMM:

Hidden Markov model
indel:

Insertion/deletion
LOH:

Loss-of-heterozygosity
NMD:

Nonsense-mediated decay
ORF:

Open reading frame
PTC:

Premature termination codon
SNP:

Single-nucleotide polymorphism.
Declarations
Acknowledgements
We thank Suzanne Komili for helpful advice and discussions, and Judith Berman for generously providing strains for sequencing. DM is an HHMI Fellow of the Damon Runyon Cancer Research Foundation. This work was also supported by the Howard Hughes Medical Institute (JSW) and NIH grants R01-HG003468 (GS) and R01-DE015873 (GS).
Authors' Affiliations
(1)
Department of Cellular and Molecular Pharmacology, California Institute for Quantitative Biomedical Research, and Howard Hughes Medical Institute, San Francisco, San Francisco, USA
(2)
Department of Genetics, Stanford University, Stanford, USA
Copyright
© Muzzey et al.; licensee BioMed Central Ltd. 2013
This article is published under license to BioMed Central Ltd. This is an Open Access article distributed under the terms of the Creative Commons Attribution License (http://creativecommons.org/licenses/by/2.0), which permits unrestricted use, distribution, and reproduction in any medium, provided the original work is properly cited.