Web Apollo: a web-based genomic annotation editing platform
Received: 10 May 2013
Accepted: 30 August 2013
Published: 30 August 2013
Abstract
Web Apollo is the first instantaneous, collaborative genomic annotation editor available on the web. One of the natural consequences following from current advances in sequencing technology is that there are more and more researchers sequencing new genomes. These researchers require tools to describe the functional features of their newly sequenced genomes. With Web Apollo researchers can use any of the common browsers (for example, Chrome or Firefox) to jointly analyze and precisely describe the features of a genome in real time, whether they are in the same room or working from opposite sides of the world.
Keywords
GENOMECOLLABORATIVEEDITOR
Introduction
The multitude of genome browsers in genomics all grew out of the need to 'see' the full array of predictions and alignments, their relative positions and their component parts. Among these are a small number of more sophisticated genome 'editors' which allow users to go beyond passive viewing to interactively modifying and refining precise locations and structures of genome functional elements. The desktop version of Apollo [1], Artemis [2], and FMAP [3] are all examples of such tools. The genome sequencing and annotation paradigm typically involved a large, national genome center that undertook the raw sequencing in coordination with gene prediction pipelines and subsequent manual curation (for example, RefSeq [4], Ensembl [5], FlyBase [6], Wormbase [7], Saccharomyces Genome Database [8], The Arabidopsis Information Resource [9], and Mouse Genome Informatics [10]). The Model Organism Databases (MODs) often include staff members (that is, biocurators) who review and amend the gene structures. The Human and Vertebrate Analysis and Annotation (HAVANA) team at the Sanger Institute manually annotates the human [11], mouse [12], and zebrafish [13] genomes. The amended predictions are subsequently used either as training sets or as empirical standards whose alignments are used to improve prediction software's accuracy. For example, the HAVANA team uses their in-house genome editor (Otterlace [14]) to manually annotate, and then the improved annotations are fed back into the Ensembl [15] pipeline during subsequent quarterly runs [16].
Unfortunately, while this model of a central biocuration team is considered the gold standard for genome annotation, it scales poorly. Technical advances have made sequencing faster and cheaper, thereby democratizing genome-scale sequencing and allowing a rapidly growing number of researchers to launch sequencing projects ranging from population, to evolutionary, to phenotype, to disease, to classroom projects across a huge spectrum of organisms. And, while next generation sequencing technology provides annotators with significantly more information, this, perhaps paradoxically, actually increases the need for manual review because there are more biological data points to assess and integrate. Individual researchers and small research groups do not have access to a centralized biocuration team, but their need for hand curation is often greater than that of a large genome center due to their focused interest in a particular gene family, pathway or evolutionary relationship, and the generally lower quality of the genome assembly.
An ideal solution would conceptually be a 'genome wiki', where curators could collaboratively edit genome annotations online, much like the distributed curators of a wiki document [17]. Biological text corpora, successfully exposed to 'crowd-sourced' curation via the wiki-type model, include Wikipedia pages directly associated with human genes [18] along with pages for protein [19] and RNA domain families [20]. Other projects offer similar wiki-like editing features for text, including revision control [21]. However, while editable textboxes have been present in browsers since the earliest days of the web, a completely integrated genome editor that operates seamlessly in the web browser (and saves annotations to a persistent data store in a client-server model) has been lacking. The natural user interface for genome data is the genome browser, and a true 'genome wiki' should allow curators to edit annotations seamlessly from within the genome browser.
For this reason, we built Web Apollo, a browser-based genome editor that supports geographically dispersed researchers whose work is coordinated through automatic synchronization. The overall platform is currently comprised of a visualization component - JBrowse [
22
], and an editing and user authentication component - Apollo. Just as the costs of sequencing have gone down our aim was to make manual annotation correspondingly cost-effective. With Web Apollo the task of manual curation is spread out among many hands and eyes, enabling the creation of virtual research networks of researchers linked by a common interest in a particular organism or population (Figure
1
).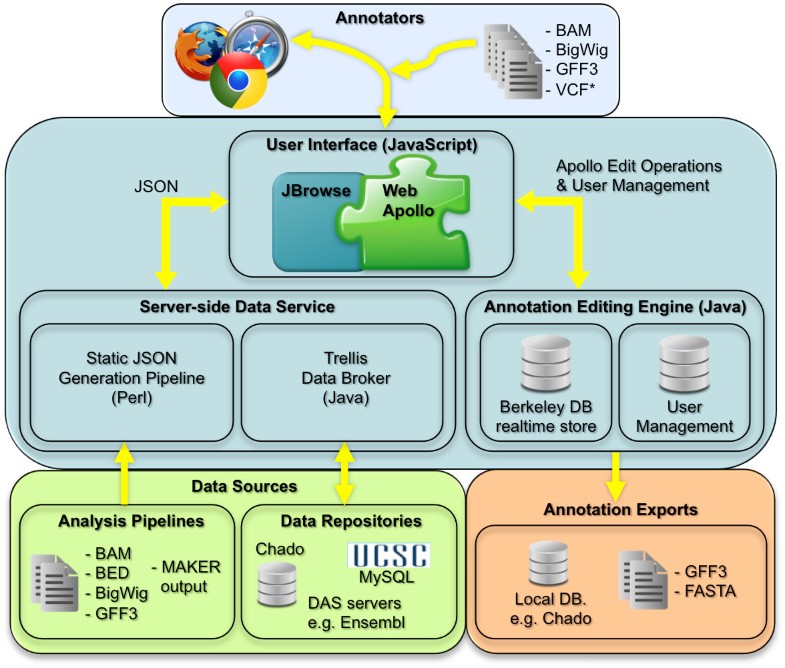 Our development team included investigators representing multiple genome research communities who carried out usability testing to evaluate the effectiveness of Web Apollo's interface and annotation management. We took this user-centered-design approach to ensure real world usability was built into the system from the ground up. They evaluated usability by revising annotations for honeybee (Apis mellifera) and, from the outset, for community annotation of insect genomes such as ants (Cardiocondyla obscurior, Pogonomyrmex barbatus, and Wasmannia auropunctata), leading to a better understanding of the biology of these insects and simultaneously evaluating the effectiveness of the software.
Results
This section briefly explains Web Apollo's core operations for importing data, editing, and exporting protein-coding gene models. Additionally we describe additional features supporting the annotation of corrections to lower quality genome assemblies, import and visualization of transcriptome data, and real-time collaboration.
Discussion
Given that manual annotation is critical to achieving accurate and reliable gene models the issue now becomes how can this process be scaled up to meet the needs of the growing number of genome research projects taking place at smaller facilities and in individual labs. With the shift in sequence data generation, the burden of curation is falling largely on research consortia or ad hoc community efforts. Some sequencing centers have supported consortium annotation efforts, either by providing websites for community members to submit annotations (for example, [34–38]), by collaborating with a centralized, external genome annotation group (for example, [39–42]), or by providing Otterlace (for example, [43]). However, more and more often research communities are organizing manual curation efforts among themselves, independent of sequencing centers.
Desktop Apollo gained popularity among smaller groups and over time it became one of the standards used by smaller-scale genome projects in research communities dispersed throughout the world. However, its original design legacy did not make it a perfect fit for the needs of these smaller genome projects. Installation was at times an insurmountable technical hurdle for groups lacking an on-site bioinformaticist. Furthermore, there was no support for automatically sharing annotations among members of the research team. Groups were constrained to saving files to disk and e-mailing these to one another, which is slow, inconvenient, and creates additional bookkeeping work as conflicts were resolved by database curators taking the time to contact the disagreeing annotators individually. With the need to provide a seamlessly integrated annotation flow for smaller teams of researchers in mind we built Web Apollo focusing on support for collaborative annotation efforts. By being browser-based it allows users to see changes made by collaborators working on the same region, in real time, which enables community annotators to quickly resolve issues among themselves directly. Early in the project we made the decision to build the Web Apollo client using the visualization techniques of an existing web-based genome browser, JBrowse [22], the best of the genome browsers alternatives available, thereby lowering overall development costs.
Web Apollo also addresses two key requirements that are particular to the smaller community annotation projects [44, 45]. First, recent research communities tend to organize into teams based on areas of biological expertise, often preferring to annotate specific genes or gene families, rather than entire scaffolds. Web Apollo allows users to quickly identify their specific loci of interest by integrating BLAT sequence comparison as an optional entry point. Second, the norm for smaller sequencing efforts is fragmented rather than polished assemblies. Web Apollo scaffold list sorting features provide easy access to scaffolds based on identifiers, even when the assembly consists of tens of thousands of scaffolds.
The establishment of best practices and quality control becomes increasingly important with the wide range of genomic expertise available within different research communities. Research projects must develop appropriate standards given their data and offer some training to assure the success of any community annotation project. The built-in quality control features of Web Apollo are similar to those used in desktop Apollo and other annotation editors such as Otterlace. These include flagging non-consensus splice sites and validating translation of coding sequences. In addition we have developed tutorials and a demonstration site to train users in the gestures required for annotation. Accessibility over the web makes it easy to hold long-distant training sessions.
But perhaps most importantly for the continued improvement of the annotations is that Web Apollo allows continued input to gene annotation as long as a server is maintained for the genome, thus researchers can continue to improve annotations as more data is collected over time. If a research community chooses to follow the 'gatekeeper' approach to community annotation [46], Web Apollo also makes it easy for the gatekeeper to view and revise annotations.
Future enhancements
As sequencing technologies advance and analytical packages improve, the software providing the visualization and the annotation tools needed for iterative refinement, will necessarily have to keep step. There are a number of natural and powerful extensions to a tool like Web Apollo that will enable more analysis functions to be carried out within a browser.
In the immediate future enhancing the convenience and curatorial utilities for biologists is of central importance. We propose to add the capability to annotate further genomic feature types including cis-regulatory regions, transcription factor binding sites, and non-coding RNAs, along with providing an intuitive way to browse, navigate and visualize these. Another improvement is extending the current methods of accessing data to include data from UCSC [23] and Ensembl [5] by adding support for UCSC data hubs and the Ensembl REST API via the basic JBrowse platform. In addition, the introduction of composite tracks that can utilize multiple data files by integrating metadata about how the files are related, for example sequencing read alignment data in a BAM file and coverage plots derived from those alignments in a BigWig file. This will enable a single track to show sequence read alignments at high zoom levels and transition to showing derived coverage plots at lower resolutions, without the high overhead of dynamically calculating the coverage plot from the alignments. The ability to compose integrated tracks of closely related data, independent of particular input formats, will be extremely useful in other situations, such as a single track combining variant data with background population frequency data. Biologists will also be empowered by enriching feature meta-data to include other attributes, such as description, and status flags in the user's dialog box for editing textual and related identifier information. For example a status flag could be used to signal that a team member requests a review of their annotation. The choice of attributes a curator can edit would be configurable so that each project can decide precisely what meta-data attributes are appropriate for their needs. Other enhancements would offer increased assistance to dispersed research teams, by supporting fine-grained, track-by-track sharing options controlled by the user on the client-side, rather than sharing access coarsely genome-by-genome. This way a researcher can choose with whom to share their individual data tracks (this is available now, but limited to the server side). Most importantly there are several seemingly disparate problems that can be addressed with the same technical solution; challenges such as the fragmented nature of some assemblies, the length of the intronic regions for some genes, and the desire to annotate a single gene family or set of duplicated genes simultaneously. Each of these require that distant regions of the genome be brought into the same visual field - which can be done by synthetically splicing the different regions into a single virtual genome sequence as was done in the Integrated Genome Browser [47], and which our current team of developers have the expertise to implement. As an open-source project we welcome contributions from the community to address these and other natural enhancements to provide a feature-rich, powerful genomic research environment.
Our two over-arching aims are actually two perspectives on the same work. Integration with related community annotation projects whose aims are complementary will enrich the feature set available to the user. Specific integration examples include: (1) establishing interactive, dynamic re-analysis of a particular genomic region using Galaxy or SeqWare [48] for example, rerunning with different analysis parameters; (2) placing a newly predicted protein into a protein family using PANTHER services [49]; (3) using protein family information to examine possible roles a protein may have in particular pathways through interactions with the Reactome pathway annotator [50]; and (4) offering connections to resources such as WikiGenes [51] or RFAM:Wikipedia [20] which focus on capturing more textual types of information.
From a targeted audience point of view actively working with researchers in a wide variety of domains will ensure that Apollo is responsive to biologist's requirements and meets their needs. For smaller genome research investigations ease of installation, an enriched set of annotation capabilities and integration with other community annotation projects are key. We also envision Apollo's increased use in educational and classroom settings. This is one motivation for emphasizing integration with analytical pipeline services such as Galaxy and providing tutorials, training, and annotation guidelines. Lastly, Apollo can support research groups whose focus is exploring genotype to phenotype correlations for the study of human disease. For this group we have already implemented some initial prototypes for enhanced visualization of sequence polymorphisms and variation data, and mockups for allelic frequency and dynamic visualization of the effect or impact a set of variants may have on functional genomic elements. For each of these domains we will continue to take a user-centered design approach and directly engage with the researchers in these areas through future iterations of the framework, as well as with software developers who can contribute to the overall platform.
The current challenge is scaling to accommodate the growing amount of work. These projects must operate using a new paradigm, requiring new software workflows and training in the nuances of genomic annotation. A framework that can enable any individual researcher to generate their own sequence data, run an analysis pipeline using a remote service to analyze their organism of interest, and ultimately generate their own models to publish. Web Apollo represents a major step toward achieving the goal of an integrated genomic analysis environment. It provides a comprehensive toolbox to biologists for manually annotating the features of the genome(s) they are investigating.
Methods
Web Apollo is comprised of three components: a web-based client, an annotation editing server, and a server-side data service that provides the client with data from different files and databases (Figure 1). These three software components are open source and available free of charge.
Data Access
The first version of Web Apollo was released in December 2012 [70]. At the time of this publication Web Apollo has been downloaded 179 times, from 104 unique IP addresses. Web Apollo is implemented in JavaScript, Java, and Perl, with all major browsers supported. The source code is freely available and maintained in Google Code [71] (server) and GitHub [72] (client). Detailed information can be found online [73], including a user guide [74] and demonstration site.
Declarations
Acknowledgements
This work was supported by the National Institutes of Health grant numbers 5R01GM080203 from the National Institute of General Medical Sciences and 5R01HG004483 from the National Human Genome Research Institute, and by the Director, Office of Science, Office of Basic Energy Sciences, of the U.S. Department of Energy under Contract No. DE-AC02-05CH11231.
We would especially like to thank Mitch Skinner for the development of JBrowse, Nomi Harris for preliminary work on the Web Apollo client, Thomas Down for permitting the reuse of his binary parsing libraries for BAM and BigWig files (Down et al. 2011), and Carson Holt for providing a direct connection to MAKER.
We would also like to thank Sue Brown, Sanjay Chellapilla, Daniel Ence, Juergen Gadau, Nicolae Herndon, Elisabeth Huguet, Carolyn Lawrence, Dan Lawson, Sasha Mikheyev, Barry Moore, Jan Oettler, Xiang Qin, Lukas Schrader, Kim Worley, Mark Yandell, Jing-Jiang Zhou for feedback on server installation, data management, and/or user interface. We thank the Honey Bee and Bumble Bee Genome Sequencing Consortiums for genome assemblies and accompanying computed gene prediction evidence for honey bee (Amel_4.5) and Bombus impatiens (Bimp_1.0), which we used in development and beta testing. We thank Anna Bennett for input on formatting of test datasets.
Authors' Affiliations
(1)
Genomics Division, Lawrence Berkeley National Laboratory, Berkeley, USA
(2)
Division of Animal Sciences, University of Missouri, Columbia, USA
(3)
Department of Bioengineering, University of California Berkeley, Berkeley, USA
(4)
Ontario Institute of Cancer Research, MaRS Centre, South Tower, Toronto, Canada
(5)
Department of Molecular Genetics, University of Toronto, Toronto, Canada
(6)
Division of Plant Sciences, University of Missouri, Columbia, USA
Copyright
© Lee et al.; licensee BioMed Central Ltd. 2013
This article is published under license to BioMed Central Ltd. This is an open access article distributed under the terms of the Creative Commons Attribution License (http://creativecommons.org/licenses/by/2.0), which permits unrestricted use, distribution, and reproduction in any medium, provided the original work is properly cited.