GLiMMPS: robust statistical model for regulatory variation of alternative splicing using RNA-seq data
Received: 14 March 2013
Accepted: 22 July 2013
Published: 22 July 2013
Abstract
To characterize the genetic variation of alternative splicing, we develop GLiMMPS, a robust statistical method for detecting splicing quantitative trait loci (sQTLs) from RNA-seq data. GLiMMPS takes into account the individual variation in sequencing coverage and the noise prevalent in RNA-seq data. Analyses of simulated and real RNA-seq datasets demonstrate that GLiMMPS outperforms competing statistical models. Quantitative RT-PCR tests of 26 randomly selected GLiMMPS sQTLs yielded a validation rate of 100%. As population-scale RNA-seq studies become increasingly affordable and popular, GLiMMPS provides a useful tool for elucidating the genetic variation of alternative splicing in humans and model organisms.
Keywords
RNA-seq
alternative splicing
sQTL
exon
generalized linear mixed model
Background
Alternative splicing (AS) is the process by which exons from precursor mRNA transcripts are differentially included during splicing, resulting in different mature mRNA isoforms from a single gene locus [1]. AS is a major contributor to the control of gene expression and protein diversity. More than 90% of human genes are alternatively spliced [2]. Changes in the relative ratio of alternatively spliced isoforms of a single gene can have significant phenotypic consequences and cause various diseases [3, 4].
The control of AS is mediated through extensive protein-RNA interactions involving cis regulatory elements and trans acting factors [5]. Genetic polymorphisms that alter cis splicing regulatory elements can result in difference of alternative splicing among human individuals and subsequently affect gene expression or protein activity. Increasing evidence suggests that such natural variation of alternative splicing can influence complex traits or modify disease risks [6]. For example, genetic variation of alternative splicing in the sodium channel gene SCN1A can influence the response to antiepileptic drugs [7]. To date, most genome-wide surveys of alternative splicing variation in human populations were carried out on the HapMap lymphoblastoid B cell lines (LCLs), whose genomic variants have been extensively characterized by the HapMap [8] and 1000 Genomes projects [9]. The first few studies utilized the Affymetrix exon array with approximately 6 million exon-targeted probes [10–12]. In these studies, the microarray probe intensities of individual exons were compared to those of whole genes to quantify exon inclusion levels and then associations with single-nucleotide polymorphisms (SNPs) were tested to identify splicing Quantitative Trait Loci (sQTLs). Another study used the same exon array platform to characterize tissue-specific control of alternative splicing in brain and peripheral blood mononuclear cell samples [13]. These studies have shed light on the prevalence and functional importance of alternative splicing variation in human populations. The development of the high-throughput RNA sequencing (RNA-seq) technology has provided a powerful alternative to splicing sensitive microarray for exon level expression quantification. RNA-seq has several advantages compared to microarray, including a greater dynamic range of exon expression levels, the ability to detect novel transcripts not probed on the array, the ability to better quantify exon inclusion levels, single nucleotide level resolution, and less confounding effects from polymorphisms on the target exons [14, 15]. Several studies have used the RNA-seq technology to characterize transcriptome variation in HapMap LCLs at the whole-gene and/or individual exon level. Pickrell et al. and Montgomery et al. used low-coverage (4-25 million short reads per individual) single-end and paired-end RNA-seq to characterize gene expression and splicing in LCLs derived from 69 Nigerian [16] and 60 CEU (Utah residents of European descent from CEPH-Centre d'Etude du Polymporphisme Humain) [17] individuals. Cheung et al. independently generated an RNA-seq dataset on 41 CEU individuals at a deeper coverage of 28.4-66 million single-end reads per individual, although the authors restricted their data analysis to expression QTLs [18].
Despite the novel findings in these pioneering RNA-seq studies, the statistical models applied for sQTL detection were simple linear regression models (lm) and did not model all the relevant information contained in the complex RNA-seq data. Montgomery et al. used the exon read counts as the phenotype and carried out spearman correlation analysis with the genotypes [
17
], while Pickrell et al. used the percentage of the exon read counts over total gene read counts as the quantitative trait and carried out linear regression over genotypes [
16
]. Neither approach directly estimated the percent inclusion levels of target exons. Moreover, by treating the exon expression measurement as a point estimate, neither approach considered the variability of RNA-seq read count that strongly affects the uncertainties in estimates of exon splicing activities [
14
]. Here we report a novel method GLiMMPS (Generalized Linear Mixed Model Prediction of sQTL) for robust detection of sQTLs from RNA-seq data. The GLiMMPS model takes into account the individual variation of exon-specific read coverage as well as the prevalent overdispersion of simple statistical models when applied to RNA-seq data [
19
,
20
]. Importantly, GLiMMPS uses the reads information from both exon inclusion and skipping isoforms to model the estimation uncertainty of exon inclusion level, instead of treating the exon inclusion level as a point estimate in sQTL analysis (see Materials and methods and Figure
1
for details). Using both simulated and real RNA-seq datasets, we demonstrate that GLiMMPS outperforms competing statistical models (linear model and generalized linear model), and identifies sQTLs at a low false positive rate as indicated by extensive RT-PCR tests.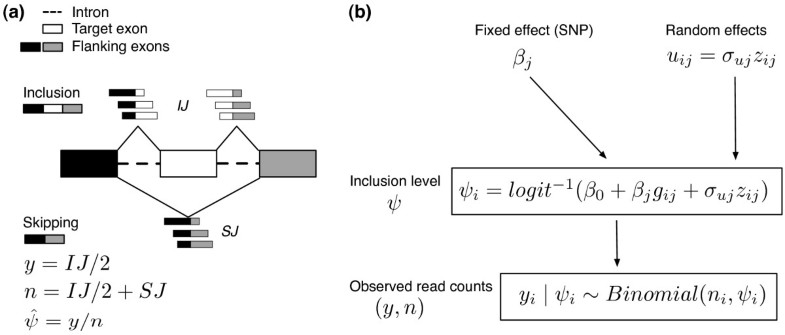 Discussion
We have developed GLiMMPS, a generalized linear mixed model to detect genotype-splicing associations from RNA-seq data. The key advantage of GLiMMPS over previously used methods is that it models: (1) variation in exon-specific read coverage across individuals; and (2) overdispersion in RNA-seq read counts. Both issues are important for accurate exon-level expression quantitation. The coverage of RNA-seq reads for any given alternative exon is a critical factor for the precision of the exon inclusion level estimate [14, 56]. The importance of accounting for overdispersion in RNA-seq data analysis has also been well recognized [57]. Methods based on the negative binomial model [58, 59] or the generalized linear model with Cox-Reid dispersion estimators [19, 20] have been developed for modeling dispersion in detecting differential gene or exon expression between biological states. Here in the sQTLs analysis, by modeling these two levels of variation in RNA-seq read counts, GLiMMPS achieves superior performance over competing statistical models, as demonstrated by analyses of simulated and real RNA-seq data. Importantly, even at a low coverage we observed a high level of concordance in the GLiMMPS results between the two human datasets (CEU and CEU2). Additionally, RT-PCR tests of 26 randomly selected significant sQTLs yielded a validation rate of 100%. Together, these results demonstrate that GLiMMPS is a robust and improved method to detect sQTLs from RNA-seq data.
Fine-scale analysis of sQTLs reveals positional features of SNPs that alter exon splicing. We found that the location of the SNPs is strongly correlated with potential impact on splicing (Figure 4b). Specifically, SNPs located within the 5' and 3' splice sites have the smallest (most significant) overall GLiMMPS P values, consistent with the importance of the splice sites in exon recognition during pre-mRNA splicing. Interestingly, the significance level of sQTLs is positively correlated with the proximity of the sQTL signal SNPs to target exons. As we increased the significance level cutoff for sQTLs, we observed a progressive increase of the proportion of sQTLs with at least one significant signal SNP within 300 bp of the splice sites (Figure 4a). The causal roles of these proximal sQTL SNPs on exon splicing were further confirmed by minigene splicing reporter assays. Collectively, these results support the hypothesis that the majority of cis regulatory information controlling alternative splicing is encoded in close proximity (for example, within 300 bp) of the target exons, consistent with a recent analysis of the mammalian splicing code [60]. Nonetheless, it should also be noted that 20% of the significant sQTLs (FDR ≤0.1) lack any significant signal SNP within 300 bp of the splice sites, including sQTLs confirmed experimentally by RT-PCR (in NCAPG2 and PIGQ, see Figure S6 in Additional file 1). For such sQTLs, it is possible that the causal SNPs are indeed proximal, but are missing from current SNP annotations or fail to reach the significance level cutoff due to small sample size. Alternatively, we cannot rule out the possibility that a small fraction of sQTLs are indeed due to SNPs disrupting distal splicing regulatory elements, given that the physical binding sites of splicing factors on the pre-mRNA can be located deep into the introns [61]. In the future, it would be interesting to confirm the identity and elucidate the regulatory mechanisms of causal sQTL SNPs acting in introns distal to target exons.
The detection of sQTLs is useful for interpreting signals from GWAS studies. Despite the success of GWAS in revealing the genetic basis of complex traits and diseases, elucidating the mechanistic implications of GWAS findings remains a major challenge [29]. As many functional SNPs may affect gene expression and regulation instead of the final protein sequence, integrating transcriptome information with GWAS signals has proven to be an effective approach for pinpointing the functional causal variants underlying GWAS signals [62–64]. Here, from the CEU RNA-seq dataset we identified 140 unique sQTLs, including 10 significantly linked to previously identified GWAS signals (Table 1). This is probably only scratching the surface of trait-associated sQTLs, due to the low sequencing depth (28.4-66 million single-end reads per individual) and the small sample size (41 individuals). We anticipate that with more and deeper RNA-seq data generated for diverse human tissues and cell types, the catalog of sQTLs linked to phenotypic traits and diseases will rapidly expand in the near future.
The GLiMMPS framework provides the basis for several aspects of future extensions. Currently, GLiMMPS uses reads mapped to splice junctions to estimate exon inclusion levels. This is a commonly used approach in alternative splicing quantitation from RNA-seq data [56, 65, 66]. However, with proper normalization for lengths of isoform-specific segments, it is feasible to also incorporate reads mapped within the exons, which may further improve the power in detecting sQTLs. This could be particularly useful for strand-specific RNA-seq, where the origins of exon body reads can be unambiguously assigned to sense or antisense transcripts. Additionally, in paired-end RNA-seq data with tight distribution of insert size, reads that map to flanking constitutive exons can also provide useful information about the exon inclusion level [14]. Furthermore, RNA-seq reads often display non-uniform distribution along mRNA transcripts due to sequence-specific bias in RNA sequencing, and several methods have been developed to model and correct for such biases [67–70]. In principle, we can use a suitable bias correction method to adjust the raw RNA-seq read counts, prior to analysis by GLiMMPS. However, we tested two well-known bias correction methods [67, 68] using a deep RNA-seq dataset with matching quantitative RT-PCR data for over 100 exons in two cell lines [66, 71], but did not observe improvement in the RNA-seq estimates of exon inclusion level as judged by the correlation of RNA-seq estimates with the RT-PCR measurements. Another area of improvement is to consider the potential impact of specific SNPs on exon splicing as the prior in the statistical model, an idea previously used for detecting expression QTLs [72–74]. For example, our results show a significant association between the SNP position and the potential impact on splicing (Figure 4), with SNPs located in the 5' and 3' splice sites most likely to influence exon splicing. It is possible to incorporate such positional information or more advanced predictive models of exon splicing [60] as the prior information to guide the detection of sQTLs.
Conclusions
RNA-seq has become a powerful and increasingly affordable technology for population-scale analysis of transcriptome variation. Here we report GLiMMPS, a robust statistical method for detecting splicing quantitative trait loci (sQTLs) from RNA-seq data. GLiMMPS is applicable to all major patterns of alternative splicing events. The GLiMMPS source code and user manual are freely available for download at [75]. As the cost of high-throughput sequencing continues to decline, we anticipate that combined sequencing of genomes and transcriptomes will become a popular design in large-scale studies of traits and diseases. GLiMMPS provides a useful tool for genome-wide identification of sQTLs from population-scale RNA-seq datasets.
Abbreviations
A3SS:

alternative 3' splice site
A5SS:

alternative 5' splice site
AS:

alternative splicing
CEU:

Utah residents of European descent from CEPH-Centre d'Etude du Polymporphisme Humain
CV:

coefficient of variation
GLiMMPS:

Generalized Linear Mixed Model Prediction of sQTL
glm:

generalized linear model
lm:

linear model
LCL:

lymphoblastoid B cell line
MAF:

minor allele frequency
MXE:

mutually exclusive exons
QTL:

Quantitative Trait Loci
RNA-seq:

RNA sequencing
ROC:

receiver operating characteristic
SE:

skipped exon
SNP:

single-nucleotide polymorphism
sQTL:

splicing Quantitative Trait Loci
SS:

splice site.
Declarations
Acknowledgements
We thank Peng Jiang for assistance with primer design, Collin Tokheim for setting up the website, Sara Miller and Mallory Stroik for technical assistance with exon splicing validation and minigene mutagenesis. We thank Shihao Shen and Ying Nian Wu for discussions and comments on this work. This work was supported by NIH grant R01GM088342 (YX), Burroughs Wellcome Fund grant 1008841.01 (YX), and a March of Dimes Foundation Basil O'Connor Starter Scholar Research Award #5-FY10-60 (YX). JWP was supported by an NIH T32 postdoctoral fellow training grant T32HL007638.
Authors' Affiliations
(1)
Department of Microbiology, Immunology, and Molecular Genetics, University of California, Los Angeles, Los Angeles, USA
(2)
Department of Internal Medicine, University of Iowa, Iowa City, USA
(3)
Department of Statistics, University of California, Los Angeles, USA
Copyright
© Zhao et al.; licensee BioMed Central Ltd. 2013
This article is published under license to BioMed Central Ltd. This is an open access article distributed under the terms of the Creative Commons Attribution License (http://creativecommons.org/licenses/by/2.0), which permits unrestricted use, distribution, and reproduction in any medium, provided the original work is properly cited.