Retrospective genomic analysis of sorghum adaptation to temperate-zone grain production
Received: 28 March 2013
Accepted: 26 June 2013
Published: 26 June 2013
Abstract
Background
Sorghum is a tropical C4 cereal that recently adapted to temperate latitudes and mechanized grain harvest through selection for dwarfism and photoperiod-insensitivity. Quantitative trait loci for these traits have been introgressed from a dwarf temperate donor into hundreds of diverse sorghum landraces to yield the Sorghum Conversion lines. Here, we report the first comprehensive genomic analysis of the molecular changes underlying this adaptation.
Results
We apply genotyping-by-sequencing to 1,160 Sorghum Conversion lines and their exotic progenitors, and map donor introgressions in each Sorghum Conversion line. Many Sorghum Conversion lines carry unexpected haplotypes not found in either presumed parent. Genome-wide mapping of introgression frequencies reveals three genomic regions necessary for temperate adaptation across all Sorghum Conversion lines, containing the Dw1, Dw2, and Dw3 loci on chromosomes 9, 6, and 7 respectively. Association mapping of plant height and flowering time in Sorghum Conversion lines detects significant associations in the Dw1 but not the Dw2 or Dw3 regions. Subpopulation-specific introgression mapping suggests that chromosome 6 contains at least four loci required for temperate adaptation in different sorghum genetic backgrounds. The Dw1 region fractionates into separate quantitative trait loci for plant height and flowering time.
Conclusions
Generating Sorghum Conversion lines has been accompanied by substantial unintended gene flow. Sorghum adaptation to temperate-zone grain production involves a small number of genomic regions, each containing multiple linked loci for plant height and flowering time. Further characterization of these loci will accelerate the adaptation of sorghum and related grasses to new production systems for food and fuel.
Keywords
Genotyping-by-sequencing
introgression
photoperiod
flowering time
dwarfism
Background
Cereals have been selected by humans for thousands of years, first during their domestication from wild grasses and subsequently for increased yield, uniformity, and adaptation to new environments and management practices [1–3]. Specific molecular pathways have recently proven useful for cereal adaptation to modern, high-input agriculture. For example, the Green Revolution exploited allelic variation in the gibberellin pathway in wheat and rice to produce semi-dwarf cultivars with increased harvest index and improved resistance to lodging [4–7]. Similar phenotypic changes occurred during the creation of dwarf grain sorghum suitable for mechanized harvest at temperate latitudes. Understanding the genetic control of these changes is critical for the efficient transfer of useful alleles, both between tropical and temperate growing regions and between breeding programs for different end uses.
Sorghum is the fifth most important cereal crop worldwide [8] and is widely grown in temperate regions, but was domesticated in the African tropics [9]. Temperate adaptation for grain production in sorghum requires photoperiod-insensitivity, for early maturity, and dwarfism, both of which involve at least four major loci [10]. Of the major maturity loci (Ma1-Ma6), Ma1 has been identified as PRR37 [11] and Ma3 as Phytochrome B [12]. Of the major dwarfing loci (Dw1-Dw4), Dw3 has been identified as PGP1/PGP19, an auxin transporter orthologous to maize brachytic2 [13]. Dw2 and Dw1 are uncloned, with the former closely-linked to Ma1 [14] and the latter mapping to chromosome 9 [15, 16].
The oligogenic control of these important agronomic traits in sorghum was exploited through a backcross breeding scheme known as the Sorghum Conversion Program (SCP) [
17
]. Mutations for photoperiod-sensitivity and dwarfism had previously arisen spontaneously in temperate regions of Africa, Asia, and the southern US, and were already being used for grain sorghum production. However, the genetic base of US grain sorghum remained very narrow. During the SCP, genomic regions conferring early maturity and dwarfing were introgressed from an elite donor into approximately 800 exotic sorghum accessions representing the breadth of genetic diversity in sorghum. The resulting SC lines are closely related to their Exotic Progenitor (EP) lines, but differ dramatically in plant height and flowering time due to the presence of donor introgressions (Figure
1A
). The elite donor, BTx406, carries recessive alleles for photoperiod-insensitivity and dwarfism at
Ma1
and
Dw1-Dw3
, respectively [
17
], so these loci are expected to show a high frequency of donor introgression in SC lines. Klein
et al.
[
14
] previously mapped introgressions on chromosome 6 in a subset of SC lines and showed that several of them contain vast introgressed tracts around the linked
Ma1-Dw2
loci. However, the genetic architecture of temperate adaptation in the SC lines (the number and linkage of loci as well as their frequencies in different subpopulations) has not been systematically studied on a genome-wide basis. This information can be used both to identify the underlying targets of the SCP and to help guide more efficient, marker-directed conversion of exotic sorghums to temperate-adapted varieties.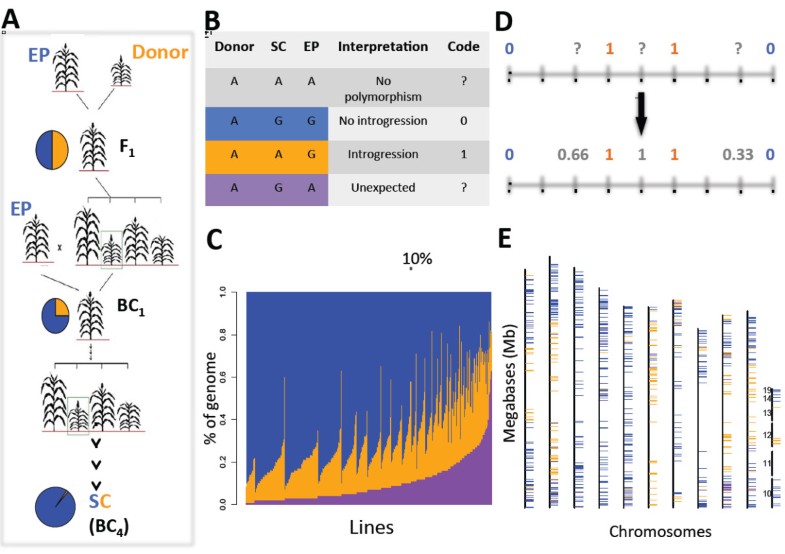 In this study, we use genotyping-by-sequencing (GBS) [18, 19] to generate genome-wide single nucleotide polymorphism (SNP) data for 580 pairs of EP and SC lines, for a total of 1,160 sorghum inbreds. We then employ a novel introgression mapping approach to identify loci required for temperate adaptation, and validate our results using both phenotype-genotype association and population differentiation (Fst) analyses.
Conclusions
The molecular analysis of parents and progeny provides the opportunity for pedigree verification. Our results show that almost one-third of SC lines contain a substantial proportion of unexpected genotypes (>10% of informative markers). We used three complementary approaches - introgression mapping, association mapping, and population differentiation (Fst) - to characterize the genetic architecture of adaptation to temperate-zone grain production in sorghum. Our novel introgression mapping strategy exploited recombination and selection previously imposed by plant breeders to map three major genomic regions, one of which no longer harbors functional variation in temperate-adapted SC lines. Association mapping confirmed that the Dw1 region contains separate QTL for plant height and flowering time. Significant differences in introgression frequency between subpopulations strongly suggest the existence of additional uncharacterized loci that affect plant height and flowering time in sorghum.
Linkage disequilibrium between at least four targeted loci on chromosome 6 has led to the introgression of a single elite haplotype across most of this chromosome in the majority of lines examined. Chromosome 6 contains roughly 10% of sorghum genes, for which very little functional diversity has been exploited for temperate sorghum breeding. This lack of diversity undoubtedly limits adaptive potential, especially for complex traits including resistance to abiotic and/or biotic stress. Increasing gene flow and recombination between tropical and temperate sorghum varieties and haplotypes will help unlock the genetic potential of this stress-tolerant crop to meet our rising demand for food, feed, and fuel in an era of increasing climatic volatility.
Abbreviations
EP:

exotic progenitor
GBS:

genotyping-by-sequencing
SC:

sorghum conversion
SNP:

single nucleotide polymorphism.
Declarations
Acknowledgements
This project was supported by startup funding from the Energy Biosciences Institute to PB. Charlie Woodfin (USDA-ARS Lubbock, retired) and Bill Rooney (TAMU) provided seed. We also wish to acknowledge the stellar technical support provided by Alvaro Hernandez and staff at the University of Illinois' Keck Center.
Authors' Affiliations
(1)
Energy Biosciences Institute, University of Illinois, Urbana, USA
(2)
Department of Crop Sciences, University of Illinois, Urbana, USA
Copyright
© Thurber et al.; licensee BioMed Central Ltd. 2013
This article is published under license to BioMed Central Ltd. This is an open access article distributed under the terms of the Creative Commons Attribution License (http://creativecommons.org/licenses/by/2.0), which permits unrestricted use, distribution, and reproduction in any medium, provided the original work is properly cited.