Research highlight

Open Access
A conifer genome spruces up plant phylogenomics
In the past year a burst of plant genome sequences have been published, providing enhanced phylogenetic coverage of green plants (Figure
1
) and inclusion of new agricultural, ecological, and evolutionary models. Collectively, these sequences are revealing some extraordinary structural and evolutionary attributes in plant genomes. Perhaps most surprising is the exceptionally high frequency of whole-genome duplication (WGD): nearly every genome that has been analyzed has borne the signature of one or more WGDs, with particularly notable events having occurred in the common ancestors of seed plants, of angiosperms, and of core eudicots (the latter 'WGD' represents two WGDs in close succession) [
1
,
2
]. Given this tendency for plant genomes to duplicate and then return to an essentially diploid genetic system (an example is the cotton genomes, which have accumulated the effects of perhaps 15 WGDs [
3
]), the conservation of genomes in terms of gene number, chromosomal organization, and gene content is astonishing. From the publication of the first plant genome,
Arabidopsis thaliana
[
4
], the number of inferred genes has been between 25,000 and 30,000, with many gene families shared across all land plants, although the number of members and patterns of expansion and contraction vary. Furthermore, conserved synteny has been detected across the genomes of diverse angiosperms, despite WGDs, diploidization, and millions of years of evolution.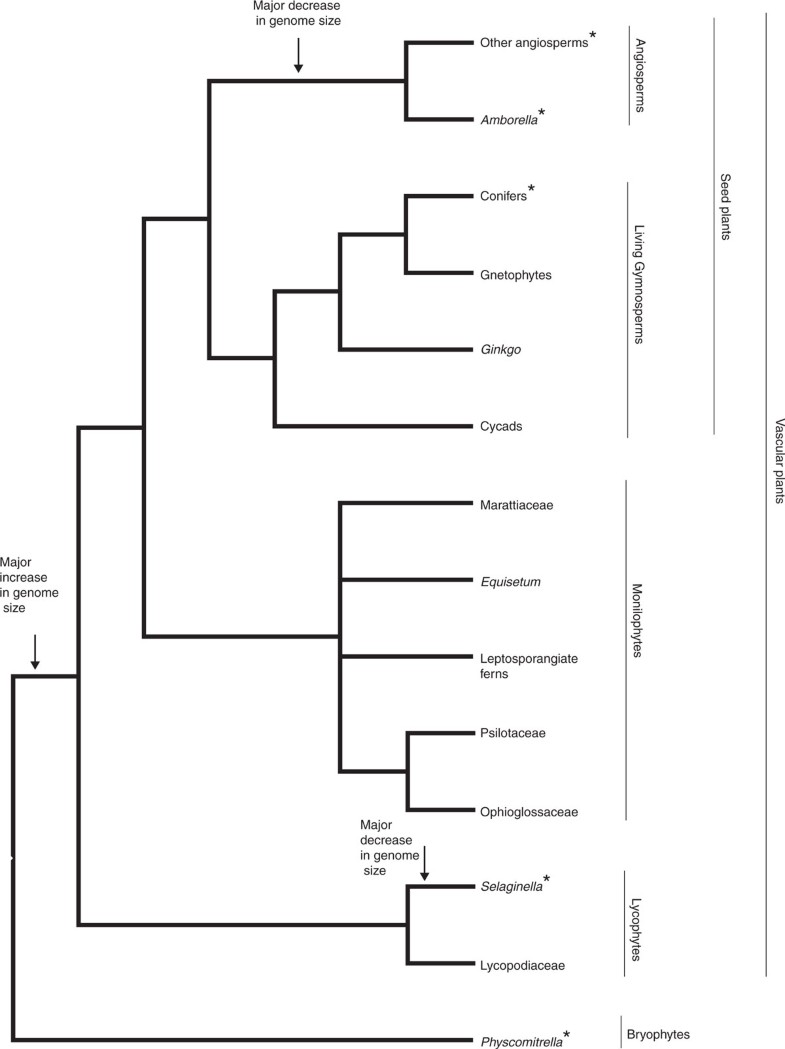 Despite the proliferation of genome sequences available for angiosperms, genome-level data for both ferns (and their relatives, collectively termed monilophytes; Figure
1
) and gymnosperms have been conspicuously lacking - until recently, with the publication of the genome sequence of the gymnosperm Norway spruce (
Picea abies
) [
5
]. The large genome sizes for both monilophytes and gymnosperms have discouraged attempts at genome sequencing and assembly, whereas the smaller genome size of angiosperms has resulted in more genome sequences being available (Table
1
) [
6
]. Because of this limited phylogenetic sample, our understanding of the timing and phylogenetic positions of WGDs, the core number of plant genes, possible conserved syntenic regions, and patterns of expansion and contraction of gene families across both tracheophytes (vascular plants) and across all land plants is imperfect. This sampling problem is particularly acute in analyses of the genes and genomes of seed plants; many hundreds of genes are present in angiosperms that are not present in mosses or lycophytes, but whether these genes arose in the common ancestor of seed plants or of angiosperms cannot be determined without a gymnosperm genome sequence. The Norway spruce genome therefore offers tremendous power, not only for understanding the structure and evolution of conifer genomes, but also as a reference for interpreting gene and genome evolution in angiosperms.
Table 1
Genome sizes in land plants
| Lineage | Range (1C; pg) | Mean |
| --- | --- | --- |
| Gymnosperms | | |
| Conifers | | |
| Pinaceae | 9.5-36.0 | 23.7 |
| Cupressaceae | 8.3-32.1 | 12.8 |
| Sciadopitys | 20.8 | n/a |
| Gnetales | | |
| Ephedraceae | 8.9-15.7 | 8.9 |
| Gnetaceae | 2.3-4.0 | 2.3 |
| Cycadaceae | 12.6-14.8 | 13.4 |
| Ginkgo biloba | 11.75 | n/a |
| Monilophytes | | |
| Ophioglossaceae | 10.2-65.6 | 31.05 |
| Equisetaceae | 12.9-304 | 22.0 |
| Psilotum | 72.7 | n/a |
| Leptosporangiate ferns | | |
| Polypodiaceae | 7.5-19.7 | 7.5 |
| Aspleniaceae | 4.1-9.1 | 6.2 |
| Athyriaceae | 6.3-9.3 | 7.6 |
| Dryopteridaceae | 6.8-23.6 | 11.7 |
| Water ferns | | |
| Azolla | 0.77 | n/a |
| Angiosperms | | |
| Oryza sativa | 0.50 | n/a |
| Amborella trichopoda | 0.89 | n/a |
| Arabidopsis thaliana | 0.16 | n/a |
| Zea mays | 2.73 | n/a |
(1)
Florida Museum of Natural History, University of Florida, Gainesville, FL 32611, USA
(2)
Genetics Institute, University of Florida, Gainesville, FL 32610, USA
(3)
Department of Biology, University of Florida, Gainesville, FL 32611, USA