Genomic analysis reveals key aspects of prokaryotic symbiosis in the phototrophic consortium "Chlorochromatium aggregatum"
Genome Biology
2013
14:R127
Received: 4 June 2013
Accepted: 22 November 2013
Published: 22 November 2013
Abstract
Background
'Chlorochromatium aggregatum' is a phototrophic consortium, a symbiosis that may represent the highest degree of mutual interdependence between two unrelated bacteria not associated with a eukaryotic host. 'Chlorochromatium aggregatum' is a motile, barrel-shaped aggregate formed from a single cell of 'Candidatus Symbiobacter mobilis", a polarly flagellated, non-pigmented, heterotrophic bacterium, which is surrounded by approximately 15 epibiont cells of Chlorobium chlorochromatii, a non-motile photolithoautotrophic green sulfur bacterium.
Results
We analyzed the complete genome sequences of both organisms to understand the basis for this symbiosis. Chl. chlorochromatii has acquired relatively few symbiosis-specific genes; most acquired genes are predicted to modify the cell wall or function in cell-cell adhesion. In striking contrast, 'Ca. S. mobilis' appears to have undergone massive gene loss, is probably no longer capable of independent growth, and thus may only reproduce when consortia divide. A detailed model for the energetic and metabolic bases of the dependency of 'Ca. S. mobilis' on Chl. chlorochromatii is described.
Conclusions
Genomic analyses suggest that three types of interactions lead to a highly sophisticated relationship between these two organisms. Firstly, extensive metabolic exchange, involving carbon, nitrogen, and sulfur sources as well as vitamins, occurs from the epibiont to the central bacterium. Secondly, 'Ca. S. mobilis' can sense and move towards light and sulfide, resources that only directly benefit the epibiont. Thirdly, electron cycling mechanisms, particularly those mediated by quinones and potentially involving shared protonmotive force, could provide an important basis for energy exchange in this and other symbiotic relationships.
Keywords
Heme OxygenaseGenomic IslandGreen Sulfur BacteriumCpcAPurple Sulfur Bacterium
Background
Symbiotic interactions between bacteria and eukaryotes are common and can be mutualistic (for example, between nitrogen-fixing Rhizobium spp. and legumes [1] or between sulfur-oxidizing Gamma- or Epsilonbacteria and marine invertebrates [2]) or parasitic (for example, bacterial pathogens and human hosts). Archaea and eukaryotes also form symbioses, which include the methanogens of arthropod, ruminant, and human digestive systems as well as the archaeal symbionts of sponges [3]. Symbioses involving only bacterial and/or archaeal partners are also known and may be more widespread than commonly recognized [4]. Mutualistic interactions involving nutrient exchange, waste removal, and stress protection are probably crucial to the maintenance of microbial biofilm communities and are well documented in syntrophic interactions involving hydrogen or formate transfer [5]. Other examples include chlorophototrophic mat communities of hot springs [6] and anaerobic methane-oxidizing communities of marine environments [7].
The term 'consortium' originally described a close association of microbial cells in which two or more different microorganisms maintained an organized structure through permanent cell-to-cell contact [
8
]. Phototrophic consortia were first reported more than 100 years ago [
9
], and they may represent the highest degree of mutual interdependence between two unrelated bacteria not associated with a eukaryotic host [
4
,
10
–
12
]. Ten morphologically distinct types are known, and most are barrel-shaped, motile aggregates comprising two cell types: a central bacterium, which is a single, non-pigmented, and heterotrophic cell carrying a single polar flagellum; and approximately 15 to >40 epibionts, which are green- or brown-colored green sulfur bacteria (GSB) [
10
–
12
] (Figure
1
; Figure S1 in Additional file
1
). These consortia are motile and exhibit scotophobotaxis ('fear of the dark') as well as positive chemotaxis to sulfide, thiosulfate, 2-oxoglutarate and citrate [
13
].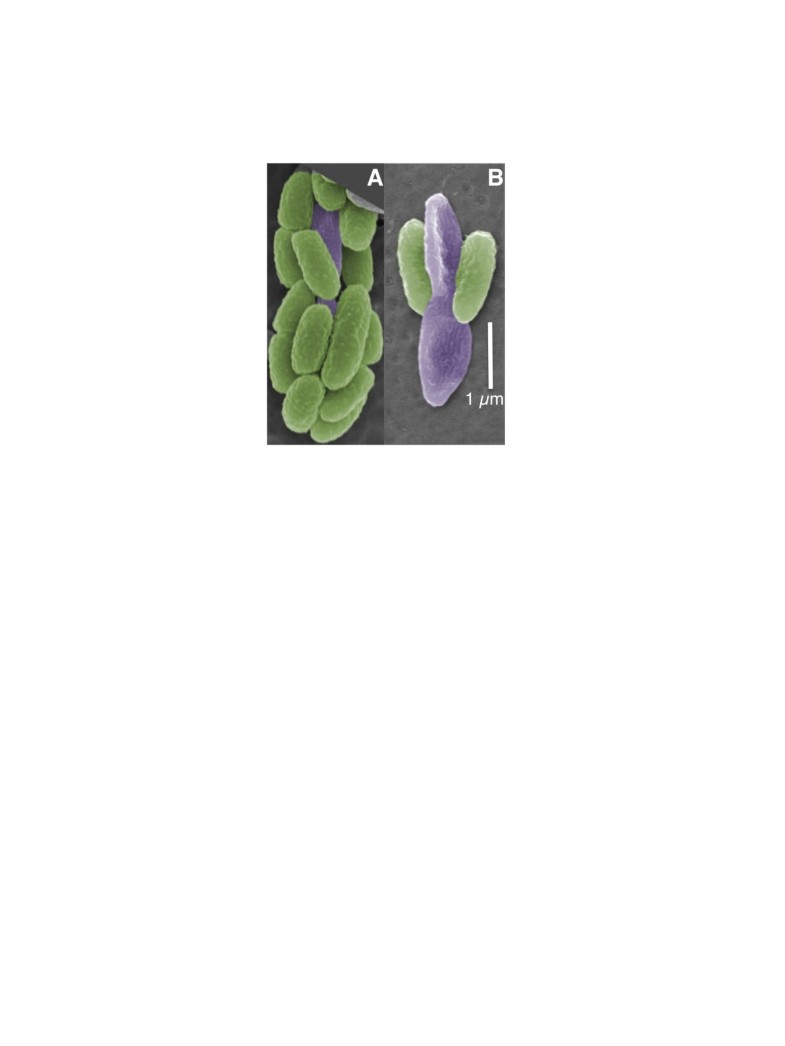 Because of the availability of an enrichment culture isolated from Lake Dagow, Germany, "Chlorochromatium aggregatum" is the best-characterized phototrophic consortium [13]. The epibiont of "Chlorochromatium aggregatum", Chlorobium (Chl.) chlorochromatii strain CaD3, is not obligately symbiotic. It has been isolated and grown axenically, and physiological characterization showed that Chl. chlorochromatii is similar to other free-living GSB isolates [14]. It is a non-motile, obligately anaerobic, photolithoautotrophic GSB that uses sulfide as the electron donor for photosynthetic CO2 and N2 fixation. The genome of Chl. chlorochromatii has been sequenced, and this enabled previous biochemical, transcriptomic and proteomic studies of Chl. chlorochromatii[15, 16]. The central bacterium of "Chlorochromatium aggregatum", hereafter denoted as "Candidatus Symbiobacter (Ca. S.) mobilis", is a rod-shaped member of the Betaproteobacteria (Figure 1; Figure S1 in Additional file 1). It has a single polar flagellum [17] and is most similar to non-symbiotic bacteria of family Comamonadaceae [18]. All attempts to grow the central bacterium independently from the epibionts have failed. Phylogenetic analyses have shown that the epibionts and central bacteria of different types of consortia and lakes have polyphyletic origins [19–21]. To gain insights into the molecular basis for the symbiotic relationship in phototrophic consortia, we determined the complete genome sequence of "Ca. S. mobilis", analyzed these genomes, and present here a description of "Chlorochromatium aggregatum". Compared to free-living close relatives, "Ca. S. mobilis" has apparently undergone massive gene loss and is probably no longer capable of independent growth.
Conclusions
Genomic data for the phototrophic consortium "Chlorochromatium aggregatum" suggest that a very sophisticated symbiotic relationship has evolved between the central bacterium, "Ca. S. mobilis", which apparently is no longer capable of independent growth, and the epibiont, Chl. chlorochromatii, which is still capable of independent growth. We propose that three types of interactions occur between the two partners (Figure 4). Firstly, metabolite exchange, which is common in many other symbiotic organisms, also occurs in this consortium, but the wide variety of exchanged metabolites, including carbon, nitrogen and sulfur sources and vitamins, is uncommon [40]. Secondly and remarkably, "Ca. S. mobilis" can sense light and probably sulfide, which are most directly beneficial to Chl. chlorochromatii. "Ca. S. mobilis" can also sense other nutrients and probably the metabolic status of Chl. chlorochromatii. Figuratively, Chl. chlorochromatii cells are the solar panels of this self-perpetuating, solar-energy-powered bacterial machine; "Ca. S. mobilis" not only provides the bus but also the driver and a navigation system. The degree of specialization observed for these two organisms approaches that seen in multicellular organisms. Although phototrophic consortia are composed of two different organisms, studies of these consortia might offer insights into the evolutionary processes that led from single-celled to multicellular organisms. Thirdly, electron cycling mechanisms, particularly those mediated by quinones and potentially shared proton-motive force, could provide important new mechanistic bases for energy exchange in symbiotic relationships. This study provides many novel insights for this specific bacterial symbiosis, but it also reveals benchmarks for understanding other phototrophic consortia, bacterial symbioses in general, and more complex communities and multicellularity.
Abbreviations
bp:

base pair
BV:

biliverdin
Ca.:

Candidatus
CB_GI:

genomic island in central bacterium "Ca. S. mobilis"
Chl.:

Chlorobium
EP_GI:

genomic island in epibiont Chl. chlorochromatii
GI:

genomic island
GSB:

green sulfur bacteria
MCP:

methyl-accepting chemotaxis protein
ORF:

open reading frame
PEB:

phycoerythrobilin
TCA:

tricarboxylic acid cycle.
Declarations
Acknowledgements
The authors would like to thank staff of the Joint Genome Institute, and especially Lynne Goodwin, who obtained some early Sanger sequence data later used as scaffolding information for this project. The work conducted by the US Department of Energy Joint Genome Institute is supported by the Office of Science of the US Department of Energy under contract number DE-AC02-05CH11231. The authors also thank Dr Daniel Drell for his support and interest in this project. DAB acknowledges support from the Division of Chemical Sciences, Geosciences, and Biosciences, Office of Basic Energy Sciences of the US Department of Energy (grant DE-FG02-94ER20137) and from the National Science Foundation (MCB-0523100). ESB acknowledges support from the NASA Exobiology and Evolutionary Biology Program (grant NNX13AI11G).
Authors' Affiliations
(1)
Department of Biochemistry and Molecular Biology, The Pennsylvania State University, USA
(2)
Leibniz-Institut DSMZ-Deutsche Sammlung von Mikroorganismen und Zellkulturen GmbH, Braunschweig, Germany
(3)
Section for Marine Biology, Department of Biology, University of Copenhagen, Helsingør, Denmark
(4)
Department of Molecular and Cellular Biology, University of California, Davis, USA
(5)
Department of Microbiology, Montana State University, Bozeman, USA
(6)
Helmholtz-Zentrum für Infektionsforschung, Braunschweig, Germany
(7)
Department of Biological Sciences, University of Southern California, Los Angeles, USA
(8)
Algal Genomics Research Group, Institute of Hydrobiology, Chinese Academy of Sciences, Wuhan, China
(9)
Department of Biology, Chaminade University, Honolulu, USA
Copyright
© Liu et al.; licensee BioMed Central Ltd. 2013
This article is published under license to BioMed Central Ltd. This is an open access article distributed under the terms of the Creative Commons Attribution License (http://creativecommons.org/licenses/by/2.0), which permits unrestricted use, distribution, and reproduction in any medium, provided the original work is properly cited.