Research highlight

Open Access
Transposable elements: not as quiet as a mouse
Genomes have been bombarded by insertions of transposable elements (TEs), which have contributed nearly half of our genetic material [
1
]. The major TE families in the human and mouse genomes are LINEs and SINEs (long/short interspersed nuclear elements) along with endogenous retroviruses (ERVs). Although they still retain a parasitic life cycle and can still cause harmful mutations, TEs can also participate in gene regulation and donate protein functions to the host, and they may increase the evolvability of species [
2
,
3
]. Owing to their multitude of potential effects, there is increasing interest in identifying TE insertional variants (TEVs) and assessing their role in genetic and phenotypic variation within a species or between related species. Methods for detecting such TEVs have evolved from the early days of Southern blotting to high-throughput sequencing technologies (Figure
1
). Efforts to document TEVs among mouse strains have been ongoing for years and include recent studies that catalogued ERV TEVs in eight inbred mouse strains and LINE TEVs in four inbred strains [
4
–
6
].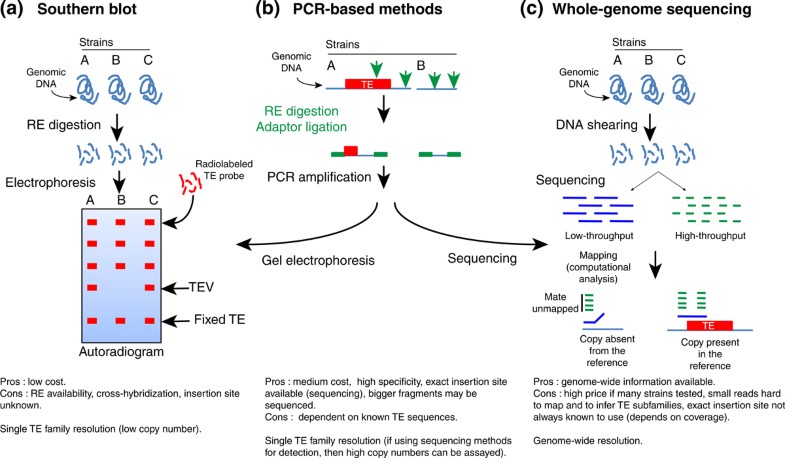 In this issue of Genome Biology, Nellåker et al. [7] have massively increased the catalog of mouse TEVs by identifying 103,798 such variants of all the major TE classes (LINEs, SINEs and ERVs) in a total of 18 mouse genomes (14 laboratory strains and 4 wild-derived mouse species) using whole-genome next-generation sequencing. Such an impressive catalog will undoubtedly be of great value for mouse geneticists. However, as pointed out by the authors [7], the technology used does have drawbacks. Owing to the short sequence reads, fine classification of TEs into subfamilies was not possible and the false-positive and -negative rates are somewhat higher than those obtained with other methods [4, 6]. In contrast, PCR-based sequencing techniques, such as the transposon junction assay designed by Li et al. [6], allow specific TEV subfamily analysis in different mouse strains and localization of the exact insertion site, but are, nevertheless, limited in the number of TE subfamilies studied (Figure 1). Hence, whole-genome sequencing using short reads to find new TEVs is a tradeoff between the number of new TEVs found and the information that each TEV read carries. With continued advances in next-generation sequencing technologies producing longer and higher quality reads, it is expected that error rates and fine resolution of TE families will improve.
(1)
Terry Fox Laboratory, British Columbia Cancer Agency, 675 West 10th Avenue, Vancouver, BC, V5Z1L3, Canada
(2)
Department of Medical Genetics, University of British Columbia, Vancouver, BC, V6H 3N1, Canada
© BioMed Central Ltd. 2012