Protein family review

Open Access
The R-spondin protein family
Abstract
The four vertebrate R-spondin proteins are secreted agonists of the canonical Wnt/β-catenin signaling pathway. These proteins are approximately 35 kDa, and are characterized by two amino-terminal furin-like repeats, which are necessary and sufficient for Wnt signal potentiation, and a thrombospondin domain situated more towards the carboxyl terminus that can bind matrix glycosaminoglycans and/or proteoglycans. Although R-spondins are unable to initiate Wnt signaling, they can potently enhance responses to low-dose Wnt proteins. In humans, rare disruptions of the gene encoding R-spondin1 cause a syndrome of XX sex reversal (phenotypic male), palmoplantar keratosis (a thickening of the palms and soles caused by excess keratin formation) and predisposition to squamous cell carcinoma of the skin. Mutations in the gene encoding R-spondin4 cause anonychia (absence or hypoplasia of nails on fingers and toes). Recently, leucine-rich repeat-containing G-protein-coupled receptor (Lgr)4, Lgr5 and Lgr6, three closely related orphans of the leucine-rich repeat family of G-protein-coupled receptors, have been identified as receptors for R-spondins. Lgr5 and Lgr6 are markers for adult stem cells. Because R-spondins are potent stimulators of adult stem cell proliferation in vivo and in vitro, these findings might guide the therapeutic use of R-spondins in regenerative medicine.
Keywords
Adult stem cellscanonical Wnt signalingfurin-like repeatLgr5R-spondinthrombospondin domain
Gene organization and evolutionary history
The R-spondins are members of a superfamily of thrombospondin type 1 repeat (TSR-1)-containing proteins. The prototype member (discovered in 1971) was isolated from platelets that had been stimulated with thrombin, and was therefore designated 'thrombin-sensitive protein' [1]. The TSR-1 repeat (also known as properdin repeat) was then characterized in the thrombospondin proteins (TSPs), in which it is repeated three times [2]. TSP1 and TSP2 are secreted multimeric matricellular proteins that, in addition to the TSP repeat, share homology in an amino-terminal globular region, von Willebrand factor domain, type II repeats (epidermal growth factor (EGF)-like), type III repeats (calcium binding) and the carboxy-terminal region. These modular proteins act by bringing together cytokines, growth factors, membrane receptors and extracellular proteases. Several proteins involved in the complement pathway (properdin, C6, C7, C8A, C8B, C9) and extracellular matrix proteins, such as mindin, F-spondin and SCO-spondin, contain one or more TSR-1 repeats.
The prefix R in the R-spondin subfamily of TSR-1-containing proteins derives from the expression of the gene encoding murine R-spondin1. This gene is transiently expressed in the neural tube at 10 and 12 days post-conception, in the boundary region between the roof plate and neuroepithelium, hence its name R(oof plate specific)-spondin [3]. In addition to the presence of the TSR-1 domain, all four R-spondin members are characterized by the presence of a carboxy-terminal region with positively charged amino acids and, importantly, two furin-like cysteine-rich repeats near the amino terminus of the mature protein. Furin repeats (first seen in the endoprotease furin) are also present in receptors for growth factors such as EGF, insulin, hepatocyte growth factor (HGF) and neurotrophic factors. The R-spondin family was discovered over a 4-year period. R-spondin3 was discovered in 2002 [4], whereas descriptions of R-spondin1 [3] and R-spondin2 followed in 2004 [5]. Finally, R-spondin4 was characterized in 2006 [6].
R-spondin homologs (defined by two Fu domains followed by a TSP1 domain) are present in all vertebrates, in primitive chordates such as the lancelet
Branchiostoma floridae
, in the hemichordate acorn worm
Saccoglossus kowalevskii
and in the echinodermate sea urchin
Strongylocentrotus purpuratus
(Figure
1
). No homologs with an R-spondin domain composition are found in invertebrate model organisms such as
Drosophila
or
Caenorhabditis
, or any other primitive animal. Given this phylogenetic distribution, an R-spondin-like gene was likely to have been present in the deuterostome ancestor and, given its absence outside the deuterostome clade, also originated there. An evolutionary tree of these sequences rooted on the primitive deuterostomes clearly shows the two successive genome duplications that generated present day R-spondin diversity in vertebrate species such as fish and mammals (Figure
1
).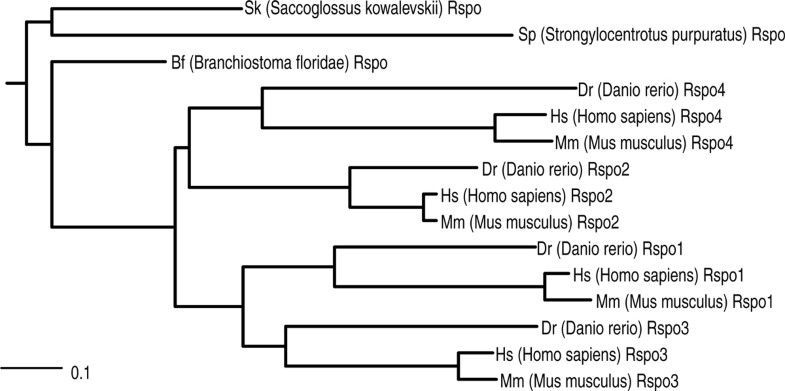 The mammalian R-spondins have a similar five-exon gene organization and protein domain structure. The human family members share a pair-wise amino acid similarity of 40% to 60% (Figure
2
). The amino-terminal hydrophobic signal peptide ensures that secretion is encoded by the first exon, whereas the two cysteine-rich furin-repeat domains are encoded by exons 2 and 3, and a single TSP1 domain is encoded by exon 4. Exon 5 encodes a region in the protein that is solely characterized by its high density of basic amino acids.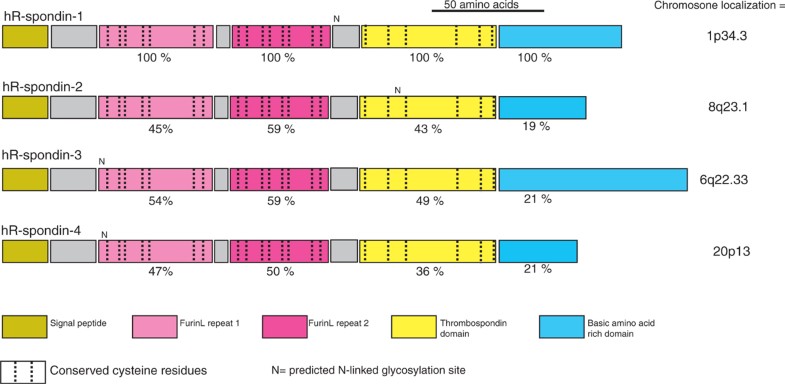 Characteristic structural features
The four R-spondin proteins share a common domain architecture. An amino-terminal endoplasmic reticulum signal peptide ensures entry into the secretory pathway. The processed mature protein has two cysteine-rich furin-like repeats at the amino terminus. The central TSR-1 domain is followed by a region with a high number of basic amino acids at the carboxyl terminus (Figure 2). The two furin-like repeats near the amino terminus are related to a domain seen in the subtilisin-like proprotein convertase family member furin. Although the function of this domain in furin is unknown, its prevalence in a number of important receptors for growth factors, such as EGF, insulin, HGF and neurotrophic factors, suggests it makes a significant functional contribution.
Mass spectrometry approaches have provided some insight into the molecular structure of the furin domains in R-spondins [7]. That study by Li et al. recorded the pattern of disulfide bonds between the 15 available cysteine residues present in these domains. In a purified peptide containing both furin-like repeats of R-spo2, they determined the free and interconnected cysteine residues. In total, five free cysteine residues were found: three in furin repeat 1 and two in furin repeat 2. All interconnected cysteine residues appeared to be separated by only two or three intervening amino acids. No crystallographic study of furin-like repeats in R-spondins is yet available. However, such analyses have been performed for the EGF receptor and insulin growth factor receptor 1 [8, 9]. These revealed the existence of three pairs of linked cysteine residues in furin-like repeat 1 that successively bridge 5, 8 and 18 intervening residues. No unbound cysteine residues remained. It is unclear whether these divergent outcomes reflect consequences of the techniques used or structural differences underlying the specific roles of these domains in the proteins studied.
The second domain that is common to all four R-spondins is a TSR-1 domain. The human genome harbors 41 proteins that contain TSR-1 domains. The number of the TSR-1 domains in these proteins varies from 1 to 18. All of the TSRs occur either in secreted proteins or in the extracellular portion of transmembrane proteins. The TSR-1 domain in R-spondin may have a role related to glycosaminoglycan (GAG)/proteoglycan binding. Several observations supporting such a role have been made in other TSR-1-domain-containing proteins. Multiple amino acid sequence alignments of TSRs show that a typical TSR domain consists of 60 amino acids, of which 12 are highly conserved [10, 11]. X-ray crystallography of the TSR-1s of human TSP1 led to the discovery of the CWR layer, an architecture composed of three antiparallel strands. Strand A assumes a rippled conformation, whereas strands B and C assume regular β-sheets. The side chains of the tryptophan residues in the A strand make up two W-layers. Two arginine residues in the B strand comprise the R-layers. The alternate stacking of the cationic guanidinium groups of the arginine residues with the aromatic side chains of the tryptophan residues provide vital stabilization in the structure of this small domain. Additional solidity derives from the C-layers, disulfide bonds capping the amino-terminal and carboxy-terminal ends of the strands. The exposed tryptophan residues and arginine residues define the front face of the domain and are likely to contact the negatively charged repeating disaccharide units of GAGs and proteoglycans. Moreover, the disaccharide units in GAGs span approximately 9 Å, enabling two units to fit into the recognition groove of the TSR-1 [12]. The three-dimensional structure of R-spondins is not yet available, but molecular modeling techniques have also predicted a GAG-binding site for the TSR of R-spondin 4 [13]. A recently reported binding of R-spondin3 to the transmembrane proteoglycan syndecan-4 is consistent with these findings [14]. It will be of interest to determine the GAG-binding specificity of the four R-spondin TSR-1s and to translate this knowledge into functional models.
Localization and function
Extensive functional analysis of the R-spondin proteins, using Wnt reporter assays in 293T cells, uncovered a link with the canonical Wnt/β-catenin pathway [
5
] (Figure
3
). The latter plays a central role in cellular proliferation, differentiation and stem cell maintenance. Activity is initiated when secreted proteins of the Wnt family bind to Frizzled (Fzd) receptors and the low-density lipoprotein receptor related protein 5 or 6 (LRP5/6) co-receptors. At this level, the pathway is controlled by a series of extracellular antagonists (Figure
3
). R-spondins uniquely synergize with Wnt proteins. Accordingly, R-spondin activation showed sensitivity to the presence of the extracellular Wnt inhibitor Dickkopf-1 (DKK1) and no synergy could be induced by overexpression of any of the known intracellular components of the pathway. Protein domain analysis showed that furin repeats are essential and sufficient to mediate the Wnt-potentiating effect of the R-spondins [
5
,
7
,
15
]. The first
in vivo
experiments documenting this Wnt potentiating phenomenon were performed in early frog embryos [
5
]. Depletion of R-spondin2 in one blastomere at the eight-cell stage resulted in disorganized somites and a reduction in myotomes at the injected site. Depletion at the gastrula stage resulted in a failure to transcriptionally activate the
myoD
and
myf5
genes, later leading to impaired muscle development. Manipulation of Wnt activity at this developmental stage, in chick and mammals, strikingly phenocopies these effects [
16
,
17
]. Canonical Wnt pathway potentiation by R-spondins has also been seen in experimentally induced tumors. A sustained high level of Wnt activity in the tumor was explained by the finding that mammary tumor virus integration sites were seen in both genes for Wnt family members and the gene for R-spondin2 [
18
].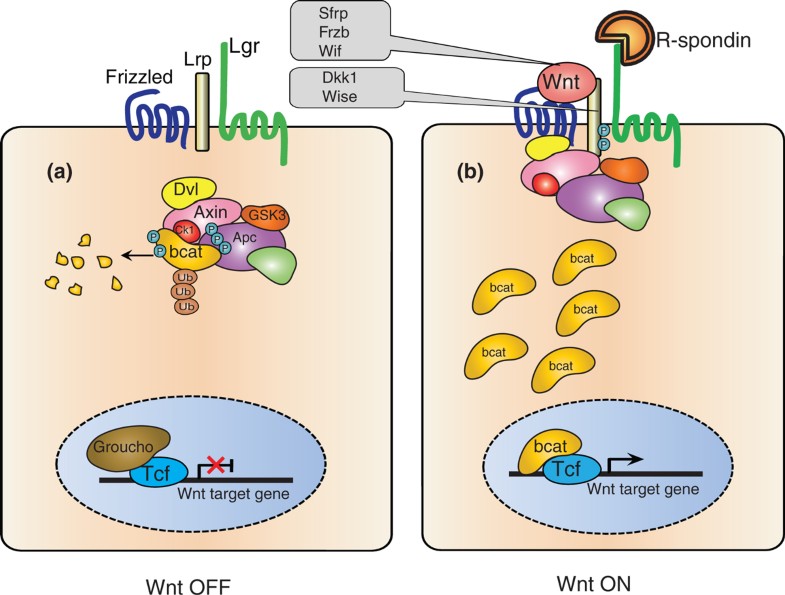 R-spondins operate during embryogenesis
Wnt signaling is important in almost every fate decision during embryonic development throughout the animal kingdom [19]. The knowledge obtained of the Wnt-enhancing ability of R-spondins together with their dynamic expression patterns in embryonic tissues (Additional file 1, Table S1) predicts pleiotropic roles for R-spondins during embryogenesis.
Mechanisms
Receptors
The identification of the membrane component mediating R-spondin signaling has proceeded with trial and error. Contradictory reports proposed that R-spondin bound to Fzds, LRPs, Kremen receptor and/or Wnts [42–44]. However, three recent reports [45–47] identified Lgr4, Lgr5 and Lgr6 as the receptors of the R-spondin protein family (Figure 3). Each of them can bind all four R-spondins in vitro [48]. RNA interference-mediated deletion of the endogenous Lgr4 in 293T cells resulted in effective removal of the R-spondin-mediated enhancement of Wnt signaling in these cells [48]. A specific rescue occurred by exogenously introducing Lgr4, Lgr5 and Lgr6 [48]. Recently, syndecan-4 was proposed as the receptor for R-spondin3 in the planar cell polarity pathway [14]. An earlier report had claimed a role for R-spondin3 in canonical Wnt signaling [33]. With the current knowledge that the Lgr proteins act as receptors for the furin domains in R-spondins, the R-spondin3/syndecan-4 interaction most likely involves the TSR-1 domain. The Lgr proteins appear to be physically associated with the Fzd/LRP complex. The R-spondin component in Wnt signaling may therefore be mediated by the LRP5/6 Frizzled co-receptors. Of note, R-spondin1 enhances LRP6 phosphorylation [43].
The R-spondin/Lgr axis
A variety of genetic studies were conducted to determine the locations of expression and the physiological roles of Lgr4, Lgr5 and Lgr6 during embryogenesis. Those experiments actually monitored locations of R-spondin-amplified Wnt signaling. Analysis of the Lgr4 receptor, using a variety of genetic models, detected strong expression in cartilage, kidney, adrenal gland, reproductive tracts, the eyes and nervous system cells. The associated phenotypes are diverse and extend over tissues derived from all germinal layers [49–60]. Lgr5, likewise, shows a dynamic and complex expression pattern during embryogenesis [61, 62]. Rare Lgr5 + cells are seen in the adult eye, mammary gland, intestinal tract, skin and the reproductive organs [63–65]. Developmental Lgr6 expression is most prominent in the hair placodes, rare cells in the brain, the mammary gland, and the airways of the lungs [62, 66].
Importantly, R-spondin/Lgr signaling also operates in several self-renewing adult tissues. The best studied example is the mucosa of the digestive tract, consisting of a stomach, small intestine (Figure 4) and the colon. The first indication that Rspondin1 can act as a growth factor for intestinal epithelial cells, by agonizing canonical Wnt signaling, was found in a transgenic mouse model in which Rspo1 was under the control of the immunoglobulin locus [67]. The essential requirement of Wnt signaling for the physiological maintenance of the stem cells in these tissues was previously shown in a Tcf4 (T-cell transcription factor 4) ablation experiment and a DKK1 transgenic model [68, 69]. The involvement of R-spondin was indirectly uncovered by a Lgr5-driven GFP (green fluorescent protein) knock-in mouse model and a Lgr5/LacZ-driven lineage tracing model [70]. These studies identified the Wnt-target gene LGR5 as a unique marker for the stem cells feeding these tissues [63]. Lgr4 is co-expressed in stem cells, and in addition it is detectable in all other progenitor cells. Isolated Lgr5 + intestinal stem cells can be maintained in vitro and induced to continuously propagate organoids [64, 71]. Notably, addition of R-spondin and Wnt constitutes an absolute requirement for these cultures. In mouse intestinal organoids, deletion of these Lgr receptors phenocopies withdrawal of R-spondin. Moreover, absence of Lgr receptors can be compensated by providing cells with the strongest possible Wnt signals. Canonical Wnt/R-spondin signaling is, moreover, implied in establishing the hair follicle cycle and remains crucial for stem cell activity throughout life [63, 65, 72–76].
Frontiers
Now that the Lgr proteins have been established as the receptors for R-spondins, directly funneling into the canonical Wnt pathway through Frizzled and Lrp, several gaps in our knowledge of R-spondins can be addressed. For example, crystallographic studies of R-spondin and R-spondin/Lgr complexes are required to understand how the interaction-induced information is transferred to the Wnt/Fzd/Lrp signaling unit. The increase in Lrp6 phosphorylation, associated with the presence of R-spondin in the Wnt receptor complex, needs to be understood in greater detail. In particular, the dedicated kinase and the specific substrate for this reaction among the five conserved PPPSPXS motifs in Lrp need to be identified [77]. Another challenge is to determine the exact composition of the operating Wnt receptor complexes. A key question here is whether the Lgr/R-spondin module constitutes a standard feature of canonical Wnt signals in vertebrates or an accessory option. It will also be important to determine to what extent preference in the cooperation between the various components in vivo plays a role. Another challenge will be to find out the specificity and site of synthesis of the R-spondins that control particular biological processes. Because the R-spondins are also stimulators of stem cell development, it is anticipated that future research will use R-spondin-based strategies for the manipulation of adult stem cells in regenerative medicine settings. The first findings, supporting the therapeutic potential of in vivo administered R-spondins, were found in a mouse model for inflammatory bowel diseases similar to Crohn's disease [78]. Future attempts to replenish disease-damaged epithelial tissue along the gastrointestinal tract, including Barrett's disease, will likely exploit R-spondin-mediated ex vivo expansion of the epithelia of interest [64, 71, 79].
Abbreviations
AER:

apical ectodermal ridge
DKK1:

Dickkopf-1
E:

embryonic day
EGF:

epidermal growth factor
Fzd:

Frizzled
GAG:

glycosaminoglycan
HGF:

hepatocyte growth factor
Lgr:

leucine-rich repeat-containing G-protein-coupled receptor
Lrp:

lipoprotein-receptor-related protein
PPK:

palmoplantar hyperkeratosis
SCC:

squamous cell carcinoma
TSP:

thrombospondin protein
TSR-1:

thrombospondin type 1 repeat.
Declarations
Acknowledgements
We would like to thank Johan van Es for critically reviewing the manuscript.
Authors' Affiliations
(1)
Hubrecht Institute, Developmental Biology and Stem Cell Research, Royal Netherlands Academy of Arts and Sciences, University Medical Center Utrecht, Utrecht, The Netherlands
(2)
Theoretical Biology and Bioinformatics, Utrecht, The Netherlands
Copyright
© BioMed Central Ltd. 2012