We're sorry, something doesn't seem to be working properly.
Please try refreshing the page. If that doesn't work, please contact us so we can address the problem.
Life at the extreme: lessons from the genome
Vascular plants have adapted to virtually all terrestrial environments, no matter how benign or stressful. Extremophiles are the plants operating in the most challenging environments [
1
], such as those dominated by the extreme cold in Antarctica [
2
], wide temperature swings and extreme drought in deserts [
3
], or salinity in combination with a broad range of other stresses. This last group, the halophytes, are the best documented [
4
]; the Kew Gardens database [
5
] recognizes over 1,500 species. Table
1
summarizes some examples of extremophile transcriptomes and genomes that have been published in recent years, at increasing levels of complexity as new sequencing technologies have become available. Six of these plants and their ecological contexts, not all familiar to most plant biologists, are illustrated in Figure
1
.
Table 1
Recent studies on extremophile genomes and transcriptomes
| Species | Order | Methods | Stress studied | References |
| --- | --- | --- | --- | --- |
| Lobularia maritima | Brassicales | Enriched cDNA library | Salt | [49] |
| Thellungiella parvula | Brassicales | NGS - genome/transcriptome | Salt | [10] |
| Thellungiella salsuginea | Brassicales | EST sequencing; enriched cDNA library | Salt, cold | [67] |
| Amaranthus hypochondriacus | Caryophyllales | NGS- transcriptome | Drought | [68] |
| Limonium sinense | Caryophyllales | EST sequencing; enriched cDNA library | Salt | [25] |
| Mesembryanthemum crystallinum | Caryophyllales | EST sequencing | Salt | |
| Salicornia brachiata | Caryophyllales | EST sequencing; enriched cDNA library | Salt | [71] |
| Avicennia marina | Lamiales | EST sequencing; enriched cDNA library | Salt | [72] |
| Rhizophora mangle | Malpighiales | NGS - transcriptome | Salt, heat, low nutrient, flooding | |
| Populus euphratica | Malpighiales | Microarray; NGS - transcriptome | Salt, drought | |
| Populus × canescens | Malpighiales | Microarray | Flooding | [76] |
| Heritiera littoralis | Malvales | NGS - transcriptome | Salt, heat, low nutrient, flooding | |
| Festuca rubra ssp. litoralis | Poales | Enriched cDNA library | Salt | [50] |
| Spartina alterniflora | Poales | EST sequencing; enriched cDNA library | Salt | [77] |
| Craterostigma plantagineum | Scrophulariales | NGS - transcriptome | Desiccation | [13] |
| Solanum commersonii | Solanales | Microarray | Cold | [78] |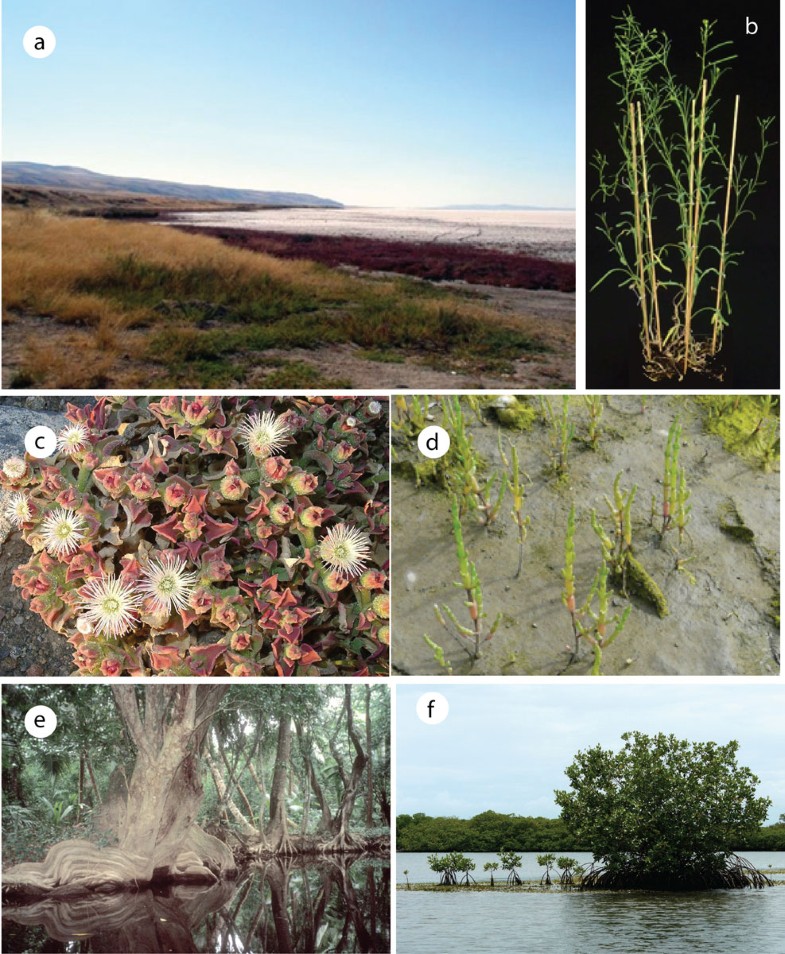 Because of their diverse life forms and life history strategies and in some cases their experimental tractability, halophytes have attracted more attention than the other groups at the molecular level. These include shrubs and forbs (such as Salicornia spp. (Table 1, Figure 1d), Chenopodium spp., Atriplex spp.), grasses (such as Festuca rubra (Table 1), Spartina spp., Aeluropus spp., and two adapted to saline sodic deserts, Leptochloa fusca and Leymus chinensis), trees (several mangroves, especially Avicennia and members of the Rhizophoraceae), and desert succulents (especially Mesembryanthemum crystallinum, Table 1, Figure 1c). Perhaps most importantly, from the standpoint of comparative genomics, the halophytes also include highly salt-tolerant close relatives of Arabidopsis thaliana.
Extremophiles are not simply outliers, plants with little to offer to the mainstream defined by poorly stress-adapted model plants. They occupy one end of a continuum of plant abilities to withstand stress. In all extreme environments, multiple stresses arise concurrently. For example, saline environments are often poor in essential nutrients (especially N and P), but replete to the point of toxicity in others (for example Mg, sulfate or micronutrients). They may experience seasonal swings between flooding and drought-related salt pans (for example, as shown in Figure 1b). Daily and seasonal temperature ranges may be very broad, or, increasingly over the past century, they may be natural or agricultural ecosystems degraded by overgrazing or inappropriate irrigation management. Understanding plants endemic to these environments provides us with the opportunity to understand the successful and unsuccessful adjustments that less tolerant plants make when faced with lesser stresses [1, 6].
Plant environmental responses are coordinated through crosstalk among multiple signaling and stress-response networks, and one of the major goals of modern plant biology is to understand these. For example, dehydration response elements, redox controls and the downstream processes they regulate are central to drought and cold responses [7]. In addition, abscisic acid mediates a broad range of environmental responses [8]. But networks are often, if not always, more complicated than can be revealed by analysis of genes 'known to be involved' in particular responses; using Gaussian graphical methods, for example, Ma et al. [9] visualized response networks to salt involved in signaling and adaptation - including a large number of unknown and uncharacterized genes. Clearly, 450 million years of land plant evolution has generated biological complexity that cannot be represented by the sequence of a single species, such as A. thaliana, or even a single representative of each major clade. By scrutinizing the few plant genomes that are available, however, the plant biology community is beginning to identify characters of developmental, physiological, and environmental integrative quality that can be deduced and refined into hypotheses for further scrutiny.
Next-generation sequencing (NGS) technologies (especially Roche 454 and Illumina-Solexa) brought with them the promise of high-quality, high-volume, low-cost genomes and transcriptomes. In fact, it is meeting this expectation. Using the resulting datasets, it is now possible to address the evolutionary mechanisms leading to adaptation to extreme environments. The recently sequenced genome of Thellungiella parvula [10] exemplifies such efforts, providing resources for high-resolution genome-wide comparison with its non-extremophile relative, A. thaliana.
Here, we look at three notable evolutionary features reflected in the genomes that may contribute to adaptations to abiotic stress. These are gene duplication, lineage-specific, largely functionally uncharacterized genes, and epigenomic modifications effected by abiotic stress.
(1)
Department of Plant Biology, University of Illinois at Urbana-Champaign, Urbana, IL 61801, USA
(2)
Division of Applied Life Science (BK21 program), Gyeongsang National University, Jinju, 660-701, Korea
(3)
College of Science, King Abdulaziz University, Jeddah, Saudi Arabia
© BioMed Central Ltd. 2012