Transposable elements reveal a stem cell-specific class of long noncoding RNAs
Genome Biology
2012
13:R107
Received: 29 June 2012
Accepted: 26 November 2012
Published: 26 November 2012
Abstract
Background
Numerous studies over the past decade have elucidated a large set of long intergenic noncoding RNAs (lincRNAs) in the human genome. Research since has shown that lincRNAs constitute an important layer of genome regulation across a wide spectrum of species. However, the factors governing their evolution and origins remain relatively unexplored. One possible factor driving lincRNA evolution and biological function is transposable element (TE) insertions. Here, we comprehensively characterize the TE content of lincRNAs relative to genomic averages and protein coding transcripts.
Results
Our analysis of the TE composition of 9,241 human lincRNAs revealed that, in sharp contrast to protein coding genes, 83% of lincRNAs contain a TE, and TEs comprise 42% of lincRNA sequence. lincRNA TE composition varies significantly from genomic averages - L1 and Alu elements are depleted and broad classes of endogenous retroviruses are enriched. TEs occur in biased positions and orientations within lincRNAs, particularly at their transcription start sites, suggesting a role in lincRNA transcriptional regulation. Accordingly, we observed a dramatic example of HERVH transcriptional regulatory signals correlating strongly with stem cell-specific expression of lincRNAs. Conversely, lincRNAs devoid of TEs are expressed at greater levels than lincRNAs with TEs in all tissues and cell lines, particularly in the testis.
Conclusions
TEs pervade lincRNAs, dividing them into classes, and may have shaped lincRNA evolution and function by conferring tissue-specific expression from extant transcriptional regulatory signals.
Keywords
Protein Code Gene
Transposable Element
Sense Orientation
Transposable Element Insertion
Transposable Element Sequence
Background
Recent comprehensive transcriptome sequencing studies uncovered a large class of previously unannotated long noncoding RNA (lncRNA) genes in various species with similar splicing and polyadenylation properties to mRNAs [1–8]. Genome-wide analyses found that human lncRNAs are more tissue-specific than protein coding genes and are preferentially proximal to developmental regulators [2, 9]. Accumulating evidence suggests lncRNAs are key regulators in cell differentiation and disease pathways [10–18].
Initial progress has been made to understand the evolution and origins of lncRNAs [6]. The nucleotide-level conservation of lncRNAs is well-studied in vertebrates using simple substitution and indel-based models, which suggest that lncRNAs are more conserved than neutrally evolving regions of the genome, but less conserved than protein coding genes [1, 2, 19, 20]. Though extensive lncRNA catalogs have been discovered in diverse organisms, recently including zebrafish [3, 4], Drosophila [5], and nematode [21], distant homologues to human lncRNAs are less frequent and more diverged than protein coding gene homologues [2–4, 21, 22]. Collectively, these studies suggest that while many species have numerous lncRNAs, they rapidly evolved in a species-specific manner or exhibit other mechanisms of evolutionary constraints.
One important method by which the genome, including lncRNA sequence, evolves is transposable element (TE) insertions. TEs are nucleic acid sequences capable of inserting into genomic DNA that are typically considered 'selfish' genomic parasites and have conquered 45 to 65% of the human genome [23, 24]. Despite the selfish origins of TEs, their activity occasionally has subtle evolutionary benefits [25, 26], which has allowed TEs to significantly shape the evolution of the human genome [27].
In a few known cases, TE proteins required for transposition have seeded novel genes in the host genome [28–31]. More often, TEs influence transcriptional regulatory networks. For example, TE promoters, particularly the long terminal repeats (LTRs) of endogenous retroviruses (ERVs), initiate transcription at some protein coding genes, typically as alternative promoters [32–34]. Further, TEs have shaped gene regulation by distributing transcription factor binding sites [35–39], spawning enhancers [40, 41], and possibly by composing highly conserved noncoding regions [42, 43]. In addition to proteins, ncRNA genes, particularly microRNAs [44], can be derived from TEs [45]. Post-transcriptionally, Alu elements (and potentially other TEs) harbor splicing signals, and insertions in protein coding genes have created new splice sites and exons [46–49]. Taken together, these studies demonstrate extensive shaping of gene regulatory networks by TE insertions.
Whether TEs have similarly influenced lncRNA sequence and regulation is largely unexplored, but numerous recent studies point to interesting TE-associated lncRNA functions. For example, Alu elements in lncRNAs play a significant role in STAU1-mediated mRNA decay by duplexing with complementary Alu elements in the 3' UTRs of mRNAs [50]. A mutated L1 element in a lncRNA is associated with infantile encephalopathy [51]. We previously identified ten lncRNAs that were significantly upregulated in induced pluripotent stem cells (iPSCs) relative to human embryonic stem cells (ESCs) [52]. Seven of these ten lncRNAs, including one that was required for reprogramming (linc-ROR), have HERVH elements near the 5' transcript end, suggesting HERVH elements may shape lncRNA regulation in the pluripotent state.
Here we comprehensively characterize the TE composition of long intergenic noncoding RNAs (lincRNAs) and their functional relationships in the human genome. We find that lincRNAs contain TEs at a far greater rate than protein coding genes and are highly enriched for ERVs and depleted of LINEs and SINEs. TEs have position and orientation preferences in lincRNAs, including a frequent association of LTRs with lincRNA transcription start sites (TSSs) that suggests a role in the genes' origins. In a number of intriguing cases, TE content correlated with lincRNA expression properties. Strikingly, lincRNAs containing HERVH elements exhibit a stem cell-specific expression pattern. These results demonstrate that lincRNAs have nonrandom composition of TEs that strongly correlates with their functional and regulatory properties, suggesting a mechanism for malleable evolution of lincRNAs.
Results
Human reference catalogs of lincRNAs and TEs
To investigate the relationship between lincRNAs and TEs, we first established a reference catalog of TEs in the human genome from RepeatMasker annotations of Hg19. Removing non-TE repeats left 4.5 million TEs, covering 49.9% of the genome. Next, we assembled a catalog of human lincRNAs from RNA sequencing (RNA-Seq) of 28 different tissues and cell lines using methods from our previous human lincRNA annotation effort [2] with careful processing of multi-mapping reads (Materials and methods). We filtered transcripts assembled from these data to remove those associated with protein coding genes, leaving 9,241 lincRNAs (Materials and methods). A thorough analysis of the genes determined that our updated lincRNA catalog is consistent with one recently published (Figure S1 in Additional file 1) [2].
lincRNAs comprise a nonrandom distribution of TEs
Intersection of the lincRNA and TE catalogs revealed that the vast majority (7,710, 83.4%) of lincRNAs overlap at least one TE. In fact, nearly half (41.9%) of lincRNA transcript sequence is TE-derived (Figure
1a
; Figure S2 in Additional file
1
; Additional file
2
). In sharp contrast, TEs overlap only 6.2% of protein coding sequences and cover 0.32% of their nucleotides (Additional file
3
). Including UTRs, these numbers increase to 39.1% of protein transcripts overlapping TEs and 5.5% of sequence covered. The median proportion of TE-derived sequence among lincRNAs is 33%, and there are 2.8 unique TE families per lincRNA on average (Figure S3 in Additional file
1
).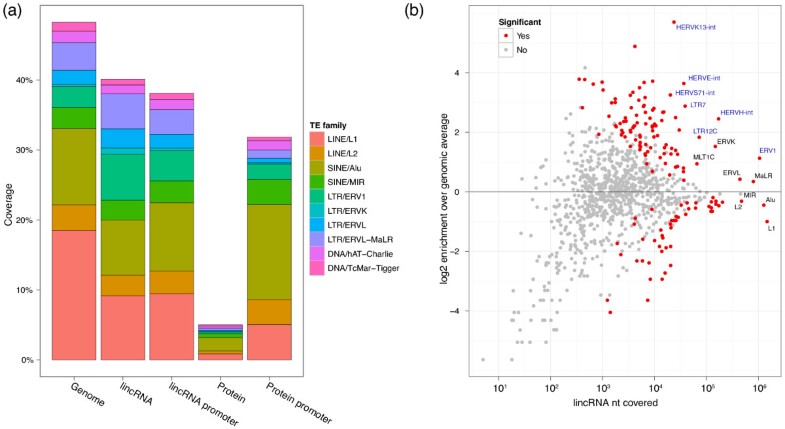 lincRNAs exhibit many biases in their TE composition relative to genomic averages (Figure 1b; Additional file 2). The LINE L1 and SINE Alu families are the most prevalent in the human genome, together accounting for 29% of genomic sequence. Though also the most prevalent TE families in lincRNAs, both are significantly depleted, L1 by 2.0-fold (P 4e-134) and Alu by 1.4-fold (P 1e-29). Other common LINE and SINE families, L2 and MIR, as well as DNA transposons hAT-Charlie and TcMar-Tigger, are also significantly depleted.
Conversely, retroviral elements ERV1, ERVL-MaLR, ERVL, and ERVK are enriched in lincRNAs (Figure 1b). ERVs are remnants of exogenous retrovirus insertions into the germline and contain deteriorating retroviral protein open reading frames, flanked by transcription-promoting LTRs [53]. The ERV1 family occurs 2.2-fold more in lincRNAs (P 2e-140) and makes up the most lincRNA sequence of these families.
Figure
2
displays the TE composition of several example lincRNAs. The lincRNA
TUG1
interacts with methylated Polycomb 2 protein to modulate its recognition of histone modifications [
54
,
55
] and serves as an example of typical multi-family TE composition (Figure
2a
). Alternatively, the lincRNA
HOTAIR
, located in the HOXC cluster, a genomic region known to be nearly devoid of TEs [
23
], is one of 1,531 lincRNAs without any TE-derived sequence (Figure
2b
).
Linc-ROR
, which modulates reprogramming of fibroblasts to a pluripotent state, is almost entirely composed of TE-derived sequence from seven different TE families and has an ERV1 LTR at its TSS (Figure
2c
). The HERVH element at the TSS of
linc-ROR
is a common phenomenon in our lincRNA catalog, elaborated on below and depicted again for UCSC-annotated
BC026300
(Figure
2d
).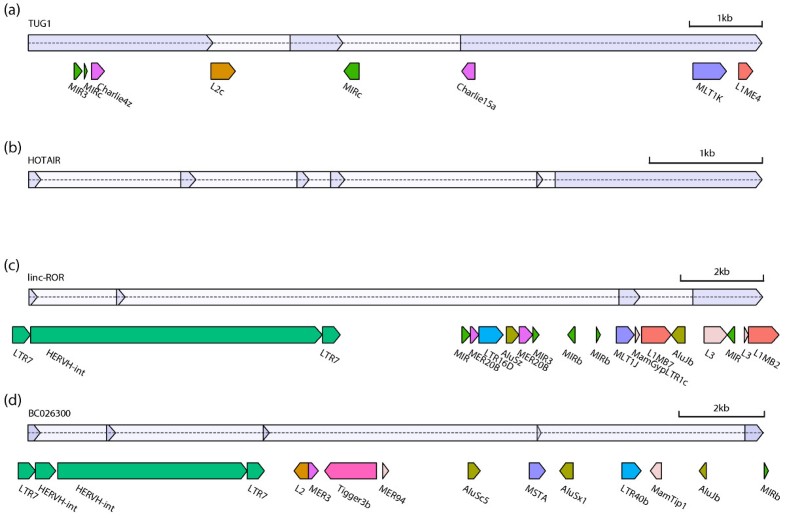 Properties of lincRNAs containing TEs
We next investigated the basic properties of lincRNAs containing TEs relative to those that do not. We refer to the set of 7,710 lincRNAs that overlap a TE as TE-lincRNAs and the 1,531 that are devoid as dTE-lincRNAs. Similarly, when discussing a particular TE family, such as L1, we use L1-lincRNAs to refer to the set of lincRNAs containing an L1 element. All analyses were also performed for mRNAs. Here, we focus mainly on those properties that are unique to lincRNAs relative to mRNAs.
Discussion
It is now clear that there are many thousands of lincRNA transcripts encoded in the human genome that play critical functional roles across a spectrum of cellular processes [6–8, 71–74]. However, lincRNA sequence properties and evolutionary origins are just emerging [1–3, 5, 21, 22]. One intriguing hypothesis is that TEs have significantly shaped the noncoding transcriptome. By stochastically inserting around the genome, TEs may modify the regulation, sequence, and structure of existing lincRNAs and establish new lincRNA loci through their transcription promoting abilities. Here, we investigated this hypothesis by comprehensively characterizing the TE composition of lincRNAs and exploring correlations with their functional and evolutionary properties.
Indeed, we uncovered many new aspects of lincRNA biology related to TE content. lincRNAs contain a high proportion of TE-derived sequence, less than the genomic background but much greater than protein coding genes. The highly abundant LINE and SINE families are depleted in lincRNAs, indicating that they may be deleterious to lincRNA functions. Conversely, we observed a strong enrichment of many ERV families. ERVs also exhibit position and orientation biases, preferring the 5' end of lincRNA transcripts and sense orientation with the transcript, consequently placing their LTRs in proper position to promote transcription. This suggests that transposition of ERVs may play a role in lincRNA transcriptional regulation. Interestingly, although both are regulated by RNA polymerase II, this enrichment is unique to lincRNAs and absent at mRNA TSSs.
Exemplifying this phenomenon, we discovered that 127 HERVH-lincRNAs are strikingly enriched for HERVH LTR7 in the sense orientation at their TSSs and exhibit dramatic stem cell-specific expression, observed in both H1-hESCs and iPSCs. Consistent with the notion of TEs contributing promoter regulatory signals, the HERVH elements in these lincRNAs are highly enriched for transcription activation signals in ESCs, but not other cell types. Presence of the activating histone modification H3K4me3 and SP1, a transcription factor previously found to be critical for transcription of HERVH [68], suggests that lincRNAs can acquire the remnant regulatory signals of their comprising TEs. Linc-ROR is an example of a HERVH-lincRNA, which we previously showed modulates the reprogramming process from fibroblasts into iPSCs [52]. Similar to linc-ROR, we observed strong enrichment of the core pluripotency factors (Oct4 and Nanog) at the 127 HERVH-lincRNAs. Collectively, these data suggest that HERVH retrotransposition may have shaped pluripotency networks via lincRNA regulation.
We found that TEs partition lincRNAs into two classes with divergent properties; 1,531 lincRNAs are devoid of TEs (dTE-lincRNAs), unlike the majority of 7,710 lincRNAs that contain TEs (TE-lincRNAs). This classification of lincRNAs uncovered another example of TE content influencing lincRNA expression as TE-lincRNAs are less expressed in every tissue and cell line, particularly testis. The relative decrease in expression of TE-lincRNAs may be due to lasting effects of well-established TE silencing mechanisms in germline cells [75], which have been described in TE-derived promoters of protein coding genes [76]. Despite TE-lincRNAs exhibiting lower expression overall, Alu-lincRNAs are significantly more expressed in all tissues except testis. Whether this increase is attributable to a transcriptional or post-transcriptional regulatory effect of the Alu sequence remains to be determined.
dTE-lincRNAs also have greater evidence of conservation by substitution-based statistics than TE-lincRNAs (even after removal of TE content). The lower conservation levels of TE-lincRNAs is apparently permissive of function as there are many examples of important TE-lincRNAs, including TUG1 [54], linc-ROR [52], PCAT-1 [13], SLC7A2-IT1A [51], BANCR [77], and more. Further interpretation of the low conservation of TE-lincRNAs requires knowing the age of the lincRNAs and the evolutionary order of events of TE insertions and the origin of transcription of the loci. More specifically, (1) did a young lincRNA arise from previously neutrally evolving sequence containing TEs or (2) did the lincRNA exist first and evolve rapidly via TE insertions?
The first scenario is highly plausible. Furthermore, we found evidence that TE insertions may have even played a role in creating those new lincRNAs. Retrotransposons contain promoters to transcribe the element, but, as selfish genomic parasites, typically mutate freely after insertion. This arrangement provides an opportunity for a new lincRNA to arise in the region downstream of an intergenic retrotransposon insertion where the sequence would usually have been evolving neutrally. In our data, we found many examples of TEs associating with lincRNA TSSs; a number of families, particularly ERV LTRs, peak in coverage at the TSS with biased orientation matching the known promoter direction. Whether these TE insertions truly spawned novel lincRNAs or simply donated an alternative TSS to an existing lincRNA will be the focus of future comparative transcriptome analyses. Nonetheless, it appears that TEs may lend regulatory signals to these lincRNAs, exemplified by the stem cell-specific expression of HERVH-lincRNAs.
The second scenario - a TE insertion altering a previously existing lincRNA - may also often occur. One hypothesis regarding lincRNA function and evolution proposes a language of independent, small sequence-structure domains [72]. Thus, lincRNAs may be resilient to mutations and TE insertions that avoid altering the resident domains. An intriguing follow-up question is whether some TE-derived sequence in lincRNAs may itself be functional. Recent research has described a number of groundbreaking examples of TEs in DNA affecting transcriptional regulation - for example, by distributing transcription factor binding site motifs inherent in the element throughout the genome [35–38]. Given the prevalence and biased composition of TEs in lincRNAs, it is tempting to hypothesize that TEs transcribed into lincRNAs may function analogously in post-transcriptional processes. For example, perhaps some TEs inherently contain binding sites for RNA binding proteins or interact with nucleic acids via sequence complementarity. Indeed, some evidence already exists for this model - Alu elements in lncRNAs can bind matching Alu elements in the 3' UTRs of mRNAs to form a binding site for Staufen 1 to initiate RNA decay [50]. Furthermore, TEs have been shown to act in a variety of post-transcriptional processes regulating mRNAs, such as RNA editing [78, 79], stability [80], and translation efficiency [46, 81]. To comprehensively explore the possibility of additional functional TE sequence in lincRNAs, more experimental data are needed.
More definitive answers to the evolutionary and regulatory questions raised by this study will require additional computational and experimental analyses. Specifically, this will require deep coverage RNA-Seq datasets to annotate lincRNA loci across primates and eutherian mammals. Such data would generalize trends in the TE composition of lincRNAs and reveal how lineage-specific TEs such as ERVs have shaped transcriptional regulation at lincRNA loci. Future experimental work will focus on exploring the functional role of TE sequence in lincRNAs through detailed mapping of lncRNA molecular interactions. In the meantime, it is now clear that TEs have significantly shaped the noncoding RNA landscape.
Abbreviations
ChIPm:

chromatin immunoprecipitation
ERV:

endogenous retrovirus
ESC:

embryonic stem cell
FPKM:

fragments per kilobase per million
H3K4me3:

trimethylation of lysine 4 on histone 3
iPSC:

induced pluripotent stem cell
lincRNA:

long intergenic noncoding RNA
LINE:

long interspersed nuclear element
lncRNA:

long noncoding RNA
LTR:

long terminal repeat
SINE:

short interspersed nuclear element
TE:

transposable element
TSS:

transcription start site
UTR:

untranslated region.
Declarations
Acknowledgements
The authors acknowledge Cole Trapnell for Cufflinks assistance; Moran Cabili, Loyal Goff, and Cole Trapnell for assistance building the lincRNA catalog; David Hendrickson for feedback on the manuscript; and Sabine Loewer for personal communication regarding HERVH elements in iPSC-upregulated lincRNAs. D. K. is supported by NIH training grant T32HL007893 from the National Heart, Lung and Blood Institute.. J.L.R. Is an Damon Runyon Innovation, Smith Family Foundation and Searle Scholar. This work was supported by NIHP01 GM099117, DP2OD006670 and NIHP50 HG006193-01.
Authors' Affiliations
(1)
Department of Stem Cell and Regenerative Biology, Harvard University, Cambridge, USA
(2)
Broad Institute of Massachusetts Institute of Technology and Harvard, Cambridge, USA
(3)
Department of Pathology, Beth Israel Deaconess Medical Center, Boston, USA
Copyright
© Kelley and Rinn; licensee BioMed Central Ltd. 2012
This article is published under license to BioMed Central Ltd. This is an open access article distributed under the terms of the Creative Commons Attribution License (http://creativecommons.org/licenses/by/2.0), which permits unrestricted use, distribution, and reproduction in any medium, provided the original work is properly cited.