An optimized microarray platform for assaying genomic variation in Plasmodium falciparum field populations
Received: 6 January 2011
Accepted: 8 April 2011
Published: 8 April 2011
Abstract
We present an optimized probe design for copy number variation (CNV) and SNP genotyping in the Plasmodium falciparum genome. We demonstrate that variable length and isothermal probes are superior to static length probes. We show that sample preparation and hybridization conditions mitigate the effects of host DNA contamination in field samples. The microarray and workflow presented can be used to identify CNVs and SNPs with 95% accuracy in a single hybridization, in field samples containing up to 92% human DNA contamination.
Keywords
Copy Number VariationComparative Genomic HybridizationWhole Genome AmplificationProbe LengthFalciparum Genome
Background
Plasmodium falciparum is the intracellular parasite responsible for the majority of the world's malaria morbidity and mortality burden in humans, causing an estimated 243 million episodes of malaria and 863,000 deaths each year [1]. Efforts to control and eradicate malaria are hampered by the accelerated evolution of drug resistance in the parasite. To date, the parasite has developed resistance to all major antimalarial drugs, raising concerns about the spread of drug-resistant parasites and the ability to effectively treat malaria [2]. The development of new technologies aimed at understanding parasite genome variability provides hope in identifying new drug targets, implementing smarter treatment plans, and ultimately reducing or eliminating the burden of malaria.
Genome variation such as SNPs and copy number variation (CNV) underpins P. falciparum drug resistance. The primary determinant of chloroquine resistance is a mutation in the P. falciparum chloroquine resistance transporter gene on chromosome (chr) 7 [3, 4]. In vitro resistance to the antifolate drugs sulfadoxine and pyrimethamine increases in a step-wise manner as mutations accrue in dihydrofolate reductase and dihydropteroate synthase [5–8]. Varying copy number of the P. falciparum multidrug resistance 1 gene on chr 5 influences parasite susceptibility to a range of antimalarial drugs, including mefloquine, lumefantrine, quinine, and artemisinin [9–11]. Amplification on chr 12 of GTP cyclohydrolase 1 of the folate biosynthesis pathway is correlated with antifolate drug resistance [12, 13]. These examples emphasize the importance of genomic variation in drug resistance and need to assay both SNPs and CNV genome-wide in the malaria parasite.
Microarrays provide a relatively fast and inexpensive way of examining genomic variation in P. falciparum [14]. Array comparative genomic hybridization (CGH) has been successfully used to look at structural variation and CNV in multiple P. falciparum strains [12, 15–17], while large-scale sequencing efforts identifying SNPs [18–20] have spurred the development of SNP microarrays. Neafsey et al. [21] genotyped 1,638 out of 3,000 queried SNPs with 100% accuracy using an Affymextrix 3K SNP assay. Mu et al. [22] used Affymetrix molecular inversion probe technology to genotype 2,763 of 3,354 SNPs with >90% call rate. Multiple groups have successfully applied CGH for SNP detection with 80 to 90% sensitivity to approximately 3,000 SNPs [23, 24] and identified parameters influencing SNP detection [24, 25]. However, the reported detection rates are based on a core subset of SNPs (approximately 3,000) in a genome with more than 100,000 cataloged SNPs (PlasmoDB v5.5) [26].
Our central goal was to develop a single microarray platform that can assay CNV and genotype SNPs simultaneously and to optimize this platform for the challenges of monitoring monoclonal patient blood samples from field studies. We first empirically determined the optimum probe lengths and melting temperatures for SNP genotyping in the 81% AT
P. falciparum
genome. This was used to guide the design of a single high-resolution genotyping microarray with variable length probes optimized for high quality SNP genotyping and CNV detection (Figure
1
). One half of the microarray interrogates 45,524 SNP loci using optimized resequencing probes 29 to 41 bp in length capable of making a base call at a precise nucleotide position [
27
]. The second half identifies CNV using tiled CGH probes 50 to 75 bp in length. We determine the reliability and accuracy of the CNV-SNP array using the laboratory lines 3D7, HB3, Dd2, SC05, and 7C126. We then validate the utility and robustness of the microarray using field samples with limited parasite DNA and high human DNA contamination present using blood collected from humans at the Thailand-Burma border.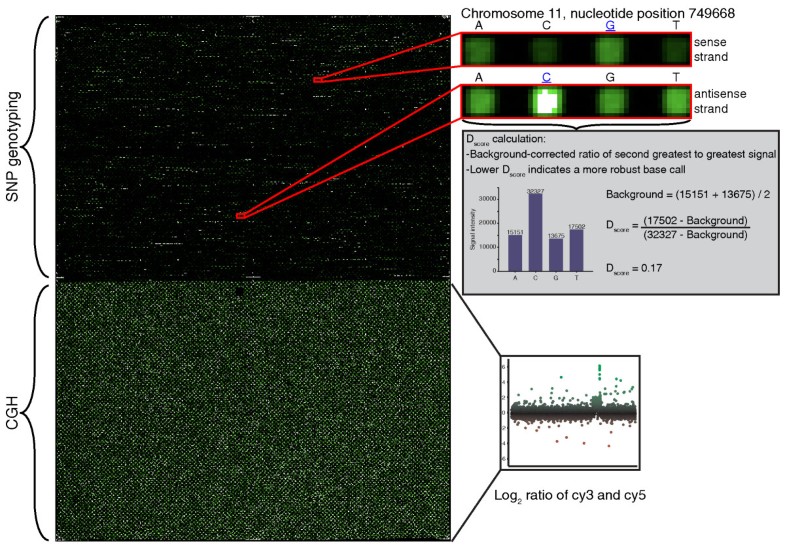 Discussion
The CNV-SNP array provides robust, accurate data for both laboratory- and field-derived samples. Through optimizations described here, the CNV-SNP array overcomes many hurdles associated with molecular work on P. falciparum field samples. Lower starting amounts of DNA are possible when using 65% AT random nonamers that compensate for the extreme AT bias of the genome. This optimization is especially useful for field sample DNA, which is typically scarce and difficult to obtain. It also eliminates the need for in vitro culture adaptation of field samples, which is typically used to generate enough DNA for applications like next-generation sequencing and is known to alter CNV and skew results of CNV analyses [29, 30]. Using our modified protocol, the CNV-SNP array requires no more than 250 ng of starting parasite DNA with no compromise in data quality. Moreover, the ample yields of labeled DNA from 250 ng of starting parasite DNA indicate that the lower limit has not yet been defined, raising the possibility that finger prick blood samples on filter paper are accessible to this technology. In addition, the CNV-SNP array is robust to samples with high host DNA contamination (>90%) with no drop in data quality, making microarray-based genotyping complementary to higher resolution next-generation sequencing that is sensitive to human DNA contamination in field samples, often requiring sample preprocessing for target DNA enrichment. Notably, high human DNA contamination and low amounts of parasite DNA present serious challenges to genotyping the large number of samples necessary for genome-wide association studies.
Probe design optimizations contribute to the performance of this microarray for the P. falciparum genome. Sense and antisense resequencing probe quartets were used for SNP genotyping on the CNV-SNP array. A SNP call required that sense and antisense probe quartets made complementary calls; furthermore, the robustness of the base call was evaluated using the ratio of background signal versus the probe with the greatest signal intensity. Signal intensities within SNP probe quartets were more similar to each other than to probes in other probe quartets or between sense and antisense probe quartets of the same locus (Figure 1) and indicates the importance of measuring the background signal for each individual SNP quartet - as provided by the resequencing probesets - rather than background noise from the entire array or locus.
Resequencing probes were optimized for SNP genotyping in P. falciparum by comparing the performance of probes at static lengths with probes balanced by melting temperature on a prototype 5K SNP array. Probe melting temperature outperformed static probe lengths for optimal SNP detection at a probe melting temperature of 66°C with performance that was reasonably consistent in exons, introns, and intergenic regions (Figure S1 in Additional file 1).
Our results on optimal probe length and melting temperature differ from findings in another study [31]. This is likely due to the use of different methods for calculating probe melting temperature and our optimization to the AT-rich P. falciparum genome. However, our broader conclusion that variable length or isothermal probes provide optimal SNP detection is supported across various organisms [31, 32], and indicate that longer, isothermal probes increase signal strength while also being short enough to remain sensitive to single base mismatches [32–35].
Resequencing probesets designed for a 66°C melting temperature were generated for 45,524 SNP loci for inclusion on the CNV-SNP array. While longer, isothermal probes improve SNP genotyping, certain loci are more easily genotyped than others, and some remain inaccessible to microarrays and short-read next-generation sequencing technologies. For instance, SNPs in exons have greater genotyping success than SNPs in introns or intergenic regions, likely due to regions of high AT richness or interspersed sequence repetitiveness that hinder probe design and binding specificity in intronic and intergenic regions. Current SNP genotyping microarrays, such as those developed by the NIH and the Broad Institute [21, 22], are focused on high quality SNP loci that are easily genotyped across microarray platforms (Figure 3). However, the use of isothermal probes designed at an optimal melting temperature allows us to interrogate more difficult loci and maximize the overall number of SNPs that can be robustly genotyped on the CNV-SNP array (on average, 36,948 useable SNP genotypes with 95% accuracy from a single hybridization).
An interesting debate surrounds the continued value of microarrays with the emergence of next-generation sequencing. As the cost of next-generation sequencing continues to decrease and protocols continue to improve, we will see a realization of the platform providing ultimate resolution and throughput, provoking the prediction that microarrays will soon be rendered obsolete. However, we suggest that the CNV-SNP array will continue to be useful as an 'everylab' tool alongside next-generation sequencing. Whole genome sequencing underpins the SNP discovery needed for chip design; in general, whole genome architecture and ultra-resolution mapping require fully sequenced and assembled genomes. The customizable microarray platform continues to improve in density (4.2 million element custom designs are anticipated in 2011) and offers unique configurations up to 12-plex of 135K probes, leading to a scenario in which a global set of SNPs identified by sequencing can be precisely represented on microarrays for regionally focused or hypothesis-driven designs. To date, microarrays remain cheaper, produce data more quickly, require less computational innovation, and are especially useful for processing large numbers of samples, while producing sufficient resolution and quality for genome-wide association studies and population genomic analysis. Furthermore, although progress is being made in scoring CNV using next-generation sequencing, that technology still lags behind the performance of microarray CGH.
Conclusions
As P. falciparum continues to evolve and evade control and eradication efforts, high-throughput, cost-effective methods of monitoring genomic variation are critical to understanding parasite adaptation. The high AT content of the P. falciparum genome is technically challenging for most molecular methods; however, the flexibility of the microarray platform described here allows users to customize and optimize microarrays to individual genomes through alterations of probe lengths, types, and numbers and adjustment of hybridization strategy. This process is applicable to population genomic studies in a wide range of organisms. Utilizing this flexibility, we created a custom high-density CNV-SNP array containing both resequencing probes capable of SNP genotyping and CGH probes for CNV detection. The CNV-SNP array is a reliable, accurate platform that allows simultaneous investigation of CNV and SNPs in a single hybridization. Its low cost, quick turn-around time, low DNA requirements, and resilience to human DNA contamination make it a valuable tool for population genomic studies.
Abbreviations
Bp:

base pair
CGH:

comparative genomic hybridization
chr:

chromosome
CNV:

copy number variation
SNP:

single nucleotide polymorphism
WGA:

whole genome amplification.
Declarations
Acknowledgements
This work was supported by the National Institutes of Health (AI072517, AI075145 to MTF; AI075145 to TJA). The molecular work at the Southwest Foundation for Biomedical Research was conducted in facilities constructed with support from the National Center for Research Resources, National Institutes of Health (RR013556). We are grateful to F Nosten and the Shoklo Malaria Research Unit for providing samples. We thank L Checkley, S Nair, S Al-Saai, and the Notre Dame Genomics Core Facility for excellent technical support.
Authors' Affiliations
(1)
The Eck Institute for Global Health, University of Notre Dame, Notre Dame, USA
(2)
Roche NimbleGen Inc., Madison, USA
(3)
Department of Genetics, Texas Biomedical Research Institute, San Antonio, USA
(4)
Wellcome Trust Sanger Institute, Wellcome Trust Genome Campus, Hinxton, Cambridge, UK
Copyright
© Tan et al.; licensee BioMed Central Ltd. 2011
This article is published under license to BioMed Central Ltd. This is an open access article distributed under the terms of the Creative Commons Attribution License (http://creativecommons.org/licenses/by/2.0), which permits unrestricted use, distribution, and reproduction in any medium, provided the original work is properly cited.