Stress response regulators identified through genome-wide transcriptome analysis of the (p)ppGpp-dependent response in Rhizobium etli
Received: 19 November 2010
Accepted: 16 February 2011
Published: 16 February 2011
Abstract
Background
The alarmone (p)ppGpp mediates a global reprogramming of gene expression upon nutrient limitation and other stresses to cope with these unfavorable conditions. Synthesis of (p)ppGpp is, in most bacteria, controlled by RelA/SpoT (Rsh) proteins. The role of (p)ppGpp has been characterized primarily in Escherichia coli and several Gram-positive bacteria. Here, we report the first in-depth analysis of the (p)ppGpp-regulon in an α-proteobacterium using a high-resolution tiling array to better understand the pleiotropic stress phenotype of a relA/rsh mutant.
Results
We compared gene expression of the Rhizobium etli wild type and rsh (previously rel) mutant during exponential and stationary phase, identifying numerous (p)ppGpp targets, including small non-coding RNAs. The majority of the 834 (p)ppGpp-dependent genes were detected during stationary phase. Unexpectedly, 223 genes were expressed (p)ppGpp-dependently during early exponential phase, indicating the hitherto unrecognized importance of (p)ppGpp during active growth. Furthermore, we identified two (p)ppGpp-dependent key regulators for survival during heat and oxidative stress and one regulator putatively involved in metabolic adaptation, namely extracytoplasmic function sigma factor EcfG2/PF00052, transcription factor CH00371, and serine protein kinase PrkA.
Conclusions
The regulatory role of (p)ppGpp in R. etli stress adaptation is far-reaching in redirecting gene expression during all growth phases. Genome-wide transcriptome analysis of a strain deficient in a global regulator, and exhibiting a pleiotropic phenotype, enables the identification of more specific regulators that control genes associated with a subset of stress phenotypes. This work is an important step toward a full understanding of the regulatory network underlying stress responses in α-proteobacteria.
Keywords
Sigma FactorStringent ResponseEarly Exponential PhaseAlternative Sigma FactorFlagellar Gene
Background
Rhizobium etli is a soil-dwelling α-proteobacterium that infects the roots of its leguminous host plant Phaseolus vulgaris, the common bean plant, in order to establish a nitrogen-fixing symbiosis [1–4]. Like most microorganisms in nature, R. etli primarily resides in a non-growing state in the soil, where it is confronted with diverse and stressful conditions, such as non-optimal temperatures and pH levels, near-starvation conditions and competition with other microbial populations [5]. Although growth is restricted, long periods of inactivity are sporadically interrupted by proliferation. This cycle of growth and starvation has been likened to a feast and famine lifestyle [6].
Sophisticated regulatory networks allow bacteria to sense and respond to a variety of environmental stresses to rapidly adjust their cellular physiology for survival. These networks comprise transcriptional regulators, sigma factors, proteases and small non-coding RNAs (ncRNAs) that interact in a complex manner in order to control the metabolic changes needed for adaptation [5]. The stringent response is a widespread global regulatory system, activated in response to various unfavorable growth conditions, and mediated by guanosine tetraphosphate (ppGpp) and guanosine pentaphosphate (pppGpp), collectively referred to as (p)ppGpp [7]. This alarmone coordinates entrance into the non-growing state by inducing a general reprogramming of gene regulation, thereby downregulating cellular processes needed for growth and upregulating processes needed for survival. As a result, the available resources are diverted from growth to allow adaptation of the cell to the non-growing state [8, 9]. The central role of this alarmone in the general stress response during the stationary phase is also illustrated by the increased sensitivity of (p)ppGpp-deficient mutants in various species to diverse stress factors [10]. Therefore, studying the (p)ppGpp regulon may be useful to identify novel regulators involved in the stress adaptation.
In Escherichia coli, the stress-induced alarmone production depends on two enzymes: RelA and SpoT [7]. When amino acids are limiting, uncharged tRNAs that bind ribosomes stimulate the ribosome-associated RelA to synthesize (p)ppGpp. Subsequent recovery when conditions are favorable again requires degradation of the alarmone, which is catalyzed by SpoT. SpoT is a bifunctional enzyme that can also synthesize (p)ppGpp in response to carbon, iron, phosphorus and fatty acid scarcity. Having two (p)ppGpp synthetases/hydrolases appears to be an exclusive feature of the γ-subdivision of the proteobacteria, as Gram-positive bacteria and most other Gram-negative bacteria, including R. etli, possess only a single RelA/SpoT homolog - usually referred to as Rel or Rsh - that displays both activities [10]. Most Gram-positive species additionally encode small proteins that consist solely of a synthetase domain [11].
(p)ppGpp primarily regulates gene transcription [12, 13]. Several models have been proposed to accommodate the effects of (p)ppGpp on transcription. One of these models, the affinity model, argues for an increase in the availability of free RNA polymerase (RNAP) with increasing (p)ppGpp levels. As this alarmone binds near the active site of RNAP, the stability of the ribosomal RNA (rrn) open complexes decreases. Consequently, (p)ppGpp will induce promoters with low RNAP affinity, such as cell maintenance and stress response genes [14, 15]. In another model, the σ factor competition model, the binding affinity of alternative sigma factors increases with increasing (p)ppGpp-levels compared to the housekeeping sigma factor σ70. This results in a decrease of σ70-bound RNAP and a downregulation of growth-related promoters that are dependent on high concentrations of σ70-bound RNAP for maximal expression [10, 12, 16]. In addition to regulating sigma factor activity, (p)ppGpp is also required for sigma factor expression, as is the case for the stationary phase sigma factor σS, the heat shock sigma factor σH and the sigma factor controlling nitrogen metabolism, σ54, in E. coli [17, 18]. Hence, these models for gene regulation of (p)ppGpp should be considered as working in concert. Finally, the recently identified cofactor DksA was demonstrated to stabilize binding of RNAP to (p)ppGpp, resulting in enhanced repression or stimulation of transcription in E. coli. However, the interaction between (p)ppGpp and DksA appears to be more complex as both factors also have independent and opposing effects on gene expression in E. coli [13, 19, 20].
In agreement with (p)ppGpp's central role in stress adaptation, the alarmone was shown to be crucial in many complex physiological processes such as biofilm formation by Listeria monocytogenes, E. coli and Streptococcus mutans, development of multicellular fruiting bodies in Myxococcus xanthus and development of competence in Bacillus subtilis [10]. In addition, a fast growing number of reports demonstrate (p)ppGpp to be important during host interactions in diverse pathogens such as Vibrio cholerae, Pseudomonas aeruginosa, Legionella pneumophila, Francisella novicida, Enterococcus faecalis and Streptococcus pneumoniae [21–24]. Furthermore, various transcriptome studies showed that the alarmone (p)ppGpp is situated high up in the hierarchy of interconnected regulators in E. coli, controlling the expression and/or function of many other regulators such as Lrp, the cAMP receptor protein CRP, the integration host factor IHF, the flagellar master regulator FlhDC, the redox status sensing regulator ArcA and the morphogene BolA [6, 8, 18, 25, 26].
(p)ppGpp also affects key aspects of the symbiosis between rhizobia and their leguminous host plants. In Sinorhizobium meliloti, a rsh mutant is defective in nodulation of Medicago sativa and overproduces the exopolysaccharide succinoglycan, which is crucial for root infection [27]. In R. etli, (p)ppGpp controls the physiological adaptation of the bacterium to the endosymbiotic state [28, 29]. Although the rsh mutant induces nodulation, the bacteroids are morphologically different compared to the wild type, and nitrogen fixation activity is drastically reduced. Several nitrogen fixation and quorum-sensing genes, essential for symbiosis, were shown to be part of the alarmone regulon, including the symbiotic σN that is required for expression of nitrogen fixation genes [29]. Recently, a detailed phenotypic analysis of the rsh (previously referred to as relA or relRet) mutant showed a prominent role for the alarmone in the general stress response of R. etli during free-living growth and symbiosis [30].
In order to obtain new insights into the molecular basis of adaptation of R. etli to unfavorable growth conditions, we performed a genome-wide transcriptome analysis to compare global gene expression between the wild type and a rsh mutant during different free-living growth phases.
This study is the first in-depth analysis of (p)ppGpp-dependent gene regulation in an α-proteobacterium, revealing notable differences from the well-studied role of (p)ppGpp in E. coli. Of the many detected (p)ppGpp targets that may contribute to the observed stress phenotypes of the rsh mutant, we performed a phenotypic analysis of three specific previously uncharacterized regulators, that is, sigma factor EcfG2/PF00052, DNA-binding transcription factor CH00371 and serine kinase PrkA/CH02817. Our results show that the stress phenotypes of mutants lacking EcfG2 or CH00371 correspond to a subset of the rsh mutant phenotypes, while PrkA may be involved in metabolic adaptation. In addition, we identified several upstream and downstream elements in the stress response pathways of these three novel (p)ppGpp-dependent regulators, providing added detail to the complex picture of the role of (p)ppGpp in R. etli.
Conclusions
Analysis of growth phase-specific gene expression of the
R. etli
wild type and
rsh
mutant has provided insight into the (p)ppGpp regulon of
R. etli
, providing the first genome-wide view of the stringent response in an α-proteobacterium. Our results indicate that (p)ppGpp functions as a global regulator, with primarily an inducing role, in the adaptation to a non-growing lifestyle as shown by the extensive differential expression of genes belonging to all functional categories. Moreover, we showed both similarities and differences to its role in
E. coli
and other bacteria, reflecting the merit of investigating a well-studied regulatory response in species more distantly related to typical model organisms. Surprisingly, even though (p)ppGpp is considered to be a growth-arrest specific messenger, we identified a significant number of (p)ppGpp-dependent genes during early exponential phase as well, suggesting functional relevance of the low basal level of (p)ppGpp during active growth in
R. etli
. Additionally, the genome-wide transcriptome analysis of a strain deficient in a global regulator, and exhibiting a pleiotropic phenotype, enabled us to identify diverse regulators that control genes associated with a subset of stress phenotypes. The phenotypic analysis of three novel downstream regulators during stationary phase, that is,
ecfG2
, CH00371, and
prkA
, allowed us to obtain additional insight into the intricate regulatory role of this stress alarmone (Figure
9
). Added detail to the complex picture of (p)ppGpp-dependent regulation of gene expression in
R. etli
was further provided by identifying several up- and downstream elements in the signal transduction cascades of these regulators. We conclude that (p)ppGpp is situated high up in the hierarchy of cellular gene regulation of
R. etli
, orchestrating its adaptation to growth stage or extracellular conditions through specific downstream regulators to control expression of a variety of target genes.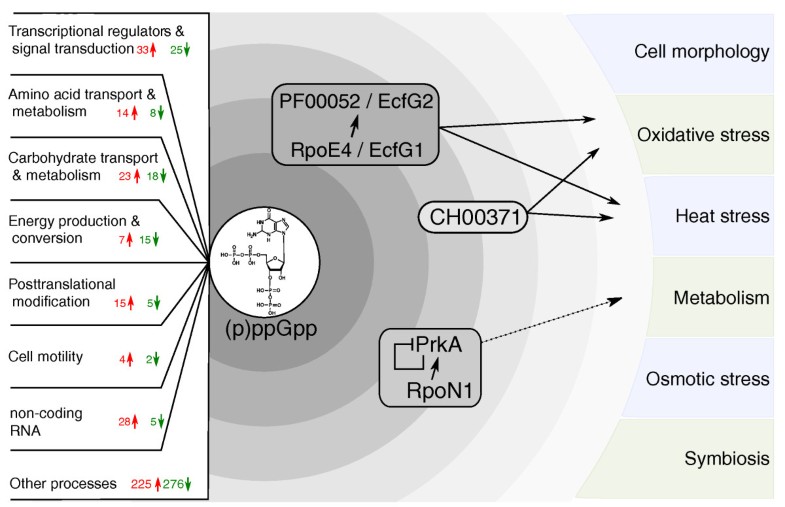 Materials and methods
Bacterial strains and growth conditions
The bacterial strains and plasmids used for this work are listed in Additional file 7. R. etli CFN42 strains were cultured in minimal AMS or complex TY medium at 30°C when used for RNA isolation or stress tests, respectively [29, 87]. AMS medium was supplemented with 10 mM NH4Cl and 10 mM succinate unless otherwise indicated. E. coli strains were grown at 37°C in LB medium. In order to study gene expression during different growth phases in AMS medium, samples were taken based on optical density (OD) readings of OD600 = 0.3, OD600 = 0.7, and 6 hours after reaching the maximum optical density (OD)600, representing early exponential, late exponential and stationary phase, respectively [32]. Antibiotics were supplied at the following final concentrations (in μg-1 ml): ampicillin, 100; gentamicin, 50; kanamycin, 25; spectinomycin, 50; nalidixic acid, 15; neomycin, 60; and tetracycline, 1 (E. coli) or 0.1 (R. etli).
Mutant construction
The R. etli CFN42 rsh mutant was constructed by insertion of an SpR cassette, obtained from pHP45ΩSp, as described previously for R. etli CNPAF512 [29]. The ecfG2 and CH00371 mutants were constructed by first amplifying a 2.5-kb and a 1.9-kb fragment, respectively, using Pfx DNA polymerase and primers (CACCGCGGCCGCGGGTTT AAGGGGATAAATT and ACTGGCGGCCGCAAG GGCCGATCGAGATCCAC in the case of ecfG2; CACCGCGGCCGCAGCTGC AGGATCTTATGGGAATA and ACTGGCGGCCGCCGACGACCAGATCCTGAT CGC in the case of CH00371) that carried NotI recognition sites at their 5' ends (shown in italics). These fragments were subsequently cloned into pUC18Not, and a KmR cassette flanked by transcription termination signals, obtained from pHP45ΩKm, was inserted in the HindIII and EcoRV site of CH00371 and ecfG2, respectively. From these plasmids, the corresponding NotI fragments were cloned into the suicide plasmid pJQ200uc1. For construction of the rpoE4-ecfG2 double mutant, an ecfG2::ΩSp suicide construct was obtained as described for the ecfG2 mutant above, replacing the KmR cassette with a SpR cassette.
The non-polar prkA mutant was constructed by amplifying a 3.6-kb fragment using Pfx DNA polymerase and primers (CACCGTTAACTCGACAGGAAAAGGTAG AGC and CACCGTTAACTACTCG TCAAGAAGGAGGCT) that carried HpaI recognition sites at their 5' ends (shown in italics). This fragment was cloned into pCR4Blunt-TOPO (Invitrogen, Carlsbad, CA, USA). A fragment of 1.2 kb was removed from prkA by digesting with BamHI and XhoI (Figure 8a) and the construct was ligated after blunting, creating a deletion in prkA. An HpaI fragment was removed form this construct and cloned into the SmaI site of pJQ200uc1.
Finally, these suicide constructs were used for site-directed mutagenesis of the respective genes following triparental conjugation as described previously [88]. The obtained mutants were verified by Southern blot hybridization.
RNA isolation and cDNA synthesis for microarray detection
RNA was isolated as described previously [32]. Briefly, the RNA content of bacterial cultures was stabilized using a phenol:ethanol solution. Pellets were frozen in liquid nitrogen and stored at -80°C. Total RNA was extracted using the TRIzol Plus RNA Purification kit (Invitrogen). DNA contamination was removed by TURBO DNase (Ambion, Austin, TX, USA)) and afterwards checked by PCR (45 cycles). To increase RNA yields and account for experimental variation, RNA from six different cultures was pooled. RNA integrity was analyzed using Experion RNA StdSens Chips (Biorad, Hercules, CA, USA) before and after precipitation. All samples had an RNA Quality Indicator value of 10. RNA quantity and purity was assessed using the NanoDrop ND-1000. The A260/A280 ratio and A260/A230 ratio of all samples were ≥2.
cDNA was synthesized using random decamers (Ambion) and the SuperScript Double-Stranded cDNA Synthesis Kit (Invitrogen) according to the manufacturer's protocol.
High-density microarray design and data preprocessing
A whole-genome tiling array covering the entire R. etli genome sequence was used (see GEO GPL9409) and the data were analyzed as described previously [32]. Samples were hybridized and scanned by NimbleGen. The data were deposited in the NCBI Gene Expression Omnibus (GEO) and can be accessed through accession numbers [GEO:GSE23961], [GEO:GSM462173], [GEO:GSM462178], [GEO:GSM462180], [GEO:GSM590285], [GEO:GSM590286] and [GEO:GSM590287].
Differentially expressed genes were identified based on a standard deviation cutoff. These genes were considered induced or repressed if the absolute expression ratio was ≥2 (log2 ≥1). This threshold is cogent since most regulatory responses in nature appear to function using low level changes as a kind of energy saving solution [89]. Hierarchical clustering was performed using the software package R.
RT-(q)PCR
Expression levels were determined by RT-qPCR using SYBR Green, as described previously [32]. In short, primers were designed using Primer Express 3.0. Pooled total RNA (2 μg) of each growth condition (early/late exponential phase, stationary phase) was reverse transcribed to single-stranded cDNA using the SuperScript VILO cDNA Synthesis Kit according to the manufacturer's instructions (Invitrogen). DNA contamination of the RNA samples was checked by PCR (45 cycles) before RT. cDNA (40 ng) was used in each reaction. All reactions were performed in triplicate.
The microarray data were validated by determining the expression levels of 14 representative genes: flaCh1, potF, rpsH, flgB, rplR, otsA, aglE, a serine tRNA (CH01348), and genes encoding a chaperonin GroEL (CH00828), the sigma 54 modulation protein (CH00406), a permease protein of the Nod factor ABC transporter family (PD00277), the serine protein kinase prkA/CH02817, the transcriptional regulator CH00371 and the ECF sigma factor ecfG2/PF00052. The log2 ratios of the array data were compared to the log2 ratios of the qPCR results. 16S rRNA was not used as a reference gene as the level of mRNA/rRNA fluctuates during growth and the expression of rRNA is controlled by (p)ppGpp. New reference genes were identified using the geNorm algorithm in order to normalize the qPCR data [90]. Based on the microarray data, five genes were chosen that were relatively stable across all samples and assumed not to be co-regulated. These candidate reference genes were greA, cinRa, tatA, and genes encoding a zinc binding protein (CH00586) and a hypothetical protein (CH01579). 16S rRNA was included for comparison. Using geNorm, we determined repBa2 and tatA to be the most stable reference genes as they have the lowest gene expression stability values M (Figure S3a in Additional file 8). Consequently, a gene expression normalization factor could be calculated for each sample using the most stable genes. By plotting the pairwise variation V between two sequential normalization factors containing an increasing number of genes, we determined that the three best reference genes were an optimal number of reference genes for normalization (Figure S3b in Additional file 8). Although V2/3, the pairwise variation between the normalization factors calculated by the two and three most stable genes, is strictly higher then the proposed 0.15 cutoff value of Vandesompele et al. [90], the difference is very small and the pairwise variation decreases only slightly by taking an additional fourth reference gene. Therefore, the normalization factor would not significantly change if more internal control genes were to be included. Also, the degree of resolution does not require a fourth reference gene.
RT-PCR was performed on cDNA samples (40 ng) of stationary phase to determine the operon organization of prkA. The primers were designed accordingly (Additional file 6). Taq DNA polymerase was used in the PCR reactions (35 cycles).
Construction of prkA-gusApromoter fusion and β-glucuronidase assay
The prkA-gusA reporter fusion was constructed by first amplifying the 400 bp upstream of prkA by PCR using Pfx DNA polymerase and primers (ACTG AAGCTTTCTGCGGTTCGCCTATCGCA and ACTGTCTAGAAGCGCCGGAAG CGTATGATC) that carried a HindIII and XbaI recognition site at their 5' end (shown in italics), respectively. This promoter fragment was cloned into pFAJ1703 after digestion with HindIII and XbaI, thereby flanking the promoterless 5' end of gusA. Quantitative analysis of GusA activity was carried out as described previously [29].
Stress and stationary phase survival
To study stress survival, wild-type and mutant cells from a freshly grown culture on a MM79 agar plate were resuspended in 10 mM MgSO4 at an OD600 of approximately 0.5. For each regulator, two independently constructed mutants were analyzed in order to exclude the involvement of secondary mutations. To test heat stress survival, 1 ml of each sample was incubated at 45°C for 30 minutes. In case of oxidative stress, 0.1 ml of 100 mM H2O2 was added to 0.9 ml of each sample for 30 minutes or 1 hour while for osmotic stress 0.5 ml of 5 M NaCl was added to 0.5 ml of sample. Samples were plated on TY agar containing nalidixic acid using the Eddy Jet spiral plater (IUL Instruments, Barcelona, Spain). Control samples were incubated without the stress agent at 30°C and the colony forming units (CFU) were determined at the same time point as the stressed samples. The total number of CFU per ml was determined after 3 days of incubation at 30°C using the Flash and Go automated colony counter (IUL Instruments). All experiments were repeated at least two times using three independent biological replicates.
To assess long-term survival, pellets of overnight cultures of wild-type and mutant strains were washed and resuspended in 10 mM MgSO4 at an OD600 of 0.5. A volume of 100 ml of AMS medium (10 mM NH4Cl and succinate) was inoculated with 1 ml of cell suspension and incubated at 30°C for 2 weeks. Samples of 1 ml were removed at the indicated time points and subjected to viable cell counts as described above.
Swimming test
To study swimming activity, TY plates containing 0.2% agar were spot inoculated with cultures in exponential phase and incubated at 30°C in a closed container as described previously [91]. Each strain was tested five-fold in two independent experiments. The swimming halo diameter was measured after one, two and three days.
Growth analysis
Biolog Phenotype Microarray panels PM3/6/7/8 were used to test growth on nitrogen sources and PM10 was used to test pH susceptibility (Biolog, Hayward, CA, USA). AMS medium was inoculated (1:1,000) with overnight cultures of R. etli strains, washed and the OD600 was corrected to approximately 0.5. No NH4Cl was added in case of PM3/6/7/8. The Biolog redox indicator dye Mix A was added to the medium (1:100). The microplates were loaded with 100 μl in each well and incubated for 7 days at 30°C. Dye reduction was monitored every 12 h by measuring the OD570 using a Synergy Mx Microplate Reader (BioTek, Winooski, VT, USA).
Abbreviations
CFU:

colony forming units
ECF:

extracytoplasmic function
IS:

insertion sequence
ncRNA:

non-coding RNA
OD:

optical density
ppGpp:

guanosine tetraphosphate
pppGpp:

guanosine pentaphosphate
RNAP:

RNA polymerase
rrn :

ribosomal RNA
RT-qPCR:

reverse transcription-quantitative polymerase chain reaction.
Declarations
Acknowledgements
MV is indebted to the Institute for the Promotion of Innovation through Science and Technology in Flanders (IWT-Flanders). This work was supported by grants from the Research Council of the KU Leuven (GOA/011/2008) and from the Fund for Scientific Research-Flanders (G.0637.06 and G.0412.10).
Authors' Affiliations
(1)
Centre of Microbial and Plant Genetics, Katholiek Universiteit Leuven, Heverlee, Belgium
Copyright
© Vercruysse et al.; licensee BioMed Central Ltd. 2011
This article is published under license to BioMed Central Ltd. This is an open access article distributed under the terms of the Creative Commons Attribution License (http://creativecommons.org/licenses/by/2.0), which permits unrestricted use, distribution, and reproduction in any medium, provided the original work is properly cited.