Quantifying the mechanisms of domain gain in animal proteins
Received: 23 April 2010
Accepted: 15 July 2010
Published: 15 July 2010
Abstract
Background
Protein domains are protein regions that are shared among different proteins and are frequently functionally and structurally independent from the rest of the protein. Novel domain combinations have a major role in evolutionary innovation. However, the relative contributions of the different molecular mechanisms that underlie domain gains in animals are still unknown. By using animal gene phylogenies we were able to identify a set of high confidence domain gain events and by looking at their coding DNA investigate the causative mechanisms.
Results
Here we show that the major mechanism for gains of new domains in metazoan proteins is likely to be gene fusion through joining of exons from adjacent genes, possibly mediated by non-allelic homologous recombination. Retroposition and insertion of exons into ancestral introns through intronic recombination are, in contrast to previous expectations, only minor contributors to domain gains and have accounted for less than 1% and 10% of high confidence domain gain events, respectively. Additionally, exonization of previously non-coding regions appears to be an important mechanism for addition of disordered segments to proteins. We observe that gene duplication has preceded domain gain in at least 80% of the gain events.
Conclusions
The interplay of gene duplication and domain gain demonstrates an important mechanism for fast neofunctionalization of genes.
Keywords
Adjacent GeneHuman LineageRepresentative ProteinGain EventDomain Loss
Background
Protein domains are fundamental and largely independent units of protein structure and function that occur in a number of different combinations or domain architectures [1]. Most proteins have two or more domains [2] and, interestingly, more complex organisms have more complex domain architectures, as well as a greater variety of domain combinations [2–4]. A possible implication of this phenomenon is that new domain architectures have acted as drivers of the evolution of organismal complexity [3]. This is supported by a recent study that experimentally showed that recombination of domains encoded by genes that belong to the yeast mating pathway had a major influence on phenotype [5]. While there is evidence that in prokaryotes new domains are predominantly acquired through fusions of adjacent genes [6, 7], determining the predominant molecular mechanisms that underlie gains of new domains in animals has been more challenging [3].
The question of what mechanisms underlie domain gains is related to the question of what mechanisms underlie novel gene creation [
3
,
8
,
9
]. The recent increased availability of animal genome and transcriptome sequences offers a valuable resource for addressing these questions. The main proposed genetic mechanisms that are capable of creating novel genes and also causing domain gain in animals are retroposition, gene fusion through joining of exons from adjacent genes, and DNA recombination [
3
,
8
,
9
] (Figure
1
). Since these mechanisms can leave specific traces in the genome, it may be possible to infer the causative mechanism by inspecting the DNA sequence that encodes the gained domain. By using retrotransposon machinery, in a process termed retroposition, a native coding sequence can be copied and inserted somewhere else in the genome. The copy is made from a processed mRNA, so sequences gained by this mechanism are usually intronless and have an origin in the same genome. This was proposed as a powerful means for domain shuffling, but the evidence for its action is still limited [
10
,
11
]. Recent studies observed a phenomenon where adjacent genes, or nearby genes on the same strand, undergo intergenic splicing and create chimerical transcripts [
12
–
14
]. This suggested that if regulatory sequences between the two genes were degraded during evolution, then exons of the genes could be joined into a novel chimeric gene. As a consequence of this, one would observe a gain of novel exon(s) at protein termini. One example for this mechanism is the creation of the human gene
Kua-UEV
[
15
]. Recombination can aid novel gene creation by juxtaposing new gene combinations, thereby assisting exons from adjacent genes to combine. Alternatively, recombination could also occur between exonic sequences of two different genes [
16
]. The two main types of recombination are non-allelic homologous recombination (NAHR) [
8
,
17
], which relies on short regions of homology, and illegitimate recombination (IR) [
8
,
9
,
18
], also known as non-homologous end joining, which does not require such homologous regions. In addition to these mechanisms, new protein coding sequence can be gained through: 1, deletion of the intervening sequence between two adjacent genes and subsequent exon fusion [
19
]; 2, exonization of previously non-coding sequence [
20
]; and 3, insertion of viral or transposon sequences into a gene [
21
]. Interestingly, direct examples for any of these mechanisms are still rare.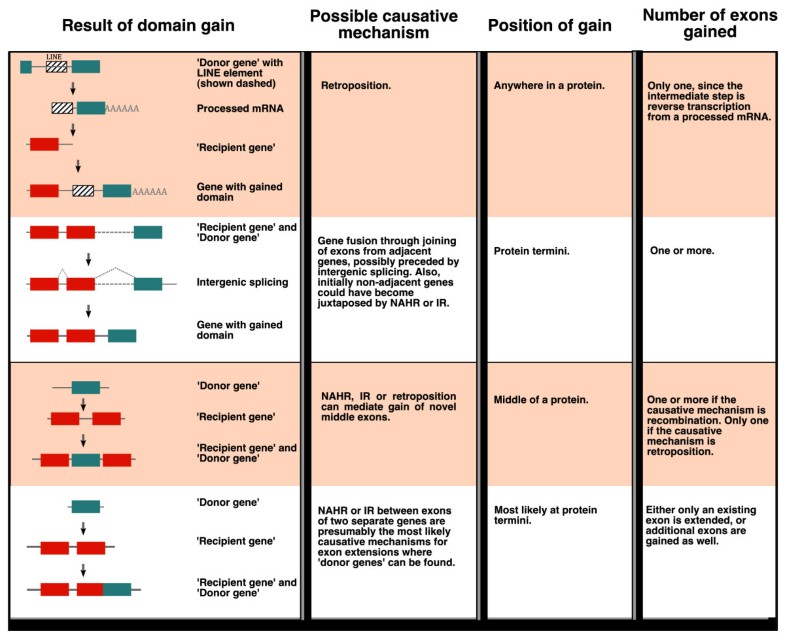 Protein evolution has frequently been addressed by studying the evolution of domain architectures [22, 23]. Specific examples in animals have been reported for domain gains through exon insertions into introns [24]. The extracellular function of these inserted domains indicates the importance of this mechanism for the evolution of multicellular organisms. Additionally, more recent whole-genome studies of domain shuffling have also focused on domains that are candidates for exon insertions into introns - for example, domains that are surrounded by introns of symmetrical phases [25–27]. These studies have suggested that domain insertions into introns - that is, gain of novel middle exons - have had an important role in the evolution of eukaryotic proteomes. The initial studies attributed intronic insertions to intronic recombination, and the more recent studies have also acknowledged the potential role of retroposition in this process.
In this work, we use the phylogenetic relationships between genes from completely sequenced metazoan genomes in order to address the question of what mechanisms underlie the gains of novel domains. To do this, we first identify a set of high-confidence domain gain events and then look at the characteristics of the sequences that encode these domains. Our results show that gene fusion through joining of exons from adjacent genes has been a dominant process leading to gains of new domains. Two other mechanisms that have been proposed as important contributors to gains of new domains in animals, retroposition and insertion of exons into ancestral introns through intronic recombination, appear to be minor contributors. Furthermore, we observe that most domain gain events have involved gene duplication and that domain gains often relied on DNA recombination. Based on the results presented here, we propose that these gain events were frequently assisted by NAHR, which played a role in creating gene duplicates and in the juxtaposition of the ancestral genes concerned.
Discussion
Creation of novel genes is assumed to play a crucial role in the evolution of complexity. Previous studies have put considerable effort into identifying gene gain and loss events during animal evolution, as well as analyzing functional and expression characteristics of these genes [52–56]. In this study, our aim was to investigate functionally relevant changes of individual proteins. Implications of observed domain gains on the evolution of more complex animal traits are highlighted by the frequent regulatory function of the gained domains in the human lineage. Shuffling of regulatory domains has already been proposed as an important driving force in the evolution of animal complexity [5, 50], and an increase in the number of regulatory domains in the proteome has been directly related to the increase of organismal complexity [57].
The relative frequencies of domain gain and loss events are not known and most probably are not universal for different domains and organisms. Hence, different approaches have been undertaken to address this issue. Several previous studies have assumed that the frequencies of gain and loss events are equal and have identified domain gains and losses by applying maximum parsimony [58–61]. Other studies have assumed that domain loss is slightly more likely than domain gain [62] or that the difference in the frequency of gains and losses is very significant and hence have suggested Dollo parsimony - which allows a maximum of one gain per tree - for identifying domain gains [63, 64]. In genomes in which proteins often have several domains, one can expect that the mechanisms that cause domain loss are more frequently at play than the mechanisms that cause domain gain. In particular, exclusion of domains could be an effective means for subfunctionalization after gene duplication. For instance, mutations that introduce a novel stop codon or that cause exon skipping during alternative splicing can easily shorten the protein. Hence, in the studies of multidomain animal proteins, one should be careful about applying simple maximum parsimony since it can happen that the number of domain gains is falsely overestimated - when in fact multiple losses have occurred. In particular, in this study, it was crucial to identify high-confidence cases of domain gains. Our approach to do this was to be very strict about calling domain gains: we applied the weighted parsimony algorithm assuming that it is two times more likely for a protein to lose a domain than to gain a new one; additionally, we classified an event as a domain gain only if a single gain of a particular domain was reported in a tree, which is the rationale of the Dollo parsimony. If we had applied Dollo parsimony only we would not have been able to distinguish between eventual multiple gains of the same domain, and this approach excluded such dubious cases. This strategy appeared to remove a number of possible false domain gains as judged by inspection of the results.
Present domain combinations are shaped by the causative molecular mutation mechanisms followed by natural selection. Here we address the question of what mechanisms have been, and possibly still are, creating novel, more complex animal domain architectures and hence new functional arrangements. Our data suggest that the dominant mechanism has been gene fusion through joining of exons from adjacent genes and that the process of domain gain has strongly relied on gene duplication. In this study we find novel examples that directly illustrate this mechanism; after duplication, exons that encode one or more domains are joined with exons from another adjacent gene. The examples are interesting both from the point of view of the evolution of protein diversity and as examples for novel gene creation during animal evolution. It is possible that recombination created novel introns and directly joined exons from two adjacent genes, but it is more likely that recombination only juxtaposed novel exon combinations, allowing alternative splicing to create novel splice variants. There are indications that NAHR could have caused the initial duplications and rearrangements. The implications for the role of NAHR in animal evolution in general are particularly interesting since this mechanism is still primarily associated with more recent mutations in the human genome, as well as primate genomes in general, such as structural variations in the human population and disease development [46, 65, 66]. It has recently been proposed, however, that the fork stalling and template switching (FoSTeS) mechanism [67] could have also had a role in genome and single-gene evolution. This is a replicative mechanism that relies on microhomology regions and seems to provide a better explanation for complex germline rearrangements - but also for some tandem duplications in the genome - than NAHR and IR [68]. Hence, the exact relative contributions of different recombination mechanisms are still to be determined. However, this might be hampered by sequence divergence after domain gain events, which have occurred millions of years ago.
In this work, we also address exonization of previously non-coding sequences as a mechanism for gain of novel domains. We observe that domains that are gained as exon extensions are preferentially disordered (Figure 3). This suggests that exonization of previously non-coding sequences could explain some cases of evolution of disordered protein segments in animal proteins. Disordered segments in higher eukaryotes are linked with important signaling and regulatory functions [69, 70] and inclusion of these sequences into proteins, together with creation of novel domain combinations, could have added to the emergence of complexity in higher eukaryotes. An illustration from the literature for the significance of inclusion of novel disordered segments into proteins is the evolution of NMDA (N-methyl-D-aspartic acid) receptors. These receptors display a vertebrate-specific elongation at the carboxyl terminus. Gained protein regions are disordered and govern novel protein interactions, and it is believed that this might have contributed to evolution and organization of postsynaptic signaling complexes in vertebrates [71]. Moreover, our data suggest that there is a bias for exon extensions to preferentially occur at the carboxyl terminus (Figure 2), which is in agreement with the assumption that some of these domain gains occurred through exon extension since extension of exons at the amino terminus or in the middle of proteins can introduce frame shifts and hence can be selected against. However, Pfam families that are classified as exon extensions are also likely to be shorter, so it is possible that this introduces some bias because shorter families are less likely to be domains with defined structures. Moreover, an important caveat is that only a systematic study can confirm domain gain by this mechanism; apparently non-coding sequences that are homologous to gained domains might just lack transcript and protein evidence in the less studied species, resulting in a domain assignment being missed.
Finally, it is important to note that even though we have attempted to draw conclusions about dominant mechanisms for evolution of animal genes, it is possible that contributions by different mechanisms will differ between different species. Percentages of active retrotransposons and rates of chromosomal rearrangements and intergenic splicing are different in different genomes, as are the selection forces that depend on population size and that decide on how well tolerated intermediate stages in gene evolution are. Therefore, it is possible that we will find out that some mechanisms are more relevant in some species than they are in others. This is illustrated by differences in characteristics of gained domains in vertebrates and Drosophila. The dominant mechanism in Drosophila seems to be extension of exons at the carboxyl terminus. Additionally, even though the majority of gain events are represented by human proteins, different mechanisms could have dominated at different evolutionary time points in the human lineage. For example, LINE-1 retrotransposons are abundant in mammals but not in other animals [72], and whole genome duplication that occurred after the divergence of vertebrates [73] could have preferred recombination between gene duplicates at that point in time.
Retroposition and recombination-assisted intronic insertions, in contrast to previous expectations, appear to be minor contributors to domain gains. Therefore, it is possible that the role of intronic insertions had been overestimated previously. It will be interesting to see if the observed excess of symmetrical intron phases around exons coding for domains [25] is due to exon shuffling or to some other mechanism, such as selective pressure from alternative splicing [74]. In conclusion, our work provides evidence for the importance of gene duplication followed by adjacent gene joining in creating genes with novel domain combinations. The role of duplicated genes in donating domains to adjacent proteins is a potentially important, and powerful, mechanism for neofunctionalization of genes.
Conclusions
We report here a large-scale analysis of the mechanisms that have caused domain gains in animals and describe several novel examples that illustrate gene evolution in the human lineage. Our study suggests that joining of exons from adjacent genes has played a crucial role in the evolution of novel human genes. Moreover, it indicates a strong link between gene duplication and the invention of novel domain combinations, thus implying a powerful means for the fast evolution of novel function after gene duplication.
Materials and methods
Here we describe the procedures used to identify a set of high confidence protein domain gains and the subsequent analyses of this set. This flow is illustrated in Additional file 2a,b.
Assignment of domains to proteins with refinement
We assigned Pfam domains (release 23.0) to all protein products of genes in the TreeFam database (release 6.0) using the Pfam_scan.pl software. Since domains in the same Pfam clan are evolutionarily related, we replaced domain identifiers with clan identifiers where applicable. Domain prediction methods can both fail to predict bona fide domains as well as make false predictions, which look like domain losses and gains, respectively. We applied a refinement process to address this issue. We firstly removed the likely false positive fragmentary domain assignments (that is, domains that were called on only a single sequence in the family, with an E-value > 10-6 and only 30% or less of the domain's Pfam model covered). Additionally, when some sequences lacked a domain that other family members had, we used Wu-blastp to search that sequence against the domain sequences found in other members of the family. When a significant match was found (E-value < 10-4 and at least 60% of a domain sequence present, or alternatively an E-value < 10-7 and 40% or more of a domain sequence present, or only E-value < 10-10 and any length of the matched sequences) we added domain assignments to those sequences.
Exclusion of possible false domain gain calls
Domain refinements added Pfam domains to proteins that shared significant similarity with domain sequence but were not recognized by searching with the Pfam hidden Markov model library. However, apart from these clear cases of a lack of domain annotation, there are also cases where proteins share only moderate similarity with domain sequence and it is difficult to say whether a domain should be annotated to these proteins as well. To avoid false calls of domain gains, we excluded domain gain events where sequences in the same gene family shared a similarity with the gained domain but were not annotated with that domain. We chose a strict threshold and excluded all gain events where a domain sequence had 16% or more identical amino acids aligned to any sequence in the same TreeFam family that lacked the gained domain. This further reduces the chances of erroneously calling domain gains due to a lack of sensitivity of some Pfam hidden Markov models.
Parsing trees
To identify the branch points in the phylogenetic trees at which new domains were gained, we used the TreeFam API [28]. In TreeFam families each gene is represented with a single transcript. However, to be able to claim that a gene has gained a domain it was necessary to take into account protein domains present in all splice variants of the genes in the TreeFam families. We applied the weighted parsimony algorithm [75] on the TreeFam phylogenies, with the cost for a domain gain of 2 and the cost for a domain loss of 1. Because gains are more costly, the ones we see are more likely to be correct. We then took into account those reported gain events that occurred only once in a tree - which is the rationale of the Dollo parsimony [76]. We applied this method to the 17,050 TreeFam clean trees, that is, trees containing genes from completely sequenced animal genomes. We considered the gained events to be the ones that were in concordance with both algorithms - 4,362 gained domains. We then excluded from the analysis those gains that appeared only on the leaf nodes of the trees - that is, that had only one sequence with the gained domain - and were left with 1,372 domains gained on internal nodes of the tree. Next, we aimed to chose a representative transcript for each gain event, and the conditions for that were the following: the transcript had to be present in the TreeFam tree (the gains were also reported when the gene gained another alternative transcript, not only when the TreeFam transcript was extended with a new sequence); the transcript had to have a gained domain on the encoded protein predicted by the Pfam software; and the representative transcript had to belong to one of the species D. melanogaster (fruit fly), Xenopus tropicalis (frog), Danio rerio (zebrafish), Gallus gallus (chicken), Mus musculus (mouse), Rattus norvegicus (rat) or Homo sapiens (human) - that is, to a species whose genome is of a good quality. This left us with 653 gained domains that had representative transcripts that fulfilled all conditions. Since each representative sequence was chosen from the descendant with the genome of best quality for all gains in the human lineage, we chose representative human transcripts (proteins). Exclusion of leaf gains and selection of representative transcripts from better quality genomes were necessary to ensure that our gain events were not due to gene annotation errors. We then excluded all instances where the sequences from the same family that lacked the gained domain were found to have diagnostic motifs for that domain, as recognized by profile comparer [77], or to have an amino acid stretch similar to one in the gained domain (16% or more identical amino acids). This left us with 378 gained domains. Some of these domains appeared to be gained together so the total number of domain gain events was 349. Finally, we excluded from the analysis the gain events for which a representative transcript was no longer in the Ensembl database, release 50 (3 cases) or for which protein sequence alignment downloaded from the TreeFam database did not clearly support domain gain (13 cases) and those cases that we believed were the consequence of inconsistencies in gene annotation (3 cases; Additional file 7). This left us with a final total of 330 high-confidence domain gain events for further analysis (Additional file 5). In addition, we created a medium-confidence set of domain gain events. For this, we only asked the gain to occur in at least one genome of better quality. However, this also increased the rate of false calls of domain gains. This left us with 849 gained domains. The flow to obtain this set of gains is shown in Additional file 2a.
Intron-exon structures of genes
We used the TreeFam table map with gene structures to project the intron-exon boundaries and intron phases on the representative protein sequences for each domain gain event. In order to establish whether the gained protein domains were part of completely new exons or extensions of already pre-existing exons, we downloaded protein sequence alignments for each TreeFam family with a gained domain from the TreeFam website. Since it is unlikely that the gained sequence would exactly correlate with domain boundaries, we examined the similarity in regions close to exon boundaries. We considered that a domain was inserted into an existing exon if the region in the same exon close to the exon border shared partial similarity with an exon from those sequences in the same family that lacked the domain. We considered that the domain was gained within an existing exon when the boundary region of the exon - first or last third of the sequence outside of the domain - had 30% or more identical residues to one of the sequences without the inserted domain. We required that this 'boundary' region was at least seven amino acids long. However, because of this criterion that only a short stretch of sequence similarity is enough to claim that a gained domain is coded by an extended ancestral exon, the number of extended exons is likely to be an overestimate.
Positions of gained domains
When a new domain was encoded by a first or last coding exon, the gain was called as an amino- or carboxy-terminal gain, respectively. In addition, when an inserted domain was not coded by the terminal exons, we checked whether additional exons towards the termini were gained together with the ones coding for the gained domain. If there was no significant similarity between these exons and the ones in the sequences without the gained domain, the exons were called novel and the gain still called terminal. Conditions for calling an exon as novel were: 85% or more novel amino acids in an exon (that is, residues unaligned with amino acids in the sequences without the domain); or less then 10% identity with any of the sequences without the domain. For short exons coding for 20 amino acids or less, we changed this requirement to less than 40% identity. All other domain gains were classified as middle.
It is important to note that examining the sequences that surround the gained domains, when classifying the gains according to their relative position and as exonic or intronic, also helps to overcome the issue of imperfect domain boundary assignments, which could bias classification of gained domains.
Genomic origin of the inserted domain
For all domain gain events that have a human descendant, the gained domain sequence from a representative protein was searched against the rest of the human proteome. For this we used Wu-blastp. The best significant hit that was not in one of the gene's paralogues was considered to be a potential donor of the gained domain. A set of paralogues for each gene was composed of other human genes from the same TreeFam family and Ensembl paralogues for that gene. The condition for a significant hit was an E-value < 10-4 with 60% or more of the domain sequence aligned. We visually examined the structures of the genes with gained domains and of their best hits using Ensembl (release 50) and the Belvu viewer [78].
We used the segmental duplication coordinates from the Segmental Duplication Database [79]. We investigated whether any segment from the database overlapped with any of the representative genes with a domain gain, and if so, whether the other copy of that segmental duplication was placed on the gene that was a potential donor of that domain. We also checked whether the other copy overlapped with any of the paralogs of the representative gene.
Abbreviations
IR:

illegitimate recombination
NAHR:

non-allelic homologous recombination
NMD:

nonsense mediated decay.
Declarations
Acknowledgements
We are very grateful to A Coghlan, M Babu and R Durbin for helpful discussions on the presented work, to R Finn, B Schuster-Böckler, P Gardner and L Parts for advice on the performed experiments, to M Babu, L Parts, M Taylor, S Pettit, A Elofsson and E Bornberg-Bauer for critical reading and comments on the manuscript and to P Coggill for proofreading of the manuscript.
Authors' Affiliations
(1)
Wellcome Trust Sanger Institute, Hinxton, UK
Copyright
© Buljan et al.; licensee BioMed Central Ltd. 2010
This article is published under license to BioMed Central Ltd. This is an open access article distributed under the terms of the Creative Commons Attribution License http://creativecommons.org/licenses/by/2.0, which permits unrestricted use, distribution, and reproduction in any medium, provided the original work is properly cited.