The next frontier of systems biology: higher-order and interspecies interactions
Systems biology means different things to different people, and one can envisage it more as a strategy for studying biological systems than as a field of biology. Systems approaches have been very successful in the realms of biochemistry and genetics, especially for genetically tractable organisms, and have led to a deluge of mechanistic insights into a variety of biological areas. The 'systematic' nature of the approach involves testing or assaying all components of a biological milieu simultaneously, in an unbiased fashion, with no prior assumptions of what will be found. However, these modern approaches are not so different when compared to more classical genetic and biochemical strategies. Finally, we anticipate that the next frontier of systems biology will involve both higher-order interactions and the study of interspecies relationships in a systematic fashion.
A decade ago, Bruce Alberts, Andrew Murray and Lee Hartwell noted that cellular components are organized into functional groups, or modules, and that the reductionist approach of studying each component in isolation was limiting [
1
,
2
]. Recent efforts in systems biology have taken advantage of this observation by using unbiased approaches to define the protein complexes that comprise these modules. For example, two groups have used a systematic affinity tag/purification and mass spectrometry approach to identify hundreds of protein complexes in the budding yeast
Saccharomyces cerevisiae
, many of which were previously unknown [
3
,
4
] (Figure
1a
). Global efforts to define protein complexes have been extended to the prokaryotes
Escherichia coli
[
5
,
6
] and
Mycoplasma pneumoniae
[
7
] as well as to mammalian cells [
8
,
9
]. Highlighting the power of these approaches to rapidly uncover new biology in mapping out the circuit diagram of a cell, Kühner
et al.
[
7
] characterized 62 homomultimeric and 116 heteromultimeric soluble protein complexes in
M. pneumoniae
, and the majority of these were novel. A similar proportion of novel findings were uncovered when this unbiased proteomic approach was applied to other prokaryotic organisms [
5
,
6
] and higher organisms [
8
,
9
].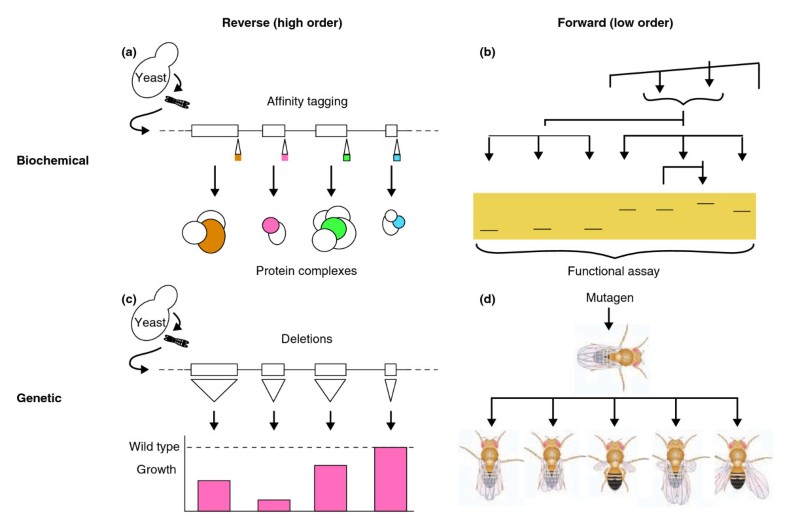 In comparison, consider a classic biochemistry experiment: in 1958, Arthur Kornberg and co-workers purified DNA polymerase from E. coli by fractionating a crude protein extract and testing individual fractions for a DNA-replicating activity [10, 11]. At first glance, Kornberg's experiments might seem a world apart from the M. pneumoniae effort; the former identified a single enzyme while the latter defined nearly all of the protein complexes in the cell. However, these classical and modern approaches are in fact surprisingly similar (Figure 1b), as both Kornberg and Kuhner et al. were performing unbiased, systematic screens of bacterial proteomes. Indeed, their major difference is one of scale, not type: Kornberg sought to identify a single molecular machine with a specific function, whereas Kuhner et al.'s goal was to identify all of the molecular machines. While the latter studies do not address the complexes' functions, one can now leverage other information or strategies to subsequently scan the defined molecular machines to infer their functions. For example, one can use bioinformatics approaches, such as finding homologs in other organisms, and infer the evolutionary conservation of similar functions. Also, comparing this information with other types of data, if they exist, can also be illuminating. For example, a three-pronged interrogation of the poorly studied M. pneumoniae used not only proteomic techniques as described above [7], but also global studies of the transcriptome [12] and metabolome [13]. Ultimately, this information can be integrated to ascertain the functions of individual proteins and complexes, and their proposed biochemical activities can be tested in a more traditional fashion.
Genetic analyses have also greatly benefited from global systems approaches. For example, Ron Davis, Mark Johnston and colleagues [14] generated a genome-wide collection of S. cerevisiae gene deletion mutants, which enabled them to identify genes essential for growth under standard laboratory conditions. Unbiased screening of this genome-wide mutant library using reverse genetics (the approach in which the function of a gene is identified starting with the DNA sequence rather than the phenotype) to identify gene function through the response of the mutants to different culture conditions, different drugs, and by gene-expression profiling [15–17] has led to a deluge of functional insights into nearly all the biological process in the yeast cell (Figure 1c). Genome-wide knockout libraries have now been created in other genetically tractable organisms, including E. coli [18] and Schizosaccharomyces pombe [19], and similar functional studies are now being carried out in these.
Forward genetics - the process of screening large numbers of organisms to identify those with a variant phenotype and then identifying the mutant gene responsible - was pioneered by Thomas Hunt Morgan in the early 1900s. Morgan selected phenotypic variants of the fruit fly Drosophila melanogaster generated after chemical mutagenesis, such as those with white rather than red eyes [20], or wings shorter than normal [21], and performed cross-breeding experiments to identify single heritable mutant genes (Figure 1d). As more and more Drosophila mutant strains were generated, these studies led to the generation of the first genetic map, based on recombination frequencies, by one of Morgan's students, Alfred Sturtevant [22]. Similar mutagenesis approaches have been carried out in other organisms, but tricks have been developed to help make many organisms more genetically tractable. For example, in budding yeast, the location in the chromosomes of genes mutated by the random insertion of a transposon can be pinpointed by detecting the transposon itself [23]. Again, these experiments collectively represent genome-wide screens, since in chemical or transposon mutagenesis each gene in the organism is, in theory, subjected to the mutagen, although in this case, only the mutations that produce a desired effect will be identified.
Collectively, comparisons between the classical and modern approaches demonstrate their similarity: they involve systematically testing or assaying all components of a biological milieu in an unbiased fashion. The primary difference is their dimensionality; for classical genetics and biochemistry, a single gene or protein was often the answer, whereas a systems biologist seeks many answers at once even if the questions are not defined at the outset. Importantly, combining perturbations yields additional information as it enables the analysis of how the parts interact - the result could be the entire circuit diagram of a cell.
(1)
Department of Bioengineering and Therapeutic Sciences and California Institute of Quantitative Biosciences, University of California, San Francisco, San Francisco, CA 94158, USA
(2)
Department of Cellular and Molecular Pharmacology and California Institute of Quantitative Biosciences, University of California, San Francisco, San Francisco, CA 94158, USA
© BioMed Central Ltd 2010