Between a chicken and a grape: estimating the number of human genes
Ever since the discovery of the genetic code, scientists have been trying to catalog all the genes in the human genome. Over the years, the best estimate of the number of human genes has grown steadily smaller, but we still do not have an accurate count. Here we review the history of efforts to establish the human gene count and present the current best estimates.
The first attempt to estimate the number of genes in the human genome appeared more than 45 years ago, while the genetic code was still being deciphered. Friedrich Vogel published his 'preliminary estimate' in 1964 [1], based on the number of amino acids in the alpha- and beta-chains of hemoglobin (141 and 146, respectively). Knowing that three nucleotides corresponded to each amino acid, he extrapolated to compute the molecular weight of the DNA comprising these genes. He then made several assumptions in order to produce his estimate: that these proteins were typical in size (they are actually smaller than average); that nucleotide sequences were uninterrupted on the chromosomes (introns were discovered more than 10 years later [2, 3]); and that the entire genome was protein coding. All these assumptions were reasonable at the time, but later discoveries would reveal that none of them was correct. Vogel then used the molecular weight of the human haploid chromosomes to correctly calculate the genome size as 3 × 109 nucleotides, and dividing that by the size of a 'typical' gene, came up with an estimate of 6.7 million genes.
Even at the time, Vogel found this number 'disturbingly high', but no one suspected in 1964 that most human genes were interrupted by multiple introns, nor did anyone know that vast regions of the human genome would turn out to contain seemingly meaningless repetitive sequences. Since Vogel's initial attempt, many scientists have tried to estimate the number of genes in the human genome, using increasingly sophisticated molecular tools. Over the years, the number has gradually come down, in a process that has been humbling at times, as we realized that many other species - even plants - are predicted to have more genes than we do (Figure
1
). An estimate of 100,000 genes appeared in the 1990 joint National Institutes of Health (NIH)/Department of Energy (DOE) report on the Human Genome Project [
4
]; this was apparently based on a very rough (and incorrect) calculation that typical human genes are 30,000 bases long, and that genes cover the entire 3-gigabase genome.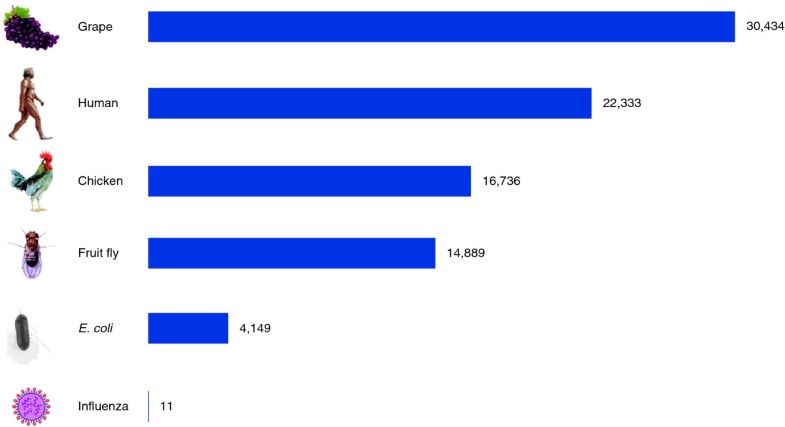 Many people, including many geneticists, expected that we would have a definitive gene count when the human genome was finally completed, and indeed one of the main surprises upon the initial publication of the human genome in February 2001 [5, 6] was that the number had again dropped, quite precipitously. However, as we shall see, the publication of the human genome did not come anywhere close to producing a precise gene list or even a gene count, and in the years since the number has continued to fluctuate. As a result, even today's best estimates still have a large amount of uncertainty associated with them.
In order to count genes, we need to define what we mean by a 'gene', a term whose meaning has changed dramatically over the past century. For our discussion, we will restrict the definition of gene to a region of the genome that is transcribed into messenger RNA and translated into one or more proteins. When multiple proteins are translated from the same region due to alternative mRNA splicing, we will consider this collection of alternative isoforms to be a single gene. In this respect, our definition of a gene is equivalent to what may also be called a chromosomal locus. We will exclude non-protein-coding RNA genes (such as microRNAs (miRNAs) and small nuclear RNAs (snRNAs)), in part because of the even greater uncertainty surrounding their numbers. In recent years, as a result of the dramatic breakthroughs in our understanding of RNA interference [7] and miRNAs [8], the number and variety of known RNA genes has grown dramatically, and we expect that it will be many more years before we have a clear picture of how many of these non-coding genes exist in the human genome.
(1)
Center for Bioinformatics and Computational Biology, University of Maryland, College Park, MD 20742, USA
© BioMed Central Ltd 2010