Research highlight

Open Access
Complex-trait analysis in plants
Genetic variation for complex traits determines fitness in natural environments, as well as productivity of the crops that sustain all human populations [1]. Mapping and cloning of quantitative trait loci (QTLs) has begun to identify the genes responsible for this variation [2], as well as the evolutionary factors that maintain quantitative variation in populations [3]. Central to our understanding is to elucidate the genetic architecture of complex traits, which incorporates both the magnitude and the frequency of QTL alleles in a population.
Two approaches have recently been applied to complex-trait analysis in plants, which both allow QTL identification in samples containing diverse genotypes. Population-based approaches such as genome-wide association studies (GWAS) use populations of unrelated individuals to examine genome-wide associations between single nucleotide polymorphisms (SNPs) and phenotypes. Alternatively, family-based QTL mapping can be applied to complex pedigrees from crosses among different founding genotypes. For
Arabidopsis thaliana
and most crop plants, inbred lines need be genotyped only once, enabling efficient and cost-effective phenotyping of many traits in multiple environments by a broad research community. Population- and family-based approaches have complementary advantages and disadvantages (
Box 1
), and together enable major advances in our understanding of quantitative trait variation. A recent paper in
Nature
by Atwell
et al
. [
4
] has taken a population-based approach to QTL association in a GWAS of some 200 inbred lines of
Arabidopsis
, while Kover
et al
. [
5
], writing in
PLoS Genetics
, take a family-based approach, describing a complex pedigree that can be used to fine-map QTLs in
Arabidopsis
.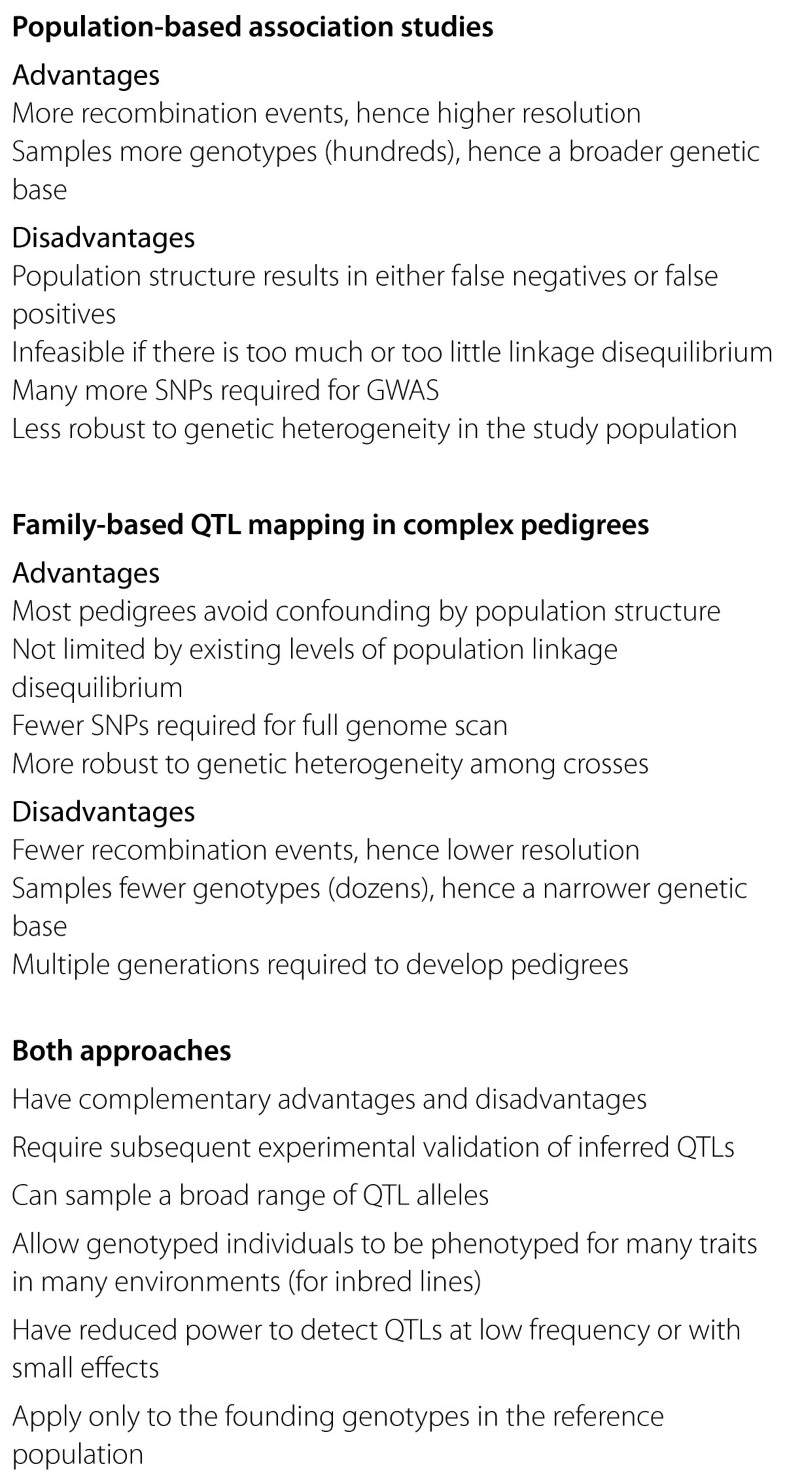 (1)
Institute for Genome Sciences and Policy, Department of Biology, Duke University, PO Box 90338, Durham, NC 27708, USA
© BioMed Central Ltd 2010