Identification of functional modules that correlate with phenotypic difference: the influence of network topology
Received: 26 October 2009
Accepted: 26 February 2010
Published: 26 February 2010
Abstract
One of the important challenges to post-genomic biology is relating observed phenotypic alterations to the underlying collective alterations in genes. Current inferential methods, however, invariably omit large bodies of information on the relationships between genes. We present a method that takes account of such information - expressed in terms of the topology of a correlation network - and we apply the method in the context of current procedures for gene set enrichment analysis.
Keywords
Amyotrophic Lateral Sclerosis
Small Cell Lung Cancer
MAPK Signaling Pathway
Small Cell Lung Cancer Cell
Ovarian Endometriosis
Background
A central problem in cell biology is to infer functional molecular modules underlying cellular alterations from high throughput data such as differential gene, protein or metabolite concentrations. A number of computational techniques have been developed that use expression for class distinction to identify, from among a priori defined sets of functionally or structurally related genes, those that correlate with phenotypic difference (see, for example, Goeman and Buhlmann [1]). More sophisticated approaches have used random forests to capture nonlinear and complex information in expression profiles [2]; applied linear transformations to measure the discriminative information of genes [3]; and combined information from multiple assessments [4].
One of the most widely used methods, gene set enrichment analysis (GSEA) [5], ranks genes according to their differential expression and then uses a modified Kolmogorov-Smirnov statistic (weighted K-S test) as a basis for determining whether genes from a prespecified set (for example, Kyoto Encyclopaedia of Genes and Genomes (KEGG) pathways or Gene Ontology (GO) terms) are overrepresented toward the top or bottom of the list, correcting for false discovery when multiple sets are tested [6]. The central message of this paper is that discovery depends strongly on the type of correlation used, and we illustrate this point by elaborating on the biological implications of two different cancer data sets. GSEA uses a weighted Kolmogorov-Smirnov statistic (WKS) to quantify enrichment. The weight is related to the correlation with phenotype, essentially omitting known network properties of gene sets. Here we take such properties into account, as explained below. We reserve the term WKS for describing GSEA, and refer to our method, which integrates topological information, as pathway enrichment analysis (PWEA), where a pathway is defined as a pair of nodes connected by an uninterrupted set of intervening nodes and edges, such as those found in protein-protein interaction networks, signal transduction networks, and metabolic pathways. In this paper we use KEGG pathways. Just as WKS represents a conceptual and practical improvement over the K-S test, we show in this paper that the inclusion of topological weighting is not only a conceptual change in enrichment analysis, but a substantial practical improvement.
Several recently introduced techniques, including ScorePAGE [7], gene network enrichment analysis [8] and Pathway-Express [9], incorporate concepts of gene topology. ScorePAGE uses a topology-weighted cross-correlation of time-dependent (or condition-dependent) gene expression data to assign a significance value to a priori defined KEGG metabolic pathways. Gene network enrichment analysis first identifies a high-scoring transcriptionally affected sub-network from a global network of protein-protein interactions, and then identifies gene sets that are enriched in the sub-network using a Fisher test. Pathway-Express contains in its scoring function a term that increases the scores of the genes that are directly connected to other differentially expressed genes, which in turn produces a higher overall score for predefined KEGG signaling pathways in which the differentially expressed genes are localized in a connected sub-graph. Other strategies that extract enriched functional submodules [10, 11] or paths [12] from protein-protein interaction networks or other topological pathways without strict boundary (that is, identify only a subset of networks without a priori gene set definition) also take advantage of the topology.
Here we present a new and general method for incorporating disparate data into statistical methods used to infer functional modules from a class distinction metric. In order to fix ideas and compare with the most popular method, we use differential expression to distinguish phenotype and define a topological influence factor (TIF) to weight the K-S statistic. The TIF, however, can just as easily be used with other kinds of class distinctions as data become available, and with other kinds of statistics.
The contributions of this paper are both methodological and biological. The methodological contribution consists of including known correlations among the genes in a gene set in the weighting procedure. When applied to cancer data sets we find that the inclusion of longer-range correlations substantially improves sensitivity, with little or no loss of specificity. In particular for colorectal cancer, PWEA and GSEA agree on 24 out of 25 pathways identified by GSEA, but PWEA identifies an additional 10 pathways, 8 of which, including oxidative metabolism of arachidonic acid, are supported by evidence from the literature. For small cell lung carcinoma, PWEA finds all 19 of the pathways identified by GSEA, and an additional 14 highly plausible pathways, including apoptosis, MAPK signaling pathway, Jak-STAT signaling pathway, and the GnRH signaling pathway.
Discussion and conclusions
Pathway enrichment analysis has been introduced as a method to interpret differential expression using not only a priori defined gene sets, but also the topological properties of the surrounding network. PWEA uses gene sets from the KEGG database to compute a TIF that describes the average mutual influence of neighboring genes within a pathway, including the effects of genetic buffering. Because the TIF is computed for one pathway at a time, PWEA cannot detect genetic buffering exerted by genes from outside a given pathway [61]; nor can any existing gene set analysis method. The calculation of TIF largely depends on the correlation of the expression levels of neighboring genes, which can be affected by small sample size. Moreover, if genes, or topological relationships between genes, are missing from the a priori defined gene sets used with PWEA, the method may fail to accurately assign statistical significance to some pathways. Any method attempting to interpret microarray data using a priori defined gene sets, however, faces a similar challenge.
Although genetic buffering relationships are not explicitly annotated in KEGG gene set topology, as they are in Figure S1b in Additional file 1, PWEA uses TIF to approximate their effects. Genes with low TIF values may have their influence in the network reduced by genetic buffering effects or by the incompleteness of the topology. TIF measures the effects of pathway topology on the biological function of individual genes. Genes receive a higher TIF if they are connected to other correlated differentially expressed genes nearby, regardless of the direction of those connections. PWEA does not, at present, take account of directionality. In principal, PWEA may be applied in a variety of contexts: given as input a score (r) for each gene with signature (phenotype), and the corresponding networks (pathways), PWEA can determine a significance value. Finally, by using the WKS framework, PWEA reduces to GSEA when topological information is absent, which means that PWEA is also applicable to GO enrichment analysis or any other predefined gene sets.
When applied to two cancer datasets, PWEA has shown a high specificity and ability to discover perturbed pathways. Examination of the pathways discovered by PWEA reveals that most are consistent with previously reported experimental findings. As would be expected of any method designed to aid in the interpretation of expression data, the pathways reported in PWEA give insights into the nature of the different types of cancer that were examined.
One of the potential problems with the method presented here is the requirement for accurate topology to calculate TIF scores. Pathways with missing genes or incomplete gene topology can lead to dramatically reduced TIF scores; gene set incompleteness can account for this behavior. Indeed, this feature of PWEA might be used in the future to aid in the refinement of existing pathway topologies.
It has become clear that pathways rather than individual genes are essential in understanding carcinoma [62, 63]. PWEA has been shown to be effective at discovering biologically relevant pathways in cancers, making it a useful addition to the growing library of techniques for interpreting molecular profiling data.
Materials and methods
PWEA requires three inputs: the expression profiles of two phenotypes, a list of gene sets, and their topology. In this study, the gene sets are taken from the KEGG database [64] as of April 2009: the gene files specify genes in a pathway and the map files encode topology, which in this case comprises the molecular interactions dictated by the pathway. In total, 201 KEGG pathways were included. Although we use KEGG pathways for convenient illustration, pathway data from other sources may also be annotated in the KEGG markup language (KGML) [65].
We denote the genes in pathway K by 'P K ', and all genes not in pathway K by 'Not P K '.
The procedure consists of six steps (Figure
4
).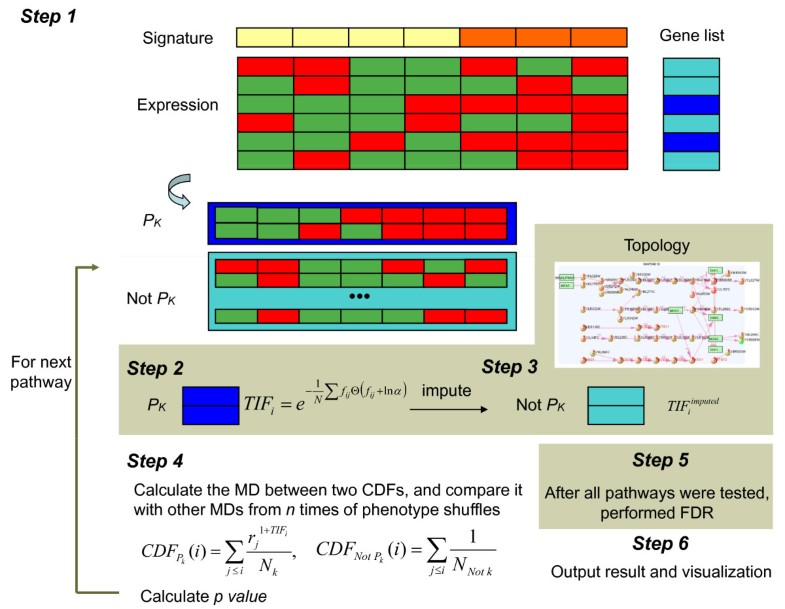 Step 1
Transform normalized expression levels into an expression matrix, and phenotypes into a signature vector, with genes corresponding to the rows and phenotypes corresponding to the columns of the expression matrix. Parse gene-set and map-files of KEGG pathways. Some nodes of KEGG pathways denote protein complexes or families. The corresponding genes are parsed separately and each is assigned the same connectivity and topological location as the parent node.
Step 2
The significance threshold, α, is used to control the contribution that gene j makes to TIF i . Note that shorter distances make an exponentially greater contribution to the mutual influence (and TIF) than do longer distances. The parameter α is used to control the sensitivity and selectivity of the TIF. After experimenting using the datasets studied in this report, the choice of α = 0.05 was found to represent a good apparent balance between sensitivity and selectivity. This parameter remains adjustable for future applications, however.
Step 3
For all other genes from the 'Not P K ' set, their TIF score is computed. Since topological information of genes from the 'Not P k ' set is not available in pathway k, we use the central limit theorem to impute Ψ and TIF for each gene i. This procedure is theoretically sound, since the index of TIF score is actually an average of Ψ, which should follow the theory. (In practice, the imputations are done after all TIFs from all pathways are computed; that is, using the mean and variance from all pathways as the parameters for the background distribution of Ψ and TIF, not imputed just from one pathway. This sampling mitigates the bias of imputation when the size of the gene set is too small.) PWEA also measures the possibility of passing θ (i.e. having f ij ≤ -ln α in the step function θ defined in Equation 4), and applies imputation only when a pass event happens. This is to maintain the distribution of all genes from being artificially altered after applying TIF, which is very likely to occur when it is applied only to genes in P K having topology. TIF scores for genes from the 'Not P K ' set is important for fair ranking to avoid artificial bias toward genes in P K .
Step 4
Calculate the statistical significance according to the WKS test. First, rank all genes by r j 1 + TIF, where r j is the absolute value of the t-score (by t-test) of gene j. The t-test is performed on each gene to compare the expression levels between normal and disease samples. The cumulative distribution functions (CDFs) of P k and Not P k at position i in the rank can be written as:
where

and j is the index of all genes belonging to P k .

is the number of genes belonging to Not P k and k is the index of all genes belonging to Not P k . The statistical significance for rejection of the null hypothesis is determined by comparing the maximum deviation (MD) of two cumulative distribution functions following n iterations of phenotype shuffling. Each randomly generated gene set for which the maximum deviation is higher than the original data will be counted, and after n iterations, the P-value is computed. In this work, n is set at 5,000 times.
Step 5
After the P-values for all pathways are computed and the pathways have been ranked in ascending order, PWEA computes the FDR to correct for multiple testing [67]. Specifically, FDR = P × m/k, where m is the total number of pathways and k is the rank of the pathway under consideration.
Step 6
A plain text file and a map file in KEGG markup language are produced. The map file represents the score of each gene in a color heatmap using the visANT software [68] (Figure S4 in Additional file 1).
The number of iterations, n, in step 4 must be sufficiently large, since PWEA simulates the background by random shuffling and the results may be biased if the sampling is insufficient. PWEA uses the absolute (that is, unsigned) metric when ranking genes. Use of an unsigned metric is important in many cases, especially KEGG pathways, which consist of multiple regulatory interactions. The signed metric used in the WKS test is designed for gene sets, such as chromosome segments that are expected to be up- or down-regulated under a given condition. Using an absolute metric can improve the clustering of high scoring genes and increase sensitivity. The parameter α, which appears in the TIF, can be adjusted by the user. Figure S6 in Additional file 1 demonstrates how the number of exclusively found pathways - which implies that the sensitivity changes - depends upon α. It can be seen that when α is large enough, PWEA reduces to GSEA, since TIF becomes zero and no weighting is applied.
PWEA has been implemented in a portable C++ package, and is freely available for download at [69]. The computing time is linear in the number of pathways, genes, and iterations of the permutation test. In this study, it took approximately 3 hours on one Sun Microsystems AMD 64 Opteron processor with 1 GB RAM for 201 pathways and 1,000 iterations for a dataset with about 10,000 genes. When a very large number of pathways and/or iterations must be carried out, a parallel version of PWEA, written with MPI [70], is available on the website above. The CPU time scales approximately linearly with the number of processors used. The output from PWEA can be visualized using visANT [71], which can give additional insight into the distribution of the high scoring genes.
Abbreviations
AA:

arachidonic acid
ALS:

amyotrophic lateral sclerosis
COX:

cyclooxygenase
EET:

cis-epoxyeicosatrienoic acid
FDR:

false discovery rate
GEO:

Gene Expression Omnibus
GnRH:

gonadotropin-releasing hormone
GO:

Gene Ontology
GSEA:

gene set enrichment analysis
IL:

interleukin
KEGG:

Kyoto Encyclopaedia of Genes and Genomes
K-S test:

Kolmogorov-Smirnov statistic
MAPK:

mitogen-activated protein kinase
PI3K:

phosphoinositide 3-kinase
PWEA:

pathway enrichment analysis
ROBO:

roundabout receptor
TIF:

topological influence factor
TNF:

tumor necrosis factor
WKS:

weighted Kolmogorov-Smirnov statistic.
Declarations
Acknowledgements
This project was partially funded by NIH grants HG004561, GM080625, RR022971, and DA19362.
Authors' Affiliations
(1)
Bioinformatics Program, Boston University, Boston, USA
(2)
Department of Biochemistry and Molecular Pharmacology and Program in Bioinformatics and Integrative Biology, University of Massachusetts Medical School, Worcester, USA
(3)
Department of Biomedical Engineering, Boston University, Boston, USA
Copyright
© Hung et al.; licensee BioMed Central Ltd. 2010
This article is published under license to BioMed Central Ltd. This is an open access article distributed under the terms of the Creative Commons Attribution License (http://creativecommons.org/licenses/by/2.0), which permits unrestricted use, distribution, and reproduction in any medium, provided the original work is properly cited.