From RNA-seq reads to differential expression results
Published: 22 December 2010
High-throughput sequencing technologies are now in common use in biology. These technologies produce millions of short sequence reads and are routinely being applied to genomes, epigenomes and transcriptomes. Sequencing steady-state RNA in a sample, known as RNA-seq, is free from many of the limitations of previous technologies, such as the dependence on prior knowledge of the organism, as required for microarrays and PCR (see Box 1: Comparisons of microarrays and sequencing for gene expression analysis). In addition, RNA-seq promises to unravel previously inaccessible complexities in the transcriptome, such as allele-specific expression and novel promoters and isoforms [1–4]. However, the datasets produced are large and complex and interpretation is not straightforward. As with any high-throughput technology, analysis methodology is critical to interpreting the data, and RNA-seq analysis procedures are continuing to evolve. Therefore, it is timely to review currently available data analysis methods and comment on future research directions.
Making sense of RNA-seq data depends on the scientific question of interest. For example, determining differences in allele-specific expression requires accurate determination of the prevalence of transcribed single nucleotide polymorphisms (SNPs) [5]. Alternatively, fusion genes or aberrations in cancer samples can be detected by finding novel transcripts in RNA-seq data [6, 7]. In the past year, several methods have emerged that use RNA-seq data for abundance estimation [8, 9], detection of alternative splicing [10–12], RNA editing [13] and novel transcripts [11, 14]. However, the primary objective of many biological studies is gene expression profiling between samples. Thus, in this review we focus on the methodologies available to detect differences in gene level expression between samples. This sort of analysis is particularly relevant for controlled experiments comparing expression in wild-type and mutant strains of the same tissue, comparing treated versus untreated cells, cancer versus normal, and so on. For example, comparison of expression changes between the cultured pathogen Acinetobacter baumannii and the pathogen grown in the presence of ethanol - which is known to increase virulence - revealed 49 differentially expressed genes belonging to a range of functional categories [15]. Here we outline the processing pipeline used for detecting differential expression (DE) in RNA-seq and examine the available methods and open-source software tools to perform the analysis. We also highlight several areas that require further research.
Most RNA-seq experiments take a sample of purified RNA, shear it, convert it to cDNA and sequence on a high-throughput platform, such as the Illumina GA/HiSeq, SOLiD or Roche 454 [16]. This process generates millions of short (25 to 300 bp) reads taken from one end of the cDNA fragments. A common variant on this process is to generate short reads from both ends of each cDNA fragment, known as 'paired-end' reads. The platforms differ substantially in their chemistry and processing steps, but regardless of the precise details, the raw data consist of a long list of short sequences with associated quality scores; these form the entry point for this review.
An overview of the typical RNA-seq pipeline for DE analysis is outlined in Figure
1
. First, reads are mapped to the genome or transcriptome. Second, mapped reads for each sample are assembled into gene-level, exon-level or transcript-level expression summaries, depending on the aims of the experiment. Next, the summarized data are normalized in concert with the statistical testing of DE, leading to a ranked list of genes with associated
P
-values and fold changes. Finally, biological insight from these lists can be gained by performing systems biology approaches, similar to those performed on microarray experiments. We critique below the currently available methodologies for each of these steps for RNA-seq data analysis. Rather than providing a complete list of all available tools, we focus on examples of commonly used open-source software that illustrate the methodology (Table
1
). For a complete list of RNA-seq analysis software, see [
17
,
18
].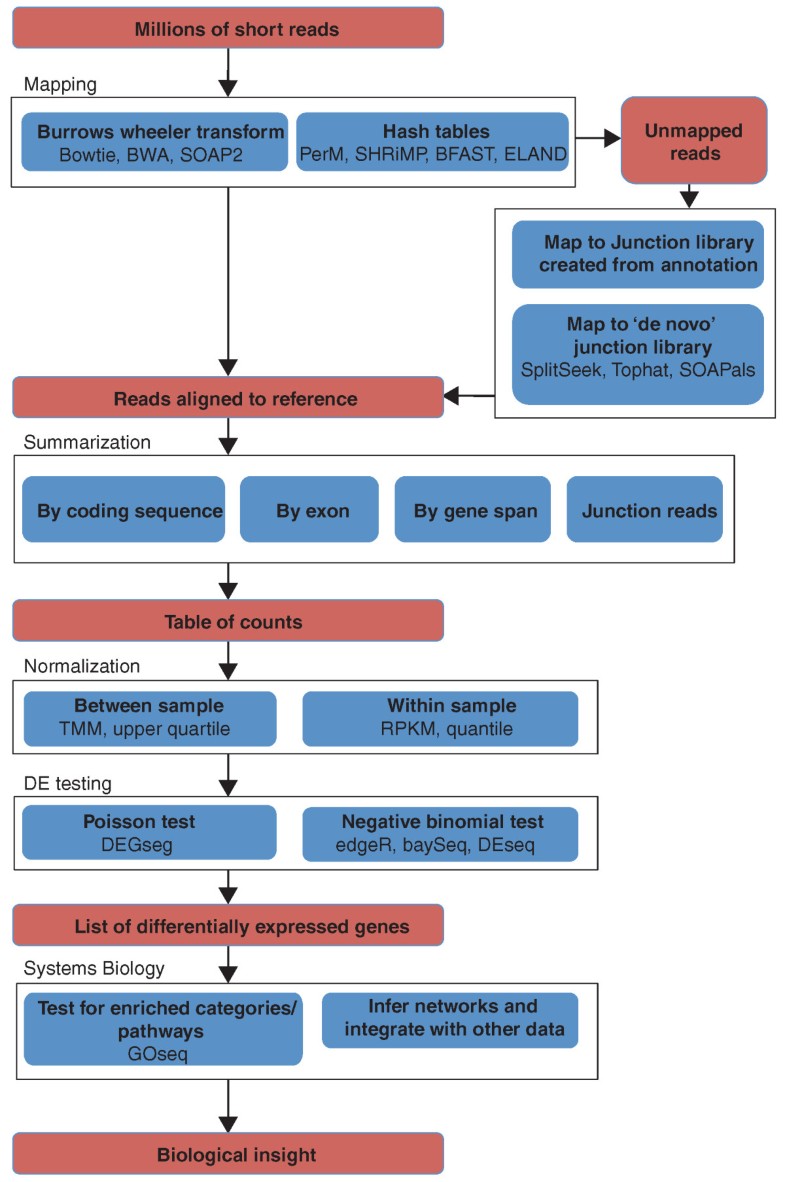 Table 1
Software methods and tools for differential expression analysis of RNA-seq
| Analysis step | Method | Implementation | References |
| --- | --- | --- | --- |
| Mapping | General aligner | GMAP/GSNAP | [91] |
| | | BFAST | [20] |
| | | BOWTIE | [25] |
| | | CloudBurst | [92] |
| | | GNUmap | [93] |
| | | MAQ/BWA | [23] |
| | | PerM | [19] |
| | | RazerS | [94] |
| | | Mrfast/mrsfast | [22] |
| | | SOAP/SOAP2 | |
| | | SHRiMP | [21] |
| | De novo annotator | QPALMA/GenomeMapper/PALMapper | [37] |
| | | SpliceMap | [96] |
| | | SOAPals | [95] |
| | | G-Mo.R-Se | [97] |
| | | TopHat | [40] |
| | | SplitSeek | [36] |
| | De novo transcript assembler | Oases | [98] |
| | | MIRA | [99] |
| Summarization | Isoform-based | Cufflinks | [11] |
| | | ALEXA-seq | [10] |
| | Gene-based | Count exons only | |
| | | Exon junction libraries | |
| Normalization | Library size | | For example, [34] |
| | RPKM | ERANGE | [32] |
| | TMM | edgeR | [48] |
| | Upper quartile | Myrna | |
| Differential expression | Poisson GLM | DEGseq | [100] |
| | | Myrna | [47] |
| | Negative binomial | edgeR | [57] |
| | | DESeq | [46] |
| | | baySeq | [58] |
| Systems biology | Gene Ontology analysis | GOseq | [68] |
(1)
Bioinformatics Division, Walter and Eliza Hall Institute, 1G Royal Parade, Parkville, 3052, Australia
(2)
Epigenetics Laboratory, Cancer Program, Garvan Institute of Medical Research, 384 Victoria Street, Darlinghurst, NSW, 2010, Australia
© BioMed Central Ltd 2010