PhenomiR: a knowledgebase for microRNA expression in diseases and biological processes
Received: 10 September 2009
Accepted: 20 January 2010
Published: 20 January 2010
Abstract
In recent years, microRNAs have been shown to play important roles in physiological as well as malignant processes. The PhenomiR database http://mips.helmholtz-muenchen.de/phenomir provides data from 542 studies that investigate deregulation of microRNA expression in diseases and biological processes as a systematic, manually curated resource. Using the PhenomiR dataset, we could demonstrate that, depending on disease type, independent information from cell culture studies contrasts with conclusions drawn from patient studies.
Keywords
Acute Myeloid LeukemiamiRNA ExpressionCell Culture StudyHuman miRNAsmiRNA Cluster
Rationale
MicroRNAs (miRNAs) are approximately 22-nucleotide endogenous RNAs predicted to regulate the expression of most mammalian genes [1]. Since the discovery of miRNAs in Caenorhabditis elegans, the influence of these regulatory RNAs on cellular processes has been established in a large variety of metazoa [2]. Accordingly, individual studies as well as large-scale endeavors have detected a growing number of miRNAs [3, 4], up to 695 in human according to miRBase release 12.0 [5]. A proteome study that investigated the influence of the abundance of a single miRNA on cells found that the mode of regulation occurs through modulation of protein expression rather than as a binary off-switch [6].
However, the potential of deregulated miRNA expression to cause severe impairments has already been demonstrated in the early days of microRNA research [7]. In 2004, it was shown that deregulated miRNA expression is associated with human diseases such as lung cancer [8]. One year later, Lu et al. [9] analyzed miRNA expression in cancer types and observed that miRNA profiling is a more reliable indicator for cancer than mRNA expression profiles. In the meantime, additional studies have demonstrated that miRNAs are significant indicators for specific diseases and can, for example, be used to create decision trees differentiating cancer types solely by miRNA expression profiles [10, 11]. In recent years, deregulated expression of miRNA has also been found to be associated with human diseases such as cardiomyopathy, muscular disorders and neurodegenerative diseases [12–14]. The samples used for these studies stem from biopsies of patients or cell cultures, which are used as easily tractable experimental models. Besides diseases, microRNAs are also known to have functional roles in eukaryotic organisms. MicroRNA-mediated gene silencing was shown to be involved in a number of cellular processes, such as cell growth, larval development and B-cell differentiation [15, 16, 7].
Due to the increasing amount of data in miRNA research, several resources have been established, covering topics such as experimentally validated miRNA targets (Tarbase [17]), and prediction of miRNA targets (Targetscan [18], PITA [19], PicTar [20]) or serving as miRNA repositories (miRBase [5]).
In order to provide a comprehensive overview of differentially regulated miRNA expression data in diseases and general biological processes, we generated the PhenomiR database. We aim at high data quality by manual annotation by experienced biocurators. PhenomiR provides an in-depth annotation of the studies, not only including information like the mode of miRNA expression (up or down) and the miRNA detection method, but also data such as the quantitative fold-change of miRNA expression, the sample size and the origin of the samples (patients or cell culture) analyzed (Figure
1
), which are not available from any existing resource. This comprehensive repository allows for the first time a large-scale statistical analysis of aspects such as genomic localization of deregulated miRNAs or the influence of sample origin. Using PhenomiR data from cell culture studies and patient studies, we found that, depending on the disease type, independent information from cell culture studies is in conflict with conclusions drawn from patient studies. Furthermore, a systematic analysis of 94 diseases shows for the first time that deregulated microRNA clusters are significantly overrepresented in the majority of investigated diseases (approximately 90%) compared to singular microRNA gene products.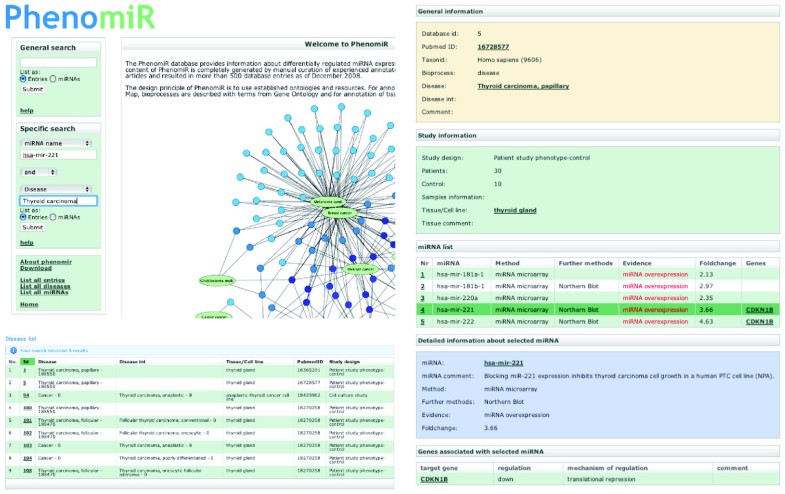 Materials and methods
Comparison between in vivo and in vitroexperiments
To evaluate the expression consistency of miRNAs in vivo, we first allocated all in vivo expression profiles in PhenomiR to the corresponding diseases. Within each disease, these entries were grouped by miRNAs and all groups containing less than two entries were discarded. Subsequently, we checked for consistent expression profiles - that is, all entries for a specific miRNA must show the same expression (either down- or up-regulation) to be counted as consistent. The intra-consistency score for in vivo or in vitro experiments is defined for every disorder to be the fraction of miRNAs with consistent expression patterns throughout all allocated entries of a group and all miRNAs involved in the disease. For the estimation of the cross-consistency score we grouped all miRNAs with consistent expression profiles in both study designs (in vivo and in vitro) for that specific disease. Additionally, we added those miRNAs to the groups that contained only one entry in the in vivo and in vitro experiments, respectively. The cross-consistency score for comparison of in vivo and in vitro experiments was then calculated as the fraction of miRNAs showing a consistent expression pattern compared to the total number of miRNAs for each disease.
Human miRNA cluster data
A miRNA cluster is defined as set of miRNAs in which each member has at least one other member of the same set within 5 kb according to chromosomal locations. Chromosomal positions for all human miRNAs were obtained from mirBase (release 12.0). In total, we obtained 62 human miRNA clusters containing, in sum, 240 of 695 (34%) human miRNAs in miRBase. For results based on miRNA clusters defined by 10-kb and 50-kb thresholds, see Additional files 6, 7, 8, 9, 10, 11, 12 and 13).
Analysis of homogeneous expression patterns within miRNA clusters
For the systematic analysis of coexpression of miRNA clusters, we considered all miRNAs associated with the particular diseases. miRNAs not belonging to any cluster and miRNAs of clusters of which at least half the members are not associated with the appropriate disease were discarded. For clusters containing only two members, both miRNAs had to be present. In total, we obtained 47 unique clusters. We defined a cluster to be homogeneous if all present members (which is at least half of all members) show the same expression pattern (either all up- or all downregulated). For each unique cluster we thereafter computed the homogeneous-fraction, that is, the fraction of co-expression throughout all obtained disease entries, and calculated a P-value for this fraction by the following sampling approach: for every disease entry the expression of all its associated miRNAs was distributed randomly within these miRNAs for 10,000 times, keeping the distribution of up- and downregulated miRNAs constant for each step. For each sampling step the homogeneous fraction over all disease entries was computed, which yields the P-value as the number of sampled homogeneous fractions exceeding the original homogeneous fractions divided by 10,000.
Enrichment analysis of miRNA clusters in human diseases
For this part of the study only data from microarray experiments were taken into account in order to avoid a bias introduced by expression experiments investigating only a few miRNAs by, for example, RT-PCR. To measure the enrichment of cluster miRNAs compared to single miRNAs in human diseases, we set up a sampling algorithm based on log-odds (LOD) scores: for each disease, d, we calculated the number of cluster miRNAs, xd, and the number of non-cluster miRNAs, yd. The LOD score for disease d is then computed by:
where xovarall denotes the number of the 240 human cluster miRNAs and yoverall denotes the number of the 455 human miRNAs not contained in any cluster as obtained from mirBase (release 12.0). Note that xoverall and yoverall take into account all known human miRNAs, not just those annotated in PhenomiR. It can be easily seen that the LOD score for the enrichment of miRNAs not contained in any cluster computes to -LODd, where d is again the disease index. A positive LOD score indicates enrichment for cluster miRNAs compared to non-cluster miRNAs in a specific disease. For evaluation of the hypothesis of enrichment of cluster miRNAs throughout all human diseases we randomly shuffled the genomic position of all miRNAs in each disease 100,000 times and computed the fraction of cases where the number of sampled positive LOD scores was at least as high as the number of positive LOD scores obtained from the data. In addition, we considered miRNA clusters as single loci and calculated the enrichment of polycistronic miRNA loci by a LOD score: for each disease d we calculated the number of polycistronic miRNA loci, xd, and the number of single miRNAs, yd. The LOD score for disease d is then computed by:
where xoverall denotes the number of the 62 human polycistronic miRNA loci and yoverall denotes the number of the 455 human miRNAs not contained in any cluster as obtained from mirBase (Release 12.0).
Statistical models in the Results and discussion section
All programs for this work were written in Python. Final data analysis and statistical models were done with the R statistical language.
Abbreviations
AML:

acute myeloid leukemia
LOD:

log-odds score
OMIM:

Online Mendelian Inheritance in Man.
Declarations
Acknowledgements
We would like to thank Carsten Marr and Jan Krumsiek for constructive discussions. This work was supported by the Helmholtz Alliance on Systems Biology (project 'CoReNe'), the Helmholtz Center Munich - German Research Center for Environmental Health and the Federal Ministry of Education and Research (BMBF) (project 'LungSys').
Authors' Affiliations
(1)
Institute for Bioinformatics and Systems Biology (MIPS), Helmholtz Center Munich - German Research Center for Environmental Health (GmbH), Neuherberg, Germany
(2)
Department of Mathematics, University of Technology Munich, Garching, Germany
Copyright
© Ruepp et al.; licensee BioMed Central Ltd. 2010
This article is published under license to BioMed Central Ltd. This is an Open Access article distributed under the terms of the Creative Commons Attribution License (http://creativecommons.org/licenses/by/2.0), which permits unrestricted use, distribution, and reproduction in any medium, provided the original work is properly cited.