Floral induction and monocarpic versuspolycarpic life histories
There are two extremes of life-history strategies in plants and animals - semelparity and iteroparity [1]. Semelparity is sometimes referred to as the 'big-bang reproductive strategy' [2], as semelparous species devote most of their energy and resources to maximizing the number of offspring in a single cycle of reproduction, and die soon after reproducing. Semelparity may be advantageous when the prospects for long-term survival are low. Iteroparous species, in contrast, reproduce multiple times, a strategy that may be advantageous when prospects for long-term survival are good.
In the plant kingdom, there are extreme examples of both strategies. At one end of the iteroparous spectrum are redwood trees, which can live for several thousand years with several thousand cycles of reproduction. In contrast, the popular semelparous research model
Arabidopsis thaliana
can complete its life cycle in less than two months, and once
Arabidopsis
produces a certain number of offspring it rapidly senesces and dies, even under optimal growth conditions [
3
] (Figure
1
).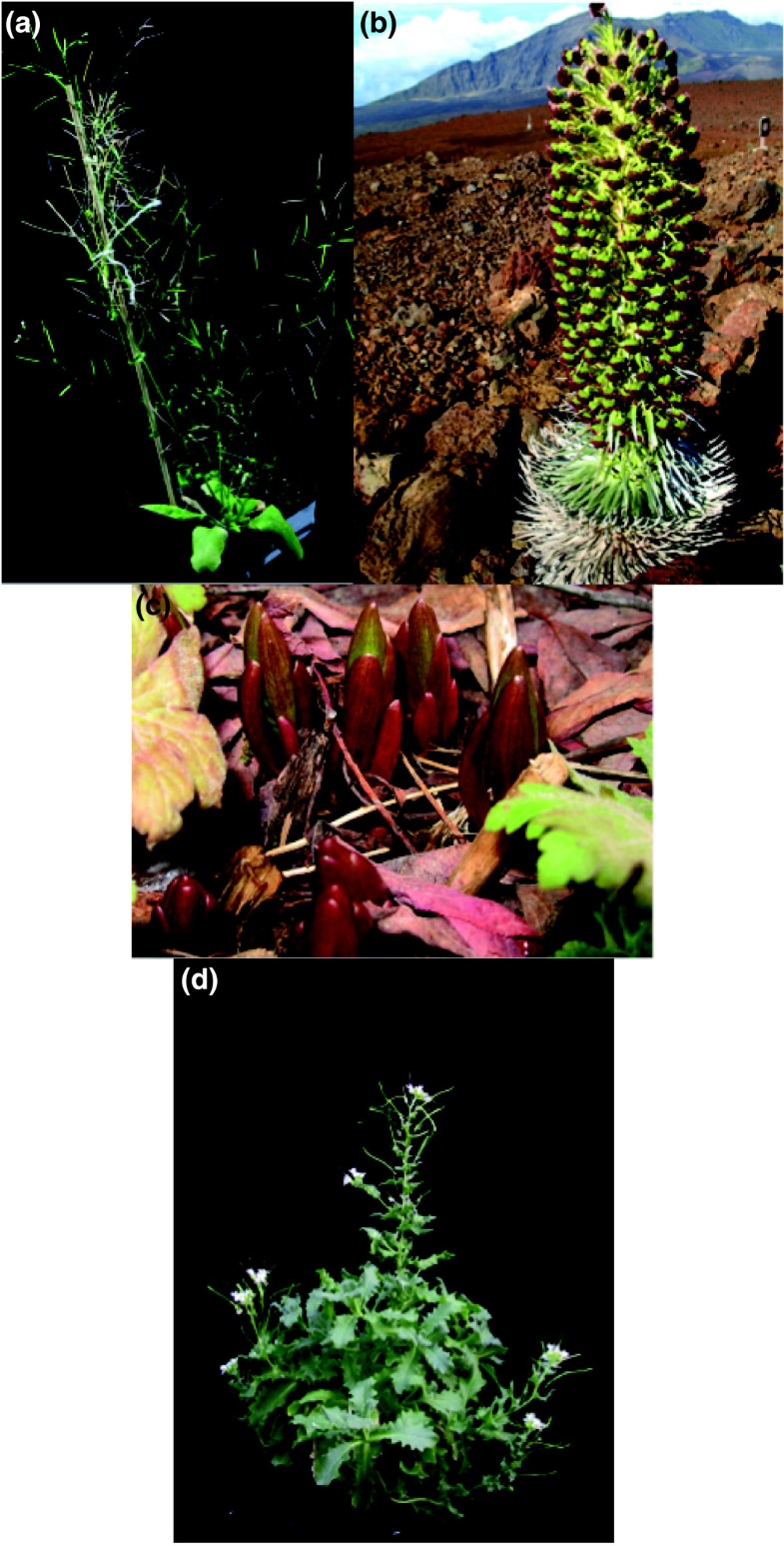 Plants that live and reproduce for many years, such as redwoods, are often referred to as perennials. Plants such as Arabidopsis that typically survive only a single growing season are often referred to as annuals. However, the different life-history strategies of plants are better described by the terms monocarpic (semelparous; reproduces once and dies) and polycarpic (iteroparous; reproduces repeatedly), instead of annual and perennial, respectively. For example, perennial is hard to define, because there are plants that live for many years without flowering and then flower once and die. A striking example is the Haleakalā silversword, Argyroxiphium sandwicense, which may live for more than 50 years before flowering and dying (Figure 1).
The molecular basis for the death of monocarpic plants like Arabidopsis after reproduction is not well understood. Plants develop from regions of stem cells called meristems. The shoot apical meristem (SAM) produces cells that differentiate into stems, leaves and flowers. In many monocarpic plants, including Arabidopsis, all active SAMs convert to flower production (that is, become inflorescence meristems). In Arabidopsis, when a certain number of seeds have been produced the inflorescence meristems stop growing, although they do not undergo terminal differentiation, and the whole plant senesces as the seeds mature [3]. Perhaps inflorescence meristem arrest after reproduction and the subsequent death is a specific genetic program in Arabidopsis, or perhaps the plants simply do not have the energy to sustain further growth from these inflorescence meristems - the plants 'burn out' in the effort to produce as many offspring as possible [3].
Thus, a key feature of polycarpy is to maintain a supply of meristems that are capable of vegetative growth; that is, SAMs that can produce shoots with leaves to sustain growth of the plant in future growth cycles. In a recent paper in Nature by Wang et al. [4], the polycarpic habit was studied in a relative of Arabidopsis, Arabis alpina, another member of the family Brassicaceae. A. alpina requires exposure to cold in order to flower (a phenomenon known as vernalization) [5]. However, as expected for a polycarpic plant, vernalization does not result in the flowering of all A. alpina SAMs. Those shoots of A. alpina that do flower cease growth and senesce during seed maturation similarly to shoots of Arabidopsis, but A. alpina maintains a supply of vegetative SAMs for another round of growth.
(1)
Department of Biocemistry, University of Wisconsin, Babcock Drive, Madison, WI 53706-1544, USA
© BioMed Central Ltd 2009