DNA breaks as triggers for antigenic variation in African trypanosomes
The African trypanosome,
Trypanosoma brucei
, is a protozoan parasite of major medical and economic importance. The phenomenon of antigenic variation in
T. brucei
and some other pathogenic microbes enables them to evade the immune system and persist in the host [
1
]. In
T. brucei
, antigenic variation depends on expression of a single variant surface glycoprotein (VSG) from one among multiple expression sites [
2
] and an archive of more than 1,600
VSG
genes [
3
]. Two principal mechanisms have emerged for the activation of a new
VSG
: duplicative gene conversion into the active expression site; and
in situ
activation of a silent expression site coupled with repression of the one previously active. The former is the dominant mechanism underlying antigenic variation [
4
], and is the focus of new work reported recently in
Nature
by Boothroyd
et al
. [
5
]. As double-strand breaks (DSBs) have long been known to initiate genetic recombination processes by facilitating strand invasion, it had been proposed that a DSB in the 70 bp repeats adjacent to each
VSG
gene (Figure
1
) could initiate the process that copies a new
VSG
into the active expression site [
6
]. Boothroyd and colleagues now provide compelling evidence in support of this idea [
5
].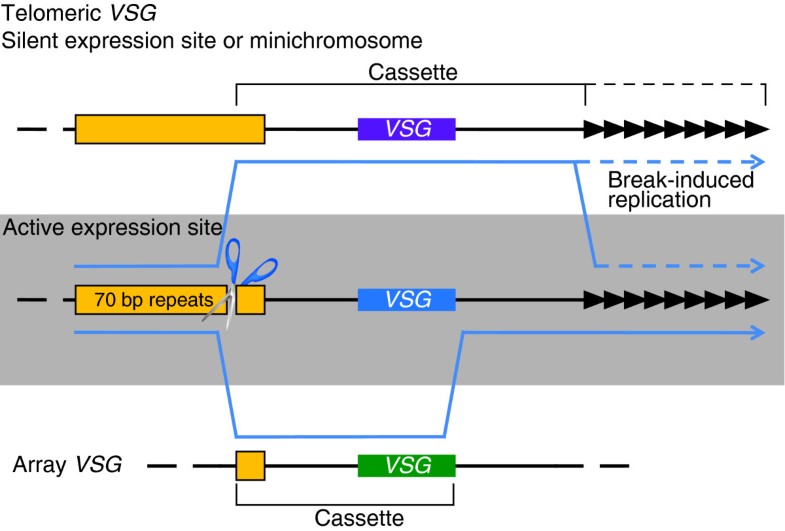 (1)
London School of Hygiene & Tropical Medicine, Keppel Street, London, WC1E 7HT, UK
© BioMed Central Ltd 2009