Origin of nascent lineages and the mechanisms used to prime second-strand DNA synthesis in the R1 and R2 retrotransposons of Drosophila
Received: 27 January 2009
Accepted: 5 May 2009
Published: 5 May 2009
Abstract
Background
Most arthropods contain R1 and R2 retrotransposons that specifically insert into the 28S rRNA genes. Here, the sequencing reads from 12 Drosophila genomes have been used to address two questions concerning these elements. First, to what extent is the evolution of these elements subject to the concerted evolution process that is responsible for sequence homogeneity among the different copies of rRNA genes? Second, how precise are the target DNA cleavages and priming of DNA synthesis used by these elements?
Results
Most copies of R1 and R2 in each species were found to exhibit less than 0.2% sequence divergence. However, in many species evidence was obtained for the formation of distinct sublineages of elements, particularly in the case of R1. Analysis of the hundreds of R1 and R2 junctions with the 28S gene revealed that cleavage of the first DNA strand was precise both in location and the priming of reverse transcription. Cleavage of the second DNA strand was less precise within a species, differed between species, and gave rise to variable priming mechanisms for second strand synthesis.
Conclusions
These findings suggest that the high sequence identity amongst R1 and R2 copies is because all copies are relatively new. However, each active element generates its own independent lineage that can eventually populate the locus. Independent lineages occur more often with R1, possibly because these elements contain their own promoter. Finally, both R1 and R2 use imprecise, rapidly evolving mechanisms to cleave the second strand and prime second strand synthesis.
Keywords
Additional Data FilerDNA LocusTarget Site DuplicationrDNA UnitTarget Prime Reverse Transcription
Background
Transposable elements (TEs) are ubiquitous components and extensive manipulators of eukaryotic genomes. Because TEs constitute a significant mutation source and their remnants often comprise the majority of genomes, they are usually regarded as genomic parasites that are occasionally co-opted for host benefits [1, 2]. While tracing the evolution of any genome should include a description of the natural history of its transposable elements, the diversity of TEs and their histories are so extensive that even with the advent of genome sequencing and assembly it remains challenging to follow the interplay between TEs and their host.
The rRNA genes provide a microcosm within the genome that is amenable to a detailed description of the interactions between TEs and their host. In eukaryotes these genes are organized into one or more loci, the rDNA loci, containing hundreds to thousands of copies of the 18S, 5.8S and 28S genes (Figure
1
) [
3
]. A number of TEs specifically insert into the 28S genes of different animals [
4
]. The most extensively studied of these elements are the non-long terminal repeat (non-LTR) retrotransposable elements R1 and R2 of arthropods [
5
]. These two elements appear to have been inserting in the 28S genes of most arthropods since the origin of this phylum [
6
,
7
]. R2 elements have also been identified in a variety of other animal lineages [
8
,
9
]. The retrotransposition mechanism of R2 elements has been studied in detail [
10
,
11
]. The current model for their integration, called target primed reverse transcription (TPRT), has four basic steps: first, the bottom DNA strand of the target site is cleaved; second, the released 3' hydroxyl is used to prime cDNA synthesis by the element's reverse transcriptase; third, the top DNA strand is cleaved; and fourth, the released 3' hydroxyl is used to prime second-strand DNA synthesis [
11
]. This basic mechanism is likely used by R1 [
12
,
13
] and most other non-LTR retrotransposons [
14
].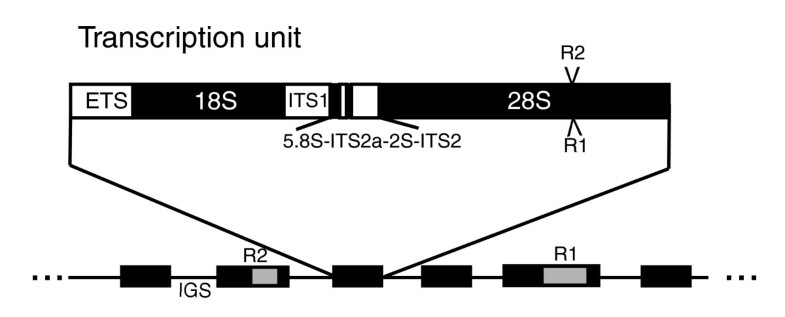 Evolution of the rDNA locus is known to be dominated by concerted evolution, a recombinational process involving unequal crossovers and gene conversions that maintain near identity among repeats within a species while allowing those repeats to diverge between species [15]. Abundant evidence corroborates the extremely low sequence variation present among the many copies of the rDNA unit [16–18]. Sequence variants present at the lowest frequencies are equally distributed between the coding and non-coding regions of the unit. In contrast, the rare variants present at higher frequencies are greatly enriched in non-coding regions, indicating that selective pressures guide the extent of standing variation within the locus [18].
In arthropods from a few percent to over 50% of the rDNA units are inserted by R1 or R2 elements [19], and those units are thus prevented from producing functional 28S rRNA [20]. Within a species these many copies of R1 and R2 elements also exhibit low levels of sequence variation [21]. Surprisingly, divergent lineages of R1 or R2 are frequently found in a species, which cannot be explained by horizontal transfers between species [22]. This suggests that divergent lineages of elements must be able to form within a species.
The rDNA locus is not assembled as part of genome projects because of the highly repetitive nature of the rDNA locus. Thus, in this report we used the original sequencing reads generated from the 12 Drosophila genomes project [23] to address specific questions concerning the evolution and mechanism of integration of R1 and R2 elements. Can different lineages of R1 and R2 arise within a species despite concerted evolution maintaining sequence homogeneity among the rRNA genes? What is the location of second-strand DNA cleavage? How is this site used to prime second-strand synthesis in the retrotransposition reaction?
Results and discussion
The phylogenetic relationships among the 12
Drosophila
species used in this report are shown in Figure
2a
. This phylogeny, based on the complete sequences of the18S and 28S genes, is consistent with the species relationships obtained with many other gene sequences [
23
]. In eight of the
Drosophila
species a complete R2 element could be assembled (Figure
2b
; Additional data files 1, 2, 3, 4, 5, 6, 7 and 8). The structure of these elements conformed to previously identified R2 elements [
24
] and dN/dS analysis indicated that the assembled R2 elements had undergone purifying selection (mean dN/dS = 0.24 with a standard deviation of 0.321). In a ninth species,
D. mojavensis
, R2 sequences were identified but too few copies existed to assemble a complete sequence. R2 elements have been previously documented in several species groups of the
Drosophila
subgenus [
25
]; however, our failure to detect R2 sequences in
D. virilis
and
D. grimshawi
suggests R2 elements are frequently lost from this subgenus. The only example of R2 loss in the Sophophora subgenus,
D. erecta
, had been previously noted [
26
].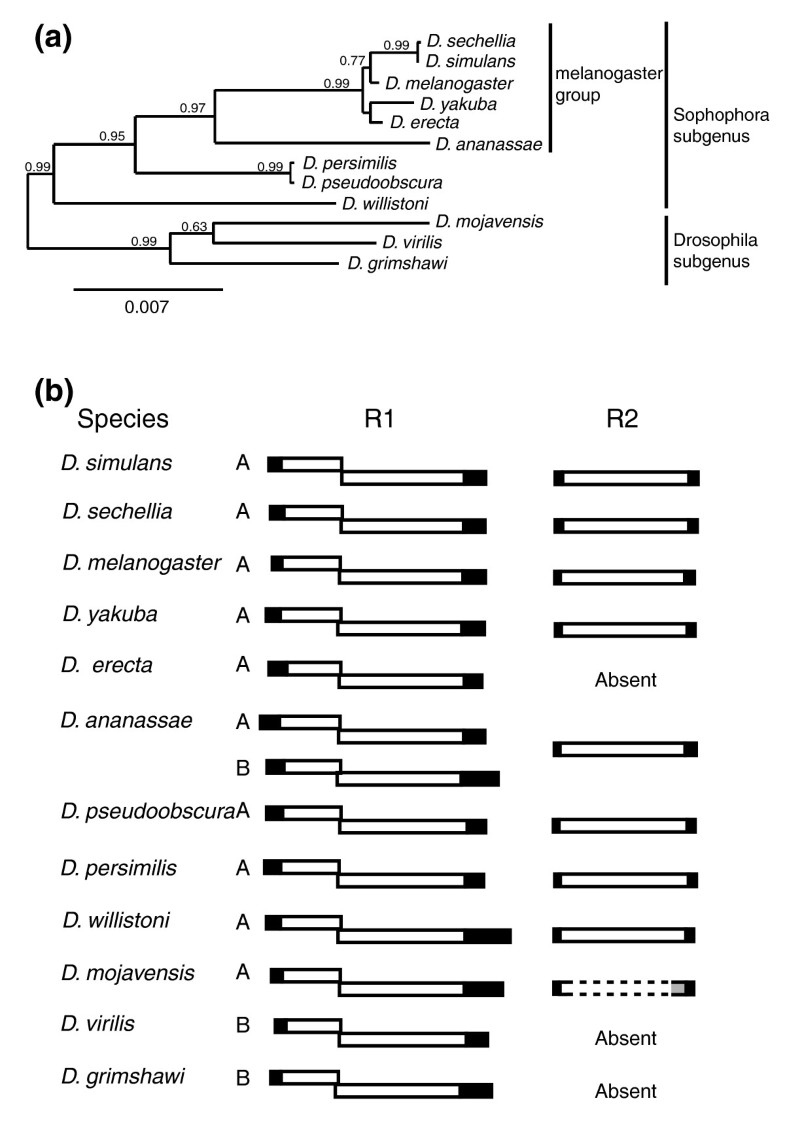 We also searched in all species for R2 copies that might be present outside the rDNA locus. We found no extra-rDNA R2 copies in D. melanogaster, as previously reported [27], or in D. ananassae or D. persimilis. D. pseudoobscura, D. sechellia, D. simulans, D. willistoni, and D. yakuba each had R2 copies not inserted in a 28S gene. These copies were frequently incomplete and all contained sequences that were from 1% to 2% divergent from those R2 copies within the rDNA locus. Thus, these non-rDNA copies of R2 could not have given rise to the current populations of R2 insertions in the rDNA locus. Finally, in D. simulans a fusion of the 5' end of an R1 element with the 3' end of an R2 element was identified as a tandem array outside the rDNA locus.
Complete R1 elements were assembled in all 12 sequenced genomes (Figure 2b; Additional data files 9, 10, 11, 12, 13, 14, 15, 16, 17, 18, 19, 20 and 21). The coding capacity of all R1 ORFs was consistent with previously characterized R1 elements [24]. A test of selection by dN/dS analysis indicated that the assembled R1 elements had undergone purifying selection (R1A, mean dN/dS = 0.30 with standard deviation of 0.376; R1B, mean dN/dS = 0.27 with standard deviation of 0.348). Previous analyses of R1 elements in Drosophila have suggested there are two distinct lineages of elements, A and B, that separated well before the origin of this genus and are differentially retained in the various species lineages [28]. Eleven of the sequenced Drosophila species contained a single R1 family of either the R1A or R1B lineage, while D. ananassae contained both lineages (Figure 2b). The only consistent difference in structure between the two lineages was that the two ORFs in the R1A lineage overlapped by 7 bp with a corresponding frame shift of -2, while the ORFs in the R1B lineage had a frameshift of -1 and overlapped from 14 bp in D. ananassae to 59 bp in D. grimshawi. As will be described below, in most species multiple examples were also identified of R1 insertions in non-28S gene locations.
Conclusions
Origin of nascent lineages
The availability of whole genome shotgun sequences has enabled us to evaluate the level of sequence variation of the R1 and R2 elements in 12 species of Drosophila. The level of nucleotide divergence for most copies was typically less than 0.2%, suggesting either the elements are subject to the same concerted evolution mechanisms that enable the rRNA genes themselves to remain nearly identical, or that the R1 and R2 elements are gained and lost rapidly from the locus (that is, all copies are recent insertions). All previous analysis suggested the latter explanation. Analyses of the 5' truncated copies of R1 and R2 in several species have suggested that these elements do turnover rapidly. Different animals from the same population were found to have different collections of 5' truncated copies [44, 45] and most 5' truncated elements within an animal had not undergone duplication by recombination [46, 47]. Thus, the individual copies of R1 and R2 do not appear to remain in the rDNA locus for long enough periods to be substantially influenced by the recombinations leading to the concerted evolution of the locus.
One puzzling aspect concerning the evolution of R1 and R2 was the presence of multiple families in some species, yet no evidence for the origin of these lineages by horizontal transfer [28, 48]. The rapid turnover of individual R1 and R2 elements suggests that each active copy can generate its own lineage, which over time should accumulate sequence variation. Thus, while separate lineages of R1 and R2 should be able to arise, the question remained as to whether they could be maintained within a species. In this report we have for the first time detected these nascent lineages of R1 and R2 elements within a species. Two distinct subfamilies of R1B elements were detected in D. grimshawi and two distinct subfamilies of R2 elements in D. willistoni (Figure 4). In addition to these distinct lineages, other species contained individual copies of R1 or R2 that had from 1% to 7% nucleotide divergence from the majority of elements in the species. Many of these divergent copies had intact ORFs, and thus were potentially active. Another frequent finding was the presence of distinct 5' UTRs for the R1 elements (Table 1). This was most widespread in D. ananassae where the R1A elements could be divided into two groups that diverged 10% in their 5' UTR sequences, while the R1B elements could be divided into four groups with 5' UTRs that diverged from 15% to 22%. We suggest this accelerated divergence of the 5' UTRs represents the evolution of new promoter sequences driving the transcription of the elements. Once a new promoter is formed, copies containing this new promoter may differ in their expression, thus giving rise to new lineages of elements.
Similar examples of the rapid evolution of the 5' UTRs of R2s were not detected. We have previously suggested that R2 elements do not contain their own promoter but are co-transcribed with the 28S gene [32, 33]. This co-transcription may make it more difficult for independent R2 lineages to evolve. A single lineage of R2 elements has been found in the Drosophila genus [25], while four distinct lineages of Drosophila R1 elements exist [28]. It is also possible that the more frequent loss of R2 from a Drosophila species (3 out of 12 species) compared to R1 (no losses among the 12 species) could also be the result of R2's reliance upon co-transcription with the rDNA units in which they reside.
Second-strand DNA synthesis
Many of the initial steps involved in the cleavage of the target site bottom strand and its use to prime reverse transcription have been characterized using purified R2 protein in vitro [10, 38, 49]. The recent discoveries that sequences near the 5' end of the RNA transcript regulate top-strand cleavage [11], and that the R2 polymerase can efficiently displace an RNA strand while using a DNA strand as template [50], suggest that the R2 protein also synthesizes the second DNA strand. However, many questions remain concerning whether and how top-strand cleavage of the target DNA is used to prime second-strand synthesis.
Because of an unusual template jumping ability of the R2 polymerase [39], we previously suggested that during reverse transcription the R2 polymerase jumps from the R2 transcript onto the upstream DNA target sequences [5, 36, 37]. The hundreds of R2 5' junctions analyzed here suggest a different model. In Drosophila we propose that the 5' ends of the R2 RNA transcripts contain terminal G residues that, after reverse transcription and top-strand cleavage, enable the terminal C residues to anneal to the G residues of the top DNA strand after cleavage (Figure 5c). This model would explain the most common full-length R2 insertions in all Drosophila species. Similarly, microhomologies between internal R2 sequences and the upstream 28S gene sequences can explain the priming of second-strand DNA synthesis in many 5' truncated R2 insertions. When annealing of microhomologies does not occur, non-templated residues can be observed that were either added during first-strand synthesis when the R2 polymerase runs off an RNA template [39] or during second-strand synthesis before the R2 polymerase engages the cDNA [38].
The only aspect of this integration model that does not agree with previous biochemical studies is the location of the top-strand cleavage site. The experiments using the B. mori R2 protein suggested this cleavage was two nucleotides upstream of the bottom-strand site [10] while our analysis of Drosophila R2 junctions suggest it is opposite the bottom-strand site (Figure 5c). We suggest this represents an evolved difference between the R2 elements in these divergent insects. We have analyzed the 5' junctions of over 40 B. mori R2 insertions and found their structure is consistent with the location of top-strand cleavage determined with the purified protein [37]. We suggest that cleavage of the top strand by the R2 endonuclease is not rigidly determined, and thus its location can vary.
Much less was previously known about the R1 retrotransposition mechanism. In vitro studies of the R1 endonuclease, again from B. mori, revealed a bottom-strand cleavage site in a position consistent with its use to prime reverse transcription [12, 13]. All Drosophila R1 3' junctions, as well as 3' junctions in other insect species [19], are consistent with this cleavage site. As in the case of R2, the R1 5' junctions suggest cleavage of the top strand is less precise and subject to evolutionary changes. For many Drosophila R1 insertions top-strand cleavage was proposed to be at a site 14 bp downstream of the bottom strand, again consistent with the biochemical studies. Use of this site to prime second-strand synthesis results in a 14 bp TSD. Minor changes in this cleavage location were found in D. ananassae, where the R1B insertions have 11 or 13 bp TSDs, and in D. willistoni, where some ancestral type R1A insertions have an 8 bp TSD. Annealing of cDNA sequences to the upstream target site presumably does not occur as significant nucleotide variation is observed at the junctions.
A radical change in top-strand cleavage site preference is proposed for the R1A elements of the melanogaster species group. In these species, many R1 insertions result in a 9 bp target site deletion, suggesting cleavage frequently occurs 9 bp upstream of the bottom-strand site (Figure 10). Associated with this remarkable change in cleavage site preference also appears to be a change in the nature of the R1 RNA transcript used for retrotransposition. Based on the structure of the ISR full-length insertions and of non-28S insertions, these melanogaster-type R1 transcripts contain from 6 to 27 nucleotides of 28S sequence ending 9 bp upstream of the integration site. These upstream 28S sequences on full length R1 transcripts appear to anneal to the target site, giving rise to highly precise 5' junctions. Interestingly, these melanogaster-type R1s retain the ability to cleave downstream of the integration site, resulting in the ISRs seen in some full-length insertions and the TSDs observed for all 5' truncated insertions. Because annealing of the upstream 28S sequences is not possible with these downstream cleavage sites, significant variation is observed at these junctions. We searched for evidence of these additional 28S sequence tags among available expressed sequence tag sequences from D. melanogaster. However, all R1 sequences contained extensive upstream 28S sequences or were transcripts of R1 tandem arrays (data not shown).
Thus, the integration mechanisms used by the R1 and R2 elements are quite similar. Cleavage of the bottom strand and its use to prime first-strand DNA synthesis is rigidly determined, and no variation was observed between species. Cleavage of the top strand and its use to prime second-strand synthesis is flexible, which results in different junctions both within and between species. R1 and R2 are highly successful in the 28S niche. Whether change in the location of top-strand cleavage occurs simply because it is neutral or because it increases insertion efficiency is unclear. Nevertheless, the ability of R1 and R2 to explore the top-strand cleavage site suggests that variations of the retrotransposition mechanism can evolve among arthropods that could affect both the elements and the rDNA loci in which they reside.
Additional data files
The following additional data are available with the online version of this paper. Each file contains the consensus nucleotide sequence for an R1 or R2 element: Drosophila ananassae R2 (Additional data file 1); Drosophila melanogaster R2 (Additional data file 2); Drosophila persimilis R2 (Additional data file 3); Drosophila pseudoobscura R2 (Additional data file 4); Drosophila sechellia R2 (Additional data file 5); Drosophila simulans R2 (Additional data file 6); Drosophila willistoni R2.1 (Additional data file 7); Drosophila yakuba R2 (Additional data file 8); Drosophila ananassae R1A (Additional data file 9); Drosophila ananassae R1B (Additional data file 10); Drosophila erecta R1 (Additional data file 11); Drosophila grimshawi R1.1 (Additional data file 12); Drosophila mojavensis R1 (Additional data file 13); Drosophila melanogaster R1 (Additional data file 14); Drosophila persimilis R1 (Additional data file 15); Drosophila pseudoobscura R1 (Additional data file 16); Drosophila sechellia R1 (Additional data file 17); Drosophila simulans R1 (Additional data file 18); Drosophila virilis R1 (Additional data file 19); Drosophila willistoni R1 (Additional data file 20); Drosophila yakuba R1 (Additional data file 21); Drosophila grimshawi R1.2 (Additional data file 22); Drosophila willistoni R2.2 (Additional data file 23).
Abbreviations
ISR:

insertion site rearrangement
ITS:

internal transcribed spacer
LTR:

long terminal repeat
ORF:

open reading frame
rDNA loci:

loci encoding the tandem array of rRNA genes
TE:

transposable element
TPRT:

target primed reverse transcription
TSD:

target site duplication
UTR:

untranslated region.
Declarations
Acknowledgements
We thank Danna Eickbush for comments on the manuscript. This research was funded by National Science Foundation grant (MCB-0544071) and National Institutes of Health grant (GM42790).
Authors' Affiliations
(1)
Biology Department, University of Rochester, Rochester, USA
Copyright
© Stage and Eickbush; licensee BioMed Central Ltd. 2009
This article is published under license to BioMed Central Ltd. This is an open access article distributed under the terms of the Creative Commons Attribution License (http://creativecommons.org/licenses/by/2.0), which permits unrestricted use, distribution, and reproduction in any medium, provided the original work is properly cited.