Malaria sporozoite proteome leaves a trail
Every year, malaria causes an estimated 250-500 million clinical cases worldwide, resulting in nearly a million deaths. Despite growing awareness and substantial public-health efforts aimed at reducing the global malaria burden, more than a billion people remain at risk of contracting the disease, and control remains elusive: there is currently no licensed vaccine, and resistance has developed to nearly all available antimalarial drugs [1]. A study published recently by Lasonder and colleagues in PLoS Pathogens [2] applies a proteomics-based reverse genetics approach to identify proteins expressed specifically in the stages that immediately precede human infection, resulting in the identification of new candidates for drugs and vaccines that might prevent infection by Plasmodium falciparum.
Malaria is caused by
Plasmodium
parasites, which have a complex life cycle (Figure
1
). Sexual parasite forms, or gametocytes, that are generated at low frequency during the blood stage are taken up in a mosquito bloodmeal. Gamete fertilization occurs in the mosquito midgut, and the resulting zygote develops into an ookinete, which penetrates the wall of the midgut and becomes an oocyst. The parasite then reproduces asexually within this membrane-bound form, generating thousands of oocyst-derived sporozoites (ODS). These are released into the mosquito hemocoel upon rupture of the oocyst, and subsequently invade the salivary glands. When the infected mosquito bites a new mammalian host, salivary gland sporozoites (SGS) are injected, which migrate from the skin into blood vessels and then circulate to the liver. Hepatocyte invasion initiates the liver stage. Extensive differentiation and multiplication ensues, with each liver-stage parasite yielding tens of thousands of merozoites.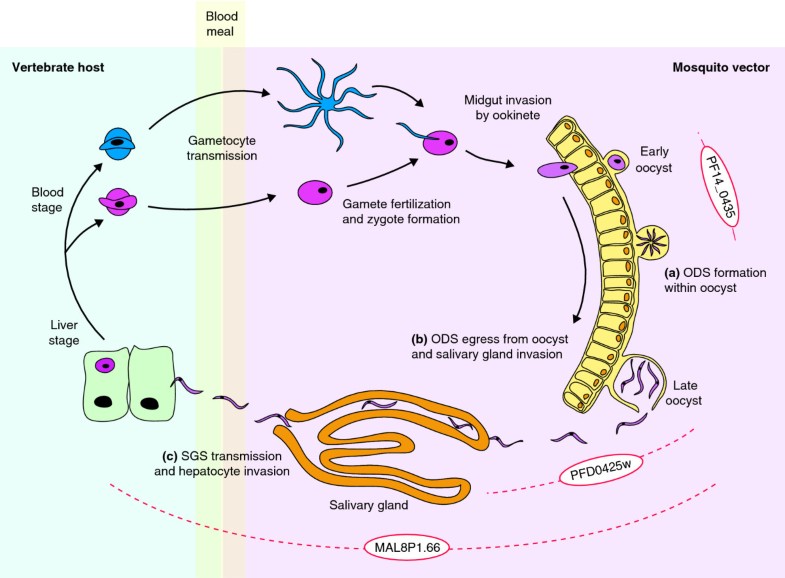 Asexual reproduction then occurs within erythrocytes, leading to the clinical symptoms that occur during the blood stage of the disease. When these cells rupture, new waves of merozoites are released into the human bloodstream to invade fresh erythrocytes.
In recent years, high-throughput approaches to identifying novel drug and vaccine targets have been made possible by genome sequencing of Plasmodium species. The genomes of P. falciparum, the deadliest human parasite [3], and that of a model rodent species, P. yoelii [4], were published in 2002. These were followed by the genomes of rodent species P. berghei and P. chabaudi in 2005 [5], and those of P. vivax and P. knowlesi, two other species that infect humans, in 2008 [6, 7]. These studies subsequently enabled several transcriptome and proteome analyses (reviewed in [8]). Most of these efforts were focused on P. falciparum blood-stage parasites that can be cultured in vitro, and on rodent parasite model species. Because of technical difficulties in working with liver-stage forms, our knowledge of the genes and proteins expressed during this stage is less complete. However, intervention strategies aimed at pre-erythrocytic stages (sporozoite and liver-stage parasites) are considered promising because of the low number of parasites transmitted by the mosquito [9] and the fact that sterile immunity against the pre-erythrocytic forms of both human and rodent parasites can be induced by immunization with attenuated parasites [10, 11]. A better understanding of mosquito and liver-stage parasites is necessary to develop and improve on pre-erythrocytic stage interventions. Functional genomic studies such as those by Lasonder et al. [2] will further our knowledge of this important period of malaria pathogenesis.
(1)
Malaria Program, Seattle Biomedical Research Institute, Seattle, Washington 98109, USA
(2)
Department of Global Health, University of Washington, Seattle, Washington 98195, USA
© BioMed Central Ltd 2009