Cytokinin and auxin intersection in root meristems
Published: 23 February 2009
In plants, populations of undifferentiated cells called meristems serve as the source of all new growth throughout post-embryonic development. Meristem size, or the number of undifferentiated cells in the meristem, is maintained by balancing stem-cell replenishment (through cell division) with cell differentiation and elongation to form new tissues and organs. In the Arabidopsis root, meristem maintenance is controlled by the small-molecule hormones auxin and cytokinin, which affect cell division and cell elongation. Although auxin and cytokinin have long been known to interact during development, the molecular mechanisms of these interactions have been elusive. In a recent issue of Science, Sabrina Sabatini and colleagues (Dello Ioio et al. [1]) have elucidated a simple molecular mechanism by which cytokinin regulates meristem size in the Arabidopsis root by antagonizing auxin signaling in the transition zone, the region where cells leave the meristem to differentiate and elongate.
Auxin and cytokinin have contrasting roles in root meristems. Auxin is required for meristem cell division: application of exogenous auxin increases root meristem size, for example, whereas cytokinin reduces it [
2
,
3
]. Basipetal transport and lateral distribution of auxin are required for stem-cell replenishment, as plants carrying mutations in three members of the
PIN-FORMED
(
PIN
) family of auxin-efflux carrier proteins have reduced meristem size [
4
]. In previous work, Sabatini and colleagues [
3
] had shown that endogenous cytokinin is required to control stem-cell division, as plants defective in cytokinin biosynthesis had expanded meristems. This phenotype is also observed in plants with mutations in
ARABIDOPSIS HISTIDINE KINASE3
(
AHK3
), which encodes a cytokinin receptor, or
ARABIDOPSIS RESPONSE REGULATOR1
(
ARR1
) or
ARABIDOPSIS RESPONSE REGULATOR12
(
ARR12
), B-type response regulators that encode transcription factors that specifically activate 'cytokinin-responsive' genes [
5
] (Figure
1a
). Together with other studies depleting cytokinin in the root transition zone [
6
], this suggested that cytokinin controls meristem size by acting through the
AHK3/ARR1
,
ARR12
pathway to attenuate auxin-dependent stem-cell division in the root meristem.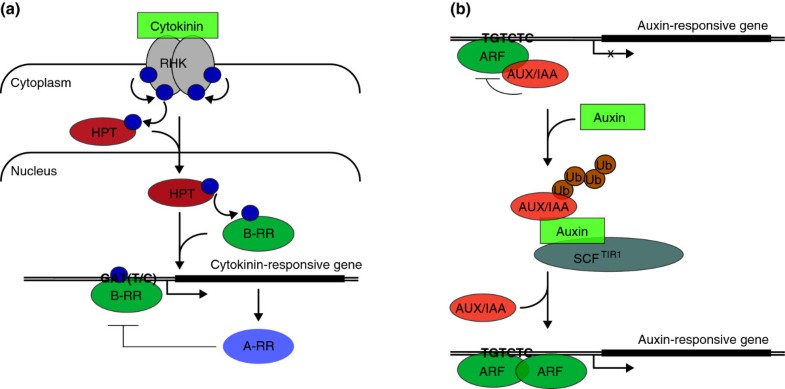 (1)
Division of Biology, 9500 Gilman Drive, La Jolla, CA 92093-0116, USA
© BioMed Central Ltd 2009