Construction of a high-resolution genetic linkage map and comparative genome analysis for the reef-building coral Acropora millepora
Genome Biology
2009
10:R126
Received: 30 July 2009
Accepted: 10 November 2009
Published: 10 November 2009
Abstract
Background
Worldwide, coral reefs are in decline due to a range of anthropogenic disturbances, and are now also under threat from global climate change. Virtually nothing is currently known about the genetic factors that might determine whether corals adapt to the changing climate or continue to decline. Quantitative genetics studies aiming to identify the adaptively important genomic loci will require a high-resolution genetic linkage map. The phylogenetic position of corals also suggests important applications for a coral genetic map in studies of ancestral metazoan genome architecture.
Results
We constructed a high-resolution genetic linkage map for the reef-building coral Acropora millepora, the first genetic map reported for any coral, or any non-Bilaterian animal. More than 500 single nucleotide polymorphism (SNP) markers were developed, most of which are transferable in populations from Orpheus Island and Great Keppel Island. The map contains 429 markers (393 gene-based SNPs and 36 microsatellites) distributed in 14 linkage groups, and spans 1,493 cM with an average marker interval of 3.4 cM. Sex differences in recombination were observed in a few linkage groups, which may be caused by haploid selection. Comparison of the coral map with other metazoan genomes (human, nematode, fly, anemone and placozoan) revealed synteny regions.
Conclusions
Our study develops a framework that will be essential for future studies of adaptation in coral and it also provides an important resource for future genome sequence assembly and for comparative genomics studies on the evolution of metazoan genome structure.
Keywords
Linkage Group
Additional Data File
Single Nucleotide Polymorphism Marker
Single Nucleotide Polymorphism Genotyping
Synteny Block
Background
Although substantial effort is being devoted to understand physiological mechanisms of coral stress tolerance and acclimation [1–3], virtually nothing is currently known about the mechanisms that might enable their adaptation to the changing climate over generations. We have recently demonstrated that the coral Acropora millepora shows considerable genetically determined variation in thermal tolerance and responsiveness of the larvae to the settlement cue, which may be the raw evolutionary material for future local thermal adaptation or modification of the larval dispersal strategy in response to ongoing climate change [4]. A high-resolution genetic linkage map would enable identification of the quantitative trait loci (QTLs) associated with these and other adaptation-relevant physiological traits [5, 6]. To date, however, no genetic map has been constructed for any coral species, mainly due to lack of genetic resources for most corals.
The coral A. millepora, like the majority of hermatypic (algal symbiont-hosting) corals of the order Scleractinia, is a diploid hermaphrodite with 2n = 28 chromosomes [7]. A. millepora is common across the Indo-Pacific. As a representative of the most speciose and ecologically important coral genus Acropora, A. millepora is becoming the leading coral model in terms of molecular groundwork. Currently, 50 microsatellite markers are available for this species [8, 9]. Although these markers are obviously not enough for linkage mapping, they are already the largest marker collection available for any reef-building coral. Single nucleotide polymorphisms (SNPs) are the most abundant type of genetic variation in eukaryotic genomes, and are the preferred genetic markers for a variety of applications such as high-resolution linkage mapping, QTL mapping of complex traits, and for combining these results with population genomics, which is arguably the most powerful way of detecting and understanding the process of natural adaptation [10]. Previously, our group has released a large body of sequence data for A. millepora obtained by 454 sequencing of the larval transcriptome [11]. More than 33,000 putative SNPs have been identified in these data. Since the detected SNPs reside in or immediately next to the protein-coding sequences ('gene-based SNPs'), they are particularly useful for QTL mapping and population genomics studies because they have the potential for quickly identifying causal genes underlying complex traits [12, 13].
A genetic linkage map, especially gene-based, is also an excellent platform for comparative genome studies. Recent comparative genome analyses based on genetic maps have already provided new insights into genome organization, evolution, and function across different organisms [14–20]. For example, comparison of the Caenorhabditis briggsae genetic map and the Caenorhabditis elegans genome reveals extensive conservation of chromosome organization and synteny despite a very long divergence time (80 to 110 million years), suggesting that natural selection operates at the level of chromosomal organization [14]. In another study, a genetic linkage map of the blind Mexican cavefish Astyanax mexicanus has been successfully applied to predict candidate quantitative trait genes relating to rib number and eye size by anchoring cavefish QTLs to the zebrafish genome [16]. The phylum Cnidaria is the sister group of the Bilateria. Anthozoan cnidarians such as corals are phylogenetically basal in the phylum Cnidaria, and have proven to be particularly informative for understanding the evolution of metazoan genetic and developmental complexity [21, 22]. Identification of conserved synteny blocks across coral and other metazoan genomes would help to unravel ancestral metazoan genome architecture.
Here, we report the first high-resolution genetic linkage map for a reef-building coral, Acropora millepora, which was constructed based on a family of larvae from a cross between two naturally heterozygous coral individuals from Magnetic Island, Australia (an outbred full-sib cross design). An investigation of SNP transferability was carried out in two more populations. Sex differences in recombination were observed in the coral linkage map. Comparison of the coral map with other metazoan genomes (human, nematode, fly, anemone and placozoan) was conducted to identify syntenic regions. This coral genetic map should lay a solid foundation for a variety of future genetic and genomic studies such as QTL mapping of adaptive traits, population genomics, comparative genomics, and assembly of the coral genome.
Results
SNP marker development
For SNP marker development, we designed PCR primers for 1,033 candidate SNPs, which were previously identified in the A. millepora larval transcriptome by 454-FLX sequencing [11]. After PCR amplification, 603 produced single strong bands with expected sizes, of which 427 SNPs were heterozygous in at least one parent of the mapping family, 91 were homozygous in both parents but for two different alleles, and 85 showed no genetic variations in two parents. Although we restricted the expected amplicon length to about 100 bp in primer design, 208 primer pairs still produced single strong bands but of larger than expected sizes, indicating potential introns in the vicinity of the SNPs. Longer amplicons greatly diminish the precision of high-resolution melting (HRM) SNP analysis, so most of these intron-containing amplicons were discarded. Only four SNP markers developed based on intron sequences were included in this study. The remaining 222 attempted SNP assays resulted in poor amplification (very little or no product) or bad melting curves, suggesting non-specific amplification.
In order to evaluate the transferability of our markers in other populations of A. millepora, we randomly selected 48 SNP markers to test their applicability on 7 colonies from 2 Australian Great Barrier Reef locations, Orpheus Island (n = 4) and Great Keppel Island (n = 3), which are 80 km and 570 km away from Magnetic Island, respectively. All the 48 SNP markers could be successfully amplified in the assayed samples. Notably, 36 (75%) and 31 (65%) of them were still polymorphic in the Orpheus Island and Great Keppel Island populations, respectively, despite the fact that only a few individuals were assayed.
Linkage mapping
Linkage analysis was carried out using JoinMap 4.0 software [23]. In total, 469 markers (431 SNPs and 38 microsatellites) were heterozygous in at least one parent of the mapping family, and were therefore included in the linkage analysis. Segregation analysis showed that 380 markers conform to the expected Mendelian ratios at P ≥ 0.05 level. More than half of the distorted markers depart only slightly from expected Mendelian ratios (0.01 <P < 0.05).
At the initial logarithm of the odds (LOD) threshold of 4.5, 293 markers were grouped into 14 linkage groups, which corresponds to the known haploid chromosome number for this species. Then 124 markers were added to the established groups at LOD = 3, and 14 additional markers were added at LOD = 2.5. After data partitioning by the Joinmap 4.0 program, the maternal (1:1 female type) and paternal (1:1 male type) datasets contained 167 and 155 markers, respectively, which were subsequently used for constructing sex-specific maps based on the two-way pseudo-testcross strategy [
24
]. The female map contains 152 markers and spans 1,185.8 cM, while the male map contains 149 markers and spans 945.4 cM (Figures
1
,
2
,
3
and
4
). The female map is 240.4 cM (30%) longer than the male map, even discounting L8 and L14 where recombination information is missing for one parent. Large differences between recombination rates in the male and female parents were observed for linkage groups L4, L5, L6, L10 and L11 (Table
1
). Notably, we found that the polymorphism level revealed by markers in L8 was significantly lower than the average in the male parent (chi-square test,
P
< 0.0001). More interestingly, we found that more than half of the annotated genes in this linkage group were putatively involved in sexual reproduction (Table
2
).
Table 1
Summary of the coral genetic linkage map
| Linkage group | Number of markers | Length (cM) | Average marker interval (cM) | Length in female map (cM) | Length in male map (cM) | Ratio of female/male recombination rate |
| --- | --- | --- | --- | --- | --- | --- |
| 1 | 59 | 94.7 | 1.6 | 96.5 | 98.9 | 1.0 |
| 2 | 57 | 114.0 | 2.0 | 110.3 | 104.8 | 1.1 |
| 3 | 46 | 112.3 | 2.5 | 94.2 | 85.7 | 1.1 |
| 4 | 44 | 141.0 | 3.3 | 141.1 | 70.6 | 2.0 |
| 5 | 34 | 118.2 | 3.6 | 122.4 | 56.7 | 2.2 |
| 6 | 34 | 161.5 | 4.9 | 142.8 | 100.3 | 1.4 |
| 7 | 28 | 100.3 | 3.7 | 81.1 | 74.6 | 1.1 |
| 8 | 27 | 101.1 | 3.9 | 99.8 | NA | NA |
| 9 | 21 | 84.6 | 4.2 | 68.0 | 65.7 | 1.0 |
| 10 | 18 | 89.4 | 5.3 | 60.2 | 39.7 | 1.5 |
| 11 | 18 | 67.0 | 3.9 | 62.1 | 45.0 | 1.4 |
| 12 | 17 | 66.0 | 4.1 | 58.5 | 55.1 | 1.1 |
| 13 | 14 | 46.0 | 3.5 | 48.8 | 48.5 | 1.0 |
| 14 | 12 | 95.2 | 8.7 | NA* | 99.8 | NA |
| All | 429 | 1,391.0 | 3.4 | 1,185.8 | 945.4 | 1.3 |
Table 2
A list of genes from linkage group 8 that are putatively involved in sexual reproduction
| Marker | Position (cM) | Gene name | Biological process | Reference |
| --- | --- | --- | --- | --- |
| C2348S700 | 0 | Tubulin-specific chaperone A (TBCA) | Spermatogenesis | [94] |
| C20407S208 | 20.6 | Death-associated protein kinase 3 (Dapk3) | Spermatogenesis | [95] |
| C19470S311 | 23.3 | RNA-binding protein MEX3C (Mex3c) | Regulation of germ cell mitosis | [96] |
| C16549S511 | 24.5 | Myosin-13 (MYH13) | Oogenesis | [97] |
| C21253S536 | 46.4 | Zinc finger RNA-binding protein (ZFR) | Meiosis I | [98] |
| C12216S415 | 49.9 | Translocon-associated protein subunit beta (Ssr2) | Spermatogenesis | [99] |
| C43885S203 | 52.9 | Chromodomain-helicase-DNA-binding protein 1 (CHD1) | Gametogenesis | [100] |
| C12479S421 | 62.2 | Putative tyrosinase-like protein tyr-1 (tyr-1) | Spermatogenesis | [101] |
| C6250S141 | 68.1 | Zinc finger CCHC domain-containing protein 9 (ZCCHC9) | Spermatogenesis | [102] |
| C15011S233 | 73.0 | Serine protease 23 (PRSS23) | Ovary remodeling | [103] |
| C25187S178 | 76.8 | SNARE-associated protein Snapin (Snapin) | Spermatogenesis | [104] |
| C63883S448 | 101.1 | WD repeat-containing protein 47 (Wdr47) | Spermatogenesis | [101] |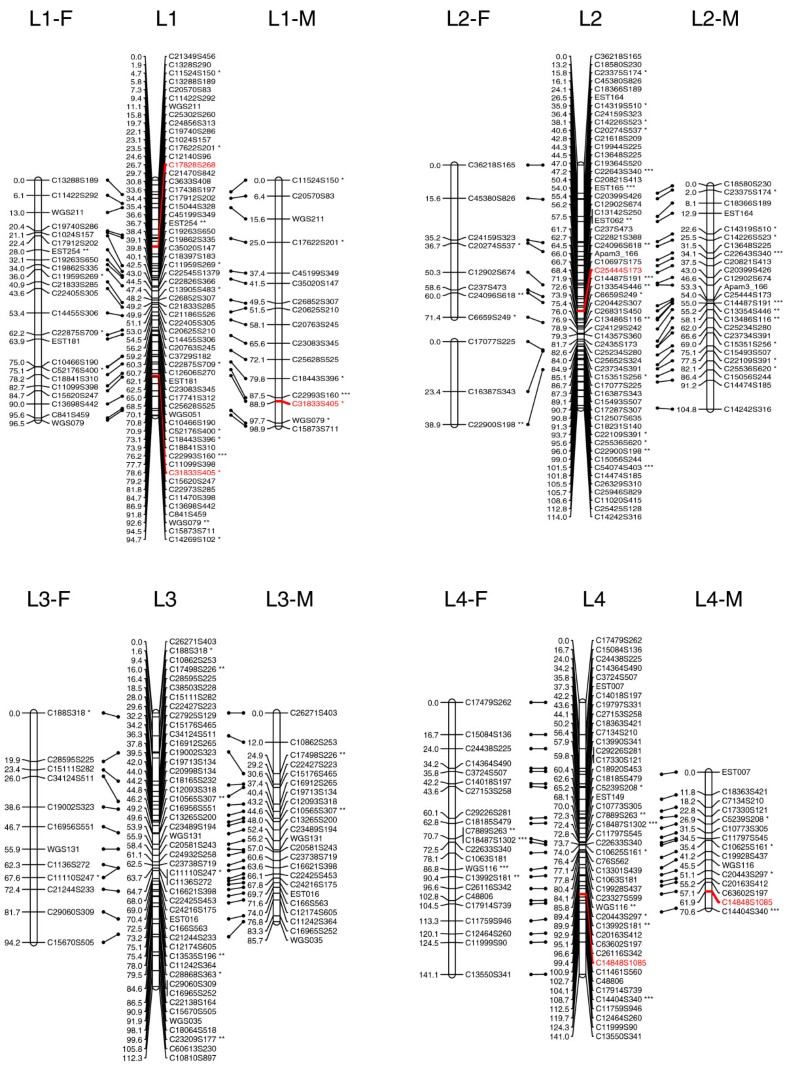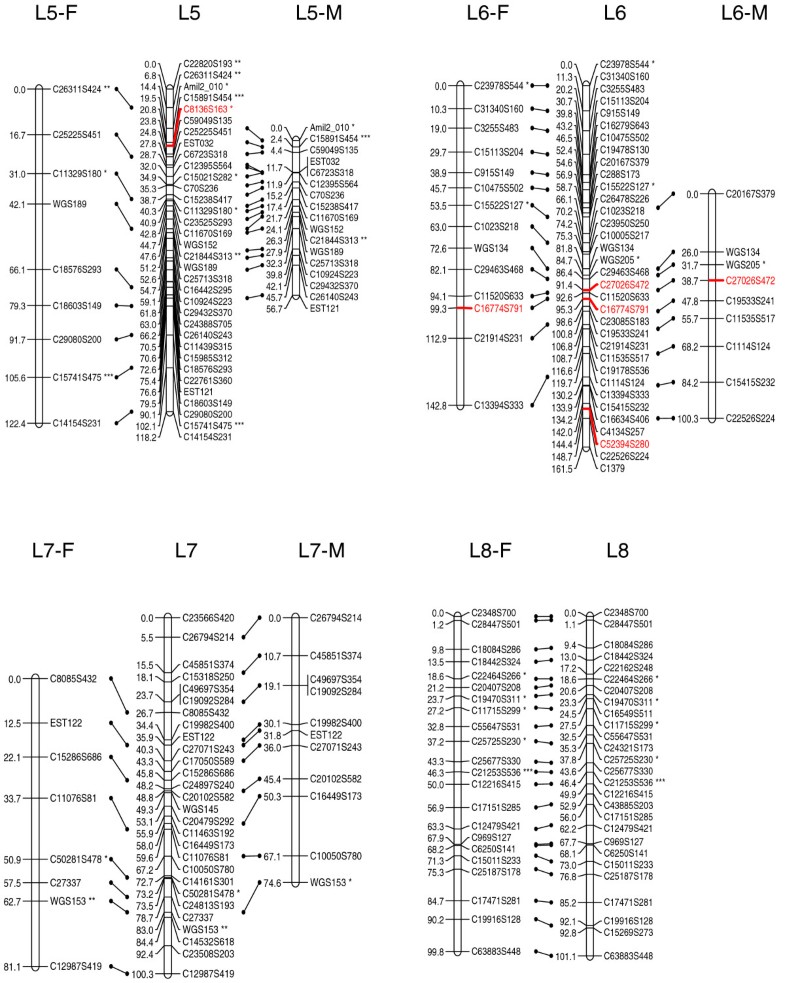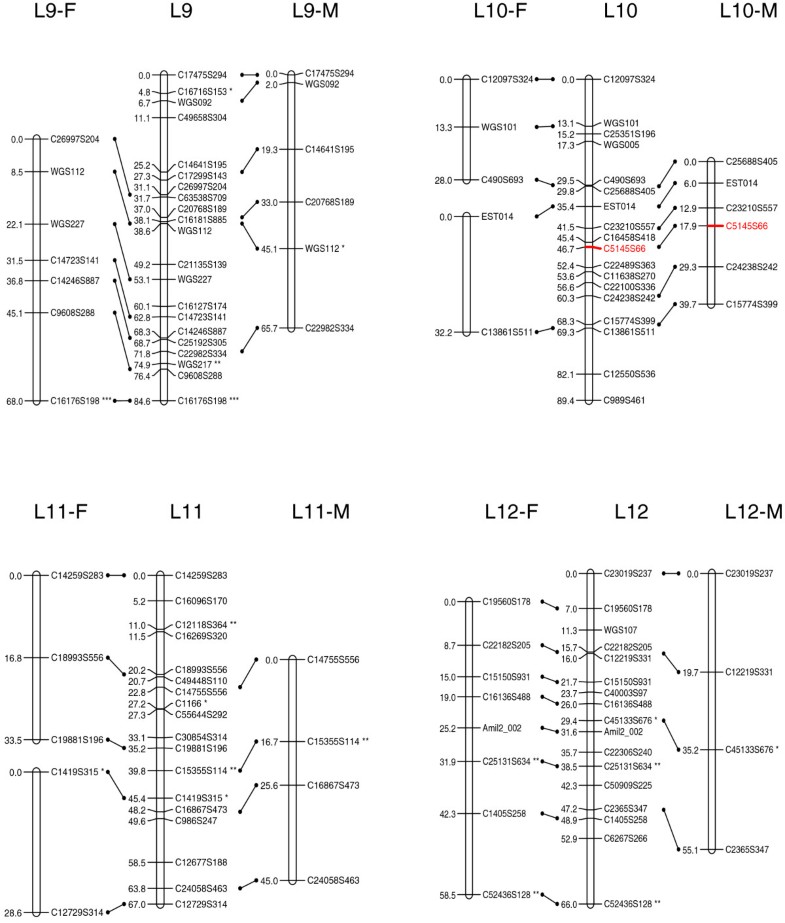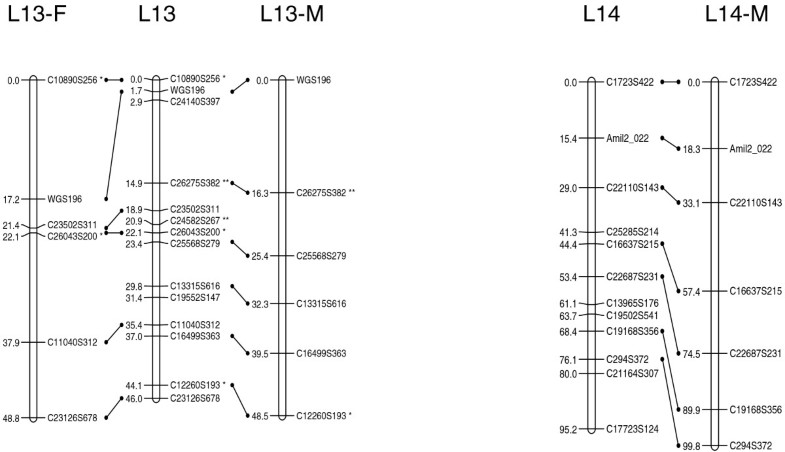 The consensus map contains 429 markers (393 SNPs and 36 microsatellites) in 14 linkage groups (Figures 1, 2, 3 and 4), and spans 1,391 cM with an average marker interval of 3.4 cM. The length of each linkage group ranges from 46 cM to 161.5 cM. Marker density varies dramatically across linkage groups (Table 1). For example, both L1 and L14 are approximately 95 cM in length, but L1 contains 59 markers whereas L14 contains only 12 markers. Nine putative stress-related genes were identified in the consensus map (Figures 1, 2 and 3; EM and MVM, unpublished) [25, 26]. These genes are involved in cytoskeleton formation, heat shock, oxidative stress, protein degradation, and vesicular transport.
Genome lengths estimated by two different methods [27, 28] are similar at 1,484.8 cM (Ge1) and 1,501.9 cM (Ge2), respectively. The average of two estimates was taken as the expected genome length - 1493.4 cM. Given an estimated genome size of 200 Mbp for A. millepora [1], the average recombination rate across all linkage groups is approximately 7.5 cM/Mbp. The genome coverage of the current map was estimated as 93.1%.
Comparative genome analysis
Comparison of the markers mapped in this study with the previously annotated coral larval transcriptome [11] allowed the assignment of nearly all markers (97%) to longer cDNA sequences, which included all markers derived from 454 transcriptome sequences. Of the 416 sequences so identified, 286 (69%) corresponded to known genes based on the previously described transcriptome annotation [11]; 280 genes mapped by this process were each associated with a single marker, with 6 genes containing two markers each. The accession numbers, gene annotation, and synteny information for all mapped markers are shown in Additional data file 1.
Comparison of the mapped sequences with assembled genomes from other metazoans identified putative homologs for between 48% (nematode) and 80% (sea anemone) of the mapped coral genes, and a similar comparison with the yeast genome identified putative homologs for 29% of mapped coral genes. These pairs of putative homologs allowed for comparison of the coral genetic map with assembled genome sequences of other metazoans, identifying conserved synteny blocks in 11 of the 14 coral linkage groups, each of which contained from 3 to 12 markers. The largest synteny block conserved between coral and another metazoan was found in linkage group 4, with 12 markers spanning 69 cM in the coral linkage group and their best matches spanning 5 Mb in scaffold 5 of the
Trichoplax adhaerens
genome (Figure
5
). An overlapping set of markers within this same linkage group also showed conserved synteny with the anemone
Nematostella vectensis
(Figure
5
). Synteny blocks were identified in each of the metazoan comparisons; each comparison identified 4 to 13 blocks, with each block containing 3 to 12 markers (Table
3
). Most of the conserved synteny blocks identified here involved intra-chromosomal rearrangements, in which linkage was conserved but gene order was not (for example, the synteny block conserved between coral and placozoan in Figure
5
). Notably, a parallel comparison between the coral map and the yeast genome found no evidence of conserved synteny, even though the small genome size of yeast (approximately 12 Mb) would be expected to relax one of the operational criteria for determining synteny (the requirement that matches occur within ≤10 Mb in the yeast chromosome).
Table 3
Synteny blocks between A. millepora and other eukaryotic genomes and their significance
All synteny blocks

Significant blocks

Comparison

Blocks (n)

Markers per block

Overall significance

Blocks (n)

Markers per block

Saccharomyces cerevisiae

0

0

1

0

0

Homo sapiens

4

3-6

0.002

1

6

Nematostella vectensis

6

3-6

< 0.001

1

6

Caenorhabditis elegans

12

3-10

0.392

1

10

Drosophila melanogaster

13

3-10

0.679

2

9-10

Trichoplax adhaerens

13

3-12

0.002

2

12
We tested for the significance of synteny blocks using randomly shuffled permutations of the original data, which revealed that a non-trivial number of synteny blocks could be expected to emerge in these comparisons by random chance (Table 3). Although numerous synteny blocks were detected in comparisons between coral and Drosophila melanogaster or C. elegans, the number of blocks detected was not significantly higher than expected by chance for either comparison (P = 0.68 and P = 0.39, respectively). In contrast, the other three metazoan genomes we investigated each showed significantly more synteny than expected by chance (anemone, P < 0.001; placozoan, P = 0.002; human, P = 0.002). Obviously the comparison with yeast (Saccharomyces cerevisiae), which found no conserved synteny, was unaffected by these statistical tests. Each of the metazoan genome comparisons identified at least one synteny block that contained more markers (n = 6 to 12) than expected by chance. These significant blocks of conserved synteny are depicted in Figure 5, and the syntenic markers in each block are described in more detail in Additional data file 1.
Conclusions
A genetic linkage map, predominantly based on SNP markers derived from the transcriptome, has been constructed for a reef-building coral, Acropora millepora. This map has ample resolution for QTL analysis (3.4 cM) and represents the first linkage map for a coral, as well as for any non-bilaterian multicellular organism. The map will become the foundation for QTL analysis of adaptive traits and population genomics in the coral, to address the problem of coral evolution response to climate change, as well as for coral genome assembly. Comparative genomic analysis based on this map revealed a few statistically significant synteny blocks, which may reflect the features of ancestral metazoan genome organization. The specific mechanisms underlying such preservation are not yet clear, but represent an exciting area for future studies.
Additional data files
The following additional data are available with the online version of this article: an Excel table containing detailed information of mapped SNP markers (primer and probe sequences, gene annotation and synteny) (Additional data file 1).
Abbreviations
HRM:

high-resolution melting
LOD:

logarithm of the odds
QTL:

quantitative trait locus
SNP:

single nucleotide polymorphism.
Declarations
Acknowledgements
We thank Carly Kenkel (University of Texas at Austin) for assistance in SNP marker development. We also thank two anonymous reviewers for their valuable comments on this paper.
Authors' Affiliations
(1)
Section of Integrative Biology, School of Biological Sciences, University of Texas at Austin, Austin, USA
Copyright
© Wang et al.; licensee BioMed Central Ltd. 2009
This article is published under license to BioMed Central Ltd. This is an open access article distributed under the terms of the Creative Commons Attribution License (http://creativecommons.org/licenses/by/2.0), which permits unrestricted use, distribution, and reproduction in any medium, provided the original work is properly cited.