Catalogues of mammalian long noncoding RNAs: modest conservation and incompleteness
Genome Biology
2009
10:R124
Received: 8 August 2009
Accepted: 6 November 2009
Published: 6 November 2009
Abstract
Background
Despite increasing interest in the noncoding fraction of transcriptomes, the number, species-conservation and functions, if any, of many non-protein-coding transcripts remain to be discovered. Two extensive long intergenic noncoding RNA (ncRNA) transcript catalogues are now available for mouse: over 3,000 macroRNAs identified by cDNA sequencing, and 1,600 long intergenic noncoding RNA (lincRNA) intervals that are predicted from chromatin-state maps. Previously we showed that macroRNAs tend to be more highly conserved than putatively neutral sequence, although only 5% of bases are predicted as constrained. By contrast, over a thousand lincRNAs were reported as being highly conserved. This apparent difference may account for the surprisingly small fraction (11%) of transcripts that are represented in both catalogues. Here we sought to resolve the reported discrepancy between the evolutionary rates for these two sets.
Results
Our analyses reveal lincRNA and macroRNA exon sequences to be subject to the same relatively low degree of sequence constraint. Nonetheless, our observations are consistent with the functionality of a fraction of ncRNA in these sets, with up to a quarter of ncRNA exons having evolved significantly slower than neighboring neutral sequence. The more tissue-specific macroRNAs are enriched in predicted RNA secondary structures and thus may often act in trans, whereas the more highly and broadly expressed lincRNAs appear more likely to act in the cis-regulation of adjacent transcription factor genes.
Conclusions
Taken together, our results indicate that each of the two ncRNA catalogues unevenly and lightly samples the true, much larger, ncRNA repertoire of the mouse.
Keywords
Additional Data FileNucleotide Substitution RateDerive Allele FrequencyUCSC Genome Browser DatabasencRNA Transcript
Background
The eukaryotic transcriptome now appears far more complex and extensive than previously anticipated. Transcription units are frequently interleaved [1] and transcripts are produced from both coding and noncoding stretches of the genome, including intergenic, intronic and promoter regions [2, 3], resulting in a vast array of RNA molecules varying in size, abundance and protein-coding potential. For example, of the 10% of human euchromatic nucleotides that appear to be stably transcribed, more than half lie outside protein-coding gene annotations [2]. Widespread non-protein-coding RNA transcription is evident in many eukaryotic genomes, including mouse, fruitfly and plants [4].
Despite the ever increasing number of long (>200 nucleotide) noncoding RNA (ncRNA) transcripts being identified, the functions of most remain to be determined. Indeed, their biological significance remains controversial [5]. Arguing in favor of their biological relevance are observations that ncRNAs often show variable, perhaps regulated, spatiotemporal expression patterns [6, 7], and that their sequences are better conserved with respect to substitutions, insertions and deletions than are putative neutrally evolving sequences [8]. Many long ncRNAs whose functions have been experimentally determined act as transcriptional regulators [4]. For some long ncRNAs it is the act of transcription itself that promotes or suppresses transcription from a neighboring gene locus. In such cases, it is expected that the resultant RNA transcript lacks biological relevance, and thus fails to be subject to selection. The DNA sequence that is transcribed, on the other hand, may be subject to strong selection because of harboring, for example, transcription factor-binding sites that become accessible upon transcription. Other long ncRNAs form ribonucleoprotein complexes that regulate transcription in trans, far from the long ncRNA locus. The protein-binding sites of these long ncRNAs, which may span RNA secondary structures, are expected to be subject to purifying selection and thus evolve more slowly than neutral sequence.
In order to address issues of functionality and evolutionary conservation of ncRNAs, it will be important to determine their numbers and conservation (or otherwise) in different eukaryotic genomes. Partial ncRNA catalogues have become available for a number of different species, including mouse. One of the first such catalogues is of long intergenic ncRNA transcripts (herein termed 'macroRNAs') sequenced from mouse cDNA libraries by the FANTOM consortium [3, 9]. Comparison of the evolutionary signatures of 3,222 macroRNAs to those of neighboring putatively non-functional sequence showed that macroRNAs exhibit suppressed evolutionary rates for both primary and promoter sequences; these results support the functionality of a small (approximately 5%) portion of such transcripts' sequences [8]. These results countered an earlier analysis that suggested that macroRNAs generally were poorly conserved and thus unlikely to be functional [5]. The findings also serve as an illustration of how the careful application of reliable neutral rates is essential to assess constraint [8].
Recently, Guttman and colleagues [10] introduced a second catalog of 1,600 long intergenic noncoding RNA (lincRNA) intervals in mouse, identified using genome-wide chromatin-state maps. Briefly, lincRNA loci are genomic intervals outside protein-coding gene annotations that are significantly enriched in two epigenetic markers of transcription: trimethylation of lysine 4 on histone H3 (H3K4me3), often associated with active promoters, and trimethylation of lysine 36 on histone H3 (H3K36me3), associated with transcribed regions [11]. In contrast to macroRNA loci, the fraction of transcribed nucleotides and the transcript sequences for most lincRNA intervals remain unidentified. This is because RNA transcription was investigated, using a hybridization-based approach, for only 350 randomly sampled regions [10]. RNA transcription was validated for approximately 70% of these regions, resulting in a total of 2,126 exons overlapping 549 lincRNA intervals [10]. LincRNA exons and their putative promoters were found by Guttman et al. [10] to be better conserved than introns, which is suggestive of the action of purifying selection.
In order to compare the level of constraint between macroRNA and lincRNA exons, Guttman and colleagues [12] employed a new method, called SiPhy. Instead of considering the level of constraint across the full extent of these exons' sequences, SiPhy reports exons' highest level of constraint apparent in sliding windows typically of width 12 nucleotides. One advantage of this approach is that it estimates constraint from patterns of nucleotide substitutions. Another is that constraint is estimated across multiple alignments from 21 mammalian species. However, the method does not employ a full evolutionary model. Moreover, comparisons are made against genome-wide random samples, rather than against genomically local samples from putatively neutrally evolving sequence that would account for local substitution rate variation. SiPhy results indicate that lincRNA exons tend to contain more highly constrained 12-nucleotide sequences than macroRNA exons [10]. Rather than calculating maximum constraint, we were interested in assessing the levels of constraint across all aligned exonic nucleotides for each of the two catalogues. We realized that mouse-human pairwise comparisons of full transcript sequences (>100 nucleotides) will often reflect greater numbers of nucleotide substitutions than SiPhy 12-nucleotide windows [12], and thus will tend to be more informative. This analysis would provide a more comprehensive reflection of selective constraints that have acted upon the complete extent of these macroRNA and lincRNA exons.
A surprisingly small fraction (approximately 11%) of lincRNAs were seen to be present also in the macroRNA set. Explanations for this relatively poor overlap were not advanced by Guttman et al. [10]. Perhaps the use of different experimental approaches, and of different tissues and cell lines, has resulted in an uneven sampling from different portions of the mouse transcriptome? Alternatively, since the amount of functional sequence and how it compares between catalogues remain unknown, one or both catalogues may contain a large fraction of 'transcriptional noise', resulting from spurious transcription of non-functional loci. If, as Guttman et al. report, lincRNA loci are considerably better conserved than are macroRNA loci, then the poor overlap between the two ncRNA catalogues may simply reflect differences in their amounts of inconsequential transcription.
We sought to compare the selective constraints that have acted upon macroRNA and lincRNA loci to determine whether these catalogues contain different proportions of spurious inconsequential ncRNA transcripts. For our analysis we considered the full extent of ncRNA sequences and employed three complementary approaches: a multi-species comparison that complements the Guttman et al. approach; a rate-based method that, importantly, accounts for base composition and local variations in neutral substitution rates; and a human population genetics based approach. We considered only exonic sequence - rather than all transcribed ncRNA sequence as done previously [8] - to allow comparison with the Guttman et al. study. Contrary to the results of Guttman et al., we find that the two ncRNA catalogues exhibit similar degrees of constraint and amounts of functional sequence. We then explored the biological properties of transcripts in these catalogues and concluded that each of these catalogues preferentially samples different portions of the mouse transcriptome. Importantly, our results indicate that a large number of long intergenic ncRNAs remain to be identified.
Discussion
This study, and two that preceded it [8, 10], indicate that long intergenic ncRNA loci tend to be less constrained than protein-coding genes, but are more constrained than putatively neutral sequence. Mutations within both promoter and transcribed sequences tend to be deleterious and thus are preferentially purged from the population (Table 1) consistent with a fraction of these ncRNA loci being functional. Evolutionary constraint between mouse and human is evident for 23% of all ncRNA exons that we examined (Table 1). The remaining 77% of exons will be divided, in as-yet undefined proportions, among selectively neutral, or positively selected, sequence and among sequence that is specific to rodents, having been acquired in that lineage or else lost in the primate lineage [35]. Functional long ncRNA loci are likely to arise, and to be lost, at high rates, with substantial divergence rendering sequence similarities between diverse vertebrates indiscernible. This is because of purifying selection being considerably less stringent on these ncRNA loci than it is on protein-coding genes [4].
Our study shows, as expected, that coding exons and their promoters tend to be subject to the greatest degree of purifying selection (dexon/dAR = 0.338; dpro/dAR = 0.747 (median values)), and again as expected [3, 8, 10] that promoters of long ncRNAs are better conserved than their exons (dpro/dAR = 0.787 versus dexon/dAR = 0.887 for macroRNA loci; dpro/dAR = 0.857 versus dexon/dAR = 0.904 for lincRNA (median values)). However, it was unexpected both that lincRNAs were not 'highly conserved', as previously reported [10], and that macroRNA exons were as well conserved as lincRNA exons (Figure 2). Our results are likely to differ from those of Guttman et al. primarily because we have analyzed evolutionary signatures of constraint across the full extent of exonic sequences as opposed to restricting analysis to the most highly conserved short sequence motifs within an exon. The approach used here has similar, or even greater, power to detect constrained ncRNAs as that chosen by Guttman and colleagues. Indeed, for most sequences the information content currently available from 12-nucleotide windows of multiply-aligned sequences (with a maximum branch length of four substitutions per site [12]) is smaller than those for human-mouse pairwise comparisons (0.42 substitutions per site on average) exceeding 100 aligned nucleotides.
Our analyses suggest that lincRNA loci contain a lower, not higher, proportion of functional sequence than macroRNA loci. However, this slight difference may only reflect the contrasting experimental approaches taken when defining each of the two catalogues. By contrast to macroRNA exons, whose boundaries were identified by direct mapping of the sequenced transcript onto the mouse genome and thus are expected to correctly delineate macroRNA exons, lincRNA exons were defined using a hybridization-based approach whose accuracy was strongly dependent on the microarray resolution, resulting in exonic limits that were only defined approximately. A consequence of this experimental imprecision is that the lincRNA exon set will be contaminated by intronic nucleotides, which would be expected to slightly inflate true exonic rate estimates. It would thus not be surprising if true lincRNA exons were to have evolved little differently from macroRNA exons.
Guttman
et al
. previously presented evidence that the highest level of constraint in 12-nucleotide windows within lincRNA exons exceeds that within macroRNAs [
10
]. This would be consistent with the modest difference in multi-species conserved (phastCons) elements between the two sets (Table
1
). Nevertheless, a greater proportion of macroRNA exons show significant evidence of constraint than lincRNA exons (Table
1
). Taken together, these findings are consistent with lincRNA exons containing short regions of highly constrained sequence, whereas constraint in macroRNA exons is distributed more diffusely (Figure
3
). Short functional DNA elements, such as those regulating the expression of transcription factor genes, may contribute more to sequence constraint on lincRNA exons than they have to macroRNA exon constraint. Furthermore, in contrast to macroRNAs, we found no statistical evidence for lincRNAs being enriched in predicted RNA secondary structures. Consequently, macroRNA locus function may more frequently be RNA sequence-specific, whereas lincRNA loci may more often act in a RNA sequence-independent manner, for example, by transcriptional interference [
36
].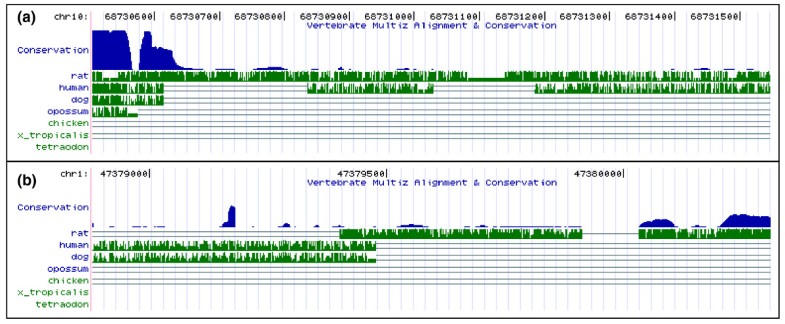 The low degree of concordance between the two sets may reflect a situation where the true long ncRNA locus repertoire of the mouse genome is very large, such that only small numbers of long ncRNA loci are identified in both of two largely independent experimental samples. The low concordance may also reflect biological differences between the two long ncRNA catalogues, which were identified by two very different experimental approaches. MacroRNAs tend to be expressed in a tissue-specific manner and to be associated, in mouse ESCs, with chromatin marks that are usually associated with transcriptional repression (namely, promoter H3K27me3 marks) but not exonic markers of transcription (H3K4me36). The large degree of complementarity between the two catalogues might be expected because macroRNAs are more frequently tissue-specific, having been identified from full-length cDNA libraries prepared from diverse mouse tissues, including from very early embryonic stages and pre-implantation embryos, whereas lincRNA loci were identified from their chromatin marks in four mouse cell types, namely ESCs, embryonic fibroblasts, lung fibroblasts and neural precursor cells. In short, lowly expressed long ncRNAs are more likely to be detected by cDNA sequencing of low abundance transcripts, whereas more highly expressed long ncRNAs are preferentially identified using chromatin status maps.
Conclusions
Here we show that two sets of intergenic long ncRNA loci in mouse tend to be subject to similar and generally low levels of selective constraint. Nevertheless these sequences evolve significantly slower than neighboring neutral sequence, which is consistent with their functionality.
Importantly, it does appear that the vast majority of all true long ncRNA loci remain to be identified. We arrive at this conclusion because even broadly expressed (that is, non-tissue-specific) macroRNA exons are poorly represented in the lincRNA catalogue (8.4%; 81 of 963 exons). Clearly, much work remains to be done to identify the complete set of mouse ncRNAs before general conclusions concerning their biological mechanisms can be made.
Additional data files
The following additional data are available with the online version of this paper: supplementary Tables S1 and S2, which summarize results for macroRNA and lincRNAs with no overlap with current ENSEMBL protein-coding gene annotations (mm9) (Additional data file 1).
Abbreviations
AD:

average difference
AR:

ancestral repeat
CAGE:

cap-analysis of gene expression
ESC:

embryonic stem cell
EST:

expressed sequence tag
FE:

Fisher's exact
IPS:

indel-purified sequence
lincRNA:

long intergenic noncoding RNA
MW:

Mann-Whitney
ncRNA:

noncoding RNA
SNP:

single nucleotide polymorphism
TSS:

transcription start site.
Declarations
Acknowledgements
We thank Jasmina Ponjavic, Andreas Heger, Martin Goodson and Leo Goodstat for helpful conversations. We thank Manuel Garber for sharing with us an early version of the SiPhy manuscript and for helpful discussions. ACM acknowledges the Swiss National Foundation (SNF) and the Fundação para a Ciência e Tecnologia (FCT) for funding. CPP thanks the UK Medical Research Council for funding.
Authors' Affiliations
(1)
MRC Functional Genomics Unit, University of Oxford, Department of Physiology, Anatomy and Genetics, Oxford, UK
Copyright
© Marques et al.; licensee BioMed Central Ltd. 2009
This article is published under license to BioMed Central Ltd. This is an open access article distributed under the terms of the Creative Commons Attribution License (http://creativecommons.org/licenses/by/2.0), which permits unrestricted use, distribution, and reproduction in any medium, provided the original work is properly cited.