Evolution, ecology and the engineered organism: lessons for synthetic biology
Published: 30 November 2009
One of the most powerful and controversial aspects of engineering living organisms is that they reproduce, evolve, and interact with their environment. Humans have been engineering plants and animals since the advent of agriculture approximately 12,000 years ago through breeding and artificial selection for their domestication [1]. The evolution of corn from the small grass teosinte [2], or the transformation of the wolf into 'man's best friend' (the dog) [1] are testaments to the success of this approach. We have even 'domesticated' microorganisms, using yeast and bacteria for the production of beer, wine, cheese and yogurt as well as numerous other products we consume every day [3, 4].
Although powerful, genetic engineering by classical breeding and selection is slow, and results in a large number of unknown genetic changes that are hard to reconcile and may have unintended secondary effects. What we need is a rational approach to the engineering of biological systems that makes the process fast, cheap and safe, to solve problems in energy, health, agriculture and the environment. First steps towards realizing this aim began with the advent of recombinant DNA technology in the latter half of the 20th century, which created visions of a new era of 'synthetic biology' where novel genes could be designed and constructed for useful purposes [5–7]. Since then we have made incredible advances in our ability to manipulate genes, genomes and organisms, and this has led to a renewed interest in making synthetic biology a reality [8].
A number of recent reviews have been written on the principles and practice of synthetic biology [
8
–
11
], but here we focus on the interplay between synthetic biology, evolution and ecology. Evolution teaches us about what solutions nature has evolved for biological problems, how to evolve them further, and how robust they are to change. Ecology gives us information on how our engineered systems will perform once they leave the laboratory and enter an industrial bioreactor (a vessel or tank used for the controlled growth of microorganisms) or the natural environment. As the scope and complexity of synthetic biology grows, we argue that an understanding of evolution and ecology is critical to its success. We have explored some of these ideas in the past [
12
–
14
], but here we focus on four practical lessons that serve as a starting point for integrating evolutionary and ecological concepts into synthetic biology research and practice (Figure
1
).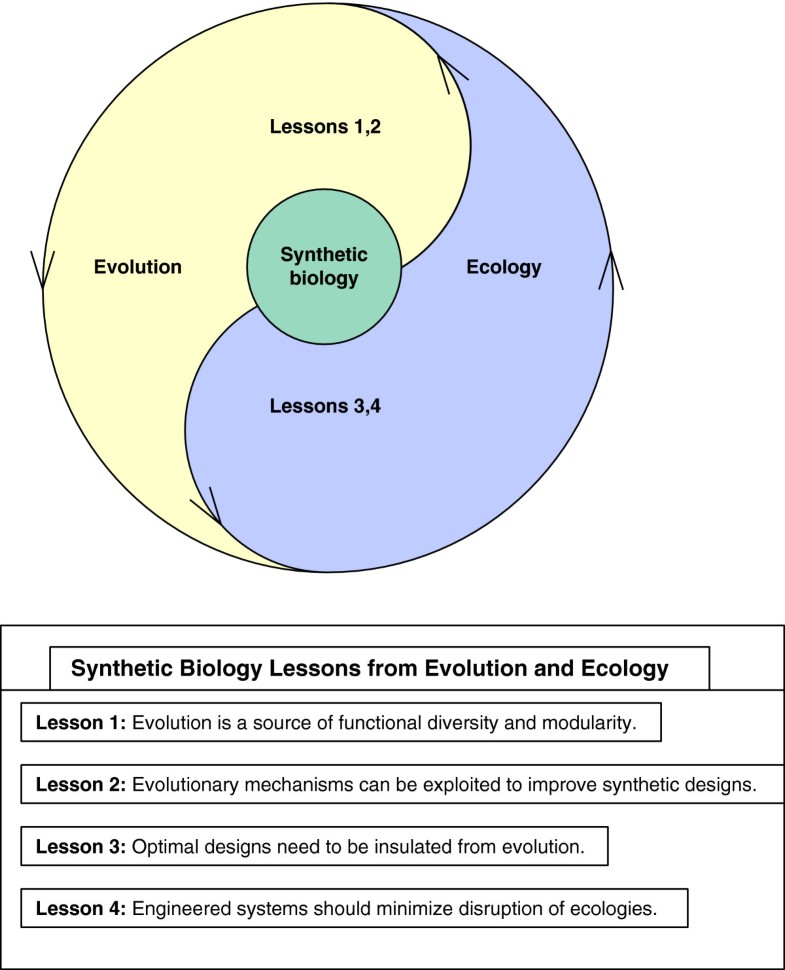 (1)
Department of Bioengineering, University of California, Berkeley, Berkeley, CA 94720, USA
(2)
Physical Biosciences Division, Lawrence Berkeley National Laboratory, Berkeley, CA 94720, USA
© BioMed Central Ltd 2009