Runaway repeats force expansion of the Phytophthora infestans genome
Published: 27 October 2009
Parasitic organisms that rely on hosts to complete their life cycles face unstable and rapidly changing selective pressures, as their own reproduction affects the health and success of their host. Late blight disease of potatoes and tomatoes is caused by the plant pathogen Phytophthora infestans. The recent analysis of the P. infestans genome sequence by Haas et al. [1] has provided new answers as to how this pathogen adapts to its host, and why its 240 Mb genome is unusually large among the species within its assemblage.
The completion of the P. infestans genome sequence represents a milestone because of the importance of this organism to history and the study of plant disease. As every student of plant pathology knows, P. infestans caused the Irish potato famine of the 1840s. The rapid spread of the disease after it was accidentally introduced to Europe from the Americas resulted in utter destruction of the potato crop. It remains the most spectacular example of a catastrophic plant disease epidemic. Anton de Bary described the life cycle of P. infestans some 140 years ago, making it among the first plant pathogenic microorganisms to be well characterized. But this is not just a history lesson, as P. infestans and other oomycetes continue to pose problems as plant pathogens and invasive organisms around the globe.
Oomycetes are somewhat obscure, fungus-like organisms that capture public attention when they destroy crops and gardens or invade new landscapes. Oomycetes are filamentous microorganisms that resemble fungi in their morphology and lifestyle. Many oomycetes are parasites of plants or animals and cause disease, whereas others are saprophytic and free-living. Oomycetes and fungi are similar in form but have evolved independently, thus illustrating the concept of convergent evolution. These filamentous organisms share so many similarities in their appearance and mode of life that it seems natural to assume a close ancestry and to classify them together, as all textbooks did until recently. But it was also clear that oomycetes and fungi have fundamental differences, such as in the make-up of their cell walls, the flagellation of their spores and their methods of sexual reproduction.
DNA-sequence-based phylogenies have drastically reorganized the classification of eukaryotes and deeply separated the fungal and oomycete lineages [
2
]. True fungi are unikonts (any flagellated cells have only one flagellum) and are related to animals, whereas oomycetes are heterokonts (flagellated cells generally have two flagella, of different types) and belong to the chromalveolates. From a phylogenetic perspective the two groups of organisms are about as different as they could be (Figure
1
). Despite this early bifurcation, which occurred at the initial stages of eukaryote radiation hundreds of millions of years ago, the fungi and the oomycetes have completed an evolutionary journey that has taken them to the same destination. This is especially true for the plant pathogenic types, which have grown to resemble each other in appearance and biology to a remarkable degree. Their filamentous and osmotrophic growth mode, with dissemination by spores, and their subspecialization into necrotrophic, biotrophic and hemibiotrophic pathogenic types, are the basic common elements that define plant pathogenic fungi and oomycetes.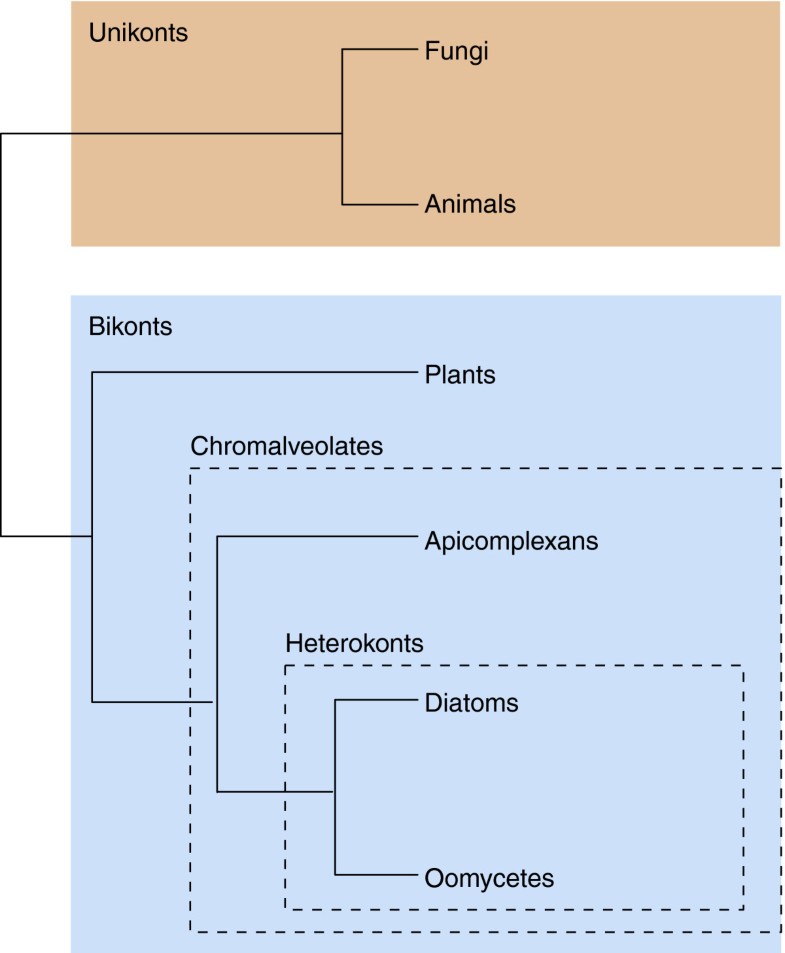 (1)
Agriculture and Agri-Food Canada, 1391 Sandford Street, London, Ontario, N5V 4T3, Canada
© BioMed Central Ltd 2009