Transcriptome content and dynamics at single-nucleotide resolution
Published: 18 September 2008
With the advent of third-generation sequencing technologies - the so-called massively parallel sequencing technologies - it is now possible to generate tens of millions of short sequences (each typically 25-50 nucleotides long) in a single assay. This technology has enabled the recent 'RNA sequencing' (RNAseq), via random cDNA libraries, of the transcriptomes of yeasts, Arabidopsis, mouse embryonic stem (ES) cells and other mouse tissues, and human cell lines. These experiments are helping to redefine the understanding of transcriptome content, complexity, and dynamics in these species. A recent study by Bähler and colleagues [1] in the fission yeast Schizosaccharomyces pombe in particular shows how the new RNAseq technology is ideally suited to revealing the changes that occur in transcriptional activity at different stages in the yeast life cycle and in response to changes in external conditions.
Conceptually, the RNAseq approach is very simple. Sequence reads are generated from random locations along each RNA by either sequencing sheared double-stranded cDNA libraries [
1
–
4
] (strandless RNAseq), or by sequencing directional cDNA libraries prepared using either adaptor-tagged random hexamers [
5
], or serial ligation of adaptors [
6
] to fragmented RNA populations (stranded RNAseq). After sequencing
en masse
, the short reads are then mapped back against the appropriate reference genome or catalogues of all exon-junction sequences to provide a global survey of transcriptome activity (Figure
1
).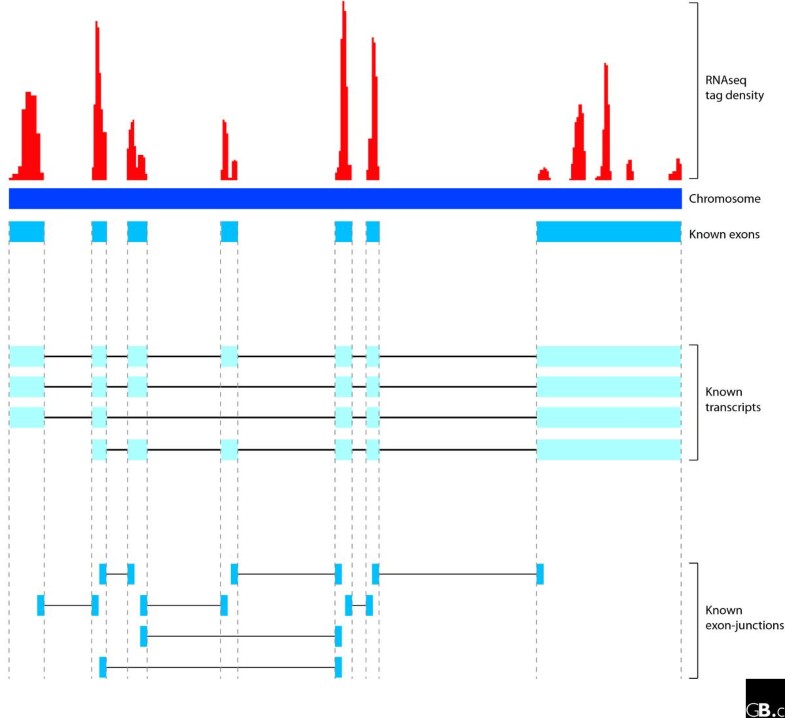 (1)
Institute for Molecular Bioscience, University of Queensland, 306 Carmody Road, St Lucia, 4072, Australia
© BioMed Central Ltd 2008