The telosome/shelterin complex and its functions
Published: 18 September 2008
Telomeres are specialized structures at the ends of eukaryotic chromosomes that help to maintain genome integrity in eukaryotes by preventing chromosomal rearrangements or chromosomes fusing to each other, and by enabling complete replication of the ends of the linear DNA molecules. Telomeric DNA is composed of a series of sequence repeats and terminates in a 3' single-stranded (ss) DNA overhang. At each round of DNA replication the telomeric DNA becomes shorter, but it can be regenerated by the enzyme telomerase, an RNA-containing DNA polymerase. Both the double and single-stranded telomeric DNA is bound and protected by DNA-binding proteins that in turn associate with other signaling proteins/complexes to achieve telomere-end protection and length control. The length of telomeric DNA is maintained by the enzyme telomerase, but in addition, six telomere-associated proteins - TRF1, TRF2, POT1, RAP1, TIN2 and TPP1 in mammalian cells - have been shown to form a complex known as the telosome, or shelterin complex, that is essential for telomere function [1–10]. Here we will briefly review the composition of the telosome, its role in telomere maintenance, and its connections with intracellular signaling pathways.
Telomere repeat factor-1 (TRF1) and -2 (TRF2) are related proteins that share a number of sequence and organizational similarities, and along with protection of telomeres-1 (POT1), they interact directly with telomeric DNA. RAP1 (the human homolog of the yeast telomeric protein Rap1), TRF1-interacting protein 2 (TIN2), and TPP1 (also known as TINT1/PTOP/PIP1) associate with these DNA-binding proteins to form the core telosome (Figure
1
). Various signaling pathways originate from these core telomeric proteins and their subcomplexes, and from this it has been possible to deduce a telomere 'interactome' [
11
]. In this interactome, the telosome serves as the core building block, coordinating protein-protein interactions and protein complex cross-talk on the telomeres.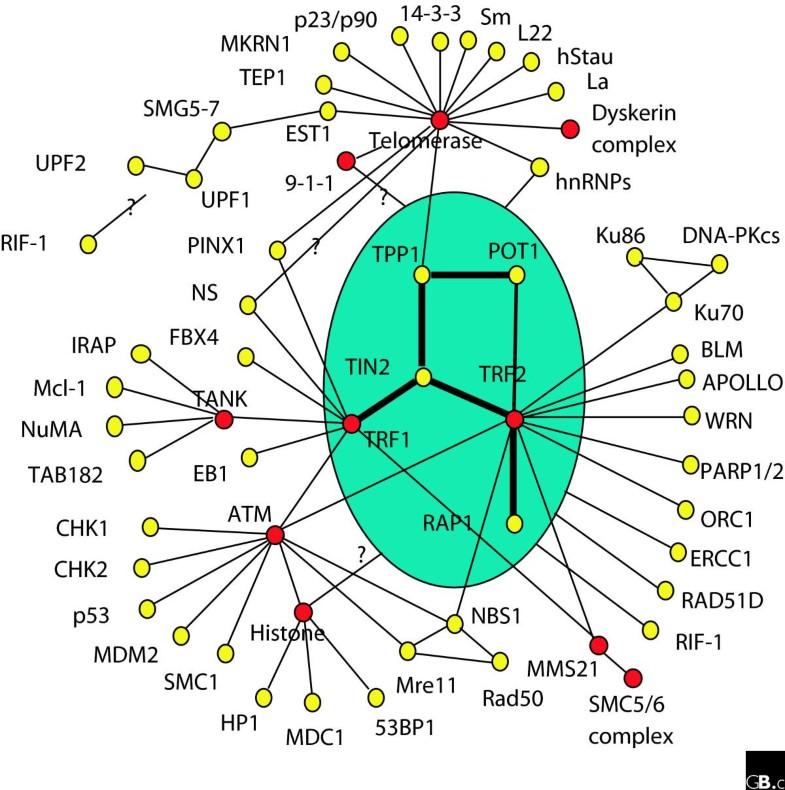 (1)
Verna and Marrs McLean Department of Biochemistry and Molecular Biology, Baylor College of Medicine, Baylor Plaza, Houston, TX 77030, USA
(2)
Cell-Based Assay Screening Service Core, Baylor College of Medicine, Houston, TX 77030, USA
© BioMed Central Ltd 2008