New clues to organ size control in plants
There is large variability in sizes and morphologies in the plant kingdom, but within species there are well defined shape and size constraints that are only modified within certain limits by environmental factors. What are the mechanisms that regulate the attainment of the final sizes and shapes of plant organs? Is size set by the growth and proliferation potential of individual cells or determined globally at the organ level? How is growth coordinated among the different parts of organs and the whole plant? We are starting to gain some understanding of these basic questions through genetic screens for mutants, genetic variation in natural populations, imaging technologies, and genome-based molecular profiling studies.
The growth of a plant is limited to meristematic regions. These contain self-renewing stem cells that produce proliferating cells whose progeny are laid down in a correct spatial orientation, glued together through their cell walls to give files of cells that make up the plant tissues. As cells are pushed out from the meristem they stop dividing and become incorporated into organs, leading to the extension of stems and branches [1, 2], the production of leaves [3, 4] and flowers and the elongation and branching of roots. This growth process can be subdivided into two phases: the proliferative first phase is driven through the increase in cell mass by the synthesis of macromolecular cell constituents, coupled with cell division. After cells exit cell proliferation in the second phase, growth continues by cell expansion, largely achieved through a turgor-driven water uptake and concomitant loosening of the cell wall. In many plants and certain cell types, DNA endoreduplication (DNA replication without cell division) accompanies the cell-enlargement and cell-differentiation programs.
Although generally sequential, division and differentiation can partly overlap. For example, in shoot apices, live-cell imaging has shown that distinct rates and orientation of cell division accompany the differentiation of separate regions during the earliest stages of flower development [5]. In the case of the root epidermis, cells that eventually develop into root hairs (trichoblasts) continue dividing after their epidermal neighbors have stopped. Interaction among chromatin remodeling, the cell cycle, and differentiation factors is central for the determination of trichoblast cell fate [6].
Environmental and intrinsic inputs, called 'organ size control points', can either act on the first phase of growth to increase or decrease cell growth and proliferation capacity, or on determination of the timing at which cells exit from proliferative growth into cell differentiation and expansion (Figure
1
). The first control point is frequently used when organ growth is initiated, for example, from dormant seeds, buds and meristems, or during lateral root outgrowth. One recent area of progress in our understanding of elementary growth processes that drive the first phase of organ growth has been the application of genome-wide gene expression time-course analysis to growth phenomena under the control of exogenous signals [
7
–
11
], and to cultured cells synchronized for cell-cycle progression and proliferation [
12
].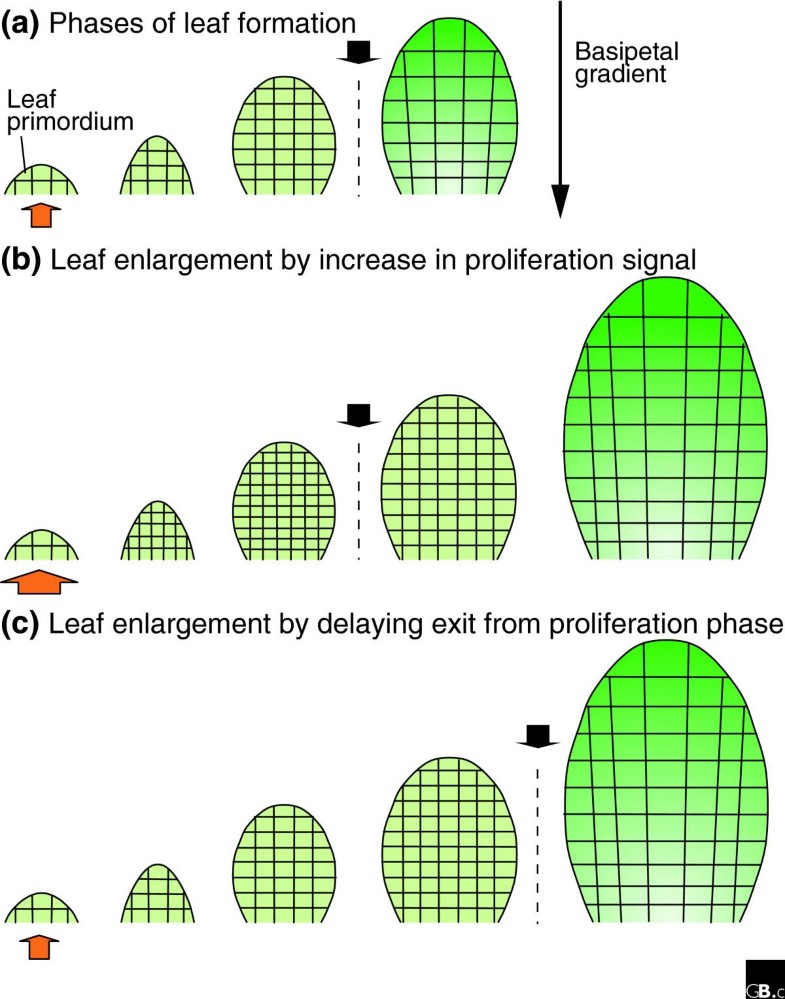 These studies have identified common sets of genes that underlie cell proliferation and organ growth, as well as identifying organ-specific differences. For example, during germination and lateral root emergence, the G1 to S cell-cycle control point is used [7, 8], whereas in the dark, the shoot apex is arrested at G1 and G2 but is rapidly released from both these arrest points upon transfer of seedlings to the light [9]. On the other hand, in an already active meristem, growth is mostly regulated by altering the timing at which cells exit proliferation, a key determinant for the number of cells produced in the meristem. Understanding organ size control thus requires teasing apart the individual components of growth, understanding the biology of the meristem, and understanding the mechanisms of proliferative growth arrest in organs. Here we will briefly review our current understanding in these areas.
(1)
School of Biological Sciences, Royal Holloway, University of London, Egham, Surrey, TW20 0EX, UK
© BioMed Central Ltd 2008