The genome sequence of the model ascomycete fungus Podospora anserina
Received: 26 November 2007
Accepted: 06 May 2008
Published: 06 May 2008
Abstract
Background
The dung-inhabiting ascomycete fungus Podospora anserina is a model used to study various aspects of eukaryotic and fungal biology, such as ageing, prions and sexual development.
Results
We present a 10X draft sequence of P. anserina genome, linked to the sequences of a large expressed sequence tag collection. Similar to higher eukaryotes, the P. anserina transcription/splicing machinery generates numerous non-conventional transcripts. Comparison of the P. anserina genome and orthologous gene set with the one of its close relatives, Neurospora crassa, shows that synteny is poorly conserved, the main result of evolution being gene shuffling in the same chromosome. The P. anserina genome contains fewer repeated sequences and has evolved new genes by duplication since its separation from N. crassa, despite the presence of the repeat induced point mutation mechanism that mutates duplicated sequences. We also provide evidence that frequent gene loss took place in the lineages leading to P. anserina and N. crassa. P. anserina contains a large and highly specialized set of genes involved in utilization of natural carbon sources commonly found in its natural biotope. It includes genes potentially involved in lignin degradation and efficient cellulose breakdown.
Conclusion
The features of the P. anserina genome indicate a highly dynamic evolution since the divergence of P. anserina and N. crassa, leading to the ability of the former to use specific complex carbon sources that match its needs in its natural biotope.
Keywords
PectinBacterial Artificial ChromosomeInulinAdditional Data FileKiller Toxin
Background
With one billion years of evolution [1], probably more than one million species [2] and a biomass that may exceed that of animals [3, 4], eumycete fungi form one of the most successful groups of eukaryotes. Not surprisingly, they have developed numerous adaptations allowing them to cope with highly diverse environmental conditions. Presently, virtually all biotopes, with the exception of extreme biotopes (that is, hyperthermophilic areas), contain some representative eumycetes. They feed by osmotrophy and import through very efficient transporters the nutrients they take up from the environment, often by degrading complex material, such as plant cell walls, that few other organisms can use.
Eumycete fungi have a huge impact on the global carbon cycle in terrestrial biotopes. Some species associate with plant and algae, helping them to scavenge mineral nutrients and to cope with various stresses, such as poor soils, desiccation, parasites and herbivore damage. These mutualistic relationships lead to better carbon dioxide fixation. In contrast, many species parasitize plants and algae, resulting in reduced carbon fixation [5], as well as causing serious economic losses to human agriculture. The majority, however, are saprobic and live on dead plant material, such as fallen plant debris, plants ingested by herbivores or the remains of plants in feces of herbivores. It is estimated that saprobes release 85 billion tons of carbon dioxide annually [6, 7], much higher than the 7 billion tons emitted by humans [8]. Finally, some fungi can infect and kill animals, especially invertebrates, which results in diminished carbon fluxes within the food chain. A few are opportunists able to infect humans. Impact on human health is increasing because of the higher prevalence of immunodeficiency, a condition favoring fungal infection.
In addition to these global effects, eumycetes impact their biotope and humans in many ways. Indeed, humans have been using them for thousands of years as food, to process other plant or animal materials and to produce compounds of medicinal interest. A few species degrade human artifacts, causing permanent damage to irreplaceable items. Furthermore, due to their ease of handling, some species, such as Saccharomyces cerevisiae or Neurospora crassa, have been exploited as research tools to make fundamental biological discoveries. In recent years, a number of genome initiatives have been launched to further knowledge of the biology and evolution of these organisms. Presently, a large effort is dedicated to saccharomycotina yeasts (formerly hemiascomycetes) [9]. Other efforts are concentrated towards human parasites and plant mutualists or pathogens. The genomes of Magnaporthe grisea, a rice pathogen, Fusarium graminearum, a wheat pathogen, Ustilago maydis, a maize pathogen, Cryptococcus neorformans and Aspergillus fumigatus, two human pathogens, have been published [10–14]. In addition, saprobic fungi are also considered, since the genome sequences of the basidiomycete Phanerochaete chrysosporium [15], of the ascomycetes N. crassa [16] and Schizosaccharomyces pombe [17], and three strictly saprobic Aspergilli, A. nidulans, A. oryzae and A. niger [18–20], are available.
Because of its ease of culture and the speed of its sexual cycle, which is completed within a week, the saprobic filamentous ascomycete
Podospora anserina
(Figure
1
) has long been used as a model fungus in several laboratories [
21
,
22
] to study general biological problems, such as ageing, meiosis, prion and related protein-based inheritance, and some topics more restricted to fungi, such as sexual reproduction, heterokaryon formation and hyphal interference (Table
1
).
P. anserina
and
N. crassa
both belong to the sordariomycete clade of the pezizomycotina (formerly euascomycete). Based on the sequence divergence between the
P. anserina
and
N. crassa
18S rRNA, the split between the two species has been estimated to have occurred at least 75 million years ago [
23
]. However, the average amino acid identity between orthologous proteins of the two species is 60-70% [
24
], the same percentage observed between human and teleost fishes [
25
], which diverged about 450 million years ago [
26
,
27
]. It is not surprising, therefore, that despite similar life cycles and saprobic lifestyles, each species has adopted a particular biotope and displays many specific features (Table
2
). To better comprehend the gene repertoire enabling
P. anserina
to adapt to its biotope and permit this fungus to efficiently complete its life cycle, we have undertaken to determine the genome sequence of
P. anserina
and have compared it to that of
N. crassa
, its closest relative for which the genome sequence is already known. We started with a pilot project of about 500 kb (about 1.5% of the genome) [
24
] and in this paper we present the establishment of a 10X draft sequence.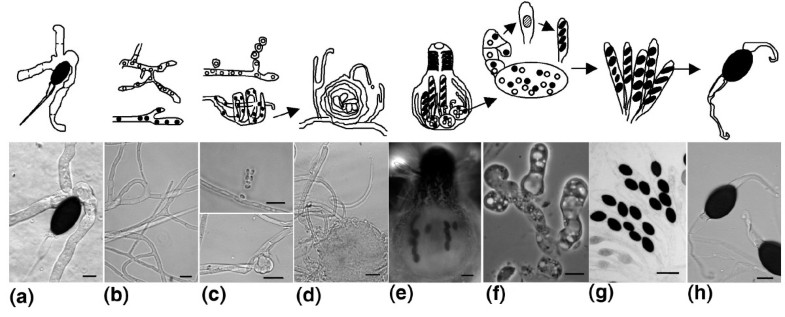 Table 1
Areas of research that should benefit from the P. anserina complete genome sequence
| | Original report | Recent works that have benefited from the genome sequence |
| --- | --- | --- |
| Ageing and cell degeneration | [40,103] | [104-106] |
| Cell death | [79] | [104,107] |
| Self/non-self recognition (vegetative incompatibility and hyphal interference) | [76,79] | [65] |
| Mating type and inter-nuclear recognition | [108] | [109] |
| Cell differentiation and cell signaling in filamentous fungi | [110] | [111] |
| Sexual reproduction in fungi | [21] | [64,111] |
| Mechanism of meiosis | [22,112] | |
| Meiotic drive | [113] | |
| Translation accuracy determinants and role | [114] | [115]; this paper |
| Mitochondrial physiology | [116,117] | [105] |
| Peroxisomal physiology and function | [118] | [119] |
| Prions and other protein-based inheritance | [120,121] | [106] |
| Biomass conversion | This paper | |
| Secondary metabolism | | [122] |
Table 2
Comparison between P. anserina and N. crassa biology
| | P. anserina [80] | N. crassa [123] |
| --- | --- | --- |
| Ecology | | |
|    Habitat | Restricted on dung of herbivores | Prefers plants killed by fire |
| | Always small biotopes and high competition | Often large biotopes and low competition |
|    Distribution | Worldwide | Prefers hot climate |
| Vegetative growth | | |
|    Growth rate | Average (7 mm/d) | High (9 cm/d) |
|    Ageing syndrome | Senescence in all investigated strains | Mostly immortal with some ageing strains |
|    Hyphal interference | Present | Not yet described |
|    Major pigments | Melanins (green) | Carotenoids (orange) |
| Reproduction | | |
|    Asexual reproduction | None | Efficient with germinating conidia |
|    Sexual generation time | One week | Three weeks |
|    Mating physiology | Pseudohomothallic | Strict heterothallic |
|    Ascospore dormancy | No | Yes |
|    Ascospore germination trigger | Passage through digestive track of herbivores in nature (on low nutrient media containing ammonium acetate in the laboratory) | 60°c heat shock or chemicals (for example, furfural) |
| Gene inactivation processes | | |
|    RIP | Not efficient | Very efficient |
|    MSUD | Not yet described | Efficient |
|    Quelling | Not yet described | Efficient |
Conclusion
Our analysis of the genome sequence of P. anserina, a saprophytic model ascomycete, provides new insights into the genomic evolution of fungi. EST analysis indicates that similar to other eukaryotes, the transcription machinery generates a large array of RNAs with potential regulatory roles. Functional characterization of these RNAs might be one of the most interesting perspectives of this study. Strikingly, in addition to abundant inversions of chromosome segments and gene losses, substantial gene duplications were uncovered. Since this fungus displays a mild RIP, these findings allow us to ask whether the RIP process, when relatively inefficient, might be more of a genome evolution tool rather than a genome defense mechanism.
Moreover, availability of the genome sequence has also already permitted the development of new tools that will bolster research in P. anserina. The polymorphic markers designed to plot scaffolds onto the genetic map are now successfully used for positional cloning. Gene deletion is facilitated thanks to the availability of the PaKu70 mutant strain, which greatly enhanced homologous recombination [77], similarly to the deletion of the homologous gene in N. crassa, mus-51 [78]. The identification of the PaPKS1 gene by a candidate gene approach permits us to envision the design of new genetic tools based on mycelium or ascospore color [63]. The design of microarrays for transcriptome analyses is under way.
As for other saprophytic fungi, the P. anserina genome sequence has opened new avenues in the comprehensive study of a variety of biological processes. Of importance is the novel discovery of a large array of P. anserina genes potentially involved in lignin and cellulose degradation, some of which may be used for biotechnology applications. It also demonstrates how P. anserina is well adapted at the genome level to its natural environment, which was confirmed by the analysis of growth profiles. This result emphasizes the necessity to study several less well-tracked organisms in addition to those well known in the scientific community, as these may yield unexpected new insights into biological phenomena of general interest.
Materials and methods
Strains and culture conditions
The sequenced strain is the S mat+ homokaryotic strain [79]. Culture conditions for this organism were described [61], and currently used methods and culture media can be accessed at the Podospora anserina Genome Project web site [80].
Genomic DNA library construction
Nuclear genomic DNA was extracted and separated from mitochondrial DNA as described [81]. Residual mitochondrial DNA present in the preparation was sufficient to allow sequencing of the full mitochondrial DNA circular chromosome. Construction of plasmid DNA libraries was made at Genoscope. The construction of the bacterial artificial chromosome (BAC) library is described in [24].
Construction of cDNA library
Two strategies were used to construct the cDNA libraries. First, a mycelium library was constructed in the yeast expression vector pFL61 [82]. Total RNA was extracted from the s wild-type strain (mat-) and polyA+ RNA was purified twice on oligo (dT)-cellulose columns (mRNA purification kit, Amersham Pharmacia Biotech, GE Healthcare Bio-Sciences AB, Uppsala, Sweden). Anchored dT25 primers were used to obtain double-stranded DNA (cDNA kit, Amersham Pharmacia Biotech, GE Healthcare Bio-Sciences AB, Uppsala, Sweden). Three cDNA libraries, corresponding to three ranges of molecular weight cDNA (0.2-1 kb, 1-2.5 kb, > 2.5 kb) were cloned using BstX1 adaptators in the pFL61 vector between the 5' (promoter) and 3' (terminator) sequences of the S. cerevisiae pgk1 gene as described previously [82].
Second, total RNA obtained under various physiological conditions (Table 4) was extracted as described [83], using the 'RNeasy Maxi Kit' (Qiagen, Germantown, MD, USA). PolyA+ mRNAs were extracted with the 'Oligotex mRNA Maxi Kit' (Qiagen), reverse transcribed and cloned with the 'cloneMiner cDNA library construction Kit' into plasmid pDONR222 (Invitrogen, Carlsbad, CA, USA).
Sequencing and assembly strategy
The genome of P. anserina was sequenced using a 'whole genome shotgun and assembly' strategy. We generated 510,886 individual sequences from two plasmid libraries of 3.3 and 12 kb insert sizes, and from one BAC library of about 90 kb insert size. This corresponds to genome coverage of 9.7-fold. The reads were automatically assembled using Arachne [84], and the initial assembly was improved by eliminating small redundant scaffolds. Additionally, in cases when the genetic map indicated the proximity of two scaffolds (see below), we joined them if there was some additional read pair information between them that was not used by Arachne. Some inter-contig gaps were also filled by placing a contig between two other contigs when matches and read pair information existed and were coherent. The final automatic assembly consisted of 2,784 contigs of N50 size 43 kb, grouped in 728 scaffolds of N50 size 638 kb, for a total genome size (without gaps) of 35.7 Mb. Manual sequence gap filling and removal of contigs corresponding to rDNA genes permitted the decrease of scaffolds and contig numbers to 1,196 contigs clustered into 78 scaffolds.
To connect the genome sequence with the genetic map [85], two approaches were followed. First, sequenced genes, whose positions on the genetic map were known, were mapped by searching the corresponding sequence in the scaffolds, enabling the attribution of some scaffolds to known chromosomes. Second, potential molecular polymorphic markers (microsatellites, minisatellites and indels) were searched and their polymorphisms were assessed in geographic isolates D, E M, T and U. It rapidly appeared that strain T was the genetically most distant strain from strain S, since about three-quarters of tested markers were actually polymorphic between the two strains. A cross between the T and S strains was set up and 51 homokaryotic progenies from this cross were assayed for 120 polymorphic sites scattered onto the 36 largest scaffolds that represented all the coding parts of the genome (except for one putative CDS). Linkage analysis made it possible to define seven linkage groups that were matched with the chromosomes thanks to the already known genes mapped on the sequence by the first approach. Additional polymorphic markers were then used to confirm local assembly, resulting in the new genome map, which contain 325 markers (Additional data file 1). No discrepancy was observed between the established genetic map, the newly defined linkage groups and the sequence assembly. Presently, all but one CDS-containing scaffold are attributed to a chromosome position, although in a few cases orientation of some scaffolds within the chromosome could not be accurately defined because of their small size. One 33 kb scaffold containing one predicted CDS as well as small scaffolds exclusively made up of repeated sequences are presently not mapped. Collectively, they represent about 1% of the genome.
EMBL accession numbers
Chromosome 1: CU633438; CU633901; CU633867; CU633899; CU633445; CU633897. Chromosome 2: CU633446; CU640366; CU633447. Chromosome 3: CU633448; CU633447; CU633453. Chromosome 4: CU633454; CU633455; CU633456; CU633895. Chromosome 5: CU633457; CU633458; CU633459; CU633866; CU633871; CU607053; CU633461, CU633870, CU633865, CU633876. Chromosome 6: CU633898; CU638744; CU633463, CU633872. Chromosome 7: CU633900; CU633464; CU633873.
Annotation and analysis of genomic sequences
CDSs were annotated by a combination of semi-automatic procedures. First, P. anserina open reading frames longer than 20 codons that are evolutionary conserved in N. crassa were retrieved by TBLASTN analysis. Candidates with an e-value lower than 10-18 were conserved as hypothetical exons. Exons separated by less than 200 nucleotides were merged into putative CDSs and putative introns were predicted thanks to the P. anserina consensus sequences defined in the pilot project [24]. Then, 5' and 3' smaller exons were searched by the same procedure except that open reading frames longer than five codons surrounding putative CDSs were analyzed by BLAST with the homologous N. crassa region. Candidates with an e-value lower than 10-5 were conserved and added to the putative CDSs. CDS and intron predictions were edited with Artemis [86] and manually corrected after comparison with available ESTs. Finally, ab initio prediction with GeneID [87] using the N. crassa and Chaetomium globosum parameter files were performed on regions devoid of annotated features. Manual verification was then applied to improve prediction. This resulted in the definition of 10,545 putative CDSs.
A canonic rDNA unit was assembled. A junction sequence between the left arm of chromosome 3 and an rDNA unit was observed, confirming the position of the cluster on this chromosome based on pulse field electrophoresis data [28]. On the other end of the cluster a junction between an incomplete rDNA repeat and CCCTAA telomeric repeats [88] was detected showing that the cluster is in a subtelomeric position. Similar to the previously investigated filamentous fungi [89], 5S rRNAs were detected by comparison with the N. crassa 5S genes. They are encoded by a set of 87 genes, including 72 full-length copies dispersed in the genome. tRNAs were identified with tRNAscan [90]. A total of 361 genes encode the cytosolic tRNA set, which is composed of 48 different acceptor families containing up to 22 members. This set enabled us to decode the 61 sense codons with the classical wobble rule. Other non-coding RNAs were detected with a combination of the Erpin [91], Blast [92] and Yass [93] programs. Homology search included all RNAs contained in the RFAM V.8 [94] and ncRNAdb [95] databases. Any hit from either program with an e-value below 10-4 was retained, producing a list of 28 annotated non-coding RNA genes or elements, including 12 spliceosomal RNAs, 15 snoRNAs (mostly of the C/D box class) and one thiamine pyrophosphateriboswitch.
Alignment of EST sequences on the P. anserinagenome
A two-step strategy was used to align the EST sequences on the P. anserina genome. As a first step, BLAST [92] served to generate the alignments between the microsatellite repeat-masked EST sequences and the genomic sequence using the following settings: W = 20, X = 8, match score = 5, mismatch score = -4. The sum of scores of the high-scoring pairs was then calculated for each possible location, then the location with the highest score was retained if the sum of scores was more than 1,000. Once the location of the transcript sequence was determined, the corresponding genomic region was extended by 5 kb on either side. Transcript sequences were then realigned on the extended region using EST_GENOME [96] (mismatch 2, gap penalty 3) to define transcript exons [97]. These transcript models were fused by a single linkage clustering approach, in which transcripts from the same genomic region sharing at least 100 bp are merged [98]. These clusters were used to detect alternative splicing events [99].
Detection, functional annotation and comparative analysis of carbohydrate-active enzymes
Catalytic modules specific to carbohydrate-active enzymes (CAZymes: GHs, glycoside transferases, PLs and CEs) and their ancillary CBMs in fungi were searched by comparison with a library of modules derived from all entries of the Carbohydrate-Active enZymes (CAZy) database [73]. Each protein model was compared with a library of over 100,000 constitutive modules (catalytic modules, CBMs and other non-catalytic modules or domains of unknown function) using BLASTP. Models that returned an e-value passing the 0.1 threshold were automatically sorted and manually analyzed. The presence of the catalytic machinery was verified for distant relatives whenever known in the family. The models that displayed significant similarities were retained for functional annotation and classified in the appropriate classes and families.
Many of the sequence similarity-based families present in CAZy do not coincide with a single substrate or product specificity and, therefore, they are susceptible to grouping proteins with different Enzyme Commission (EC) numbers. Similarly to what has been provided for other genome annotation efforts, we aimed at producing annotations for each protein model that will survive experimental validation, avoiding over-interpretation. A strong similarity to an enzyme with a characterized activity allows annotation as 'candidate activity', but often for a safe prediction of substrate specificity, annotation such as 'candidate α- or β-glycosidase' may be provided, as the stereochemistry of the α- or β-glycosidic bond is more conserved than the nature of the sugar itself. Each protein model was compared to the manually curated CAZy database, and a functional annotation was assigned according to the relevance. All uncharacterized protein models were thus annotated as 'candidates' or 'related to' or 'distantly related to' their characterized match as a function of their similarity. The overall results of the annotation of the set of CAZymes from P. anserina were compared to the content and distribution of CAZymes in several fungal species (Danchin et al., in preparation) in order to identify singularities in the families' distributions and sizes per genome (data not shown). This allowed the identification of significant expansions and reductions of specific CAZyme families in P. anserina.
Growth tests
M2 minimal medium contained per liter: 0.25 g KH2PO4, 0.3 g K2HPO4, 0.25 g MgSO4·7H2O, 0.5 g urea, 0.05 mg thiamine, 0.25 μg biotine and trace elements [100], 12.5 g agar; it was adjusted to pH 7 with KH2PO4. Standard M2 contains also 5.5 g/l dextrine, which was replaced by the other tested carbon sources. Sucrose, D-glucose, D-fructose, D-xylose, inulin, Apple pectin, carboxymethyl cellulose and Birchwood xylan were from Sigma-Aldrich (Gillingham, UK) and were added before autoclaving. P. anserina was grown for 7 days at 25°C.
Additional data files
The following additional data are available with the online version of this paper. Additional data file 1 is a figure of the P. anserina genome map as defined by classic genetic markers and molecular markers, mainly microsatellites, that are polymorphic between strains S and T. Additional data file 2 is a table listing CDSs potentially expressed through frame-shift and read-through. Additional data file 3 is a table listing transposons and transposon-like elements of the P. anserina genome. Additional data file 4 is a table listing segmental duplications in the P. anserina genome. Additional data file 5 is a table listing CDSs putatively involved in genome protection mechanisms. Additional data file 6 is a list of putative CDSs involved in (hemi-)cellulose and pectin degradation.
Abbreviations
BAC:

bacterial artificial chromosome
CAZymes:

carbohydrate-active enzymes
CBM:

carbohydrate binding module
CDS:

coding sequence
CE:

carbohydrate esterase
EST:

expressed sequence tag
GH:

glycoside hydrolase
MSUD:

meiotic silencing of unpaired DNA
PKS:

polyketide synthase
PL:

polysaccharide lyase
RIP:

repeat induced point mutation.
Declarations
Acknowledgements
We thank Anne-Lise Haenni for reading the manuscript and Gaël Lecellier for performing statistical analysis. Sequencing of the genome was funded by Consortium National de Recherche en Génomique, 'séquencage à grande échelle 2002' by CNRS and IFR 115 'Génome: structure, fonction, évolution'. RPdeV and EB were supported by The Netherlands Technology Foundation (STW) VIDI project 07063. DG was supported in part by the ACI-IMPBIO program of the French Research Ministry. The Annie-Sainsard-Chanet laboratory was supported by the 'Centre National de la Recherche Scientifique' and grants from 'Association Française contre les Myopathies'. BPL was a recipient of a fellowship from the Ministere de la Recherche.
Authors' Affiliations
(1)
Univ Paris-Sud, Institut de Génétique et Microbiologie, Orsay cedex, France
(2)
CNRS, Institut de Génétique et Microbiologie, UMR8621, Orsay cedex, France
(3)
UFR de Biochimie, Université de Paris 7 - Denis Diderot, Paris, France
(4)
Genoscope (CEA) and UMR 8030 CNRS-Genoscope-Université d'Evry, Evry, France
(5)
Microbiology, Department of Biology, Utrecht University, PadulaanUtrecht, The Netherlands
(6)
UMR 6098, Architecture et Fonction des Macromolecules Biologiques, CNRS/univ, Marseille, France
(7)
CNRS, Centre de Génétique Moléculaire, Gif-sur-Yvette, France
(8)
Université Paris-Sud, Orsay, France
(9)
Institut de Biochimie et de Génétique Cellulaires, UMR 5095 CNRS/Université, Bordeaux Cedex, France
Copyright
© Espagne et al.; licensee BioMed Central Ltd. 2008
This article is published under license to BioMed Central Ltd. This is an open access article distributed under the terms of the Creative Commons Attribution License (http://creativecommons.org/licenses/by/2.0), which permits unrestricted use, distribution, and reproduction in any medium, provided the original work is properly cited.