Upon infection with a pathogen, the host cell must recognize its presence, communicate this to neighboring cells and tissues and initiate a biological response to limit the spread of infection and clear the pathogen. Recognition of invading microbes proceeds via specialized intracellular and extracellular proteins termed pattern recognition receptors (PRRs), which recognize conserved molecular motifs found on pathogens, known as pathogen-associated molecular patterns (PAMPs). Recognition of PAMPs by PRRs leads to the activation of downstream transcription factors, resulting in induction of programs of host defense gene expression designed to effect immunity to the pathogen. In the innate immune response to viruses, the genes activated include those for the type I interferons - the primary cytokines mediating the innate response to viral infection. In mammals, these comprise IFNβ, 13 IFNαs and the more recently discovered IFNω. Type I interferons signal via the IFNα/β receptor to induce further sets of genes that regulate cellular metabolic processes, intracellular nutrient availability, apoptotic responses and direct elimination of the pathogen [1].
The recognition of single-stranded RNA viruses in the intracellular space is based on the processing of their genomes by one of at least two cellular RNA helicases - RIG-I/DDX58 and MDA5/Helicard [
2
,
3
]. This processing generates a conformational change in the helicases, allowing their twin caspase-recruitment domains (CARDs) to interact directly with a single amino-terminal CARD in the adaptor protein MAVS (also known as IPS-1, VISA or Cardif), which is anchored to the outer mitochondrial membrane [
4
–
7
]. MAVS complexes with the adaptor protein TRAF3, recruiting the scaffold protein TANK and the IκB kinases (IKKs) TANK-binding kinase 1 (TBK1) and IKKε, which activate the transcription factor IRF3. IRF3 activation leads to the transcriptional activation of a number of antiviral genes, including that for IFNβ (Figure
1
) [
8
–
11
]. MAVS also acts as a bifurcation point for a second signaling pathway that can be triggered by RIG-I and some other PRRs. In this pathway the transcription factor NF-κB is activated, resulting in the activation of NF-κB-responsive genes (Figure
1
) [
4
–
7
,
10
,
12
].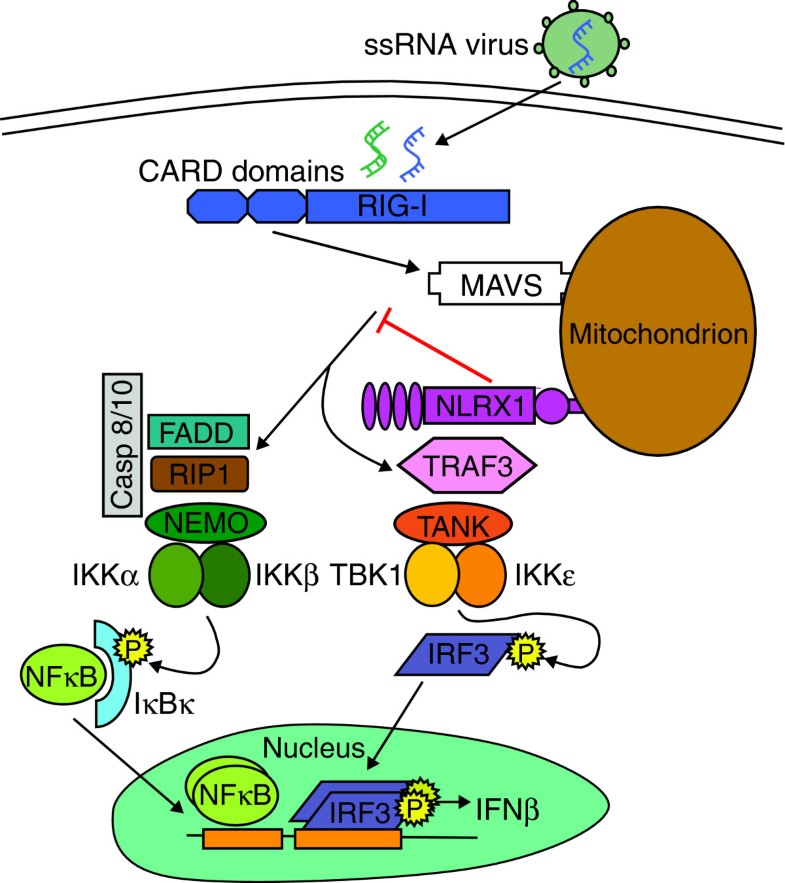 In a paper recently published in Nature, Moore et al. [13] have shown that these MAVS-mediated pathways can be inhibited by the action of an intracellular NOD-like receptor (NLR), the protein NLRX1, indicating that members of this ancient family of pathogen sensors can evolve to acquire new regulatory roles in mammalian host defense.
(1)
Department of Microbiology, Immunology and Molecular Genetics, University of California Los Angeles, Los Angeles, CA 90095, USA
(2)
Molecular Biology Institute, University of California Los Angeles, Los Angeles, CA 90095, USA
(3)
Jonsson Comprehensive Cancer Center, University of California Los Angeles, Los Angeles, CA 90095, USA
© BioMed Central Ltd 2008