DNA signatures for detecting genetic engineering in bacteria
Received: 23 August 2007
Accepted: 18 March 2008
Published: 18 March 2008
Abstract
Using newly designed computational tools we show that, despite substantial shared sequences between natural plasmids and artificial vector sequences, a robust set of DNA oligomers can be identified that can differentiate artificial vector sequences from all available background viral and bacterial genomes and natural plasmids. We predict that these tools can achieve very high sensitivity and specificity rates for detecting new unsequenced vectors in microarray-based bioassays. Such DNA signatures could be important in detecting genetically engineered bacteria in environmental samples.
Keywords
Additional Data FileHash TableMaximal CliqueVector SequenceMultiple Cloning Site
Background
Synthetic vector sequences are of fundamental importance in molecular biology. Cloning and expression vectors are among a multitude of synthetic sequence types commonly used as part of a basic tool set for DNA amplification and protein production [1]. As the emerging maturity of synthetic biology research fast approaches [2], it is reasonable to imagine in the not too distant future the broad-scale manufacture of sophisticated synthetic plasmids to modify existing bacteria and possibly the construction of new functioning synthetic genomes [3]. The potential exists to address challenges in many areas, from food production [4] to drug discovery [5]. However, along with the potential benefit comes the increased risk of engineered pathogens [6, 7]. Thus, with improvements in genetic manipulation comes the need for tools to detect genetically modified bacteria in the environment.
Large-scale computational pipelines have advanced bio-defense by efficiently finding polymerase chain reaction (PCR) assay-based primers that are able to accurately identify dangerous bacterial and viral pathogens [8–10]. The development of random DNA amplification methods have highlighted microarrays as a potentially practical multiplexing complement to PCR [11] with DNA signatures on microarrays [12]. Recent progress has made DNA signature design tools widely available to pathogen research through the development of a publicly available computational pipeline for designing PCR-based signatures [13]. These advances demonstrate the utility of DNA signature pipelines, but the question remains whether such an approach could be used to detect genetically engineered bacteria.
A computational analysis was performed on the available synthetic vector sequences, which form an important basis for current tools in genetic engineering [14]. One of the results of this work is a report on the presence of DNA signatures found to differentiate the vector sequences from the sequenced naturally occurring plasmid and chromosomal DNA. Candidate DNA signatures were found to cover nearly all artificial vector sequences using a wide range of signature lengths. The presence of these candidate DNA signatures opens the potential to develop assays in the future for detecting simple but widely available forms of genetic engineering. The vector sequence data was further leveraged to predict natural plasmids, which may form the basis for future vectors based on conserved functional sequences.
Results and discussion
Vector DNA signatures
A total of 3,799 partial and complete artificial vector sequences totaling 21,132,057 nucleotides were collected from various sequence databases (details given in Materials and methods) and analyzed for conserved sequence elements. Sequences were compared using exact k-mer matching (a k-mer is a nucleic acid sequence of length k). This alignment-free comparative sequence approach [15, 16] contrasts with methods that use conserved order among compared sequences [17]. The alignment-free comparison is motivated by the abundance of similar artificial vector sequences, which can differ in the relative order of functional elements owing to differing sources of sequence construction. Conserved order comparison is further confounded by transposable elements and the need to efficiently compare several thousand sequences simultaneously.
k-mer sets collapse the redundant candidate signatures. A k-mer set X for sequences from a set of input sequenced vectors Y is the set of k-mers shared by all n sequences where n is maximal. (There can be no additional input vector sequence in Y with the same set of shared k-mers not included in X.) For example, with three sequences S1, S2 and S3, if S1 and S2 share 20 k-mers not found in S3, these 20 k-mers would form a single k-mer set with a pointer to the two source sequences S1 and S2. If additional k-mers are shared with all three sequences S1, S2 and S3, these k-mers would form a separate k-mer set with a pointer to all three sequences.
The completely sequenced vectors were divided into five partitions to check how closely vectors excluded from the signature creation pipeline match the candidate signatures. The hope is that a high percentage of the signatures are found in unseen vectors while remaining distinct from the background genomic sequence. The background genomic sequence is defined here as all sequenced natural plasmids and all sequenced bacterial and viral chromosomes along with the assembled draft sequence. Each partition was searched against a signature set generated from the remaining 80% of the vector data using NCBI BLAST [20]. The background genomic sequence was similarly searched against each of the five signature sets. Each vector sequence and background genomic sequence was assigned its average bit score from the BLAST matches, plus the standard deviation. Support for differentiating between the artificial vector sequence and a background sample via differential cross-hybridization is enhanced when every artificial vector sequence's similarity to the signature set is higher than the background genomic sequence. It should be noted that the bit scores provide a rough estimate of hybridization potential and additional parameters may be used to optimize signature sets for a specific detection experiment and assay medium.
Two k-mer values, 30 and 60, were used with two signature set sizes, a smaller and larger set averaging 28,414 and 77,184 k-mers, respectively. Values for k (30 and 60) were chosen to examine signature types with different microarray hybridization patterns using lengths that we know from experience have different characteristics on our synthesized microarray platform. An alternative BLAST approach called MCS-only was included for comparison. MCS-only uses the multiple cloning sites of vectors exclusively as the source for creating signatures. The multiple cloning sites were first searched against the background sequence using BLAST, and regions without contiguous exact matches exceeding k were retained as input for constructing candidate signatures.
The MCS-only approach has the advantage of being easier to implement and requires less computational resources. Since the multiple cloning sites are expected to be good identifiers of vector sequence, it is possible that using all of the vector sequence as input provides limited information for creating signature data beyond what is already found at the multiple cloning sites. There are, however, potential disadvantages to this approach. Accessing the annotation specifying the multiple cloning site in every vector sequence is not easy. Despite our best efforts, we were unable to obtain multiple cloning site annotations for 18% of the completely sequenced vectors, although given the redundancy among vectors, the potential for extracting a good signature set is still possible.
The results indicate that the limited annotation of multiple cloning sites for vector sequences is not the only cause for the drop in MCS-only performance. The signature-based approach yields additional signatures outside the MCS region that boost confidence in the prediction of a vector, particularly in cases where the MCS region does not match well with the signature set. An additional advantage of using signatures outside the MCS region is to recover more information about the detected vector. Since signatures can come from other functional regions such as replication of origin sites and selection marker genes, matches to these signatures could provide additional information that would be useful in learning more about a vector and host type embedded in a complex sample.
It is important to note that longer probe lengths reduce microarray hybridization specificity. Using shorter k-mer sizes for microarray probe design may lead to more specific detection rates compared with longer k-mers, since single nucleotide differences are used to determine candidate signatures for all values of k. The results in Figure 5 suggest that longer probes can be filtered using BLAST to remove additional near matches to the background, which could improve hybridization specificity while maintaining good coverage across the complete set of artificial vectors.
Plasmid/vector conserved functional sequence
Conclusion
Candidate DNA signatures were found for nearly all artificial vector sequence. In a small number of cases overlap between natural plasmids and artificial vectors preclude detection with DNA signatures. With two exceptions, where the signatures were found at k = 23 and 47, the lack of signature coverage for a vector sequence was explained by the occurrence of an equivalent natural analog, which makes clear the limits of many vector/plasmid distinctions. Natural analogs must be included in vector based signature detection systems along with other natural plasmid derivatives, which could be used to evade detection from the existing core signature set. With the potential for plasmids to be converted into artificial vector sequence [29, 30], developing predictive DNA signatures is an important challenge. At a minimum, signatures from the 21 plasmids sharing multiple functional elements with existing artificial vector sequence should be included to track potentially modified natural plasmids. Finding that 364 signatures cover nearly the complete set of vector sequences means that there is high sequence redundancy, making it feasible to maintain an expanding database of DNA signatures to track all sequenced vectors.
Future work should be directed towards bioassay design using DNA signatures on microarrays to test the efficacy of detecting genetically modified bacteria from a sample, which includes both modified and naturally occurring bacteria. We plan to collaborate more closely with scientists in the genetic engineering field to refine our bioinformatics tools to anticipate future natural plasmid-derived vector construction. As with any attempt to counter malicious use of technology, detecting genetic engineering in microbes will be an immense challenge that requires many different tools and continual effort. Cooperating with the scientific community to sequence and track available vector sequence will provide an opportunity for DNA signatures to support detection and deterrence against malicious genetic engineering applications.
Materials and methods
Natural plasmid sequence was extracted from an Entrez query of taxonomic classification 'other sequence; plasmids' [31], GenBank plasmids and the Plasmid Database [32]. Sequences were checked for redundancy yielding the final natural plasmid sequence total of 65,341,821 bases in 1,567 contigs. In the pre-processed form there is overlap between the artificial vector set and the natural plasmid set. While some plasmids are naturally occurring, they are also used in genetic engineering. In cases where an engineered application is found, the sequence was treated as an 'artificial vector sequence'. The remaining artificial vector sequence was downloaded from the GenBank vector set available via anonymous ftp [33], ATCC [34], Virmatics [35] and an Entrez-based query of sequences classified taxonomically as artificial vector sequence. Vector sequences with fasta headers specifying eukaryote cell targets were removed, along with duplicate sequences. The background chromosomal sequence comes from the KPATH [9] database, which contains all available draft and completely sequenced microbial genomes (45,749 sequences totaling 4,057,440,823 bases).
Signature pipeline
Each vector sequence was assigned a unique integer identifier starting from 0 to the total number of sequences minus 1. A hash table was built with a hash key entry for each
k
-mer in the vector sequence and the numeric identifiers stored in order from the contributing sequences. An example schematic of the hash table is labeled 'Hash table 1' in Figure
8
. As an example, the top entry in Figure
8
is
k
-mer-1 and is found in five different sequences: 0, 5, 9, 12 and 100. The computational cost to build the hash table is the number of
k
-mers (proportional to the total number of bases given as input) times the cost of inserting a pointer to the originating sequence for each
k
-mer into a sorted list, which is
O
(log
s
), where
s
is the total number of sequences and reduces to a constant value. This gives a linear runtime with respect to the number of nucleotides given as input. If the total number of input bases is
n
then there are
O
(
n
) bytes used for the keys times 2 *
s
bytes (assuming 2 bytes per integer). In theory, up to 3 TB of memory could be required, however, most
k
-mers are found in a smaller subset of sequences, dramatically reducing memory requirements. This problem can be viewed in the context of other multiple whole genome exact seed match comparison approaches that are potentially more memory efficient using variants of suffix trees [
36
,
37
] minus a step for chaining together conserved order blocks [
16
]. The principal difference is the need for a sequence clustering step, since
k
-mers are found in different subsets of the total set of input sequences.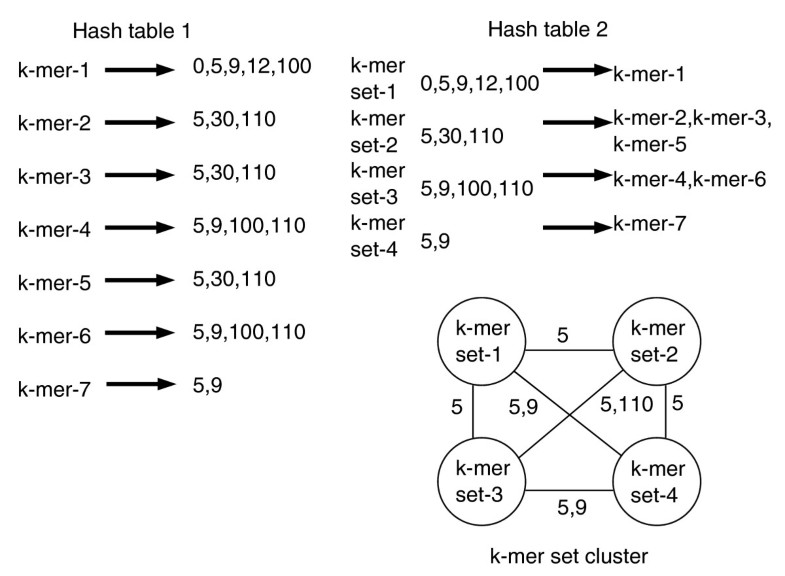 Once the initial hash table is built, the sequence pointers of each k-mer entry become the keys for a second hash table, which records every combination of vector sequence with shared k-mers. A schematic of the hash table is labeled 'Hash table 2' in Figure 8. As an example, the second key from the top in Hash table 2 in Figure 8 forms a k-mer set called k-mer set-2, which shows that three sequences, 5, 30 and 110, share three k-mers, k-mer-2, k-mer-3 and k-mer-5. This comparative sequence approach presents a linear runtime with respect to the number of input nucleotides but has a theoretically high memory cost (owing to an exponential number of possible cluster combinations). In practice the entire study required less than 3 GB in online random access memory (RAM). Google sparse hash tables [38] were used to limit RAM consumption. DNA signatures are found by checking each nucleotide in the background dataset (natural plasmids and chromosomal sequence) and storing the k-mers shared with the initial vector derived hash table.
The background and vector sequences were searched against the signature set so that comparable sized query database sizes were used in the comparison. The background genomic sequence was searched against all five signature sets and the average result was taken. Default parameter values were used for BLAST. The second plot (Figure 5) shows signatures removed from the detection set using a bit score threshold of 100 and 50 for k = 60 and 30, respectively. A signature was removed if it has at least one match with bit score above the threshold. The two k-mer based signature set sizes were chosen from two different criteria. The larger set was taken by selecting the first 10 signatures from each k-mer set (chosen at random). The smaller set was chosen by taking a maximum of the first 10 signatures per vector sequence selecting signatures shared by the largest number of vectors.
Matching vectors with plasmids
The vector sequences with the greatest number of
k
-mer sets shared with a natural plasmid of interest (such as the
Y. pestis
plasmid given as an example) were found using a graph theoretic approach. Each
k
-mer set is a node in a graph, with labeled edges between two nodes listing the vectors in common. An example is shown in Figure
8
. In general, if
k
-mer set
A
and
k
-mer set
B
are two nodes in the graph, node
A
contains the
k
-mers shared by the vectors and node
B
contains the
k
-mers shared by the vectors . An edge between
A
and
B
exists if the intersection between
V
A
and
V
B
is non-empty and the edge is labeled with the names of the shared vectors. For example, in Figure
8
there is an edge between
k
-mer set 1 and
k
-mer set 4 labeled with their common vectors 5 and 9. Finding the
k
-mer sets with the greatest number of common vectors finds the maximal clique in the graph [
39
] with the added constraint that every edge in the clique must share at least one vector in common with every other edge in the clique. Once the maximal clique with edge label constraints is found, it is removed from the graph and the process is repeated for the remaining
k
-mer sets until all nodes (
k
-mer sets) are assigned to a maximal clique. The cluster labeled 1 in Table
2
is shown in graph form in Figure
9
; for clarity the edge labels are not shown, but each edge is labeled with the two common matching vectors: [GenBank:4262403] and [GenBank:4323404].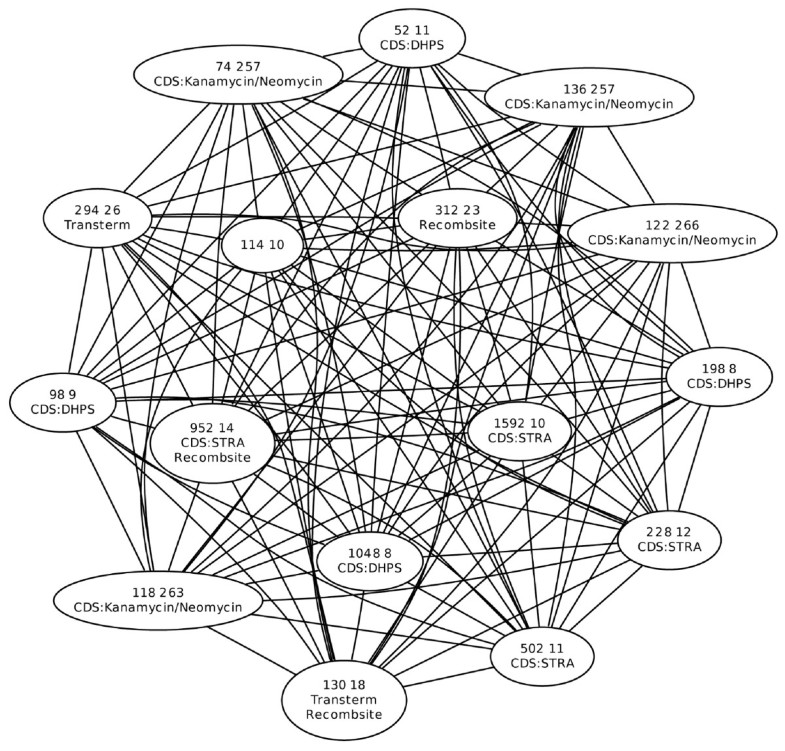 Additional data files
The following additional data are available with the online version of this paper. Additional data file 1 is the list of artificial vector identifiers. Additional data file 2 is the list of natural plasmid identifiers. Additional data file 3 is the complete set of 30-mer signatures used in the cross-validation set. Additional data file 4 is the complete set of 60-mer signatures used in the cross-validation set.
List of abbreviations
CDS:

coding sequence
MCS:

multiple cloning site
PCR:

polymerase chain reaction, RAM, random access memory.
Declarations
Acknowledgements
This work was performed under the auspices of the United States Department of Energy by the University of California, Lawrence Livermore National Laboratory under Contract No. W-7405-Eng-48. JEA is supported in part by an IC Postdoctoral Fellowship. Thanks to Marisa Lam and Jason Smith for assistance compiling genomic sequence data.
Authors' Affiliations
(1)
Lawrence Livermore National Lab, Livermore, USA.
Copyright
© Allen et al.; licensee BioMed Central Ltd. 2008
This article is published under license to BioMed Central Ltd. This is an open access article distributed under the terms of the Creative Commons Attribution License (http://creativecommons.org/licenses/by/2.0), which permits unrestricted use, distribution, and reproduction in any medium, provided the original work is properly cited.