Bilateral olfaction: two is better than one for navigation
Biological sensory systems often make use of asymmetries in sensory inputs to extract information about the environment. The visual system, for example, exploits disparities in the two-dimensional images obtained from the left and the right eyes to extract information about depth [1]. The auditory system uses the phase and intensity differences of stereo inputs to localize sound sources [2]. Relatively little is known about the importance of bilateral inputs in olfaction. Our own noses feature twin nostrils; insects have paired antennae. What advantages do such configurations provide? A recent study by Louis and colleagues [3] examined the significance of paired inputs for odor navigation in an animal offering numerous experimental advantages, the larva of the fruit fly, Drosophila melanogaster.
Studying how animals carry out chemotaxis, that is, how they navigate through chemical gradients, requires careful behavioral assays conducted within well-controlled spatial distributions of chemicals. In the case of olfaction, it is a significant technical challenge to generate the stable odor gradients needed for such a study. Louis
et al
. [
3
] developed a novel and clever approach: they built a small test chamber whose ceiling, an inverted 96-well plate, suspended an ordered array of droplets of sequentially diluted odorants (Figure
1
). The authors confirmed that this array generated the desired airborne odor gradient within the test chamber by means of Fourier transformed infrared spectroscopy. Equipped with this well-controlled stimulus field, the authors set about examining chemotaxis in fruit fly larvae.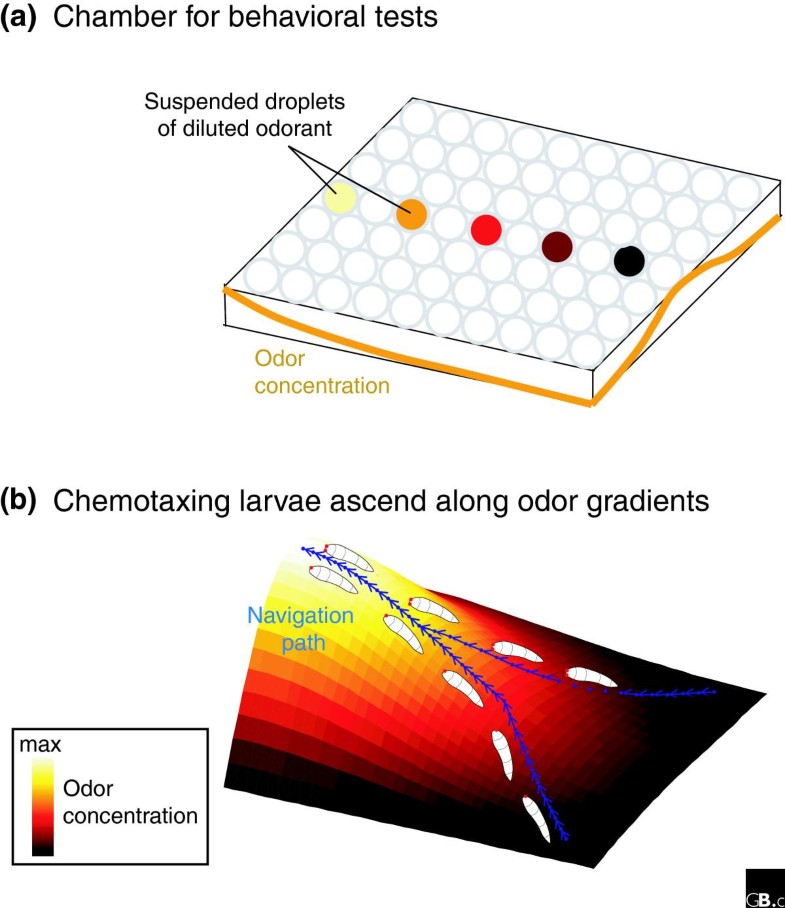 In the larva, the transduction of chemical stimuli into neural representations begins in two dorsally located olfactory organs that are about 100 micrometers apart. Each olfactory organ normally contains 21 sensory neurons, each expressing one or two receptor genes together with the universally coexpressed OR83b gene [4]. Earlier studies by the authors had established that knocking out the OR83b co-receptor gene removes essentially all odor-driven behavior in these larvae [4]. By randomly rescuing the co-receptor gene in either the left or the right olfactory organ in transgenic OR83b knockout preparations, the authors generated unilateral animals - perfect for answering interesting questions about bilateral chemoreception.
(1)
National Institute of Child Health and Human Development, NIH, Lincoln Drive, Bethesda, MD 20892, USA
(2)
National Institute of Standards and Technology, Gaithersburg, MD 20899, USA
© BioMed Central Ltd 2008