No evidence of a Neanderthal contribution to modern human diversity
Published: 18 February 2008
One of the most intriguing questions in human evolution revolves around the Neanderthals, who were the first human-like fossil species to be discovered, more than 150 years ago. What were they like and why did they disappear 30,000 years ago? Do we carry any of their genes? Three hypotheses have been proposed to explain the origin of anatomically modern humans (
Homo sapiens
) and their relation to so-called 'archaic' humans such as the Neanderthals (
Homo neanderthalensis
) (Figure
1
). One is the well known 'out of Africa' or 'recent replacement' theory [
1
,
2
]; this says that
H. sapiens
evolved in Africa and migrated from there relatively recently, expanding over the world and displacing those archaic humans, such as the Neanderthals, who had evolved independently in Eurasia. An older hypothesis suggests that the evolution of modern humans occurred in both Africa and Eurasia, with gene flow between the various populations; this is known as the 'multiregional' model [
3
–
5
]. A Neanderthal genome project based on DNA from fossil specimens is now under way and aims to provide us with much more information about what the Neanderthals might have been like. In particular, it should provide a definitive answer to whether there was any genetic intermixing between them and the modern humans who coexisted with them in Europe for up to 6,000 years [
6
] and perhaps longer in Western Asia.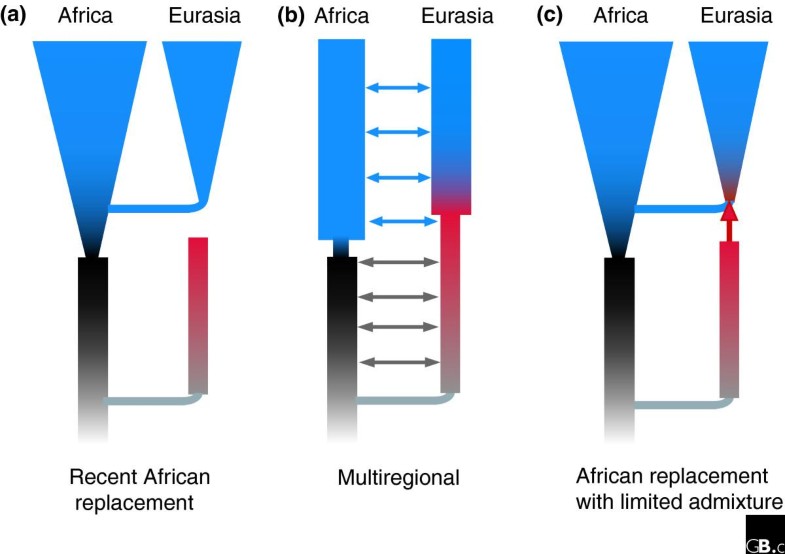 (1)
Center for the Study of Human Origins, Department of Anthropology, New York University, Waverly Place, New York, NY 10003, USA
© BioMed Central Ltd 2008