Protein family review
Open Access
The Hedgehog protein family
Published: 19 November 2008
Keywords
Primary CiliumRepress Target GeneCnidarian Nematostella VectensisBasal Cell Skin CancerHint Domain
Summary
The Hedgehog (Hh) pathway is one of the fundamental signal transduction pathways in animal development and is also involved in stem-cell maintenance and carcinogenesis. The hedgehog (hh) gene was first discovered in Drosophila, and members of the family have since been found in most metazoa. Hh proteins are composed of two domains, an amino-terminal domain HhN, which has the biological signal activity, and a carboxy-terminal autocatalytic domain HhC, which cleaves Hh into two parts in an intramolecular reaction and adds a cholesterol moiety to HhN. HhC has sequence similarity to the self-splicing inteins, and the shared region is termed Hint. New classes of proteins containing the Hint domain have been discovered recently in bacteria and eukaryotes, and the Hog class, of which Hh proteins comprise one family, is widespread throughout eukaryotes. The non-Hh Hog proteins have carboxy-terminal domains (the Hog domain) highly similar to HhC, although they lack the HhN domain, and instead have other amino-terminal domains. Hog proteins are found in many protists, but the Hh family emerged only in early metazoan evolution. HhN is modified by cholesterol at its carboxyl terminus and by palmitate at its amino terminus in both flies and mammals. The modified HhN is released from the cell and travels through the extracellular space. On binding its receptor Patched, it relieves the inhibition that Patched exerts on Smoothened, a G-protein-coupled receptor. The resulting signaling cascade converges on the transcription factor Cubitus interruptus (Ci), or its mammalian counterparts, the Gli proteins, which activate or repress target genes.
Gene organization and evolutionary history
Characteristic structural features
Hh proteins are synthesized as precursor proteins (about 400-460 amino acids long) and comprise several different motifs and domains: a signal peptide for protein export, a secreted amino-terminal HhN (Hedge) domain that acts as a signaling molecule, and an autocatalytic carboxy-terminal HhC (Hog) domain that contains a Hint module (see Figure 1). Multiple sequence alignments of the HhN and HhC domains defining the conserved residues and features have been presented in [10]. HhC binds cholesterol in the sterol-recognition region (SRR) [21]. The catalytic activity of the Hint module cleaves Hh into two parts and adds the cholesterol moiety to the carboxyl terminus of HhN (Figure 1b). The structure of Drosophila HhC has been determined using X-ray crystallography and shows a high congruence with that of inteins [14]. The structure is globular, composed of β strands, and starts with a cysteine residue critical for auto-processing (Figure 1b). The nematode Hh-related protein WRT-1 was shown to be autoprocessed like Hh [22]. Given that the critical residues of the active site of HhC are well conserved among Hog proteins [10, 14], it can be assumed that most, if not all, are autoprocessed. However, it is not known what adduct binds to the adduct-recognition region (ARR) of Hh-related proteins. Intriguingly, the ARR regions of some of the protist Hog proteins contain motifs conserved with the Hh SRR [10], suggesting that sterol binding might be an ancient feature.
The structure of the HhN domain of mouse Shh has also been determined [23]. It is a relatively globular domain with two antiparallel α helices and several β strands wrapping one face of the two helixes. Although it was found to have a potential catalytic site, no enzymatic activity has been uncovered so far [24]. In addition to the cholesterol modification, the HhN domain is also modified at its amino terminus by palmitate through the action of a transmembrane acyltransferase, named Skinny hedgehog (Ski, also known as Rasp) in Drosophila [25], and hedgehog acyltransferase (HHAT) in mammals [26]. Because of these lipid modifications, the modified HhN domain (M-HhN) can form multimeric complexes [27, 28] and can interact with lipo-proteins [29]. Drosophila Ihog (interference hedgehog) and its mammalian orthologs Cdo and Boc are M-HhN-interacting proteins that are required for normal Hh signaling. They are type I integral membrane proteins with four extra-cellular immunoglobulin-like domains and two extracellular fibronectin type III domains. Biochemical and structural studies of complexes of Drosophila HhN and Ihog show that heparin induces dimerization of Ihog, a prerequisite for high-affinity interactions between M-HhN and Ihog [30]. Biochemical and structural studies of complexes of mouse ShhN and Cdo revealed a different mode of binding, where a calcium-binding site in ShhN is important for the interaction [31]. Therefore, although the structures of fly HhN and mouse ShhN are conserved, the mode of interaction is not necessarily conserved in evolution.
Localization and function
An export signal peptide targets newly synthesized Hh to the endoplasmic reticulum, where autoprocessing, as well as palmitoylation, of the HhN domain occurs [26, 28]. The modified HhN is released from the cell with the aid of the 12-pass transmembrane protein Dispatched (Disp). Once released into the extracellular environment, M-HhN interacts with a number of different proteins: the heparan-sulfate proteoglycan Dally-like (Dlp), and the proteins Ihog and growth-arrest-specific 1 (Gas1) are positive regulators of Hh signaling, whereas Hh-interacting protein (Hip) acts as a negative regulator by sequestering M-HhN. The lipid modification of HhN as well as the extracellular protein interactions influence its extracellular movement and ensure correct short- and long-range signaling (see, for example, [28]).
The key function of M-HhN as an extracellular signal is to inhibit the activity of the receptor Patched (Ptc), a 12-pass transmembrane protein. Ptc is closely related to Disp and shares similarity with the bacterial family of resistance-nodulation division (RND) proton pumps that transport small molecules across membranes. Numerous reviews deal with the biological function of the Hh pathway and its components [
32
–
52
]. Figure
6
shows a summary of the pathway composed from
Drosophila
and mammalian data (although a number of important differences exist between the pathways in these two groups of organisms). Briefly, in the absence of M-HhN binding, Ptc represses a signaling pathway that acts through Smoothened (Smo), a seven-pass G-protein-coupled receptor. Smo is negatively regulated by pro-vitamin D3, and is positively, but indirectly, regulated by oxysterols (oxygenated derivatives of cholesterol) [
53
–
55
]. 7-Dehydrocholesterol reductase, which converts pro-vitamin D3 into cholesterol, is also a regulator of Hh signaling [
56
]. Another important aspect of Smo activity is its subcellular localization. When M-HhN binds to Ptc, the complex is internalized while Smo translocates to the cell membrane or - in mammals - to the primary cilia. Localization of Smo to the primary cilia is a fundamental requirement for the pathway to be active, and in the absence of M-HhN, Ptc inhibits this localization [
57
]. How exactly Ptc inhibits Smo is still not clear and numerous models are being contemplated (see, for example, [
38
,
41
,
52
]). Because of the similarity of Ptc to bacterial transporters, Ptc could secrete a pro-vitamin D3 or related molecule to inhibit Smo. Activated Smo is phosphorylated and signals via a cascade of microtubule-associated proteins to the nucleus, where the transcription factor Cubitus interruptus (Ci) in
Drosophila
or its mammalian counterparts, the Gli transcription factors, activate or repress target genes. Among the many target genes regulated by mammalian Gli1 are those for Ptc and Gli1 themselves. This results in feedback loops in which upregulation of Ptc leads to negative feedback, whereas upregulation of Gli1 leads to positive feedback.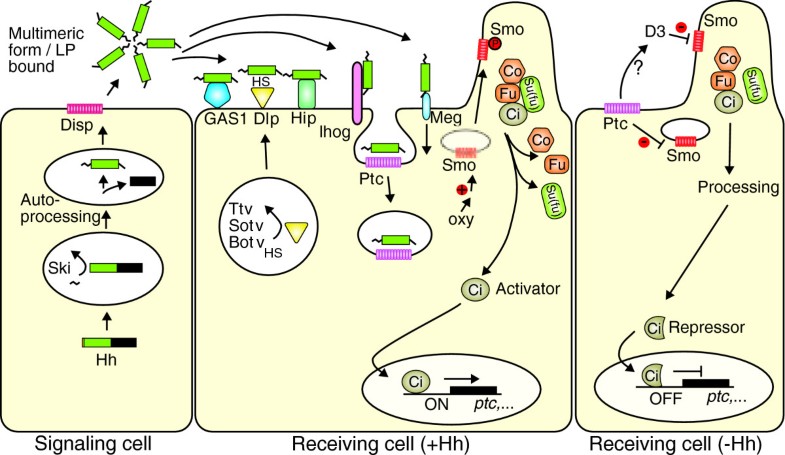 In animal development, the secreted M-HhN moiety functions as a morphogen. The Hh signaling pathway plays many important roles in development, including conferring segment polarity on the body segments and patterning the wing in Drosophila, and patterning the neural tube in mammals [39, 48, 58]. Hh is also required for stem-cell maintenance, and mutations in the pathway lead to cancer. Increased activity of the pathway causes basal cell carcinoma and medulloblastoma [37, 59–63]. For example, insufficient Ptc function leads to Gorlin syndrome in humans, one feature of which is an increased risk of basal cell skin cancer. In mammals, Shh, Dhh, and Ihh have partially redundant functions. Shh is the most widely expressed of the three paralogs, and regulates development from embryo to adult. Key roles are in patterning the neural tube: Shh is first expressed in the notochord, and later in the floor plate of the neural tube, where it produces a gradient of activity in the ventral neural tube. Shh is also expressed in the zone of polarizing activity of the limb buds and is important for limb and digit formation. Other roles of Shh include inner ear, eye, taste bud, and hair follicle development. Ihh is expressed in the primitive endoderm and is required for bone growth and pancreas development. Shh and Ihh both play roles in cardiovascular development. Dhh is expressed in the gonads, and Dhh-mutant males are sterile [39, 48, 64].
Frontiers
Despite substantial insights into the Hh signaling pathway, there are still many gaps in our understanding. How, and in which forms, the M-HhN morphogen travels from the signaling cells to the target cells requires further investigation. Obviously, the number of potential interactors in the extracellular matrix and extracellular space is vast, and any changes therein could influence how M-HhN propagates. And could the M-HhN domain potentially have functions other than to regulate the Ptc-Smo interaction? Clearly, the amino-terminal domains of Hh-related proteins in protists and nematodes, as well as Hh in Enoplea [10] must have other functions, as there is no bona fide Hh signaling pathway in these organisms. The inhibition of Smo by Ptc and the role of sterol compounds also need further investigation to unravel the action of sterols on Smo, and to determine how Ptc is involved in this regulation. The Hh signaling pathway has been compared to the Wnt pathway, another key signaling pathway in development, since some of the molecules in the pathways have similarities to each other [65]. However, the Hh signaling pathway is unusual and different from other signaling pathways in that the primary morphogen, M-HhN, does not directly act on the key receptor, Smo. Perhaps the Smo signaling pathway was originally part of a sterol homeostasis pathway. M-HhN and Ptc could then be viewed as secondary modifiers of the Smo pathway. Did they originally have other functions? For example, the Ptc homolog PTC-1 in C. elegans functions in the absence of Smo and plays a role in oocyte cytokinesis [66].
A substantial number of components of the Smo signaling cascade leading to the nucleus have been uncovered, though many of the interactions still need to be better understood. Recently, however, a new Smo response pathway was uncovered that does not depend on transcription activation through Smo [67], opening the possibility that yet other aspects of the pathway downstream of Smo remain to be discovered. The importance of oxysterols in Hh signaling connects the Hh pathway with cholesterol homeostasis [49, 52, 68, 69]. Hence, it will be a formidable challenge to unravel the interactions between sterol compounds, Hh, Ptc and Smo and to comprehend the kinetics and biophysical aspects of their subcellular localization. Understanding of all the regulatory controls and feedback loops in this signaling pathway will ultimately require computational modeling.
Declarations
Acknowledgements
I would like to thank Peter Zaphiropoulos for critical reading of the manuscript. TRB is supported by the Center of Biosciences.
Authors' Affiliations
(1)
Department of Biosciences and Nutrition, Karolinska Institutet, and School of Life Sciences, Södertörn University, Huddinge, Sweden
Copyright
© BioMed Central Ltd 2008