Network-based approaches for linking metabolism with environment
Published: 24 November 2008
The sequential nature of the reactions in metabolic pathways means that they can be modeled in the form of a graph (network) of enzymes and chemical transformations, and network theory can be used to represent and understand metabolism [
1
,
2
]. The connected collection of metabolic pathways, describing the set of all enzymatic interc-onversions of one small molecule into another, is defined as the metabolic network of an organism (Figure
1a
).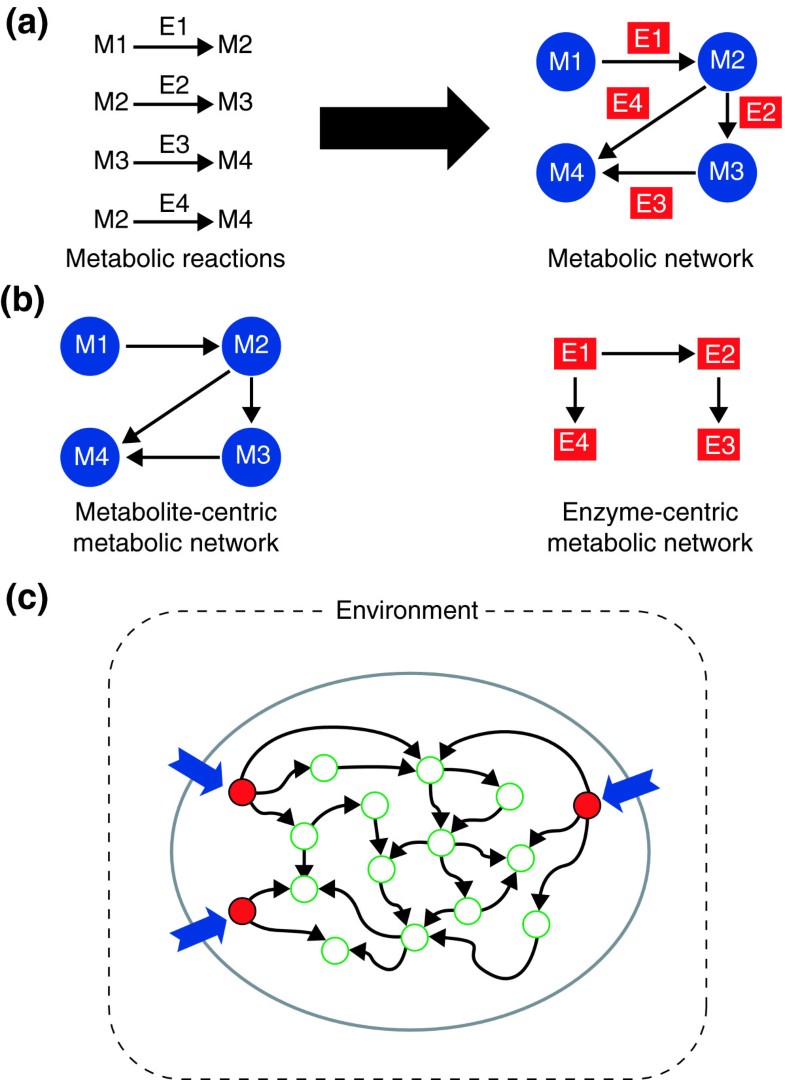 The most commonly used network representations are 'metabolite-centric'. They consider metabolites as the nodes of the graph and two metabolites are linked if one can be converted into the other by an enzymatic reaction (Figure 1b, left). An alternative network representation is 'enzyme-centric'. It considers the enzymes as nodes and links enzymes that catalyze successive reactions (Figure 1b, right). Although several studies have provided insights into the structure and evolution of a metabolic network, very few have addressed the influence of environment on metabolic network structure in species from diverse environmental conditions. The availability of many completely sequenced genomes means that metabolic-network analysis can now be extended from a few model organisms to species from different branches of the tree of life and living in very different environments. This should enable the elucidation of general principles underlying metabolic networks.
Two recent studies, published in the Proceedings of the National Academy of Sciences by Eytan Ruppin and colleagues (Kreimer et al. [3] and Borenstein et al. [4]), provide important insights into links between the environment of an organism and the structure of its metabolic network. Using data from a large number of bacterial metabolic networks, Kreimer et al. address the question of how the topologies of the metabolic networks from different species reflect both genome size and the diversity of environmental conditions the species would encounter. Borenstein et al. set out to identify the 'seed set' - that set of small molecules that are absolutely needed from the external environment - of each species and how this seed set differs across species from different environments.
(1)
MRC Laboratory of Molecular Biology, Hills Road, Cambridge, CB2 0QH, UK
© BioMed Central Ltd 2008