Horizontal gene transfer and the evolution of transcriptional regulation in Escherichia coli
Received: 4 August 2007
Accepted: 7 January 2008
Published: 07 January 2008
Abstract
Background
Most bacterial genes were acquired by horizontal gene transfer from other bacteria instead of being inherited by continuous vertical descent from an ancient ancestor. To understand how the regulation of these acquired genes evolved, we examined the evolutionary histories of transcription factors and of regulatory interactions from the model bacterium Escherichia coli K12.
Results
Although most transcription factors have paralogs, these usually arose by horizontal gene transfer rather than by duplication within the E. coli lineage, as previously believed. In general, most neighbor regulators - regulators that are adjacent to genes that they regulate - were acquired by horizontal gene transfer, whereas most global regulators evolved vertically within the γ-Proteobacteria. Neighbor regulators were often acquired together with the adjacent operon that they regulate, and so the proximity might be maintained by repeated transfers (like 'selfish operons'). Many of the as yet uncharacterized (putative) regulators have also been acquired together with adjacent genes, and so we predict that these are neighbor regulators as well. When we analyzed the histories of regulatory interactions, we found that the evolution of regulation by duplication was rare, and surprisingly, many of the regulatory interactions that are shared between paralogs result from convergent evolution. Another surprise was that horizontally transferred genes are more likely than other genes to be regulated by multiple regulators, and most of this complex regulation probably evolved after the transfer.
Conclusion
Our findings highlight the rapid evolution of niche-specific gene regulation in bacteria.
Keywords
Horizontal Gene TransferRegulatory InteractionAdditional Data FileBasic Local Alignment Search ToolNeighbor Regulator
Background
Transcription factors (TFs) bind to specific sites on DNA where they regulate the expression of target genes and thus allow bacteria to adapt to a changing environment. In the well studied bacterium Escherichia coli K12, more than 150 TFs have been characterized [1] and nearly 100 more are predicted from the genome sequence. Most of the E. coli TFs include a DNA-binding domain that determines target site specificity as well as a sensing domain that binds to small metabolites or to signaling proteins [2]. With the availability of complete genome sequences from diverse bacteria, researchers have begun to consider how these TFs and their binding sites evolved [2–6].
Evolution of regulation by duplication?
Because E. coli TFs form large families of homologous proteins, the interpretation has been that most of them arose by gene duplication [2, 7]. Two TFs from any given family usually regulate distinct genes and bind to distinct effectors; the duplicates therefore generally have distinct rather than overlapping functions. However, it has not been clear from previous studies whether the duplicates arose within the E. coli lineage [8] or were acquired by horizontal gene transfer (HGT), or how long ago these duplication events occurred. For example, the ancestral TF might have been transferred to another lineage, where it diverged and acquired a new function, and could then have been reacquired, to give paralogs that arose by HGT rather than by duplication within the E. coli lineage [9]. This is termed 'allopatric gene divergence'.
It has also been proposed that gene duplication is a major source of regulatory interactions. Although paralogous TFs usually have different functions, there are many cases in E. coli in which paralogous TFs regulate the same genes, or paralogous genes are regulated by the same TF, and a few cases where paralogous genes are regulated by paralogous TFs [4]. Between 7% [2] and 38% [4] of the regulation in E. coli is reported to have arisen by gene duplication, although another group reported that this is rare [7]. Also, about one-third of paralogous genes are reported to have conserved operon structure [10] and conserved regulatory sequences [3]. Because these studies did not examine whether the paralogs were closely related and whether the regulation was conserved from an ancestral state, these regulatory similarities could have evolved independently, instead of being conserved from the common ancestors of the genes.
Evolution of regulatory sites
The evolution of the regulatory sites that TFs bind to has also been studied by comparing upstream sequences across E. coli and its relatives [3, 11, 12]. It appears that regulatory sites are usually conserved in close relatives within the family of Enterobacteria, such as Salmonella typhimurium and Klebsiella pneumoniae, and are often also conserved in moderately distant relatives within the γ-Proteobacterial division, such as Vibrio cholerae or Shewanella oneidensis. So, many of these regulatory sites are quite old [3, 11, 12]. This also implies that these regulatory sites are under strong purifying (negative) selection.
However, because these studies compared orthologous genes in E. coli and its relatives, they did not examine the regulation of recently acquired genes. As most of the genes in E. coli K12 were acquired by HGT after the divergence of the γ-Proteobacteria [13], it is important to consider how acquired genes are regulated. HGT genes may evolve new regulation after they are acquired, either because the genes' regulators from the source bacterium are not present in the new host or because different conditions in the new host select for different regulation. On the other hand, newly acquired genes might be more likely to be fixed in the population if they already contain regulatory sequences that can function in their new host. Thus, the evolutionary origin of the regulation of acquired genes also has broader implications for our understanding of HGT.
Neighbor regulators evolve by HGT?
Finally, it has been observed that many of the regulators in E. coli are adjacent to operons that they regulate [14]. These 'neighbor regulators' usually regulate just one or two operons, and the proximity of these regulators to their regulated genes suggests that HGT might be involved in the evolution of these regulatory relationships [14]. Furthermore, these neighbor regulators are often conserved adjacent to their targets in other genomes [15]. However, as far as we know, there has not been a direct test of whether neighbor regulation is associated with HGT.
Evolutionary histories of TFs
To clarify the origins of transcriptional regulation in E. coli, we conducted a detailed phylogenetic analysis of its TFs. This allowed us to distinguish paralogs that have been maintained in the lineage since their duplication from paralogs that were acquired by HGT. We found that relatively few of the TFs evolved by duplications within the E. coli lineage. Instead, we found a surprisingly complex history of HGT for many of the regulators, especially for the neighbor regulators and the as yet uncharacterized regulators. Furthermore, these specific regulators are often co-transferred together with their regulated genes, which allows us to predict regulatory targets. In contrast, most of the global regulators appear to have ancient origins in the γ-Proteobacteria.
Convergent evolution of regulatory interactions
We then analyzed the histories of individual regulatory interactions. To determine whether gene regulation evolves by duplication, we examined the evolutionary histories of regulatory interactions that are shared between paralogs in one of the three ways listed above (paralogous TFs that regulate the same gene, paralogous genes that are regulated by the same TF, or paralogous genes that are regulated by paralogous TFs). Specifically, we compared the age of these shared regulatory interactions with the age of the duplication that created the paralogs. To date each regulatory interaction, we assumed that the interaction is no older than the presence of both TF and regulated gene in the E. coli lineage. We found that the regulatory similarities between paralogs usually evolved after the duplication event, rather than being conserved from their common ancestor, as has been assumed [4]. This shows that little of the regulatory network was created by duplication.
Furthermore, these similarities between paralogs are much more common than expected by chance. It appears that gene regulation is subject to convergent evolution, and so related genes independently evolve regulatory interactions with the same (or similar) genes. Although convergent evolution at the molecular level is usually thought of in terms of protein function, here the key functional features are the genes' upstream regulatory regions, which independently (and hence convergently) evolve to bind the same regulators or to bind related regulators. Of course, many TFs bind upstream of multiple genes, and in most cases those binding sites also evolved independently. We use the term 'convergent evolution' for paralogs to emphasize that their binding sites evolved independently, and not by duplication.
Regulation of acquired genes
Because global regulators are strongly conserved and account for more than half of all known regulatory interactions [
1
], we wondered how they relate to HGT genes. We found that HGT genes tend to be under more complex regulation than native genes, and the global regulator CRP regulates a higher proportion of HGT genes than of native genes. We identified cases in which regulatory sites for conserved global regulators have been conserved across HGT events within the γ-Proteobacteria, but most of the regulation of these HGT genes appears to have evolved after the transfer event. This illustrates that major parts of the regulatory network evolved recently under selection. Overall, most of the TFs have been acquired recently and, even for the global regulators, most of the binding sites have evolved relatively recently. We provide a schematic overview of our results in Figure
1
.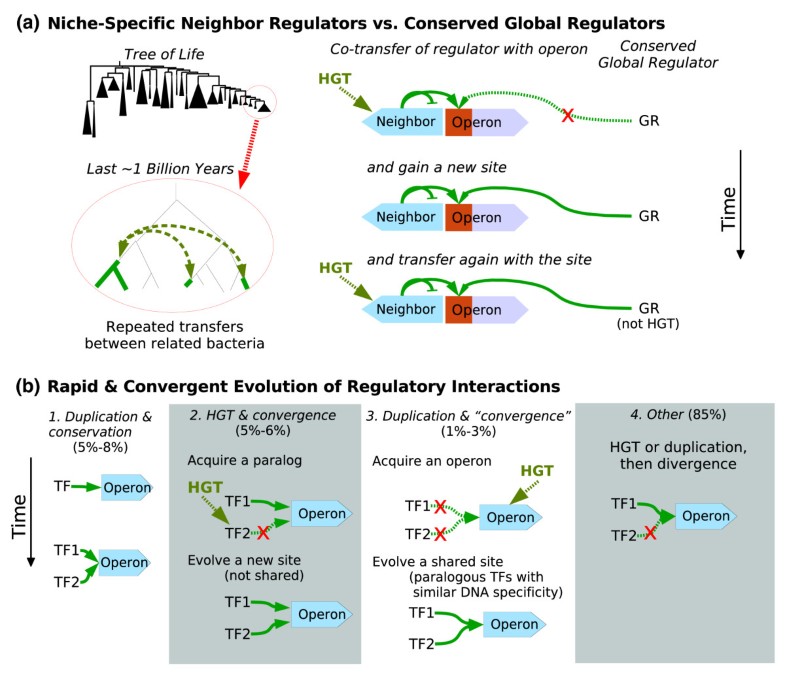 Results and discussion
Evolutionary histories of transcription factors
Because most TFs belong to large families and have paralogs, we built phylogenetic trees for the TFs (see Materials and methods, below) and we manually compared these trees with the species tree shown in Figure
2
. We focused on the period after the divergence of
E. coli
from
Shewanella
, because we found phylogenetic reconstruction deeper within the γ-Proteobacteria to be impractical. (Most gene trees are poorly resolved beyond this distance, probably because the phylogenetic signal is reduced once the sequence divergence becomes too great.) According to our species tree (see Materials and methods, below), this period comprises about a third of
E. coli
's evolutionary history since the divergence of the bacteria, or perhaps 1 billion years. As we see below, much as changed during this time.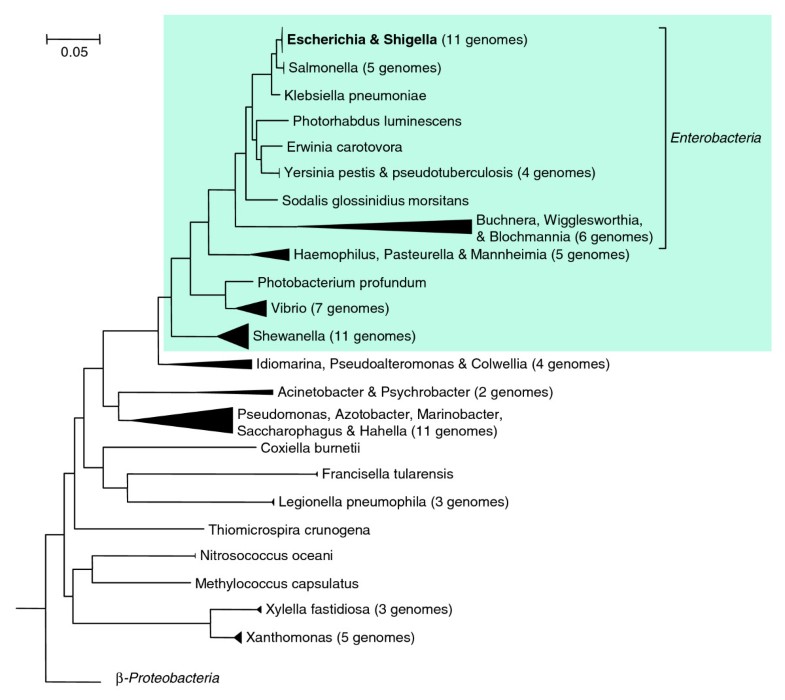 We classified a TF as being acquired by HGT after this divergence if close relatives of the TF were found in more distantly related bacteria, so that three or more gene loss events would otherwise be required to reconcile the gene tree with the species tree (for example, see Figure
3
; see Materials and methods, below, for details). We classified a TF as being duplicated within the
E. coli
lineage if it had a paralog that was closely related in the gene tree (for example, Figure
4
). We classified a gene as an 'ORFan' if it had no homologs in organisms more distantly related than
Shewanella
. The origin of microbial ORFans is unclear [
16
], but they might be HGT from an unknown source. Finally, we classified other TFs as native (evolving by vertical descent; for example, Figure
5
). However, because our criteria for identifying HGT was conservative, there may be undetected HGT events within the 'native' TFs, as well as ancient HGT before the divergence of
E. coli
from
Shewanella
.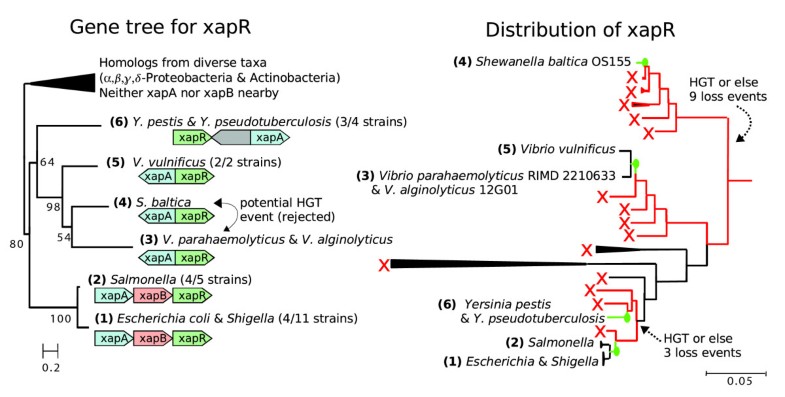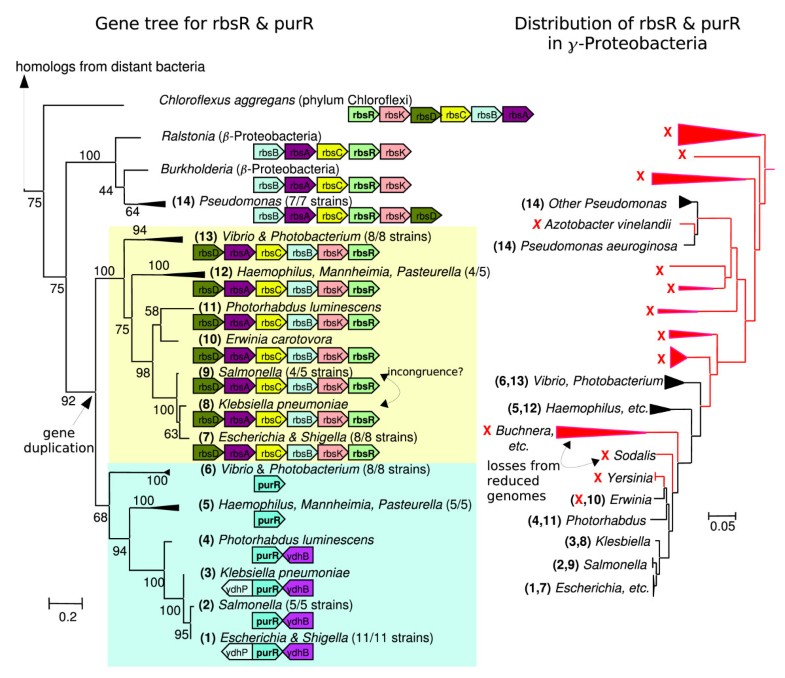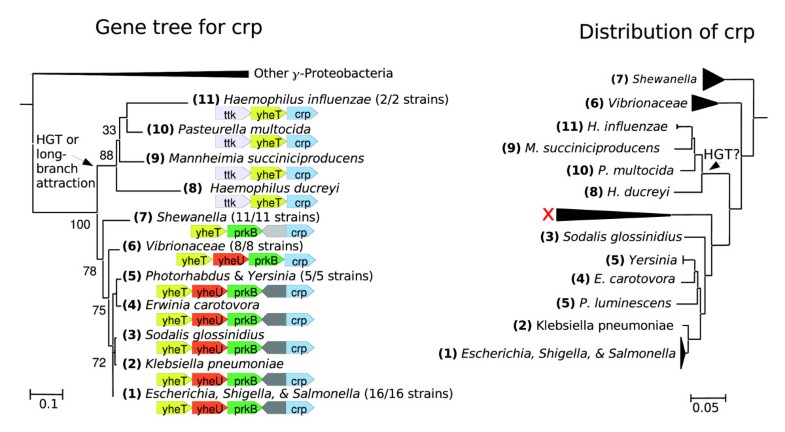 Besides phylogeny, we also classified TFs by their function. We analyzed characterized transcription factors from RegulonDB 5.6 [
1
]. We classified the 20 TFs that regulated the largest number of genes as global regulators. We classified TFs that regulate adjacent genes as neighbor regulators. To exclude autoregulation, which is common, we classified TFs as neighbor regulators only if they regulate adjacent yet distinct transcription units. (Five of the global regulators also regulate adjacent operons; those were excluded from the neighbor regulators.) We also considered other characterized TFs and putative, as yet uncharacterized regulators. We analyzed the history of each of the global regulators, and of a sample of each of the other types of regulators (see Figure
6
and Materials and methods, below; for data on individual TFs, see Additional data file 1).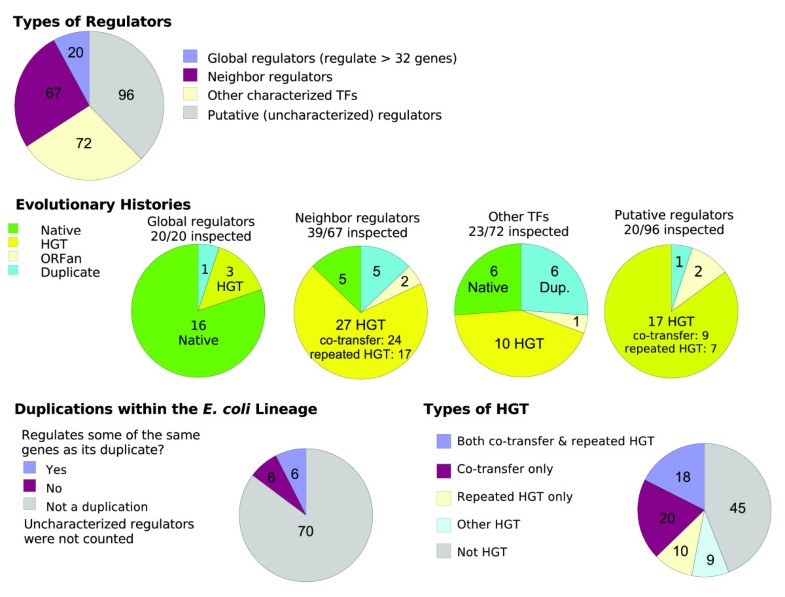 Whereas most global regulators were native genes within the γ-Proteobacteria, most neighbor regulators have been acquired after the divergence of the E. coli and Shewanella lineages (Figure 6). Other characterized regulators were native, HGT, or duplications within the lineage leading to E. coli, in roughly equal proportions. Finally, most of the putative regulators were acquired by HGT (Figure 6). Overall, we found little duplication of TFs within the E. coli lineage. In the following sections we examine in more detail the global regulators, the neighbor regulators, and the pattern of HGT.
Evolutionary histories of regulatory interactions
Conclusion
We have shown that the TFs of E. coli evolved primarily by HGT rather than by duplications within the E. coli lineage. Lineage-specific duplication accounts for a small minority of TFs (13%) and for an even smaller proportion of regulatory relationships (5% to 8%). In contrast, most of the TFs (64%) have been acquired by HGT after the divergence of the E. coli lineage from Shewanella spp. These findings support the model of 'allopatric gene divergence', wherein a TF's function diverges after HGT moves the TF into a new genome with new selective pressures, and once the TF's function diverges it is reacquired [9]. For example, dcuR and arcA (Figure 8) appear to be allopatric paralogs. Allopatric divergence avoids the complications of selection for both copies of the gene that arise when two new paralogs are in the same genome. One might imagine that, once reunited in the same genome, there would be crosstalk or conflict between these regulators, but this is not generally the case. Indeed, even for TFs that underwent duplication within the E. coli lineage, only about half of them share binding sites with their paralogs. DNA binding specificity may evolve rapidly; many TFs are neighbor regulators that bind just one or two sites in the genome, so that their DNA-binding specificity should not be highly constrained by selection. Paralogous TFs usually respond to different signals as well, but we do not address that here.
We found that TFs are often co-transferred with their regulated genes, which confirms a suggestion [14] that neighbor regulation is maintained by HGT. Thus, neighbor regulators can be viewed as being 'selfish regulons', as an analog to the selfish operon theory [35, 36]. More precisely, we imagine that the genes themselves and the regulatory relationship between them benefit the host, but the proximity itself may not be of benefit to the host and is selected for by HGT. It remains unclear how neighbor regulation arises in the first place; we discuss that issue below. We found that many of the putative, as yet uncharacterized TFs of E. coli have also been co-transferred with adjacent genes, and so we infer that most of these TFs are also neighbor regulators and that they also regulate just one or two operons [14].
Although most TFs have been acquired by HGT, most of the global regulators are well conserved within the γ-Proteobacteria. Because these global regulators are responsible for about two-thirds of known regulation, gene regulation could be more conserved than would be implied by the recent origins of the typical TF. However, HGT genes have more complex regulation than do native genes, and most of these HGT genes are acquired from distant bacteria in which global regulators are not conserved. Even for genes that were acquired from other γ-Proteobacteria, most of the binding sites for global regulators that are found in E. coli appear not to be conserved across the HGT events. Thus, it appears that on the time scales considered here, regulation evolves rapidly, even though the global regulators evolve slowly.
Nonrandom evolution of gene regulation
We found two nonrandom patterns in the evolution of gene regulation. Both of these patterns appear inconsistent with neutral or nearly neutral theories for the evolution of gene regulation. First, although regulatory similarities between paralogs (either paralogous TFs or paralogous regulated genes) account for 14% of the regulatory interactions, evolutionary analysis shows that these similarities often result from convergent evolution rather than being conserved from the common ancestor. The tendency toward convergent evolution is statistically significant. We propose that paralogs tend to have similar (but distinct) functions, and that selection sometimes causes these paralogs to have similar regulatory interactions. For example, the distant paralogs aroF and aroG encode isozymes with different feedback inhibition, but both genes are regulated by TyrR. The distant paralogs phoE and ompC encode outer membrane porins with different specificities, and both are regulated by two-component systems that sense ion concentrations (PhoB/PhoR and EnvZ/OmpR). We also found a few cases in which a new site has evolved to bind two paralogous TFs that have overlapping DNA binding specificities.
Second, HGT genes tend to be under more complex regulation than native genes, which is surprising. HGT genes have had less time to evolve complex regulation. Also, HGT genes tend to be less highly expressed than native genes (P < 10-15, by Wilcoxon rank sum test; expression levels from Price and coworkers [37]), which implies weaker selection on their regulation. We propose that many HGT genes are niche specific and hence require more complex control, whereas native genes are (relatively) constitutively expressed. In particular, many of the neighbor regulated genes are also regulated by the catabolite repressor CRP, so that each gene's expression is regulated by the availability of glucose as well as by a more specific signal related to the gene's function. More generally, HGT genes may be 'second best' systems that are not needed under optimal conditions, and hence need to respond to global regulators as well as to a specific sensor. In contrast, native genes may be regulated by a single sensor. Because our knowledge of gene regulation in E. coli is highly incomplete, however, we cannot rule out the possibility that the apparently complex regulation of HGT genes results from some bias in what geneticists choose to study.
Neighbor regulators as 'selfish', niche-specific regulons
The mechanism by which neighbor regulators form remains unclear. If we examine the closest homologs of neighbor regulators and regulated genes that are not near to each other, then we usually find that these homologs are not in the same genomes (data not shown), and so the proximity does not appear to result from deleting intervening genes. We also note that neighbor regulated genes are more likely than other characterized genes to be in operons instead of transcribed individually (P < 0.01, by Fisher's exact test), so there may be some operons that are evolving 'selfishly' along with their regulators, even though the selfish model does not appear to apply to operon formation in general [25, 28, 38, 39].
We speculate that neighbor regulation might arise because it allows the TF to bind to a single site and regulate both the TF and the regulated operon. For example, the majority of TFs regulate their own transcription, and if an HGT event inserts an operon adjacent to the TF, then the pre-existing site could regulate that operon's transcription. This would explain why the majority of neighbor regulators are divergent from their regulated genes, and strong selection to maintain the shared site might explain why the divergent orientation is associated with autoregulatory TFs [14, 15]. The other neighbor regulators might arise from divergent neighbor regulators by local inversion, as can be seen for xapR (Figure 3).
Another explanation is that neighbor regulation might be selected for because a newly synthesized TF would be closer to its target [14]. This type of proximity could also explain why neighbor regulators tend not to be transcribed in the convergent orientation relative to the regulated operon, because the convergent orientation increases the distance from the newly synthesized TF to its site by a few kilobases [40]. However, the time for TFs to find their targets is short regardless of their location; TFs bind to specific sites at rates of around 108/M per second, and if the TF has a single site in the genome then that site's concentration is about 10-9 M, so that a newly synthesized TF should find its binding site, anywhere in the genome, in around 10 seconds on average [41]. The search time might be greater because of nonspecific binding to DNA [40], but in vivo the lactose repressor finds its target in at most a few minutes [42]. Thus, we doubt that there is selection for a TF to be encoded near to its target site(s).
Regardless of the origin of neighbor regulation, the repeated HGT of neighbor regulators within γ-Proteobacteria suggests that these regulons are niche specific. Niche-dependent selection for these genes is also consistent with the functional bias of HGT genes [23], the role played by HGT genes in peripheral (nonessential) rather than central metabolism, and the metabolic compatibility of acquired genes with the pre-existing capabilities of the host [43]. Conversely, the sporadic distribution of these genes is consistent with the high rate of loss of recently acquired genes [44]. The rapid loss would most likely be neutral, but it could also reflect selection against capabilities that are deleterious if not frequently needed [45].
Complex patterns of HGT
We found that HGT of TFs is rampant, and that many genome sequences are required to detect these events, so that the absence of the gene from intermediate groups of bacteria is clear. Because of HGT between related bacteria, simply comparing the gene tree with the species tree (for those species that contain the gene) may not be a sensitive indicator of HGT. We found that HGT of global regulators was rare, but because these regulators are resistant to gene loss we cannot use gene absence to help us identify HGT. Thus, we could be underestimating the rate of HGT for these genes. As in the case of crp, these global regulators often have conserved context, so insertion of a xenolog and loss of the original gene appears not to occur. However, homologous recombination could be replacing all or parts of these sequences in place, especially given the high conservation of these genes (for example, the DNA sequence of crp is 88% identical between E. coli and Salmonella typhimurium LT2). Indeed, some workers argue that all bacterial genes are subject to frequent HGT events [46]. In this case, the distinction between HGT and other genes might not be meaningful, but there remains a difference between genes that are frequently gained and lost (niche-specific neighbor regulators) and genes that have occasionally undergone recombination (global regulators).
Why should HGT between related bacteria be prevalent? One possibility is that DNA from related organisms is more easily integrated into the host's genome. In general, however, the divergence of the genes involved appears to be too great for homologous recombination. Another possibility is that related bacteria are more likely to have genes that fit into the pre-existing metabolic pathways of the new host, which increases the likelihood of HGT [43]. Finally, our results suggest that compatibility of gene regulatory systems might select for HGT between related bacteria. Even when genes are acquired together with neighbor regulators, these genes are also often regulated by global regulators such as CRP, and we found some cases in which CRP binding sites were conserved across transfer events. CRP and most of the other global regulators from E. coli are not present in distant bacteria [17], and so the transfer of regulatory sites can only occur between related bacteria. Even if the operon has only one regulator, differences in the core transcriptional machinery in different hosts might prevent the newly acquired neighbor regulator from functioning, especially for activators.
Additional data files
The following additional data are available with the online version of this paper. Additional data file 1 provides the classification of each TF that we examined, both by evolutionary history and by function. Additional data file 2 plots the sequence conservation of regulators against the number of genes that they regulate. Additional data file 3 illustrates the preference for HGT between related genomes. Additional data file 4 provides an evolutionary analysis of 30 cases of shared regulation between homologous genes from the report by Teichmann and Babu [4]. Additional data file 5 provides an evolutionary analysis of each case of shared regulation between 'close' paralogs.
Abbreviations
BLAST:

Basic Local Alignment Search Tool
COG:

cluster of orthologous groups of proteins
HGT:

horizontal gene transfer
TF:

transcription factor.
Declarations
Acknowledgements
This work was supported by a grant from the US Department of Energy Genomics: GTL program (DE-AC02-05CH11231). APA would also like to acknowledge the support of the Howard Hughes Medical Institute.
Authors' Affiliations
(1)
Physical Biosciences Division, Lawrence Berkeley National Laboratory, Berkeley, USA
(2)
Virtual Institute of Microbial Stress and Survival, Lawrence Berkeley National Laboratory, Berkeley, USA
(3)
Department of Bioengineering, University of California, Berkeley, USA
Copyright
© Price et al.; licensee BioMed Central Ltd. 2008
This article is published under license to BioMed Central Ltd. This is an open access article distributed under the terms of the Creative Commons Attribution License (http://creativecommons.org/licenses/by/2.0), which permits unrestricted use, distribution, and reproduction in any medium, provided the original work is properly cited.