Genomic analysis reveals the major driving forces of bacterial life in the rhizosphere
Received: 7 March 2007
Accepted: 4 September 2007
Published: 04 September 2007
Abstract
Background
Mutualistic interactions less well known than those between rhizobia and legumes are commonly found between plants and bacteria, frequently pseudomonads, which colonize roots and adjacent soil areas (the rhizosphere).
Results
A global analysis of Pseudomonas putida genes expressed during their interaction with maize roots revealed how a bacterial population adjusts its genetic program to this lifestyle. Differentially expressed genes were identified by comparing rhizosphere-colonizing populations with three distinct controls covering a variety of nutrients, growth phases and life styles (planktonic and sessile). Ninety rhizosphere up-regulated (rup) genes, which were induced relative to all three controls, were identified, whereas there was no repressed gene in common between the experiments. Genes involved in amino acid uptake and metabolism of aromatic compounds were preferentially expressed in the rhizosphere, which reflects the availability of particular nutrients in root exudates. The induction of efflux pumps and enzymes for glutathione metabolism indicates that adaptation to adverse conditions and stress (oxidative) response are crucial for bacterial life in this environment. The finding of a GGDEF/EAL domain response regulator among the induced genes suggests a role for the turnover of the secondary messenger c-diGMP in root colonization. Several mutants in rup genes showed reduced fitness in competitive root colonization.
Conclusion
Our results show the importance of two selective forces of different nature to colonize the rhizosphere: stress adaptation and availability of particular nutrients. We also identify new traits conferring bacterial survival in this niche and open a way to the characterization of specific signalling and regulatory processes governing the plant-Pseudomonas association.
Keywords
Genetic ProgramRoot ExudateAdditional Data FileSensor Histidine KinaseMinute Wash
Background
The surface of plant roots and the surrounding soil area constitute a complex environment, referred to as the rhizosphere, where microbial activity is high, sustained by the release of nutrients through plant root exudates. This results in a bacterial population density that is one to two orders of magnitude higher than in bulk soil [1, 2]. However, the diversity of bacterial species colonizing this habitat is significantly lower than that found in other soil regions [3], suggesting that strong selective forces are at play in the rhizosphere. Part of this selective pressure is likely posed by the plant in the form of specific nutrients, secondary metabolites or signaling molecules in root exudates, and may constitute a means to promote mutualistic relationships with beneficial microorganisms. Although the best known example of such interactions is the endosymbiotic association of rhizobia with legume roots, other less studied instances of mutualism are commonly found between many plant species and rhizosphere-colonizing bacteria with plant growth promoting or disease suppressing activities [4, 5]. Studying the gene expression program of a plant-beneficial bacterial population in the rhizosphere may shed light on the mechanisms underlying the establishment of mutualistic interactions between prokaryotic and eukaryotic organisms. It should allow us to explore in detail the determinants required by bacteria to adapt to and colonize this habitat, and provide a better understanding of sessile bacterial growth (that is, microcolony and biofilm formation) in association with biotic surfaces.
Previous efforts aimed at dissecting the genetic program of beneficial Pseudomonas in their association with plants have relied on in vivo expression technology. These studies provided useful yet limited information, since genome coverage was estimated to be 10-17% [6, 7]. Nevertheless, in vivo expression technology can be effective to identify genes whose expression patterns would render them less apparent in microarray experiments, and provides a view at the single cell rather than the population level. Transcriptional profiling of P. aeruginosa after adding root exudates to laboratory growth medium has also been recently reported [8]. In our work we have performed a realistic approach, analyzing bacterial cells from the rhizosphere so that conditions characteristic of this situation, in particular the association of bacterial cells with the plant root surface and milieu and the continuous supply of exudates, are taken into account. Plants are not passive guests in this interaction, as can be deduced from the modifications observed in their gene expression patterns, not only locally in the root but also in the aerial parts. This systemic response was observed after infection of rhizobacteria-colonized Arabidopsis by phytopathogenic agents in comparison to non-colonized plants [9]. Overall, this work answers part of the increasingly recognized necessity of applying genomewide approaches to unveil microbial functioning in plant-bacterial interactions [10].
Conclusion
The current study constitutes, to our knowledge, the first report on bacterial genomics in the rhizosphere. The main functions identified in this transcriptional profiling study as being specifically expressed in the rhizosphere are integrated in the scheme shown in Figure
4
. Future work should aim at unveiling the regulatory mechanisms that control such reprogramming of transport, metabolic and stress-related functions. We have also demonstrated that RNA samples of good quality and in enough quantity can be obtained from a bacterial population growing in this complex environment so that parameters of great interest in the plant-
Pseudomonas
interaction, such as the physical contact between the root and the bacteria and also the constant supply of root exudates, can be considered in gene expression studies. This work opens a challenging perspective to the study of mutualistic plant-microbe associations where, besides other determinants, energetic balances between nutrient availability and stress resistance should be considered to explain the success of these interkingdom relationships.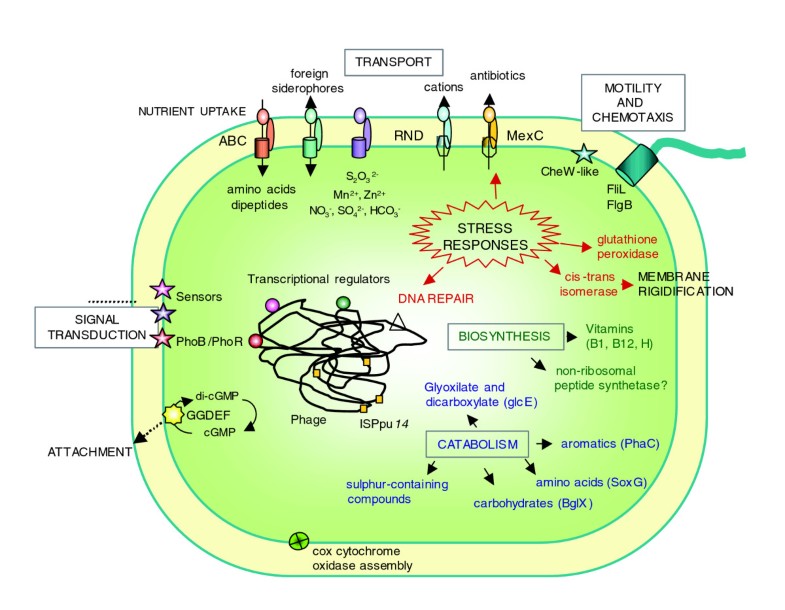 Materials and methods
Bacterial strains, culture conditions, and solutions
P. putida KT2440 is a derivative of P. putida mt-2, which was isolated from a vegetable-planted field [36]. The genome of KT2440 is completely sequenced [37]. Rifampin-resistant derivative KT2440R was generated elsewhere [38]. All the mutants used in competitive root colonization assays are derivatives of KT2440R and exhibit kanamycin resistance from the miniTn5 transposon insertion that causes the mutation. The transposon insertion site was determined by using arbitrary PCR at the Pseudomonas Reference Culture Collection [39] and is available upon request. KT2440RTn7-Sm was generated by site specific insertion of miniTn7-ΩSm1 at an extragenic site near glmS [40] in KT2440R. P. putida strains were routinely grown at 30°C in LB medium, except for microarray experiments, in which bacteria were cultivated at 24°C and 200 rpm. When appropriate, antibiotics were added to the media at the following concentrations (μg/ml): kanamycin, 25; streptomycin, 100; rifampin, 10.
P. putidamicroarrays
The technical description of the P. putida genome array is available at the ArrayExpress repository for microarray data (accession number A-MEXP-949). This genome-wide DNA chip has been used elsewhere [41–43].
Experimental set-up for preparation of the control samples for microarray experiments
Controls in microarray experiments consisted of: LB log phase cells (OD660 nm = 0.7); LB stationary phase cells (OD660 nm = 3.3); and early stationary phase bacteria from sand microcosms. Microcosms consisted of 50 ml Sterilin tubes containing 40 g of sterile water-washed silica sand. About 105 CFU was incubated at 24°C for 18 h and bacterial growth was supported with 4 ml of plant nutrient solution [7] supplemented with sodium citrate 15 mM, Fe-EDTA 100 μM, and micronutrients of Murashige and Skoog medium (MS) [44]. To recover cells from the microcosms, they were shaken at 400 rpm for 2 minutes with 80 ml M8 salts [45] and left standing for 15 s. All cells from bacterial suspensions were collected by centrifugation at 4°C (6,700 × g, 8 minutes) in tubes precooled in liquid nitrogen. Pellets were immediately frozen in liquid nitrogen and conserved at -80°C.
Surface sterilization, germination of seeds and root colonization assay
Corn seeds were surface-sterilized by rinsing with sterile deionized water, washing for 10 minutes with 70% (vol/vol) ethanol, then for 15 minutes with 20% (vol/vol) bleach, and followed by thorough rinsing with sterile deionized water. Surface sterilized seeds were pregerminated on MS medium [44] containing 0.2% (wt/vol) phytagel (Sigma P8169, St. Louis, MO, USA) and 0.5% (wt/vol) glucose, which was used instead of sucrose to monitor any contamination of the seeds, at 30°C in the dark for 48 h. For root colonization assays, seeds were inoculated with approximately 5 × 106 CFU/ml from LB medium overnight culture suspended in M9 salt [45]. After incubation without shaking for 30 minutes at 30°C, seeds were washed and planted in 50 ml Sterilin tubes containing 40 g of sterile washed silica sand and 10% (vol/wt) plant nutrient solution supplemented with Fe-EDTA and MS micronutrients as described above, being the final inoculum size of 105 CFU. Inoculated plants were maintained in a controlled chamber at 24°C and 55-65% humidity with a daily light period of 16 h. After 6 days, plants were collected, shoots discarded and the roots placed in 50 ml Sterilin tubes containing 15 ml of M8 salts [45] and 4 g of glass beads (3 mm diameter). Tubes were vortexed for 2 minutes, left standing for 15 s and cells from bacterial suspensions collected by centrifugation for 8 minutes at 6,700 × g (4°C) in tubes precooled in liquid nitrogen. Pellets were immediately frozen in liquid nitrogen and conserved at -80°C.
Competitive root colonization assays
Surface sterilization, germination of seeds, and bacterial inoculation were performed as described in the previous section, except seedlings were inoculated with a mix of KT2440RTn7-Sm, as the wild type, and the mutant strain in the specified rup gene. Inocula size differences between wild-type and mutant strains were less than 2%. At the indicated times, bacterial cells were recovered from the rhizosphere as specified above. LB-agar supplied with rifampin and streptomycin (or kanamycin) was used to select KT2440RTn7-Sm or the mutant strains, respectively.
RNA purification and preparation of labeled cDNA
Total RNA from the bacteria recovered from the rhizosphere of six plants and from the control samples was extracted by using TRI Reagent (Ambion, ref. 9738, Austin, TX, USA) as recommended by the manufacturer except that Tripure Isolation reagent was preheated at 70°C followed by purification with RNeasy columns (Qiagen, cat no. 74104, Hilden, Germany). RNA concentration was determined spectrophotometrically and its integrity was assessed by agarose gel eletrophoresis. RNA (30 μg) was primed with 30 μg of pd(N)6 random hexamers (Amersham, cat. no. 27-2166-01, Piscataway, NJ, USA). Indirect cDNA labeling was used to generate fluorescent probes for hybridization. cDNA synthesis was performed at 42°C for 2 h in a 30 μl reaction volume containing 0.5 mM (each) dATP, dCTP, and dGTP; 0.25 mM (each) dTTP and aminoallyl-dUTP (aa-dUTP; Sigma cat. no. A0410); 10 mM DTT; 40 U of RNaseOUT (Invitrogen, ref. 10777-019, Carlsbad, CA, USA); and 400 U of SuperScript II reverse transcriptase (Invitrogen, ref. 18064-014) in reverse transcriptase reaction buffer. The reaction was stopped by adding 10 μl of 50 mM EDTA and the RNA template was hydrolyzed with the addition of 10 μl of 1 N NaOH followed by incubation at 65°C for 15 minutes. Samples were then neutralized by adding 25 μl of 1 M HEPES (pH 7.5) and the hydrolyzed RNA and residual dNTPs were removed using QIAquick PCR purification columns (Qiagen, ref. 28104) according to the manufacturer's recommendations, except that the Tris-based elution buffer supplied with the kit was replaced with phosphate elution buffer (4 mM KPO4 pH 8.5) to avoid interferences with the subsequent labeling. cDNA samples were dried in a Speed-Vac to completion. Dried aminoallyl-labeled cDNA was resuspended in 9 μl of 0.1 M sodium carbonate buffer (pH 9.0), mixed with either Cy3 (control) or Cy5 (rhizospheric samples) fluorescent dyes (mono-reactive NHS-esters; Amersham Biosciences, cat. no. PA23001 and PA25001, respectively), and allowed to couple for 2 h at room temperature in the dark. After coupling, the reaction was quenched with 4.5 μl of 4 M hydroxylamine for 15 minutes. Finally, labeled cDNA probes were again purified with QIAquick PCR purification columns. Labeling efficiency was assessed using a NanoDrop ND1000 spectrophotometer (NanoDrop Technologies, Inc., Wilmington, DE, USA).
Microarray hybridization and data analysis
Prior to the hybridization process, the microarray slides were blocked by immersion into 5× SSC (1× SSC is 0.15 M NaCl; 15 mM sodium citrate, pH 7), 0.1% (wt/vol) SDS, 1% (wt/vol) bovine serum albumin for 1 h at 42°C. Then, the slides were washed by two successive immersions in MilliQ water at room temperature, followed by a final wash with isopropanol. The slides were spin-dried by centrifugation at 1,500 × g for 5 minutes, and used within the next hour. Equal amounts of Cy3- and Cy5-labeled cDNAs, one of them corresponding to the control and the other one to the problem to be analyzed, were mixed, dried in a Speed-Vac and reconstituted in 35 μl of hybridization buffer (5× SSC, 25% (vol/vol) formamide, 0.5% (wt/vol) SDS, 5 × Denhardt's solution, 5% (wt/vol) dextransulfate) preheated to 42°C. The labeled probe was denatured at 98°C for 3 minutes, applied onto the microarray slide and covered with a glass coverslip. The slide was then introduced in a humidified hybridization chamber (AHC ArrayIt Hybridization Cassette; Telechem International, Inc., Sunnyvale, CA, USA) and incubated for 18-20 h in a water bath at 42°C, preserved from light. Following hybridization, the microarrays were washed by gentle agitation in 2× SSC, 0.1% (wt/vol) SDS at 42°C for 5 minutes, followed by a 5 minute wash at room temperature in 1× SSC, two 5 minute washes in 0.2× SSC, and a final 5 minute wash in 0.1× SSC. Finally, the slides were spin-dried in a centrifuge at 1,500 × g for 5 minutes, and scanned on a GenePix 4100A scanner (Axon Instruments, Inc., Foster City, CA, USA). Images were acquired at 10 μm resolution, and the background-subtracted median spot intensities were determined using GenePix Pro 5.1 image analysis software (Axon Instruments, Inc.). Spots with anomalies were discarded and excluded from further analysis. Spot signal intensities were normalized by applying the Lowess intensity-dependent normalization method [46], and statistically analyzed using the Almazen System software (Alma Bioinformatics SL, Madrid, Spain). Three independent biological replicates were performed for each experiment. P values were calculated by Student's t-test. A particular open reading frame was considered differentially expressed if: the fold change was at least 2; the P value was lower than 0.05; and the average signal-to noise (A) was at least 64. In the combined analysis of the nine microarrays, P values were adjusted for multiple testing to control the false discovery rate [13] or the type I family wise error rate by applying the Bonferroni correction [12]. Microarray data have been deposited in the ArrayExpress database (E-MEXP-949).
Real time RT-PCR
Total RNA (1 μg) treated with Turbo DNA free (Ambion, ref 1907) was retrotranscribed to cDNA with Superscript II reverse transcriptase using random hexamers as primers. The specific primer pairs used to amplify cDNA were: 5'-CAGACTATCGCTCGGCAC and 5'-CGGCTCATCGACATCCGAC for the gene encoding PP1476; 5'-CGATCACCGGCGCATCACTT and 5'GTCCTCGCACAGCAGGCATT for the gene encoding PP1477; 5'-CGCTTCATCCAGCCTTCC and 5'-CGAGACGATCTGGTCGTTG for the gene encoding PP2076; 5'-GGCCGACGTGCTGTTTCACT and 5'-AGCATGCCTAAGGTGGTGAC for the gene encoding PP2560; 5'-CATCATCGACACCGAACAG and 5'-CCAGCAGGTCGAACAGAG for the gene encoding PP3744; 5'-GTCAGCAATCGCTGCCAATC and 5'-AAGCGGTTATCGAGCGTGTC for the gene encoding PP3746; 5'-CTCGCGTGGTGGTGCTCAAT and 5'-GCGCCACATCCACGTAGTTC for the gene encoding PP4987; 5'-GCTATGTGCAGCGTTGGTTG and 5'-CGCCATTGCAGGTAGCATTC for the gene encoding PP4988 5'-GACGCGGTGATCATGCTCG and 5'-GTGGCGCACCAGATTGGTC for the gene encoding PP5321; 5'-AAAGCCTGATCCAGCCAT and 5'GAAATTCCACCACCCTCTACC for the gene encoding 16S rRNA. Real-time RT-PCR was performed using iCycler iQ (Bio-Rad, Hercules, CA, USA). Target cDNA from the experimental and reference samples were amplified in triplicate. Each 25 μl reaction contained 1 μl of a dilution of the target cDNA (1:10-1:10,000), 200 μM dNTPs, 200 nM each primer, 3 mM MgCl2, 2.5 μl SyBR Green (Molecular Probes, Eugene, OR, USA), and 1 U Platinum Taq DNA Polymerase (Invitrogen) in PCR buffer (20 mM Tris-HCl pH 8.4, 50 mM KCl). Samples were initially denatured by heating at 95°C for 10 minutes. A 40-cycle amplification and quantification program was then followed (95°C for 15 s, 60°C for 30 s, and 72°C for 20 s) with a single fluorescence measurement per cycle according to manufacturers' recommendations. A final extension cycle (72°C, 1 minute) was performed. PCR products were between 106 and 300 bp in length. To confirm the amplification of a single PCR product, a melting curve was obtained by slow heating from 60°C to 99.5°C at a rate of 0.5°C every 10 s, for 80 cycles, with continuous fluorescence scanning. Results were normalized relative to those obtained for 16S rRNA. Quantification was based on analysis of threshold cycle (Ct) value as described by Pfaffl [47].
Additional data files
The following additional data are available with the online version of this paper. Additional data file 1 is a table listing rhizosphere differentially expressed genes after independent analysis and clustering. Additional data file 2 is a table listing Rhizosphere induced genes after combined analysis applying Bonferroni P value correction. Additional data file 3 is a table listing Rhizosphere differentially expressed genes after combined analysis applying Benjamini and Hochberg P value adjustment
Abbreviations
MS medium:

Murashige and Skoog medium.
Declarations
Acknowledgements
We thank MJ Campos and ML Travieso for technical assistance and E Duque and J de la Torre for providing strains. This work was supported by grants GEN2001-4698-CO5-03, BIO2003-0515, and BFU2006-09078 from the Plan Nacional de I+D+I. MAM is the recipient of a fellowship from the Ministerio de Educación y Ciencia. Research contract and funding from the Junta de Andalucía to MIR-G are also acknowledged.
Authors' Affiliations
(1)
Department of Environmental Protection, Estación Experimental de Zaidín, Consejo Superior de Investigaciones Científicas (CSIC), Granada, Spain
Copyright
© Matilla et al.; licensee BioMed Central Ltd. 2007
This article is published under license to BioMed Central Ltd. This is an open access article distributed under the terms of the Creative Commons Attribution License (http://creativecommons.org/licenses/by/2.0), which permits unrestricted use, distribution, and reproduction in any medium, provided the original work is properly cited.