The Opossum genome reveals further evidence for regulatory evolution in mammalian diversification
Mammalian diversification began approximately 250 million years ago, yielding a stunning diversity of form and function that falls into three major groups with fundamentally distinct modes of reproduction. The monotremes (Prototheria) comprise a handful of extant species of egg-laying mammals: the platypus and a few species of echidna. Placentals (the Eutheria) comprise about 4,500-5,000 species characterized by lengthy gestation with placental nourishment and neonates born at an advanced developmental stage and often nearly independent from the mother. Marsupials (the Metatheria) comprise about 250-300 species that are characterized by a rudimentary placenta and short gestation, after which poorly developed embryos are born and undergo subsequent development during lactation, usually inside the mother's marsupium, or pouch.
Marsupial and placental mammals diverged about 125-190 million years ago [1–3]. While the marsupial radiation stopped short of producing as many species as the placental one, the impressive diversification of metatherians in South America and Australia resulted in a wide array of life histories and morphologies, many of which matched those observed in placental mammals - from herbivores to insectivores to carnivores. Two of the most notable cases are now extinct. The Tasmanian wolf (Thylacinus), also known as the pouched dog for its striking resemblance to placental canids, was heavily hunted and the last individual died in captivity in an Australian zoo in September 1936 [4]. Similarly, the marsupial Thylacosmilus from the South American Miocene possessed skull and saber-tooth morphologies with a remarkable resemblance to those of placental saber-tooth tigers [5]. Other cases of striking convergence include living species of marsupial 'anteaters', 'mice', 'moles', and 'flying squirrels' [5]. This remarkable natural experiment in mammalian evolution offers unique opportunities to understand the genomic and developmental correlates of these morphological convergences between marsupials and placentals. Most strikingly, these similarities in adult structures and lifestyles evolved on a background of fundamental differences in gestation and lactation, which imposed major shifts in the sequence and rate at which different body structures and organs develop in placentals and marsupials.
In a major step forward in understanding mammalian evolution, Mikkelsen
et al
. [
6
] recently completed the sequencing, assembly and annotation of the euchromatic segment of the first metatherian genome, that of the gray short-tailed opossum from South America,
Monodelphis domestica
(Figure
1
). Their findings reveal a number of shared and unique features of the opossum and placental genomes, highlight a suite of opportunities unique to the opossum, and suggest new avenues for exploring the genomic and life-history diversity of marsupials.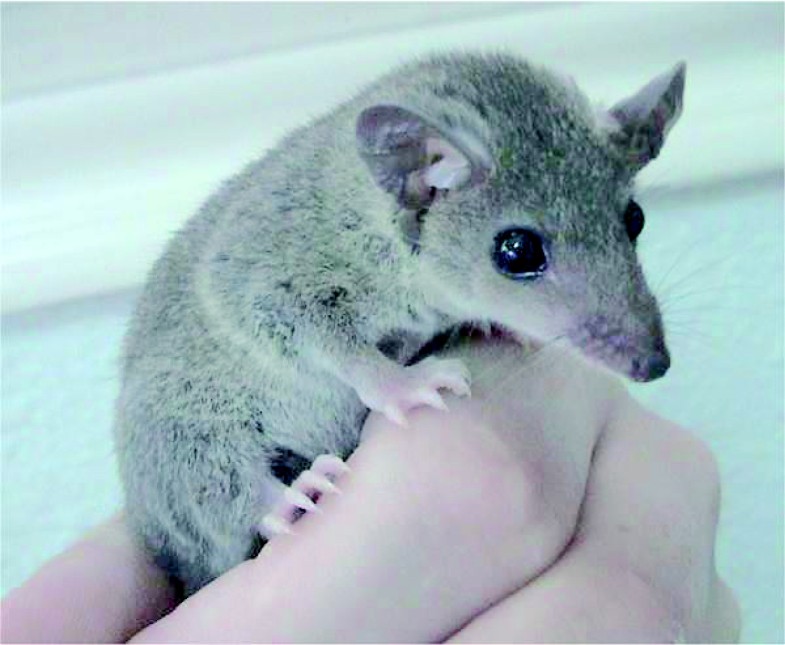 (1)
Department of Organismic and Evolutionary Biology, Harvard University, Divinity Avenue, Cambridge, MA 02138, USA
© BioMed Central Ltd 2007