The human phylome
Received: 30 November 2006
Accepted: 13 June 2007
Published: 13 June 2007
Abstract
Background:
Phylogenomics analyses serve to establish evolutionary relationships among organisms and their genes. A phylome, the complete collection of all gene phylogenies in a genome, constitutes a valuable source of information, but its use in large genomes still constitutes a technical challenge. The use of phylomes also requires the development of new methods that help us to interpret them.
Results:
We reconstruct here the human phylome, which includes the evolutionary relationships of all human proteins and their homologs among 39 fully sequenced eukaryotes. Phylogenetic techniques used include alignment trimming, branch length optimization, evolutionary model testing and maximum likelihood and Bayesian methods. Although differences with alternative topologies are minor, most of the trees support the Coelomata and Unikont hypotheses as well as the grouping of primates with laurasatheria to the exclusion of rodents. We assess the extent of gene duplication events and their relationship with the functional roles of the protein families involved. We find support for at least one, and probably two, rounds of whole genome duplications before vertebrate radiation. Using a novel algorithm that is independent from a species phylogeny, we derive orthology and paralogy relationships of human proteins among eukaryotic genomes.
Conclusion:
Topological variations among phylogenies for different genes are to be expected, highlighting the danger of gene-sampling effects in phylogenomic analyses. Several links can be established between the functions of gene families duplicated at certain phylogenetic splits and major evolutionary transitions in those lineages. The pipeline implemented here can be easily adapted for use in other organisms.
Keywords
Horizontal Gene TransferDuplication EventAdditional Data FileOrthology RelationshipHorizontal Gene Transfer Event
Background
The complete sequencing of the human genome represented a major breakthrough for the genome era [1, 2]. Since then, a number of genome wide experimental and computational analyses have been performed that capture different aspects of the biology of the human cell. These analyses include, among many others, those of the so-called transcriptome [3], proteome [4], interactome [5] and metabolome [6]. The availability of such large datasets have added new dimensions to the study of the human organism; not only are they useful in elucidating the function of otherwise uncharacterized proteins, but they also provide information on the system-level properties of the cell [7]. The reconstruction of the evolutionary histories of all genes encoded in a genome, the so-called phylome [8], constitutes another source of genome-wide information. Analyses of complete phylomes, however, have traditionally been prevented by their large demands on time and computer power. Only recently have faster computers and algorithms paved the way for the application of phylogenetics to whole genomes. Such analyses have proven to be a very useful tool for the detection of specific evolutionary scenarios [9] and for the functional characterization of genes and biological systems [10, 11]. Other large-scale phylogenetic analyses have focused on the establishment of orthology relationships among genes in model species. Most remarkably, the Ensembl database now includes phylogenetic trees [12], and the TreeFam [13] and HOVERGEN [14] databases provide automatically derived and curated phylogenies of animal gene families. Other such databases focus on specific aspects of the evolution of gene families, such as the detection of adaptive events [15]. These databases follow a family-based approach, since they first group the genes into families and subsequently build a single phylogeny for each family.
Using a different, gene-based approach that aims at maximizing both the coverage over the human genome and the taxon-sampling among fully sequenced eukaryotic genomes, we have developed a fully automated pipeline (Figure
1
) to reconstruct the phylogenies of every protein encoded in the human genome and its homologs in 39 eukaryotic species. Such a pipeline aims at resembling, as much as possible, the manual procedure used by phylogeneticists while remaining a fully automated process. In the search for a compromise between time and reliability, we always tried to adjust the balance towards the latter, thus assuring high quality in the resulting phylogenies. In contrast to the abovementioned TreeFam and Ensembl phylogenetic pipelines, our approach includes evolutionary model testing using maximum likelihood (ML), model parameter estimation and alignment trimming steps. Moreover, besides using neighbor joining (NJ) and ML approaches for phylogenetic reconstruction, our pipeline also implements a Bayesian phylogenetic reconstruction approach to provide posterior probabilities of every partition in the tree. As a result, building the human phylome presented here took two months on a total of 140 64-bit processors, which is roughly equivalent to 23 years in a single processor. To our knowledge, this represents the most sophisticated phylome reconstruction pipeline and the largest computing time investment for a single phylome reported to date.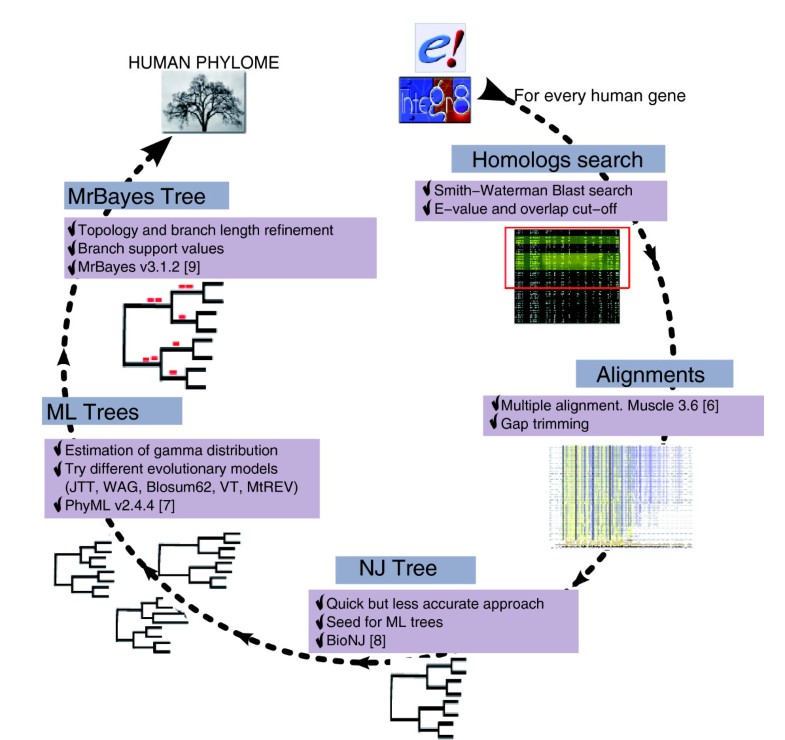 The availability of such a comprehensive collection of evolutionary histories of protein-coding human genes constitutes a valuable source of information that allows us to test several evolutionary hypotheses. For this purpose, we investigated the consistency of the individual phylogenies within the phylome with alternative evolutionary scenarios, namely those involving the relative positions of rodents and primates, amoebozoans and opisthokonts and, finally, insects, nematodes and chordates. We also scanned the human phylome for cases of putative horizontally transferred genes and found that such topologies are never highly supported, indicating that they are rather the result of phylogenetic artifacts. Moreover, we provide estimates for the number of gene duplications that have occurred at different evolutionary stages in the eukaryotic lineages leading to hominids and found several over-represented functional classes in the different duplication events. Finally, we explored an alternative, fully automated algorithm to infer orthology relationships from phylogenetic trees that does not require a fully resolved species phylogeny and, therefore, is less sensitive to topological variations. The choice for this novel methodology for orthology prediction is based on the fact that alternative tree reconciliation methods have difficulties in accounting for inherent phylogenetic noise, divergences in evolutionary histories for different genes and the low resolution level of available species trees. As will be shown below, the high degree of topological variation found in the human phylome for all scenarios considered also supports the choice of alternatives to classic tree reconciliation methods. All in all, the results presented here constitute a preliminary but broad overview of the evolutionary history of the human genome, which is not taken as an average or represented by a limited number of genes, but instead is regarded as a complex mosaic of thousands of individual phylogenies.
Conclusion
We have shown the feasibility of reconstructing complex phylomes, comprising the evolutionary histories of all genes from a given species and their homologs in dozens of other genomes. The pipeline and genome sampling is fully automated and can easily be tailored for specific needs, therefore paving the way for the reconstructions of other phylomes using different parameters or species sampling. Because of its significance, we have initially applied this pipeline to the human genome. The resulting phylome constitutes a valuable dataset that can be explored by the research community. In the near future we are planning to implement this and other phylomes in a fully searchable database. To illustrate the potential of the human phylome we have performed several analyses, but many others can be envisaged. Overall, our results indicate that there is a great topological diversity affecting the three unresolved scenarios that we have discussed (ecdysozoa versus coelomata, relationships among rodents, primates and laurasatheria and the unikont hypothesis). This and other recent findings [85] reinforce the older view [86] that topological differences among phylogenies of proteins are to be expected even in the absence of HGT and underscore the danger of gene-sampling effects when combining the phylogenetic signals of several genes [34]. We share the view of others [87] that there is an urgent need for improved models of molecular evolution that account for the inherent phylogenetic noise in the protein record and of new genomic characters that are less prone to homoplastic effects. We have found that such noise may eventually produce HGT-like topologies, highlighting the need for stringent cut-offs and alternative tests before an HGT event is assumed.
Mapping speciation and duplication events on the complete phylome has allowed us to derive a comprehensive set of orthology and paralogy relationships among the genomes involved. The results obtained in the benchmark analysis show that although automatic methods for phylogeny-based detection of orthology are progressing in the right direction, there is still room for improvement both in the algorithms and the quality of the trees. Taking into account the levels of topological diversity mentioned above, it follows that the algorithms for phylogeny-based orthology detection need to cope with levels of topological uncertainty.
The results obtained in the present analysis are consistent with the existence of at least one round of whole genome duplication occurring before the radiation of verebrates [49]. If a relatively high level of gene loss in eukaryotic genomes is assumed [88], the finding of an average level of duplication events per tree higher than one would indeed favor the scenario of two rounds of whole genome duplication at that evolutionary stage (2R hypothesis).
Declarations
Acknowledgements
A significant part of the computational analysis presented in this paper has been performed at the Mare Nostrum supercomputer (Barcelona Supercomputing Center). JHC is supported by a grant from the Fundación Genoma España and the Instituto Nacional de Bioinformática. TG is a recipient of an EMBO long-term fellowship (LTF 402-2005). Part of this study is funded by grants from the Spanish Science Ministry BFU2006-15413-C02-02 and Generalitat Valenciana GV06/080 and the National Institute of Bioinformaticsa platform of Genoma España. We acknowledge Tim Hulsen for kindly providing the predicted orthologous pairs used in the benchmark. We are grateful to Jordi Burguet and Anibal Bueno Amorós for providing technical support and to Leo Arbiza and other members of the department for discussions.
Authors' Affiliations
(1)
Bioinformatics Department, Centro de Investigación Príncipe Felipe, Valencia, Spain
Copyright
© Huerta-Cepas, et al.; licensee BioMed Central Ltd. 2007
This article is published under license to BioMed Central Ltd. This is an open access article distributed under the terms of the Creative Commons Attribution License (http://creativecommons.org/licenses/by/2.0), which permits unrestricted use, distribution, and reproduction in any medium, provided the original work is properly cited.