Tilescope: online analysis pipeline for high-density tiling microarray data
Received: 7 August 2006
Accepted: 14 May 2007
Published: 14 May 2007
Abstract
We developed Tilescope, a fully integrated data processing pipeline for analyzing high-density tiling-array data http://tilescope.gersteinlab.org. In a completely automated fashion, Tilescope will normalize signals between channels and across arrays, combine replicate experiments, score each array element, and identify genomic features. The program is designed with a modular, three-tiered architecture, facilitating parallelism, and a graphic user-friendly interface, presenting results in an organized web page, downloadable for further analysis.
Keywords
Hide Markov ModelAdditional Data FileArray ElementTiling ArraySTAT1 Binding Site
Rationale
Microarray technology is now more accessible than ever before. Thanks to its unrivaled capability to carry out a very large number of parallel quantitative measurements, this technology has been widely applied since its emergence in the early 1990s [1, 2] to systematic studies of various biological phenomena, ranging from differential gene expression, to DNA copy number polymorphism, and to transcription factor binding.
Traditional microarrays, constructed by mechanically depositing or printing PCR products, typically of approximately 1 Kb in length, in a dense matrix on a glass slide, have been successfully used in numerous studies and have become prevalent in the research field. Many computer programs and software tools, including free software packages, such as ExpressYourself [3] or MIDAS [4], are available to process and analyze the data sets generated in such studies. However, limited by its manufacturing methodology, traditional microarrays are not amenable for systematic coverage of large genomes or even some large genomic regions. To fully realize the parallel-measurement potential of microarray technology, the current trend is to present large genomic regions (for example, ENCODE regions or a complete human chromosome) or even an entire genome on one or several microarrays in an unbiased fashion by using oligonucleotides (that is, tiles) uniformly sampled from presented genomic sequences. Recent technology breakthroughs [5, 6] made it possible for such oligonucleotides, typically of 25-60 base-pairs (bp) in length, to be chemically synthesized directly on the microarray slides in a very high density (up to 6.6 million elements in less than 2 cm2). Such oligonucleotide tiling microarrays, which give unprecedented genomic coverage and resolution, can be used for genomic studies of gene expression [7–10], chromatin immuno-precipitation (ChIP-chip) [11], copy number variation [12], histone modification [13], and chromatin DNaseI sensitivity [14].
Like for any other nascent technologies, ready-to-use data analysis software packages for tiling array experiments are hard to find. Existing data processing software for traditional microarrays cannot be used since the considerably larger size and different nature of tiling array data require a new analysis approach [15]. Recently, a model-based method for tiling array ChIP-chip data analysis has been proposed [16]. Two other methods, based on curve fitting [17] and multi-channel combination [18], respectively, have also been developed for tiling array transcription data analysis. The excellent open-source Bioconductor software project [19] provides many sophisticated statistical methods written in R for microarray data analysis. However, as a software toolbox and a programming environment, it is rather difficult for non-programmers to use.
Here we present Tilescope, an automated data processing pipeline for analyzing data sets generated in experiments using high-density tiling microarrays. Suitable microarray data processing methods, either previously published elsewhere or newly developed, were implemented and made available conveniently in a single online software pipeline. It has a user-friendly interface and is freely accessible over the worldwide web. The software performs data normalization, combination of replicate experiments, tile scoring, and feature identification. We demonstrate the modular nature of the pipeline design by showing how different methods can be plugged in - at major data processing steps, such as normalization and feature identification, several methods are available to be chosen from depending on the nature of the data and the user's data-analysis goal. The program can process gene expression and ChIP-chip tiling microarray data. The results, presented in a clear, well organized manner, can be downloaded for further analysis.
System implementation and user interface
Tilescope was entirely developed in Java. Java was chosen as the programming language because of its built-in threading capability and its excellent library support for graphic user interface and networking development. More importantly, it was chosen because of its object-oriented nature: the program code is organized into different coherent classes and, thus, it naturally modularizes the system, which greatly facilitates parallel system development and subsequent system updating, a desideratum for any software engineering project of non-trivial complexity.
As a web-accessible program system, Tilescope is composed of three connected components: an applet, a servlet, and a pipeline program. The applet is the graphical interface through which the user interacts with Tilescope. It is automatically downloaded and launched inside a Java-enabled web browser whenever the pipeline web page is browsed. Through the Tilescope applet, a user can upload array data files to the pipeline server, select appropriate pipeline parameters and methods, run the data processing program, and view or download analysis results. The applet, however, cannot run the pipeline program directly. Instead, it makes data processing requests to the servlet, a server program that acts as the proxy of the pipeline program on the web and communicates with the applet upon requests. The servlet, the central layer of Tilescope, runs two 'daemon' threads in the background to handle - that is, accept and schedule or reject based on the current system load - file upload or data processing requests, prepare the pipeline running environment, and initiate with user-specified parameters the back-end pipeline program, which carries out the heavy lifting - the actual data processing procedure. This modular design - the separation between the request handling and the data processing itself - enables the usage of a computer farm for parallel computing and multiple concurrent processing.
On the web form of the Tilescope applet (Figure
1a
), a user can either upload a parameter file, if available from a previous use of Tilescope, to have all parameters set accordingly in one easy step, or set parameters one by one manually, which is more likely to happen if an array data set is to be analyzed for the first time. The main body of the form was organized into two panels, one for setting the tile scoring parameters and the other for selecting the feature identification method, reflecting two main stages of data processing in the pipeline. After the pipeline program is started on the server, the users can monitor its progress through pipeline messages, which are constantly updated by the server throughout each pipeline run.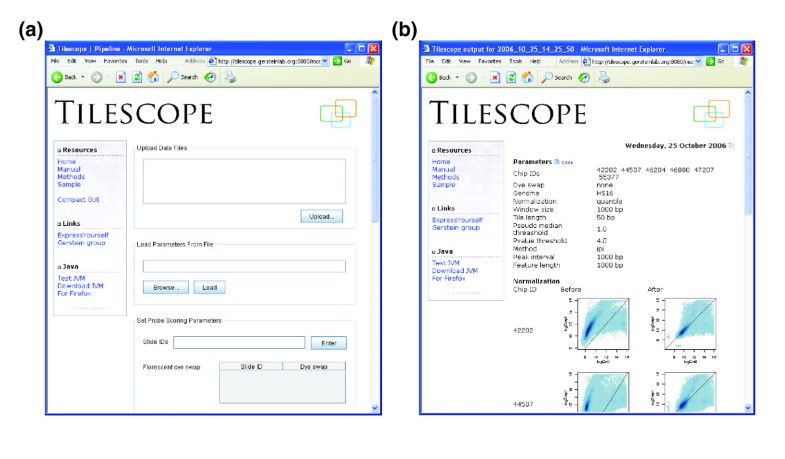 When data processing is done, a web page with analysis results will be presented to the user in a new browser window (Figure 1b). On the result web page, the parameters and methods that were used to analyze the data are summarized at the top, followed by log-intensity scatter plots for each array and log-intensity histograms for all arrays in the data set before and after normalization. These enlargeable plots enable the user to quickly identify any problematic arrays visually and subsequently exclude them from further consideration. Both tile maps with log-ratio and P value annotations and the feature list in various text formats can be downloaded for further processing and analysis. The feature list in regular tab-delimited text format gives the user the chromosome (or other genomic sequence ID), the genomic start and end coordinates, the log-ratio, the P value, and, if the tiled genome is specified, the upstream and downstream genes of each feature. If it is the human genome that is under investigation, Tilescope will also provide links to display identified features on custom tracks in the UCSC genome browser. Moreover, if the tiling array was designed from a previous human genome build (for example hg16, NCBI 34), Tilescope will also provide an additional feature list with the coordinates lifted over to the current human genome build (for example hg17, NCBI 35).
Data processing in Tilescope
Tilescope processes the data in a sequential fashion using the major steps shown in Figure
2a
. These steps can be approximately grouped into three stages: data input, tile scoring, and feature identification. Here, we use the data set from a ChIP-chip experiment of the transcription factor STAT1 to demonstrate how high-density tiling microarray data are processed by Tilescope. We compared features of Tilescope and several other programs that are explicitly applicable to high-density tiling microarray data, and the result is tallied in Table
1
.
Table 1
Feature comparison between tiling microarray data analysis software*
| | Tilescope | Bioconductor† | TAS‡ | MAT§ | TileMap |
| --- | --- | --- | --- | --- | --- |
| Implementation | Web | R packages | Standalone | Standalone | Standalone |
| Graphic user interface | √ | × | √ | × | × |
| Intended usage | | | | | |
|    Transcription data | √ | √ | √ | × | √ |
|    ChIP-chip data | √ | √ | × | √ | √ |
| Applicable array platform | | | | | |
|    Affymetrix | √ | √ | √ | √ | √ |
|    NimbleGen | √ | × | × | × | × |
| Data normalization | | | | | |
|    Mean/median | √ | ~ | √ | / | × |
|    Loess | √ | ~ | × | / | × |
|    Quantile | √ | ~ | × | / | √ |
| Feature identification | | | | | |
|    Max gap and min run | √ | ~ | √ | / | √ |
|    Iterative peak identification | √ (new) | × | × | / | × |
|    Hidden Markov model | √ | ~ | × | / | √ |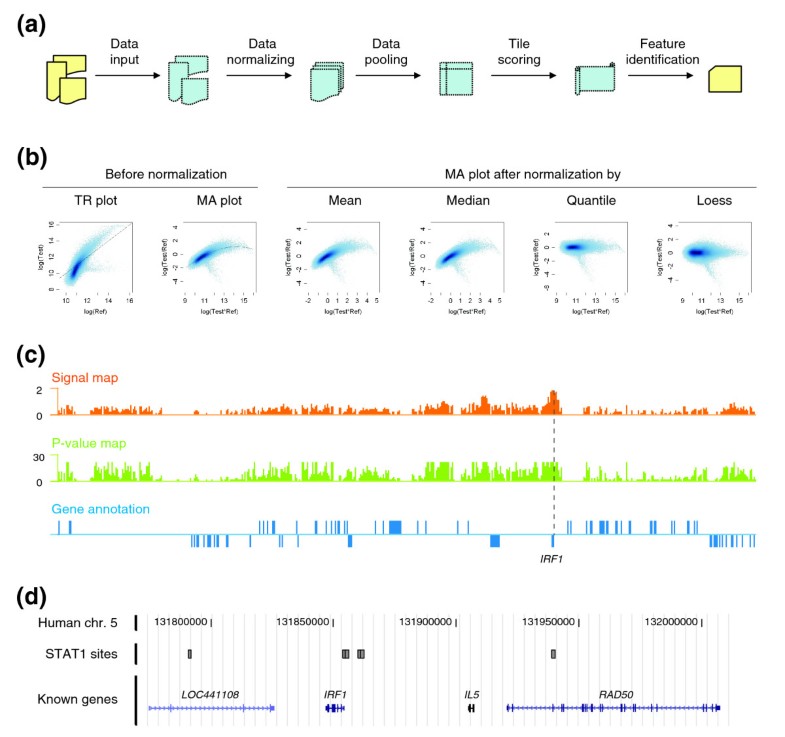 Conclusion
Summary
Tilescope is an online software pipeline for processing high-density tiling microarray data. In a completely automated fashion, it will normalize signals between channels and across arrays, combine replicate experiments, score each array element, and identify genomic features. The program can process data from most gene expression, ChIP-chip, and arry-CGH (comparative genomic hybridization) experiments. Tilescope is designed with a graphical user-friendly interface to facilitate a user's data analysis task, and the results, presented in a clear, well organized manner on a web page, can be downloaded for further analysis.
Future improvements
Tilescope is under active development: it is continually updated as better data processing methods become available.
Additional data files
The following additional data are available with the online version of this paper. Additional data file 1 includes the following supplementary material: a 'Data format optimization and standardization' section; a 'Technical details of the optimization algorithm' section; supplementary Table 1, 'The meaning of columns of various tab-delimited input data file formats'; supplementary Table 2, 'Attributes of the element tag defined in the configuration file'; and supplementary Table 3, 'File size reduction by Zip and our optimization algorithm'.
Declarations
Acknowledgements
ZDZ was funded by an NIH grant (T15 LM07056) from the National Library of Medicine. This work was also supported by other NIH grants: 1U01HG003156-01 to MS and 1 S10 RR19895-01 and 5P30DK072442-02 to MG.
Authors' Affiliations
(1)
Department of Molecular Biophysics and Biochemistry, Yale University, New Haven, USA
(2)
Interdepartmental Program in Computational Biology and Bioinformatics, Yale University, New Haven, USA
(3)
Department of Computer Science, Yale University, New Haven, USA
(4)
Department of Molecular, Cellular and Developmental Biology, Yale University, New Haven, USA
Copyright
© Zhang et al; licensee BioMed Central Ltd. 2007
This article is published under license to BioMed Central Ltd. This is an open access article distributed under the terms of the Creative Commons Attribution License (http://creativecommons.org/licenses/by/2.0), which permits unrestricted use, distribution, and reproduction in any medium, provided the original work is properly cited.