Phagosome proteomes open the way to a better understanding of phagosome function
Early in their evolution, eukaryotic cells acquired the capacity to take up microbes by phagocytosis as a source of food. Since then, phagocytosis has evolved into a highly complex and regulated process, and is one of the main ways in which multicellular animals clear the body of pathogenic microbes and cellular debris. Microbes and other particles are taken up by phagocytosis into an intracellular membrane-bounded organelle called a phagosome (Figure
1
). This eventually fuses with other organelles, notably endosomes and lysosomes, resulting in a gradual alteration of the composition and function of the phagosome, a process referred to as phagosome maturation. After full maturation, the phagosome will contain a battery of hydrolytic enzymes and have an internal pH as low as 4-4.5 (Figure
1
).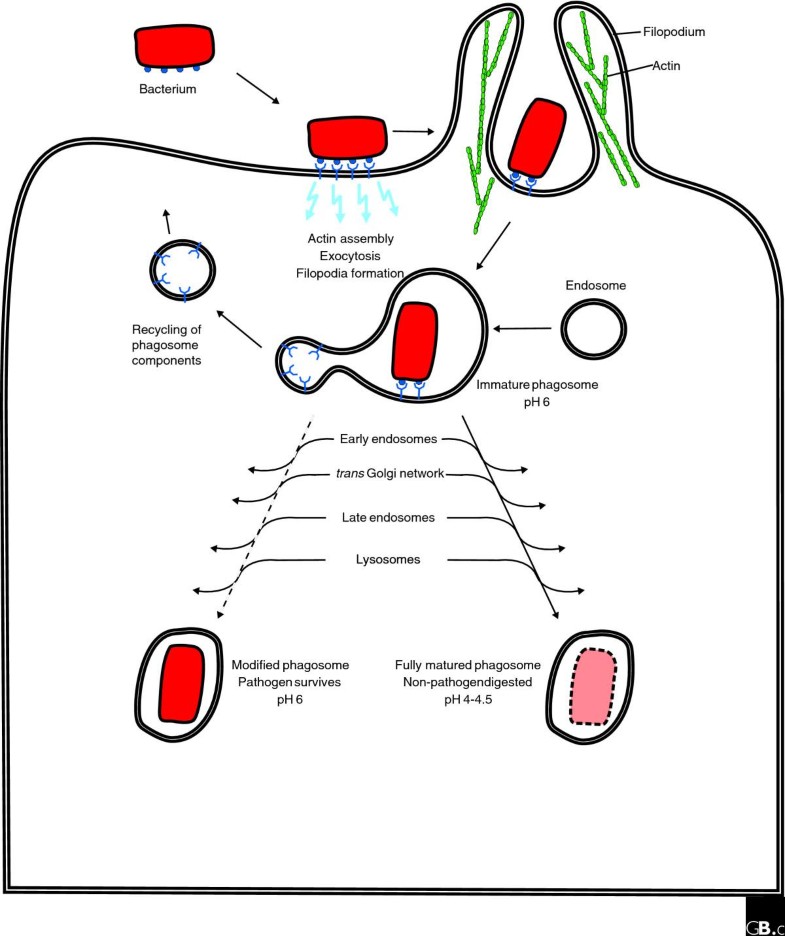 In the vast majority of cases, the microbe inside the phagosome is killed and digested, but a number of important pathogens, including the bacterium Mycobacterium tuberculosis, which kills around two million people each year, have acquired the ability to survive, and even replicate, in this hostile environment. Each type of pathogen that exploits intracellular vesicles seems to have evolved a different survival strategy. Phagosome maturation follows a defined biochemical program, and different pathogens probably redirect this program in a unique fashion. Pathogen proteins and/or lipids released inside phagosomes alter signaling pathways in the phagosomal membrane or in the cytoplasm.
A pathogen-containing phagosome in, for example, a macrophage, has three distinct 'compartments'. These are the pathogen itself; the luminal contents, which are enriched in hydrolases, protons, and ions such as Ca2+, and have a still poorly defined redox state; and the phagosomal membrane, the boundary between the pathogen and the cytoplasm. This last controls most phagosome functions, including their fusion, recycling, and interactions with the cytoskeleton. Determining the molecular composition of the phagosome membrane and phagosomal contents is essential if we are to understand in detail how these organelles function.
Knowing how a 'normal' phagosome works would provide a strong foundation for understanding how pathogens alter phagosome maturation. This could lead to the development of drugs that block pathogen-induced alteration of phagosome signaling. That might appear a tall order, but a simple model system of phagocytosis involving the uptake of latex beads has recently opened up this problem to molecular dissection. In the most recent study of this sort, a proteomic analysis of latex bead phagosomes (LBPs) in cultured Drosophila melanogaster S2 cells, Stuart et al. [1] have identified more than 600 phagosome-associated proteins. Of the 140 proteins identified in mouse LBPs in earlier studies [2], 70% have orthologs in the Drosophila phagosome, indicating a high degree of conservation. Recent analyses of LBPs in Dictyostelium discoideum by Gotthard et al. [3, 4] have revealed around 1,380 proteins, of which 179 have been identified.
(1)
Cell Biology Program, EMBL, Meyerhofstrasse, 69117 Heidelberg, Germany
(2)
IHEM (U.N. Cuyo-CONICET), Casilla de Correo, Mendoza, 5500, Argentina
© BioMed Central Ltd 2007