Meeting report

Open Access
Regulatory RNAs and the demise of 'junk' DNA
Published: 28 September 2006
A growing body of work suggests that genes for noncoding RNAs make up a substantial class of genes in all organisms, with increasing organismal complexity correlated with an increasing complexity of noncoding RNAs. Many of these noncoding RNAs appear to have regulatory functions and these were the subject of this year's annual Cold Spring Harbor Symposium. Among the most exciting themes of the meeting were the evidence for significant amounts of hitherto undiscovered transcription in genomes and the discovery of novel classes of noncoding RNAs with thousands of members. In this report I review a few of these highlights.
The tenets of the 'central dogma' have required revision over the past few decades as biologists have begun to appreciate that RNA performs many functions once thought solely to be the domain of proteins. Apart from its well established roles as messenger, ribosomal component, and transfer RNA, it is now clear that RNA can have a key role in regulating gene expression. Noncoding regulatory RNAs - RNAs that are not translated into protein - include the small nuclear RNAs (snRNAs), the small nucleolar RNAs (snoRNAs), the
XIST
RNA that mediates mammalian X-chromosome silencing, microRNAs, riboswitches, and the RNA component of the enzyme telomerase. These RNAs direct such diverse processes as gene silencing, transcriptional and translational control, imprinting, and dosage compensation. These discoveries have electrified the biological community as we try to understand the extent of the 'RNA world' and how regulatory RNAs work in controlling gene expression. We are fast learning that large portions of the genome that do not code for proteins are in fact transcribed, and that these regions, previously thought to be 'junk', may be useful after all (Figure
1
).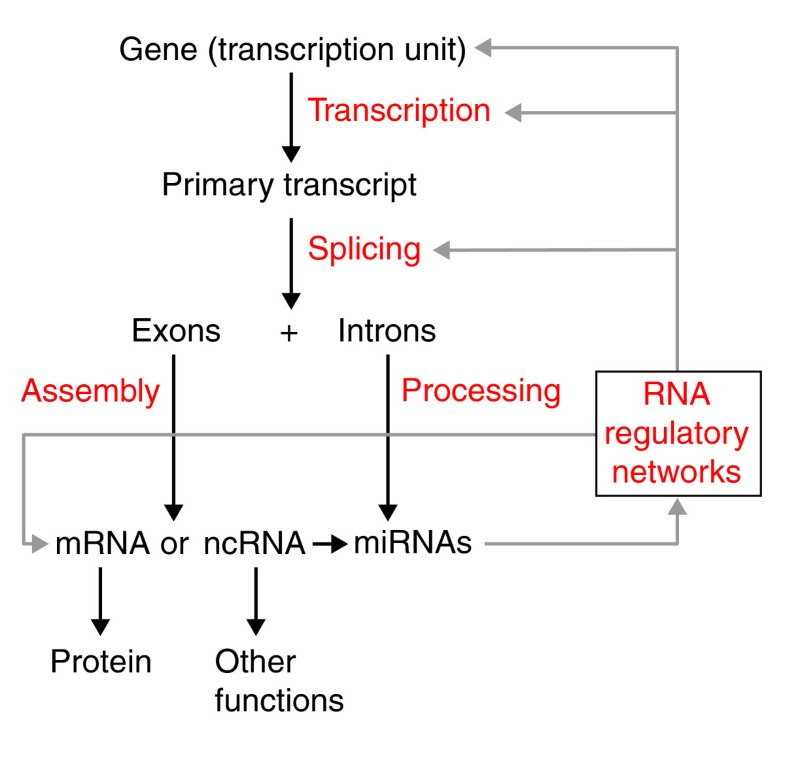 (1)
Department of Molecular, Cellular and Developmental Biology, Yale University, New Haven, CT 06520, USA
© BioMed Central Ltd 2006